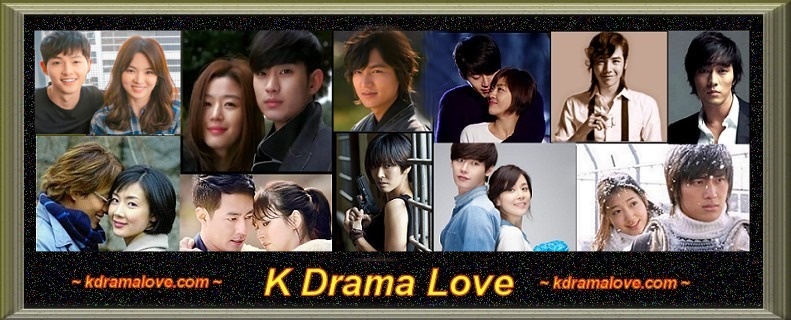 KDRAMALOVE.COM
Honest Korean Drama Reviews By Fans For Fans
Love Kdramas But Have Few People Whom
You Can Chat With About Them?
Check Out The New
Kdramalove Chat Forum
!
We're All Nice People & Would Love To Have You!
Special: K-Drama's Best Kisses
Special: K-Drama Scenes That Make You Cry




"Honeymoon" Kiss Scene
Nine: Nine Time Travels
This drama is currently on Netflix
Don't miss it!

1) A Gentleman's Dignity (2012) - A
2) All About Eve (2000) - B
3) All In (2003) - A / A
4) All That Glitters (2011) - B+
5) Alone In Love (2006) - B+
6) A Love To Kill (2005) - B+
7) Amore Mio (2012) - B
8) Angel Eyes (2014) - A
9) Angry Mom (2015) - A-
10) Another Parting (2014) - B+
11) Arang and the Magistrate (2012) - B+
12) A Thousand Days' Promise (2011) - D
13) Autumn In My Heart (2000) - B+
14) Awl (2015) - B+
15) Bad Guy (2010) - A
16) Bad Guy vs. Shark (2010 / 2013) - A- vs. A+
17) Bad Love (2007) - B+
18) Bad Love (2007) - C
19) Baker King Kim Tak Goo (2010) - A+
20) Ballerino (2014) - A+
21) Beating Heart (2005) - B+
22) Beautiful Days (2001) - A
23) Beautiful Mind (2016) - A+
24) Because It's The First Time (2015) - A
25) Beethoven Virus (2008) - A+
26) Big (2012) - B+
27) Birth Secret (2013) - B+
28) Boys Over Flowers (2009) - B+
29) Bridal Mask (2012) - A
30) Cain And Abel (2009) - B
31) Can't Live Without Robbery (2002) - A
32) Can't Lose (2011) - B
33) Can You Hear My Heart? (2011) - A
34) Cheers To Me (2015) - B
35) Cheese In The Trap (2016) - B
36) Cheongdam-dong Alice (2012) - A
37) Chicago Typewriter (2017) - A+
38) Choco Bank (2016) - B
39) Chuno / The Slave Hunters (2010) - A+
40) Cinderella And Four Knights (2016) - B+
41) Cinderella's Sister (2010) - B
42) City Hunter (2011) - B
43) Coffee Prince (2007) - A
44) Couple Breaking (2007) - C
45) Delightful Girl Choon Hyang (2005) - A
46) D-Day (2015) - B+
47) Descendants Of The Sun (2016) - A+
48) Discovery Of Romance (2014) - B+
49) Damo (2003) - A
50) Dear My Friends (2016) - A+
51) Dear You aka Beloved (2012) - B
52) Doctor Frost (2014-15) - B+
53) Doctor Jin, Time Slip (2012) - C
54) Doctors / Doctor Crush (2016) - B
55) Doctor Stranger (2014) - A
56) Doll House (2014) - C
57) Dong Yi (2010) - A
58) Don't Worry - I'm A Ghost (2012) - B+
59) Dramaworld (2016) - B+
60) Dream High (2011) - A
61) Dream Knight (2015) - C
62) Emergency Couple (2014) - C
63) Empire Of Gold (2013) - A
64) EXO Next Door (2015) - B+
65) Faith aka The Great Doctor (2012) - A
66) Falling In Love With Do Jeon (2015) - B-
67) Falling In Love With Soon Jung (2015) - B+
68) Fated To Love You (2014) - B+
69) Father's House (2009) - B
70) First Love (1997) - B
71) Flower Boy Ramen Shop (2012) - B+
72) Flower Boys Next Door (2013) - B+
73) 49 Days (2011) - A+
74) Full House (2004) - B
75) Friends (2002) - A
76) Goblin (2016-17) - A
77) God's Gift: 14 Days (2014) - B
78) Goodbye, Mr. Black (2016) - A-
79) Good Doctor (2013) - A
80) Glass Slipper (2002) - A
81) Green Rose (2005) - B-
82) Gu Family Book (2013) - A
83) Hair Day (2015) - B
84) Healer (2015) - B+
85) Heartstrings (2011) - B+
86) Heart To Heart (2015) - B+
87) Heirs (2013) - C
88) Hello Monster / I Remember You (2015) - B+
89) Her Lovely Heels (2014) - B-
90) High End Crush (2015) - B+
91) High School - Love On (2014) - A
92) Hong Gil Dong (2008) - C
93) Hotelier (2001) - B
94) Hyde, Jekyll and I (2015) - A
95) I Hear Your Voice (2013) - A+
96) Imaginary Cat (2015-16) - B
97) I Miss You (2012) - B
98) I'm Sorry, I Love You (2004) - A+
99) I Need Romance 3 (2014) - A
100) In Soon Is Pretty (2007) - A
101) I Order You (2015) - C
102) IRIS (2009) - A+
103) It's Okay, That's Love (2014) - A+
104) Jang Ok Jung, Live In Love (2013) - B
105) Jealousy Incarnate (2016) - A+
106) Jungle Fish 1 and 2 (2008 / 2010) - B / B-
107) Jung Yi, Goddess Of Fire (2013) - B+
108) Kang Goo's Story (2014) - A
109) Kara: Secret Love (2014) - B
110) Killer Girl K (2011) - F
111) King 2 Hearts (2012) - A
112) Knife Barber (2012) - B
113) Late Night Restaurant (2015) - A+
114) Let's Fight, Ghost! (2016) - C+
115) Liar Game (2014) - A+ / A+
116) Lie To Me (2011) - C+
117) Live Up To Your Name, Dr. Heo (2017) - B+
118) Love Cells (2014) - C+
119) Love Cells 2 (2015) - B-
120) Love For 10: Generation of Youth (2013) - B
121) Love Frequency 37.2 (2014) - A-
122) Love In Memory (2013) - A
123) Love Letter (2003) - B
124) Love Like That (2014) - B
125) Love Rain (2012) - A
126) Lovers (2006) - B
127) Lovers In Paris (2004) - A
128) Love Story In Harvard (2004) - A-
129) Loving You (2002) - B+
130) Mackerel Run (2007) - C-
131) Madame Antoine (2016) - B
132) Magic Phone (2016) - C-
133) Maids (2015) - C
134) Man to Man (2017) - B
135) Mary Stayed Out All Night (2010) - B
136) Mask (2015) - A
137) Masked Prosecutor (2015) - B+
138) Master: God Of Noodles (2016) - B+
139) May Queen (2012) - A+
140) Mermaid Story (2007) - C+
141) Me Too, Flower! (2011) - B
142) Midas (2011) - B
143) Midnight Girl (2015) - B
144) Mimi (2014) - A
145) Misaeng (2014) - A+
146) Missing Noir M (2015) - A+
147) Miss Ripley (Alison, 2011) - B
148) Miss Ripley (Jill, 2011) - C
149) Momo's Salon (2014) - C
150) Moonlight Drawn By Clouds (2016) - A-
151) Ms. Temper And Nam Jung Gi (2016) - B+
152) My Friend Is Still Alive (2013) - B+
153) My Girl (2005) - B+
154) My Girlfriend Is A Gumiho (2010) - B+
155) My Love Eun Dong (2015) - C
156) My Love From Another Star (2013) - A+
157) My Lovely Sam Soon (2005) - B
158) My Love Patzzi (2002) - B-
159) My Princess (2011) - B+
160) My Rosy Life (2005) - A
161) Nara's Rain (2013) - B
162) Neighborhood Hero (2016) - B+
163) Neighborhood Lawyer Jo (2016) - A
164) Neighborhood Watch (2013) - B
165) Nightmare Teacher (2016) - C+
166) Nightwatchman's Journal (2014) - B
167) Nine: Nine Time Travels (2013) - A+
168) 9 Seconds - Eternal Time (2015) - B+
169) 90 Days, Time To Love (2006) - C
170) Noble, My Love (2015) - C / B
171) Oh! My Ghostess (2015) - B
172) Oh! My Lady (2010) - A
173) Oh! My Venus (2015) - B
174) Old Goodbye (2014) - B+
175) On Air (2008) - B
176) One More Happy Ending (2016) - B
177) One Sunny Day (2015) - B+
178) On The Way To The Airport (2016) - B
179) Operation Proposal (2012) - B+
180) Ordinary Love (2012) - A
181) Our Gab Soon (2016-17) - B+
182) Outlasting Happiness (2013) - B
183) Padam Padam (2011) - B+
184) Page Turner (2016) - A
185) Partner (2009) - A
186) Pasta (2010) - B+
187) Perhaps Love (2008) - B+
188) Personal Taste (2010) - A
189) Personal Taste (2010) - B+
190) Piano (2001) - B+
191) Pinocchio (2014) - B+
192) Playful Kiss (2010) - B -
193) Pride and Prejudice (2014) - B+
194) Producer (2015) - B
195) Prosecutor Princess (2010) - B+
196) Protect The Boss (2011) - B
197) Puck (2015) - B
198) Queen In Hyun's Man (2012) - A
199) Queen Of Ambition (2013) - A / A
200) Queen Of Mystery (2017, Peg) - B+
201) Queen of Reversals (2010) - C
202) Que Sera, Sera (2007) - B+
203) Rebirth - Next (2005) - A
204) Remember (2015-2016) - A+
205) Reset (2014) - C+
206) Resurrection (2005) - B+
207) Road Number One (2010) - C+
208) Romance Blue (2015) - B
209) Rooftop Prince (2012) - A
210) Roommate (2014) - B
211) Ruler: Master of the Mask - B+
212) Ruler Of Your Own World (Alison, 2002) - A
213) Ruler Of Your Own World (Jill, 2002) - B
214) Running Shirt (2010) - B
215) Sad Love Story (Jill, Alison, 2005) - A+ / A+
216) Saimdang, Light's Diary (2017) - A+
217) Sandglass (1995) - A
218) Sang-doo, Let's Go To School (2003) - A
219) Scarlet Heart: Ryeo (2016) - B
220) Scent Of A Woman (2011) - A+
221) School 2015 (2015) - B
222) Second To Last Love (2016) - A-
223) Secret (2000) - B
224) Secret Garden (2010) - A+
225) Secret Investigation Record (2010) - C
226) Secret Love (2013) - A-
227) Secret Message (2015) - A-
228) Shark (2013) - A+
229) She Was Pretty (2015) - B
230) Shining Inheritance (Alison, 2009) - A
231) Shining Inheritance (Jill, 2009) - A-
232) Shoot For The Star (2002) - B
233) Shut Up, Flower Boy Band (2012) - C+
234) Signal (2016) - A
235) Six Persons Room (2015) - A
236) Sly And Single Again (2014) - B+
237) Snow Lotus (2015) - B
238) Snowman (2003) - A
239) Splash Splash Love (2015) - C
240) Spotlight (2008) - C+
241) Spring Days (2005) - B+
242) Spring Waltz (2006) - A+
243) Squad 38 (2016) - B+
244) Stained Glass (2004) - B+
245) Stairway To Heaven (2003) - C+
246) Star In My Heart (1997) - B
247) Stars Echo (2004) - B
248) Stars Falling From The Sky (2010) - A+
249) Star's Lover (2008) - B
250) Story Of A Man (2009) - B
251) Stranger aka Secret Forest (2017) - B+
252) Strawberry Ice Cream (2011) - B
253) Strong Woman Do Bong Soon (2017) - B+
254) Summer Scent (2003) - B+
255) Super Daddy 10 (2015) - B+
256) Sungkyunkwan Scandal (2010) - A-
257) Syndrome (2012) - B+
258) Swallow The Sun (2009) - B- / B
259) Take Care Of The Young Lady (2009) - C+
260) Tamra, The Island (2009) - B+
261) Taste Of Curry (2014) - B+
262) Temptation (2014) - D
263) Temptation Of An Angel (2009) - A
264) Thank You (2007) - A+ / A+
265) That Winter, The Wind Blows (2013) - A+
266) The Dirge Singer (2014) - B+
267) The Greatest Marriage (2014) - C-
268) The Greatest Love (2011) - B
269) The Immutable Law of First Love (2015) - B
270) The King Of Dramas (2012) - A
271) The King's Face (2014-2015) - A+
272) The Last Scandal Of My Life (2008) - A
273) The Legend (2008) - A
274) The Legend Of The Blue Sea (2016) - B
275) The Manny (2011) - B
276) The Master's Sun (Jill, 2013) - A+
277) The Master's Sun (Kitty, 2013) - A+
278) The Memory In My Old Wallet (2013) - B+
279) The Moon Embracing The Sun (2012) - B+
280) The Painter Of The Wind (2008) - A+
281) The Prime Minister And I (2013) - A
282) The Princess' Man (2011) - B+
283) The Queen's Classroom (2013) - A+
284) The Snow Queen (2006) - A
285) The Suspicious Housekeeper (2013) - A+
286) The Suspicious Housekeeper (2013) - A+
287) The Tale Of The Bookworm (2014) - B
288) The Three Musketeers (2014) - C
289) The Time I Loved You (2015) - C
290) The Ultimate Miracle (2014) - B+
291) The Unwelcome Guest (2013) - B+
292) The Village: Achiara's Secret - B-
293) The Vineyard Man (2006) - A+
294) Three Days (2014) - A
295) To Be Continued (2015) - C-
296) Tomorrow's Cantabile (2014) - A
297) Tomorrow With You (2017) - B
298) To The Beautiful You (2012) - B+
299) Touching You (2016) - B-
300) Tree Of Heaven (2006) - A
301) Triangle (2014) - B+
302) Trot Lovers (2014) - B
303) Truth (2000) - B+ / B
304) Tunnel (2017) A+
305) Twenty Again (2015) - A
306) Twenty-Eight 28 Moons (2016) - F
307) Twenty Years Old (2014) - B-
308) Two Weeks (2013) - A
309) Under the Black Moonlight (2016) - C
310) U-Turn (2008) - C
311) Voice (2017) - A
312) W (2016) - C+
313) Waiting For Love (2013) - B
314) Warm And Cozy (2015) - C+
315) We All Cry Differently (2014) - B
316) We Are Dating Now (2002) - B-
317) What In The World Happened? (2015) - B
318) What Happened In Bali (2004) - D
319) What Planet Are You From? (2006) - B
320) When A Man Loves (2013) - A
321) When I Was The Prettiest (2012) - B
322) While You Were Sleeping (2017)
323) Whisper (2017) - B
324) White Christmas (2011) - B+
325) White Tower (2007) - B
326) Who Are You? (2013) - B+
327) Wild Romance (2012) - B
328) Will It Snow For Christmas? (2010) - B+
329) Winter Sonata (2002) - A+
230) Woman Of Dignity (2017) - B+
331) Woman With A Suitcase (2016) - B+
332) Working Mom (2008) - B
333) Worlds Within (2008) - B
334) Yaksha (2010-11) - D
335) Yeongduk Women's Wrestle Team (2011) B
336) Yeong Joo (2016) - B+
337) Yong Pal (2015) - C+
338) You're All Surrounded (2014) - C
339) You Are Beautiful (2009) - B
340) Yumi's Room (2015) - C+