The Bluebird Kiss Confession

Kang Joon also played a quieter, more thoughtful character here than he has in the past. I loved watching these two hurting people find love together. It was just an amazing process to witness unfold! Some fans said they thought the show was "too slow", but I was forewarned about this in an interview I saw with Park Min Young before the series began, where she said she was attracted to this story in the first place because it was "a slow burn." That immediately perked my interest, too! Most K-Dramas throw plot details in your face in first episodes in such a fast, overwhelming manner that it can make you a bit confused trying to keep up. Here in I'll Go To You When The Weather Is Nice it's exactly the opposite: we are introduced to every character slowly, methodically, and cliffhangers don't overwhelm us at all (in fact they cleverly end with characters' journal entries). These unique cliffhangers keep our interest perked in the characters and the developing story in natural ways.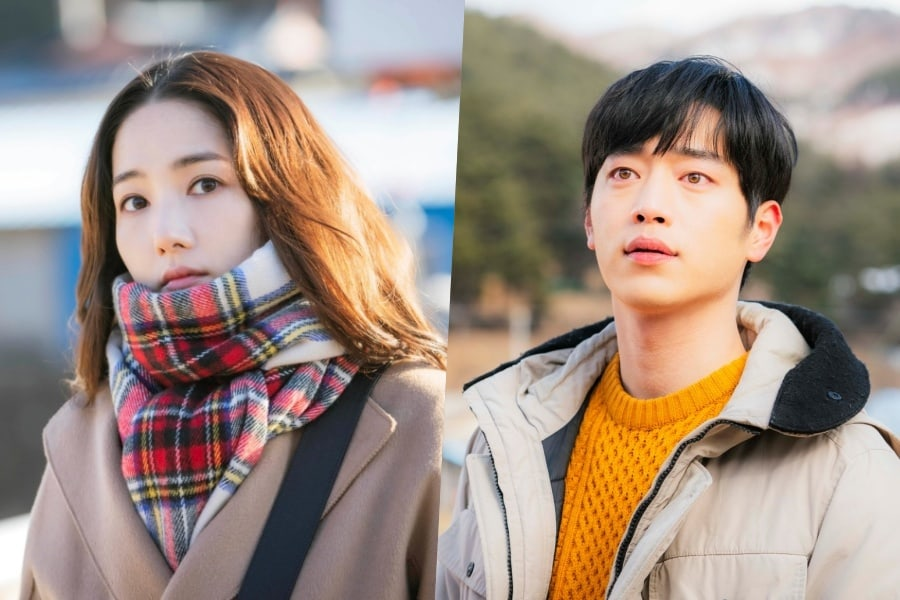 The Story: A cellist teacher in Seoul, named Mok Hae Won (Park Min Young), quits her job at a public school after false charges of child abuse were leveled against her by a mean parent of one of the students, and she decides to temporarily return to her hometown, lovely Bookhyun Village, in Gangwon Province, out in the countryside, to recover emotionally and to contemplate what her future could be after such an unfair situation broadsided her music teaching career; away from the rat race of Seoul city life she hopes to find her answers.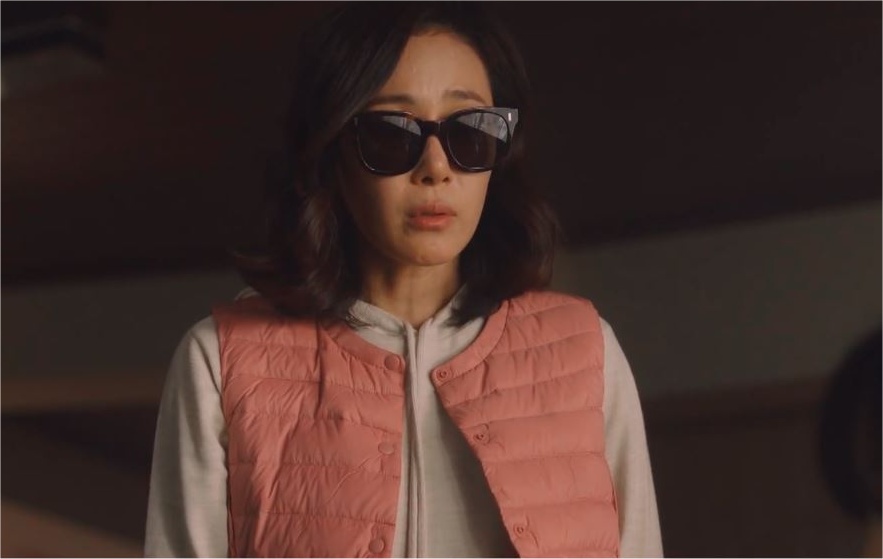 Hae Won had been raised by her novelist-writing aunt, named Shim Myeong Yeo (Moon Jeong Hee, yet another excellent performance here; she had played the evil Jessica so well in Vagabond), who also runs a sort of inn, with separate cabins on her property to house tourists. The aunt is surprised to see Hae Won arrive without notice, and to expect to stay indefinitely with her in the main house. It's obvious the aunt is a little put out by this state of affairs, as she seems to prefer her solitude and is quite mysterious, constantly wearing dark sunglasses, even indoors and at night. No one can see her eyes, and we find out why later: she is developing glaucoma and is ignoring it for some bizarre reason (which isn't revealed until toward the end of the drama), and she doesn't want anyone, especially Hae Won, to know and to pity her.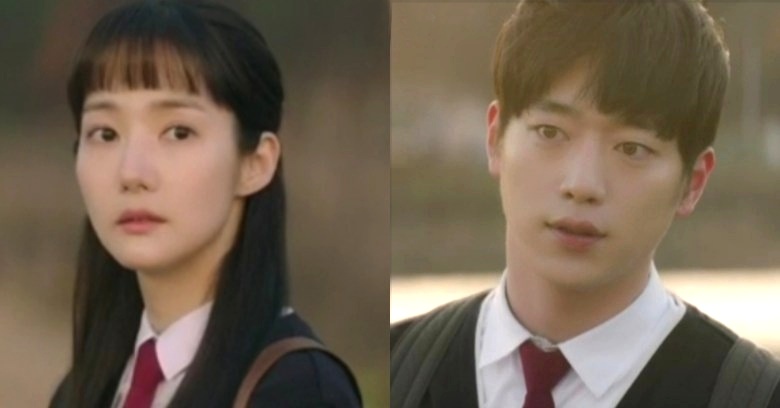 The Leads In High School Flashbacks

In her hometown Hae Won certainly has a lot of people who remember her fondly, and she slowly starts to become friendly with them again, and to socialize with them several times a week, including a nice male civil servant named Lee Jang Woo (Lee Jae Wook). Then she runs into another former classmate and neighbor at an old haunting ground, who obviously used to have a crush on her while they were both in high school.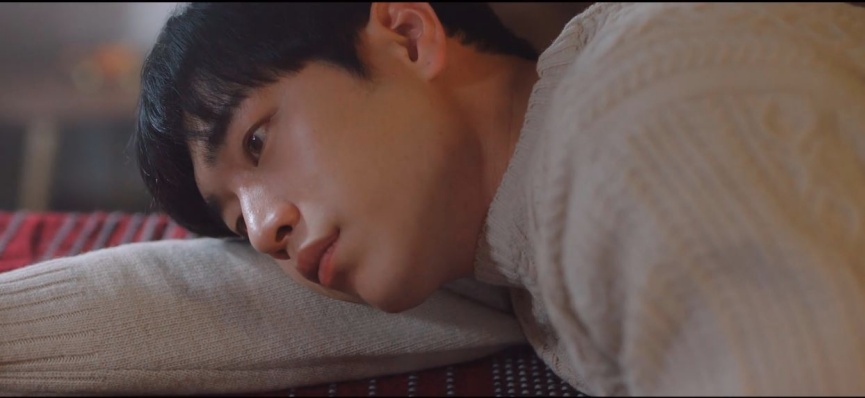 His name is Im Eun Seob (Seo Kang Joon). He also came back to Bookhyun after leaving the village for a few years, and now owns a countryside bookstore called Goodnight Bookstore; although most of his business in selling books is accomplished online, he does encourage weekly get-togethers in his store for local people to gather and discuss the literature and/or poetry they've been reading recently. (These were some of my favorite scenes!). I loved all the homespun, simple characters in the countryside town, everyone was so nice and genuine. I wanted to live there myself, and join their book club!

Eun Seob and Hae Won slowly start to grow close again. She discovers that he had had a pet name for her, Irene, while they were in high school, and that she had been his secret "dream girl". She is, of course, touched by this and soon their relationship begins to develop into a romantic one, despite some bumps along the way. Both are slow to trust, and slow to heal. Hae Won is invited to help Eun Seob in his bookstore to make some money, and this new close proximity helps their personal relationship along.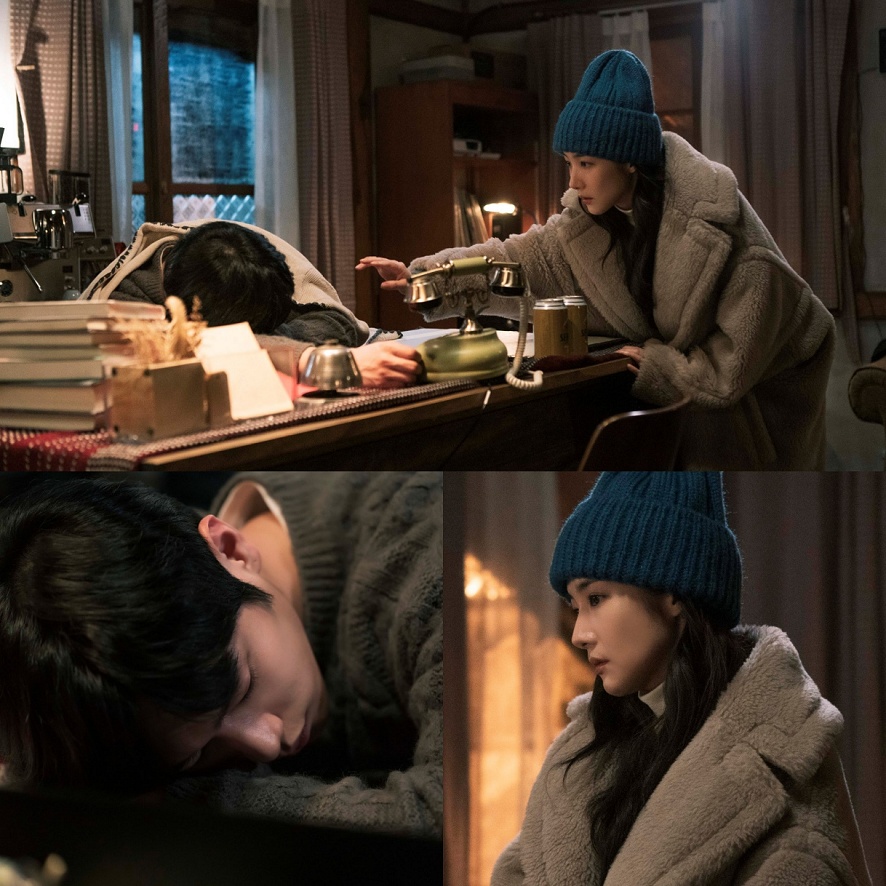 Both their childhoods had been rough: Eun Seob's parents had been violently torn away from him when he was a child, and he had been adopted by a kindly couple in the village who loved him very much,
adoptive mother Yoon Yeo Jeong
(Nam Gi Ae

from Mother) and adoptive father Im Jong Pil (Kang Shin Il, I Hear Your Voice). It is pretty rare for Koreans to adopt children who are not of their blood kin and family name (which is why for decades so many foreign adoptions took place where Korean babies and children were adopted by Americans instead of Koreans) so the deep bonds that the family made with Eun Seob were even more meaningful than normal for an adopted kid. In one scene, for instance, Eun Seob brings a homemade scarf as a birthday present for his adoptive mother and had personally embroidered on it "To My Beloved Mom", and I just teared up immediately. He didn't embroider "To My Adoptive Mother", but "To My Beloved Mom". Very powerful scene, with a double meaning if you understand the history of adoption in Korea.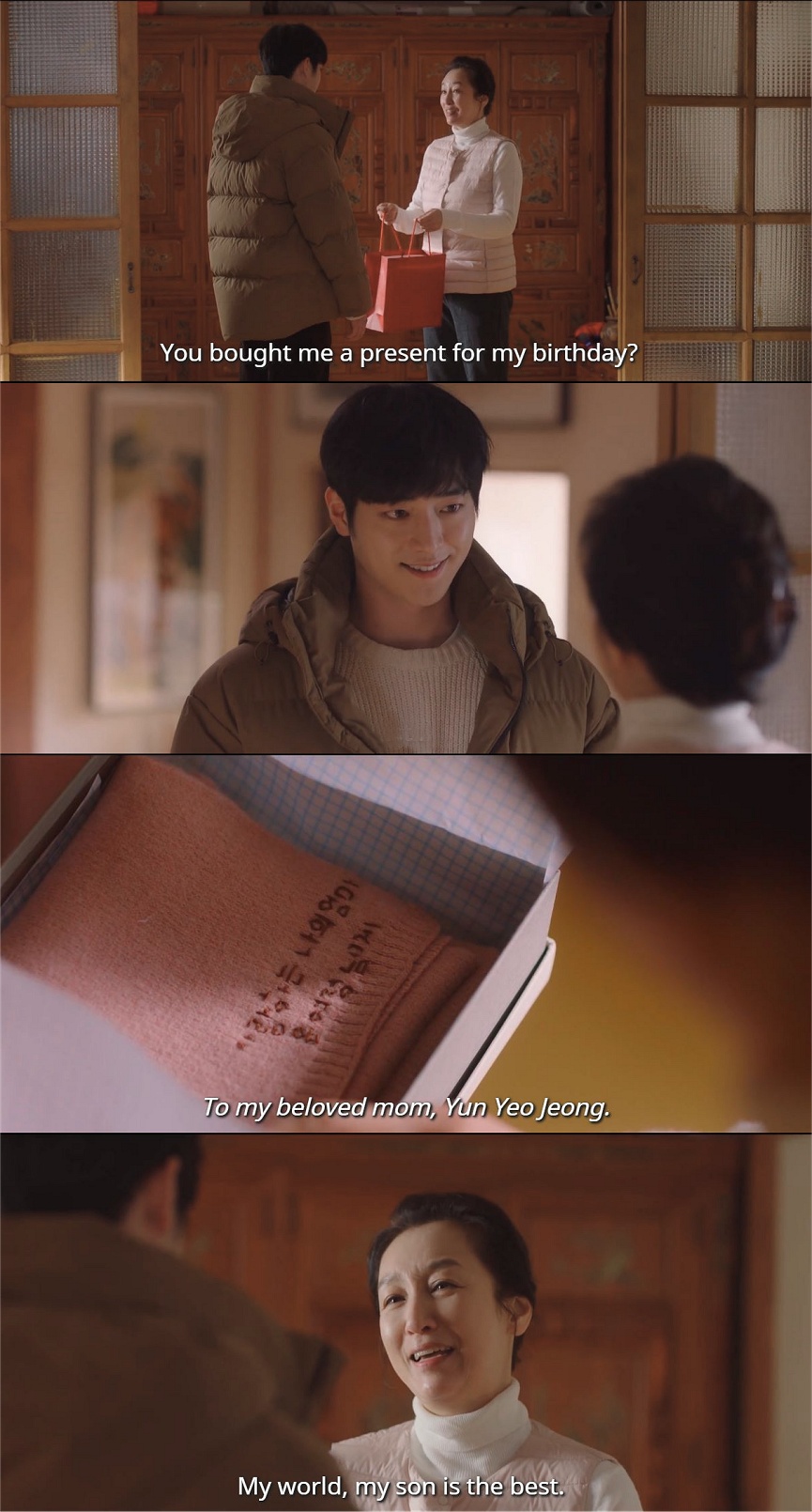 He also was blessed to have an adorable younger sister who doted on him, named Im Hwi (lovable actress Kim Hwan Hee from Robber, On The Way To The Airport, and Revenge Note). Im Hwi was definitely there for some comic relief, just at the right moments, often asking older brother Eun Seob for money for this or that; what else are older brothers for, anyway? ;) I've SO enjoyed watching this little actress grow up over the past decade-plus!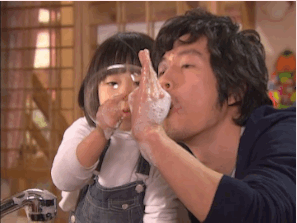 Kim Hwan Hee with Jang Hyuk in
Robber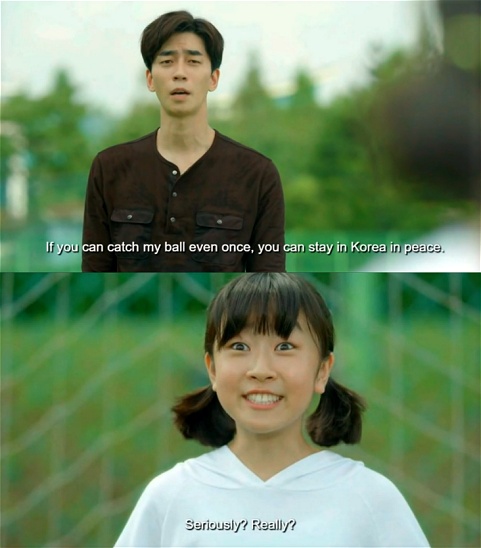 Kim Hwan Hee with Shin Sung Rok in
On The Way To The Airport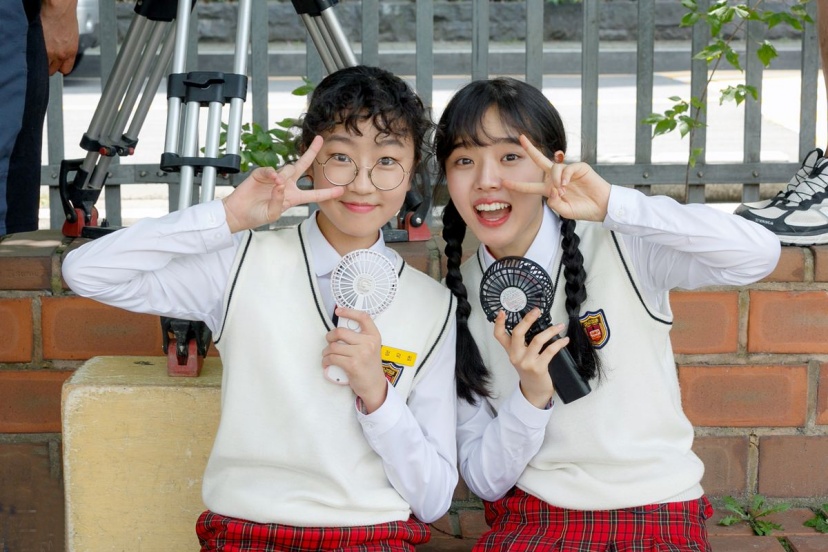 Wearing Glasses -
With
Kim Hyang Gi in Revenge Note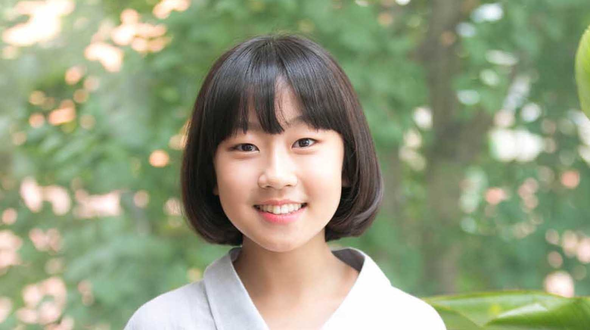 In I'll Go To You When The Weather Is Nice

We discover to our shock that Hae Won's aunt had been forced to raise her because Hae Won's mother,
Shim Myeong Joo (terrific actress Jin Hee Kyung, who had played Hee Sun Kim's unforgettable Aunt Audrey in Sad Love Story; I was thrilled to see her again!) had been convicted of killing Hae Won's father Mok Joo Hong (Seo Tae Hwa) because he had been violently abusive toward her on multiple occasions, while never treating their daughter the same despicable way. Hence, Hae Won had had little clue at first what lay behind this personal tragedy in their lives.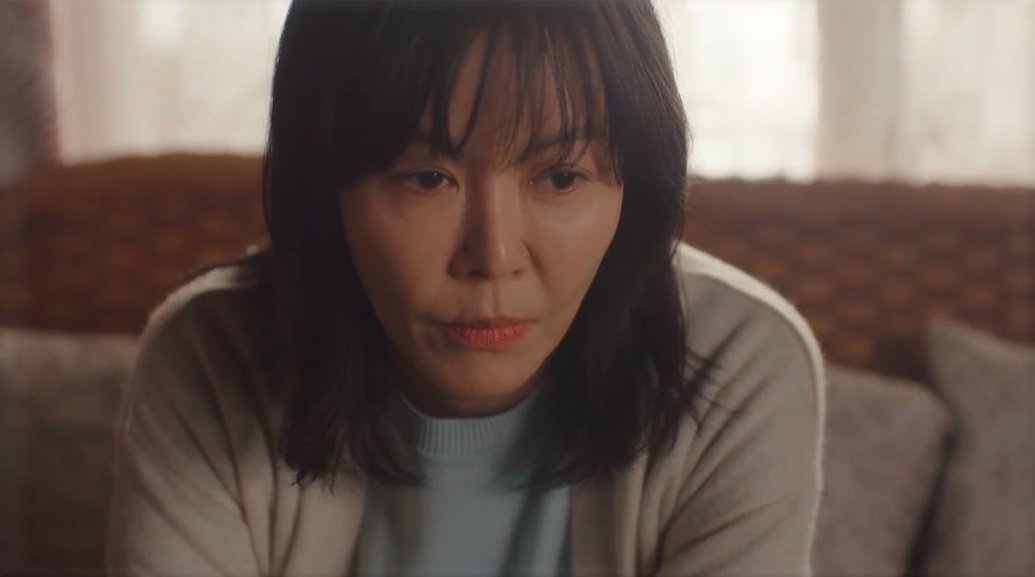 Hae Won's Mother Went To Jail
For Seven Years For Killing Hae Won's Father
... Or DID She?
With no mother to raise her, and her father killed, Hae Won was doubly hurt when she had become fodder for gossip in a clique of girls in her school at the time; she found out that her best friend Kim Bo Young (Im Semi) had told these girls that her mother had killed her father. This betrayal had destroyed their friendship. Then Hae Won meets Bo Young again in adulthood and discovers that Bo Young had had her own crush on Eun Seob and tried to steal him away from her! She even tries to do it once more now that they are all living in the same country town again, but by this time Bo Young is really out of luck. Eun Seob only has eyes for Hae Won.
A big shock arrives near the end of the drama surrounding the events which had resulted in the death of Hae Won's father. She is so shocked by them that she separates from Eun Seob and goes back to Seoul, trying to find a new teaching job to support herself. She feels like she doesn't want to drag Eun Seob down with this new scandal affecting her life. However, it's apparent that he still loves her -- but that it is she who needs time away to think things through, and time away from the countryside town which held so many of her family's secrets.
I really think this is an Essential Drama for the committed K-Drama fan. It has a natural flavoring reminiscent of some of my other favorite dramas filmed mostly in the rustic countryside, like The Vineyard Man, Thank You, May Queen, and Ordinary Love. If you are getting tired of dramas about robots, angels, serial killers, time travel, crime families, corrupt government people, folks with supernatural powers, endless soap operas, etc. and you long for a more simple old-fashioned love story, like the kind they made in the classic Four Seasons' Korean drama days, then definitely do not miss this precious drama. Don't wait until the weather is nice if it's foggy or rainy outside when you read this review. Enjoy it now!
~~~~~~~~~
RETURN TO K-DRAMA REVIEWS
~~~~~~~~~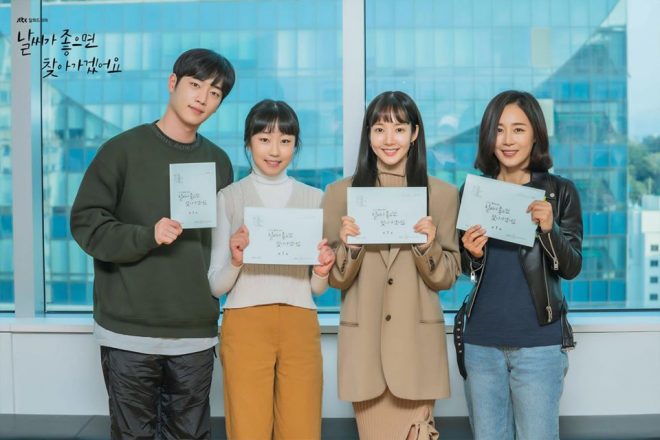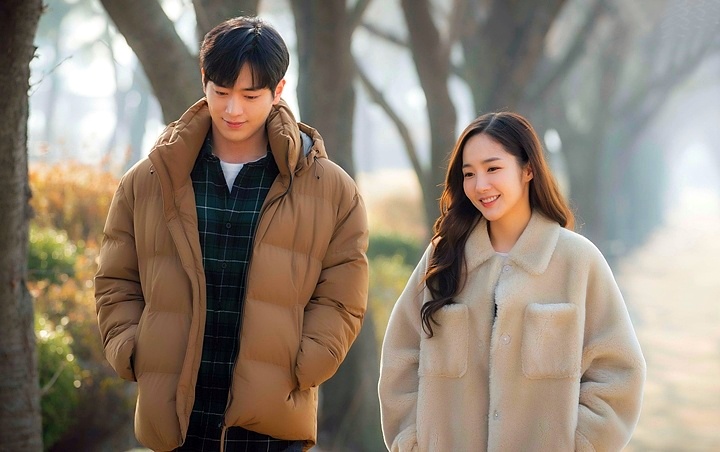 Can I Live Here?
:)