The Story
:
Kang Shin Woo (Lee Jung Shin from CNBlue) is a twenty-eight year old math and homeroom teacher with a rather boring life, including a totally dead love life, and apart from meeting his old high school friends on occasion at different restaurants to chat and drink together he just seems to be floating through life with little joy
;
his mother died and his sister is preoccupied with her own love life.
His friends suggest to him that he doesn't bother dating because he's never really gotten over the loss of his big high school crush, a pretty transfer student named Han Ji Soo (Lee Yeol Eum). He brushes that off, but when his friends suggest he really should see a psychiatrist about his dead romantic life, to find out why he's afraid of intimacy, he takes that to heart and makes an appointment with a doctor at a local hospital. She asks him certain questions that make him realize that maybe he really never has gotten over Ji Soo after all, that she may be the only girl for him, the one who still makes his heart race, and that he should do something constructive about it - like meeting her again and finding out why she suddenly disappeared from his life all those years ago.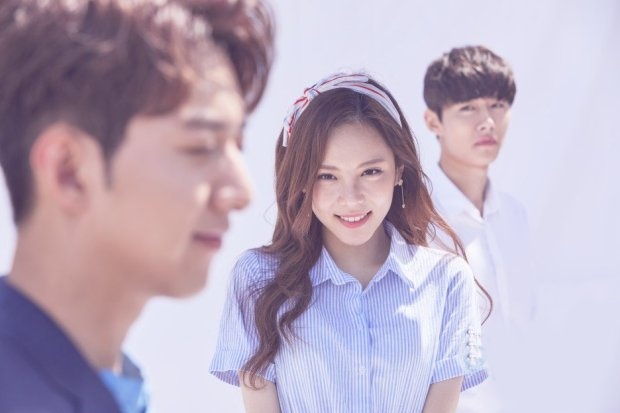 Little does he know how soon that meeting will take place - less than two minutes after he has walked out of the doctor's examining room! He bumps right into her in the hospital hallway
;
it turns out she works in the medical field. They sit and chat in the hospital cafeteria over tea, but Ji Soo looks increasingly uncomfortable after awhile, and Shin Woo notices that she's wearing an engagement ring. "I think it's best that we don't talk to one another again," she says to him rather abruptly and walks off, leaving him with even more questions than he had before he met her again!
Through an accident of fate Shin Woo travels into the past when he was a high school student. There he meets his younger self (Seo Ji Hoon) and struggles to make the younger Shin Woo's love come true, to hopefully prevent Ji Soo from mysteriously disappearing out of his life again. However, he is not anticipating that Ji Soo as a teen (played by the same actress as the adult) will find her teacher more attractive and interesting than his younger self! Talk about your strange love triangles! In the scene above, for instance, which is reminiscent of a similar scene in the classic
Winter Sonata
(2002), it's the teacher Shin Woo who catches high school student Ji Soo when she jumps over a fence because she's late for school, and not the younger high school student Shin Woo, as it was originally in the past.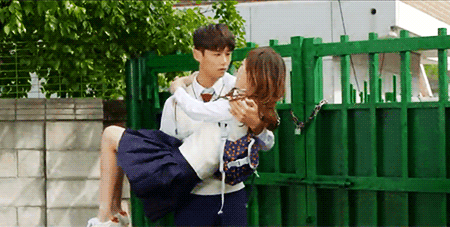 Will she ever put two and two together that they are in fact the same person, especially since both man and boy have the same name? (although many Korean names are the same or similar, think actors Kim Soo Hyun, Kim Hyun So, Kim So Hyun, and Kim So Yeon, for instance).
;)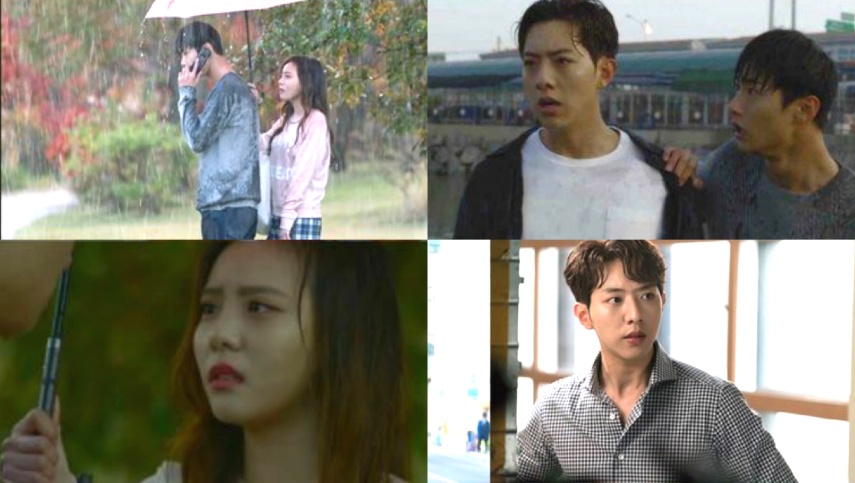 Although the theme of time travel has really been done to death in Korean dramas by now, I still managed to find this one interesting, mainly because of the fine quality of the acting of the young cast, especially of the main male lead as an adult, Lee Jung Shin. He did a great job.
You can watch this otherwise hard to find short Korean drama at
THIS LINK
. Enjoy.
~~~~~~~
HOME TO KOREAN DRAMA REVIEWS
~~~~~~~