The Story
: We start the show with a wild white haired man named Jae Bum (Ik Joon Yang) leaving prison, to the congratulatory whoops and cheers of his prison mates, and then we switch to an even wilder birthday party at a swimming club, with bikini clad girls strutting around to loud rock music. "O......k....." I thought to myself, "This is different." Usually most K-dramas are very circumspect about sex because they air in family hours, and the women dress pretty modestly. It can often take half a series before characters even kiss each other, and even when they do it's stiff and formal looking and often quite laughable. This drama breaks the mold on all these fronts.
The birthday party is for a famous writer and pop disc jockey named Jae Yeol Jang (Jo In Sung) and he seems to be quite enjoying himself with all the scantily clad girls having fun all around him. The crowd urges his current girlfriend Pul Ib Lee (Jin Yee Yoon from
A Gentleman's Dignity
) to kiss him and they kiss passionately.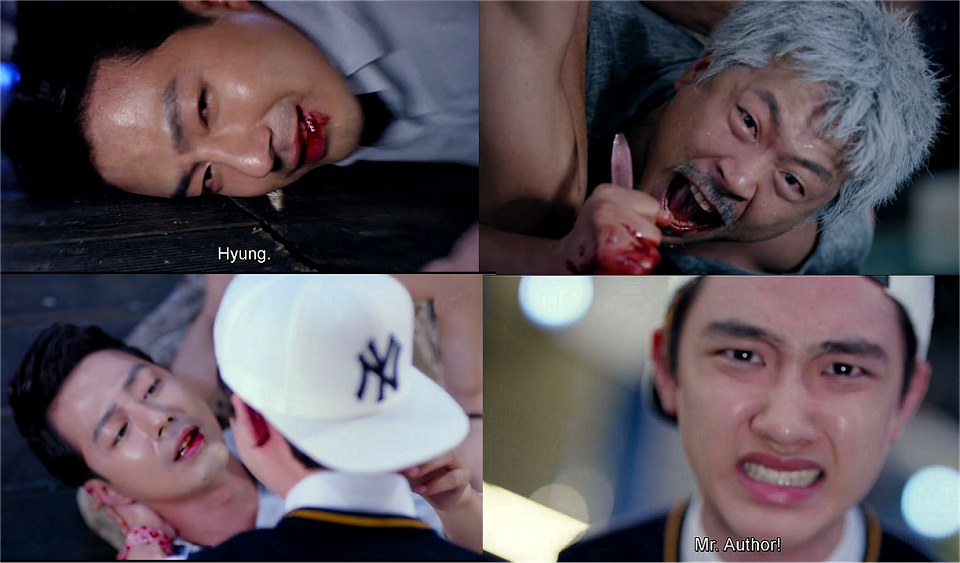 Then suddenly the white haired man who had been released from prison arrives at the party carrying a fork and proceeds to stab Jae Yeol in the shoulder. The men at the party tackle him down as Jae Yeol sinks to the ground, bleeding, surrounded by his crying girlfriend and a young man with a baseball cap who calls him "Mr. Author!" over and over again. Jae Yeol looks over at the angry white haired man and whispers, "Hyung!" (brother). His brother has been in prison for many years and bears a grudge against him, for reasons we are to see later in the drama. So after leaving prison he is immediately charged with assault, re-arrested, and brought back to prison for three years, although Jae Yeol tried to get his second prison term shortened, ostensibly due to his mental frailty -- but really for another reason entirely.
Almost three years later Jae Yeol has moved on with his life and written another novel, focusing on a violent murderer. A lady doctor psychiatrist named Hye Soo Ji (Gong Hyo Jin) is called in to be on a television talk show where Jae Yeol is the host so that she can discuss the mental condition of a murderer's mind, and she reluctantly agrees because her boyfriend Sam (Ki Yong Chang) works at the station. She doesn't quite understand that the purpose of her being on the show is to make Jae Yeol look better so that his book will sell. She's a professional and expects to talk about mental illness but he wants to drum up controversy to sell his work. When she figures it out she rebels and gets in a few digs of her own against him while the show is being broadcast. Her critical attitude piques his interest in her, and he tries to talk to her afterward but she runs off, highly offended. "He's nothing but a narcissist!" she grumbles as her taxi takes off with Jae Yeol running behind in a vain attempt to get her attention.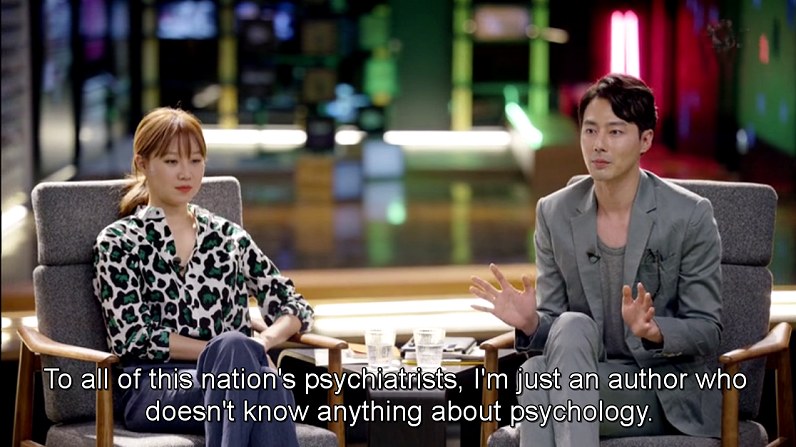 Jae Yeol ends up breaking up with his girlfriend when she plagiarizes his work and humiliates him professionally, accusing him of doing what she herself has done. Reporters are mobbed at his apartment door day and night in an attempt to get a statement, so he decides to move in temporarily as a tenant in a privately rented out home he owns as an investment ... however, who should be living in the home but Doctor Hye Soo, the woman he butted heads with on the television show, and two of her long term friends, including a fellow psychiatrist named Dong Min Jo (Dong Il Sung from
My Girlfriend Is A Gumiho
) and a young man named Soo Kwan Park (Kwang Soo Lee from the reality show
Running Man
) who works at a coffee shop and who happens to have Tourette Syndrome. Hye Soo is not at all pleased that this seemingly arrogant guy is going to be renting out a bedroom in the house with them, but she has no choice since he actually owns the home.

One night when they both notice they are at the same nightclub Hye Soo is attacked by one of her mental patients, a schizophrenic, who had neglected to take his medicine. She runs after him after he runs outside and steals someone's car to get away before the police can arrest him, and Jae Yeol offers her a ride in his car. They end up wildly chasing him across the city and to the end of a cliff near a factory. Police arrive, she tames him with a tranquilizer shot in his rear end (resulting in a funny quip by Jae Yeol, "How quickly you pull down a man's pants!" lol) and he is taken away by police ambulance.
Jae Yeol and Hye Soo are left alone and both are injured. He is bleeding from his head, she is woozy from having been kicked in the shoulder, and she ends up fainting in his arms. He calls 119 (the 911 signal in Korea) but in the interim time Jae Yeol discovers that his humanity and chivalry toward women is not dead.