His brother Sang Tae likes the illustrated novels of a popular children's writer named Ko Moon Young (Seo Ye Ji). Her stories are dark, with Satanic imagery galore in them, so the audience is tipped off ahead of time that she may have a dark soul and be yet another troubled person in this story.
(Personally I would never allow my children to read her kind of books, eek!, to me that would be child abuse!)
. Kang Tae tells Sang Tae that he will take him to see her in person at a book signing, but all does not go well, and Moon Young and Kang Tae end up having a very public confrontation.
Despite that, Moon Young seems intrigued by Kang Tae and likes that he is so handsome. They end up being thrown together by fate on several other occasions, and then when Kang Tae moves with his brother to start work at a different psychiatric hospital he discovers that he will end up seeing Moon Young even more frequently there because Moon Young's own father Ko Dae Hwan (Lee Eol) is a committed patient there. Slowly we begin to note that Moon Young does not like her father very much because in the past he has tried to kill her and supposedly killed her mother! She doesn't really care if he lives or dies.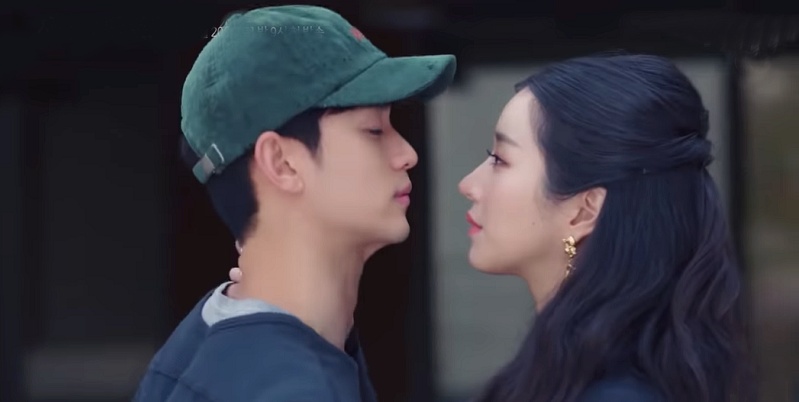 What a mess of a person Kang Tae now has to deal with, on more and more occasions. This "princess", living in an isolated creepy mansion near the hospital, constantly verbally insults him, but then will try and seductively cozy up to him in the same encounter. Kang Tae, despite himself, seems moved by Moon Young's clear psychiatric disorder and her pleas for attention from him. He's obviously so lonely himself that whatever web she spins he is helpless to extricate himself from it entirely. Although a nice normal nurse working at this hospital, named Nam Joo Ri (Park Gyu Young), likes him, he pays her no attention at all, even though she would have made a much more normal match for him, since they both work in the same profession and both have compassion for others. Even so, when have men ever been smart about women? Joo Ri ends up having growing feelings for Moon Young's long-suffering publicist, Lee Sang In (Kim Joo Hun) instead, and he for her. Their growing affection for each other was nice to watch, and Kang Tae really loses out on the far better woman. He seems oblivious to this fact and totally falls for the troubled Moon Young. Joo Ri even had the far better, more normal mother, Kang Sun Duk (played with her usual flair by veteran actress Kim Mi Kyung) who feeds them all on a daily basis while also dishing out bits of wisdom about life.
(Even I wished to have a mother just like her!).
While all this is happening Sang Tae has been concentrating on painting a mural on the hospital's wall, a commission for pay. That looks like a positive development in his life, but even that is not to last long.
Even when Kang Tae and Moon Young plan to take a holiday together it doesn't work out. They fight again and break up immediately. The twists and turns in their relationship were extremely annoying to watch. So too is her family situation, which goes from bad to worse when her father's condition deteriorates even more, and her mother turns out to be still alive and - a shock - a longtime nurse at the same psychiatric hospital
(come on, gimme a break!)
named Park Haeng Ja (veteran actress Jang Young Nam). This is when I really started to check out mentally from this drama. It was all just too much silliness. It felt like the writer was just throwing globs of paint against a wall and hoping a pretty picture would result, but by the end I was yelling with relief, "Thank God this mess is over!"
:)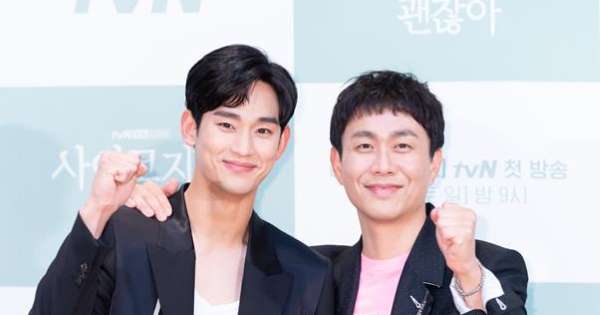 I would have been far happier with this story if the primary emphasis had been on the brothers' story. That should have remained the foundation of the story, and it would have ended up a unique masterpiece. Kim Soo Hyun and Oh Jung Se did give excellent performances as the brothers who loved and needed each other. How heart-warming it would have been to show those two characters growing together as a family, and dealing with their sad past effectively as time went on, getting qualified psychiatric professional help when they needed it. That would have been an inspiring way to teach the audience about mental dysfunctions, especially autism. Throwing in a campy, unrealistic romance drew away from this possibility big time. Autistic people deserve more understanding than they got here. The writer was clearly out of her element writing about the subject.
The two best Korean dramas on the subject of mental issues remain 2014's
It's Okay, That's Love
, and 2020's
Fix You
.
It's Okay To Not Be Okay
, which ripped off the title of the far superior K-drama to some extent, doesn't come close to these true masterpieces. Watch them instead.