I really loved
Dream High
(2011). It's the best of the "young talented school kids major in the Arts" Korean drama shows, and a big part of the reason why it's the best is because all the excellent lead actors were accomplished singers / musicians in their own right. I watched this historic musical show on Streaming Netflix in Spring 2013, before it was sadly removed. To think this inspiring show was taken down, while Netflix leaves up so much junk .... but I digress.
Produced by Bae Yong Joon's (famous Hallyu star from
Winter Sonata
) KeyEast production company, his team put together a magical show and he also appeared in a cameo role and played Gershwin's Summertime on the piano. The music was very enjoyable, spanning from classical to pop, the characters realistic and fascinating, the story of the competitions and friendships between the music students well told. If you like the melodramatic ones this will suit you too, for actor Kim Soo Hyun's character goes deaf, threatening to destroy his professional music dreams, and we see how he and everyone around him react to his tragedy. I even enjoyed the adults' stories. The teacher characters at the school were all dedicated to the kids first and foremost, and were very admirable. The joy and passion the young people have for their music in
Dream High
is inspiring. This show is not only for young people, but for older people with artistic dreams too.
FULL OST

The Story
: Our story begins in the future - 2018 to be exact - in Los Angeles at the US Grammy Awards show that year, where a new worldwide pop star sensation from Korea is about to win the prize for a CD which has sold over one hundred million copies around the world. We do not see this star's face, who is simply called "K". Then we cut to the present day, in this case 2011, and begin to focus on the stories of the main characters in the show, leading up to that big awards night in 2018. We are left to wonder until the very end of its sixteen episodes exactly which singer out of this group of students will become the great "K".

The prestigious Kirin Arts Academy in Seoul is a highly competitive school devoted solely to the Arts: they train musicians and singers and dancers, with the goal of turning them into Stars. We see several potential student candidates come before a panel of judges to perform for auditions (the main judge, Ha Myung Jung, is Bae Yong Joon himself, who plays the honorary director of the school). Who will be deemed worthy enough to enter the exclusive school? Some make the cut and some don't. One who fully expects to pass the audition with flying colors is a self-assured young lady named Hye Mi Go (popular actress Bae Suzy) who is a very pretty accomplished soprano singer; she stands next to her best friend, the mousy Baek Hee Yoon (Eun Jung Ham), an alto, who lacks self-confidence but who has plenty of raw untrained talent, and they sing a duet together. At the end of the song Ha Myung the judge thanks them but says only one of them has passed the audition, and it's not Hye Mi. She becomes angry and insults the judge and her friend, calling her third rate. "Didn't you hear how she missed notes and messed up the song?", she yells, whereupon Ha Myung gives Hye Mi an additional solo test, which she fails. "We don't allow third rates to our school. A third rate student is one with prejudice," he tells her firmly and dismisses her. Hye Mi has not only lost her chance to go to the best arts school in Korea, but she has lost the devotion of her best friend. A bitter rivalry results between the two girls for a long time thereafter, at one point even bordering on the sinister. Baek Hee cuts her hair and polishes her looks and becomes the first real big hit at the school.
What Hye Mi did not reveal to her friend or to anyone else was that her father was deep in debt and loan sharks were coming after her family to kick them out of their home; she was desperate to get into the school so she could succeed in her chosen career as a singer and earn money to pay off the huge debt. Her father disappears and Hye Mi is left alone to deal with the loan sharks, who press her for the money and confiscate her home. Hye Mi is now homeless with her little sister Hye-sung (Seo Hyun Ahn) and crashes first at the studio of a talented friend Guk Jin (handsome Taecyeon Ok from Who Are You?), who is later offered special admittance to Kirin. Then one of the teachers at the school, who sees promise in Hye Mi, the sympathetic Oh Hyuk Kang (Ki Joon Uhm from Scent Of A Woman), takes her and her little sister in to live with him and his sister, the wacky flamboyant Kyung Jin Shi (Yoon Ji Lee), in their home.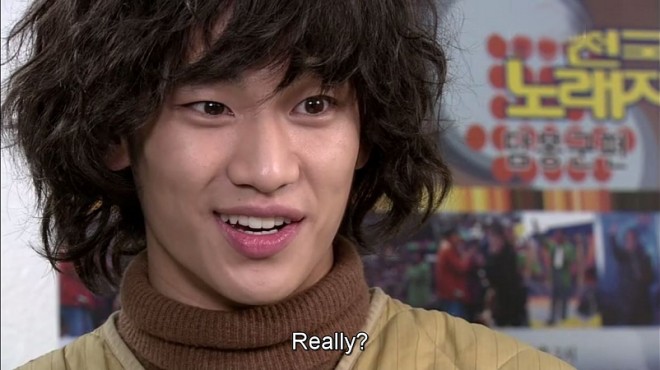 Kim Soo Hyun, I loved you best, even when you looked like this,
way before you came from another star. Chincha!
Soon Hye Mi is given another chance to enter Kirin, through the back door: if she can persuade a certain young man whom director Ha Myung likes, to come to the school as a student, the humble poor country boy with rumpled hair and the silly name Sam Dong Song (wonderful Kim Soo Hyun from
My Love From Another Star
). Sam Dong immediately falls in love with the pretty Hye Mi and agrees to join the school. When Hye Mi goes into the country to convince Sam Dong to come to the big city some of the funniest scenes result, for instance when Hye Mi is told by Sam Dong's mom that their house doesn't have an indoor bathroom but only an outhouse and that if she uses it at night she has to be on her guard against wild boars! Oh, I laughed and laughed! Poor Hye Mi couldn't get out of the country fast enough.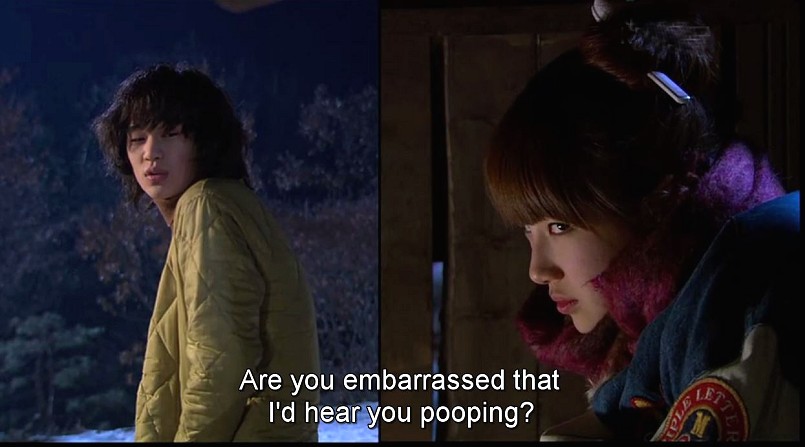 Another girl gets a chance to sing for an audition at the school, her name is Pil Suk Kim (Ji Eun Lee, known professionally as IU); she has the singing voice of an angel and puts tremendous feeling into her song, but she is chubby and un-stylish; the judges have to decide whether her poor appearance should keep her from the school. Judge Ha Myung obviously likes her but says he will leave the decision to the assistant director of the school Soo Shi Bum (character actor Byung Joon Lee from
Secret Garden
). He decides for Pil Suk and then says to Ha Myung afterward that it will be hard for kids who look like her to succeed. Ha Myung smiles and replies wisely, "I think our friend will be very pretty in the future."
At learning she has been accepted, Pil Suk rejoices and kisses a picture of famous pop idol Kim Hyung Joon (from
Boys Over Flowers
), who also gave the show a guest cameo appearance at the beginning of the story, meeting Bae Yong Joon's character at the Seoul airport. Another boy, an exchange student from America, an expert break dancer, who joins the school is Jason (Woo Young Jang), whom Pil Suk secretly has a mad crush on. He is kind to her, despite her chubbiness, which makes her fall for him even more deeply. Eventually Pil Suk does lose a lot of weight, just as director Ha Myung had predicted, and Jason sees her with new eyes.

The story now focuses on the six young primary characters, the three girls and the three boys, their rivalries, their love lives, their accomplishments. The characters are forced to get to know each other, and have to work together to accomplish their goals (or work against each other as is sometimes the case). Some grow in life over time as individuals, but others fall prey to the emotional pitfalls of success. Along the way, some true lasting friendships are born but others are crushed. This is all very typical stuff for this type of genre, but here it's done brilliantly as a solid romantic melodrama all on its own, as only the unique Bae Yong Joon could develop. In addition, BYJ gives us a deliciously funny parody of
Winter Sonata
in this show. I just loved it!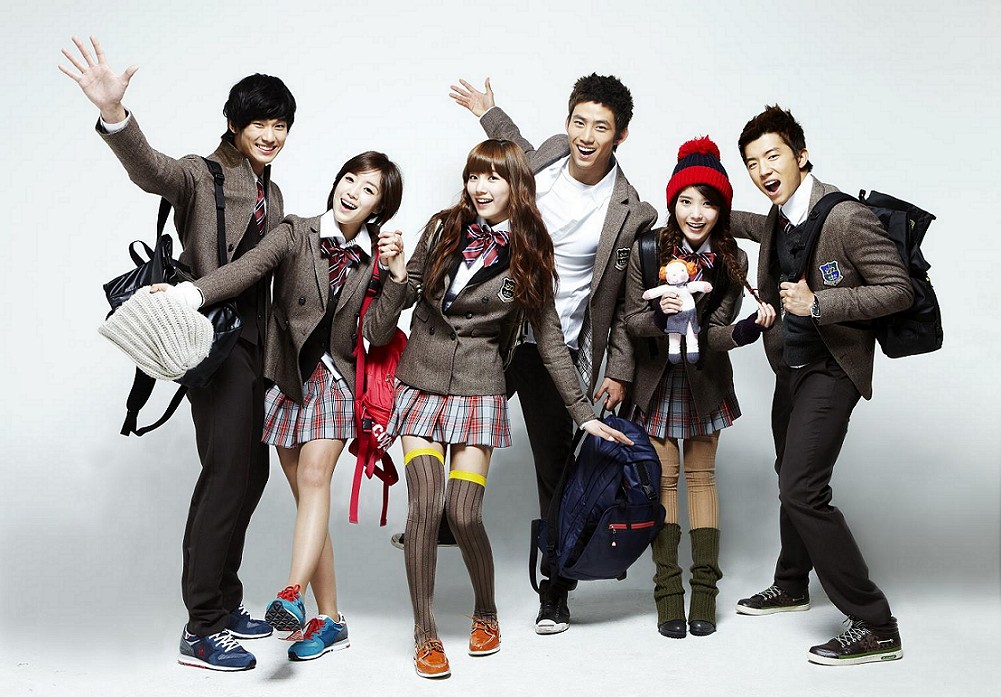 Our Cast of Music Students, from left to right: Kim Soo Hyun, Eun Jung Ham, Suzy, Taecyeon, IU, Woo Young Jang

The saddest development in the story is when Kim Soo Hyun's character of Sam Dong saves Hye Mi's life by pushing her out of the way of a falling object (intentionally dropped!) and gets hit on the head himself and suffers increasing hearing loss over time, which threatens to halt his tenure at the school and his musical career in future. Finally Hye Mi understands all that she owes Sam Dong, who has had a puppy dog crush on her from the moment he laid eyes on her and who has been steadfastly loyal to her, unlike Guk Jin. While Hye Mi has, prior to this event, considered herself in love with Guk Jin, even singing a beautiful happy birthday song to him, she now begins to cherish Sam Dong more and more as a true friend.
At a dramatic moment, where he has to present the song
Dreaming
for the faculty and visiting family members of the school, his hearing loss becomes so acute that he cannot hear the background music, and Hye Mi has to coax him from the upper balcony to find the right key signature for the song. (I swear Kim Soo Hyun is the best crier in the business!).
After this hearing loss there is no way Sam Dong could ever become the great "K".
Or will we be the ones with prejudice? Remember deaf Beethoven?