Then one tragic day, as she rides her bicycle from school to her home in the country, she sees her parents and brother together on the road when suddenly cars drive up, stop, and several men jump out, shouting, "ARE YOU IRA?" and they start shooting them! As they lay bloody on the ground in front of Joong Ah she freezes in shock, watching her loved ones dying in front of her eyes, and then the murderers confront her too. "Are you the terrorists' friend, Asian? Are you IRA, too?" She replies no, with tears in her eyes, saying she doesn't know them, and they let her go! (
I thought that was rather dumb of the assassins - she could be a witness against them later in court!
). Her brother's dead eyes continue to haunt her for a long time to come, and an Irish coin that had fallen out of his pocket after his death, which had landed near her feet, becomes a beloved keepsake.

After this tragedy Joong Ah is admitted to a psychiatric hospital for awhile and given drugs to calm her down and help her recover mentally from shock. However, she is obviously forever changed, scarred. After finishing her degree she leaves the land where her loved ones were murdered and hops a flight to South Korea, hoping that discovering her mother land -- and perhaps her biological mother -- will help heal her heart and mind.
The First Encounter On The Plane From Ireland To Korea (Video Clip)

On the plane she is seated next to a professional bodyguard named Kang Guk (Hyun Bin) who is watching over his rather rascally industrialist boss named President Park (Song Seung Hwan), who is drunk on the flight and rudely copping feels on the stewardesses. Kang Guk is obviously mistreated by this essentially mob boss fellow, and because he is often hit and abused by this man, Kang Guk has great empathy and compassion for people who are suffering. He can sense that something is "off" about this fellow Korean sitting next to him on the plane. She behaves and speaks erratically, seems to be filled with self-loathing, and he tries to calm her down, with little success. "I am a nasty person!" she warns him, but he doesn't take heed. "I like people who are hurting," he tells her.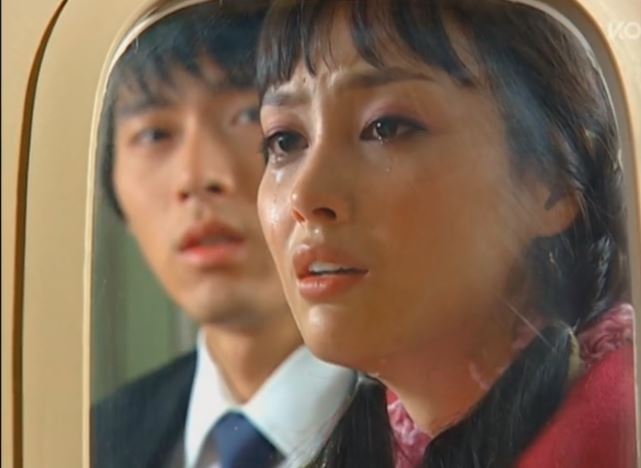 Once they land in Seoul they separate, but fate continues to bring them together in odd ways. The hotel Joong Ah stays at is owned by Kang Guk's industrialist mob boss. Kang Guk is obviously intrigued by Joong Ah more and more every time he runs into her, and when she says to him, "I killed my family, stay away from me!" he is even
more
intrigued. In turn, Joong Ah becomes more intrigued with Kang Guk: his innate kindness and compassion can't help but warm her heart toward him. They often meet up in public to chat and one time in a rare humorous moment Joong Ah defiantly steps into wet cement on the street and makes permanent impressions of her feet on the sidewalk. (This little spot will continue to factor into their lives at later times in the story).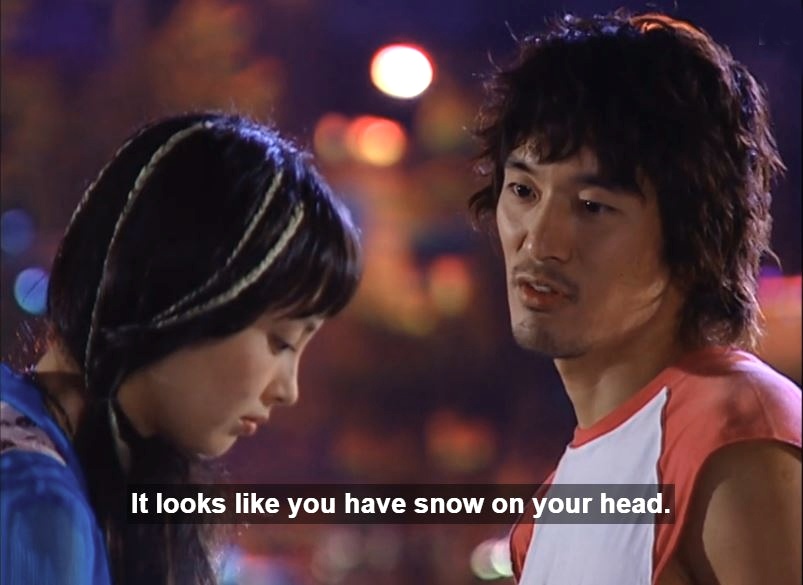 Then one night on the streets of Seoul Joong Ah and Kang Guk spy each other on the opposite side of an intersection. Joong Ah ignores the 'Don't Walk' signal and runs right into the middle of the intersection! (Where's that proverbial white truck? lol). Then she notices a man who has done the same thing, a tall handsome fellow with long hair (Kim Min Joon), and when a coin drops out of his pocket (reminiscent of Joong Ah's Ireland memory of her dead brother) she stares at it and then at him, just in the nick of time to shove him out of the way of oncoming traffic, thereby saving his life. When the signal light changes Kang Guk runs to meet Joong Ah, and the tall fellow's obvious girlfriend (Kim Min Jung) runs to meet him. As the two couples separate from one another, and start walking toward opposite sides of the street, both Joong Ah and the tall fellow turn their heads and glance back at each other. Again, and again, and again. The audience can tell this strange street encounter will prove to be an important moment for all their lives in future.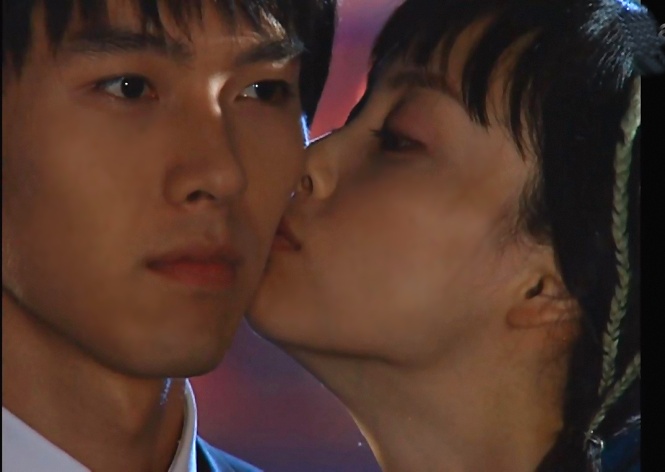 A year time jump returns us to our four main characters. Joong Ah and Kang Guk are now married. Kang Guk still works as a bodyguard and Joong Ah drives a school bus because she doesn't trust herself to work as a doctor quite yet. One day she has an accident with the bus and goes into the hospital to be checked out. While there she happens to see the tall, long-haired fellow whose life she had saved on the street a year earlier. He suddenly starts choking on candy and falls to the floor, seemingly unconscious. Joong Ah runs to him and practices CPR on him; the candy becomes dislodged from his throat and he revives. Once again Joong Ah has saved this man's life!

What An Interesting Friendship Foursome!
Si Yeon, Joong Ah, Kang Guk, Jae Bok
Will it be able to last?
He remembers her, and introduces himself, asking her how she has been since their street encounter. She finally discovers his name, Lee Jae Bok, and that he is a skyscraper window washer by trade. Turns out the accident she had had driving her bus had affected Jae Bok's girlfriend, named Han Si Yeon, who is an actress in risque films. Eventually Joong Ah becomes friends with both Jae Bok and Si Yeon, whom she apologizes to for the bus accident. Kang Guk meets them both too eventually, and they all become friends, but at first Kang Guk and Si Yeon do not recognize the mutual attraction Joong Ah and Jae Bok have for one another. At various times Joong Ah and Jae Bok try to break those emotional ties with one another but they aren't too successful. Fate keeps throwing them together, sometimes in very inconvenient ways.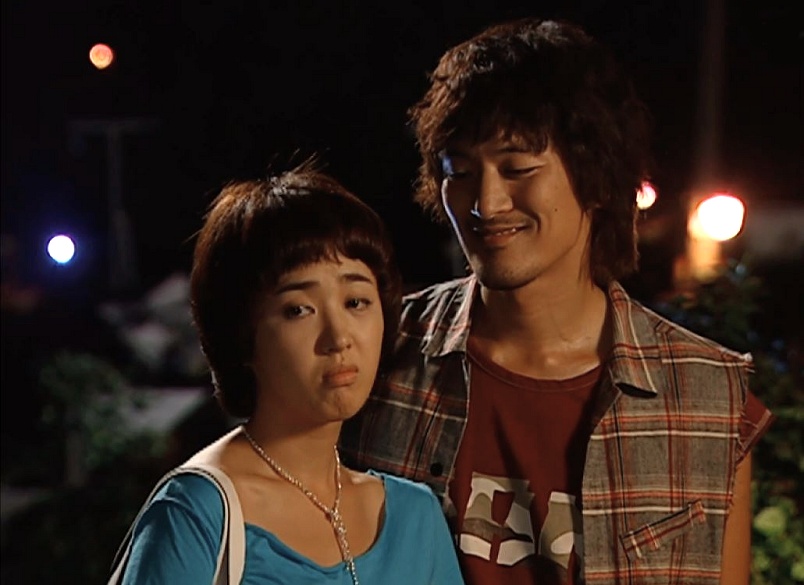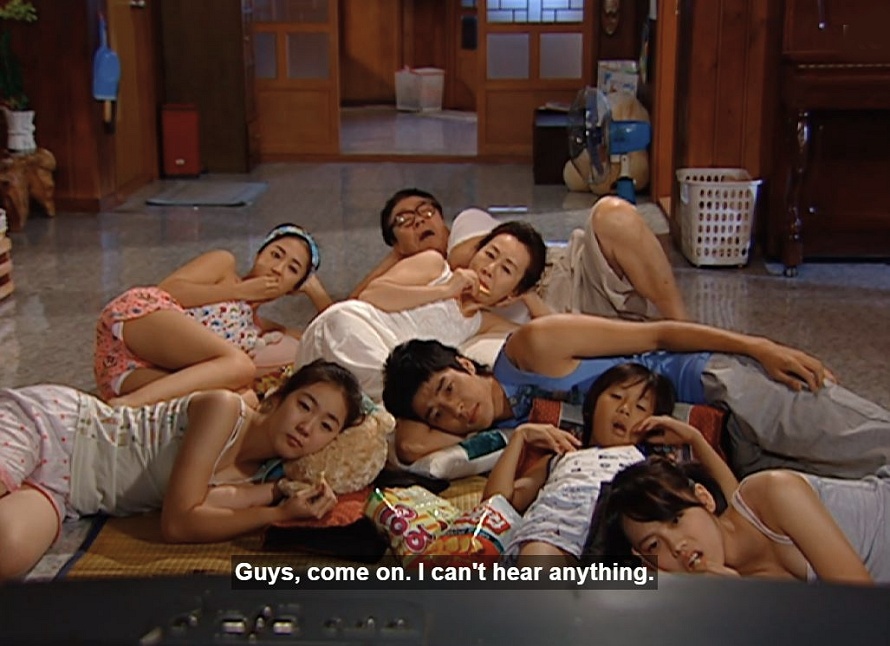 Jae Bok moves in with Si Yeon's family, headed up by her mother (played so delightfully well by veteran actress Youn Yuh Jung, the first Korean actress to win a Best Supporting Actress Oscar for 2020's film
Minari
), because he's often broke, since his salary as a window washer isn't enough to live on, and he has trouble getting along with his own mother Kim Boo Ja (Lee Whee Hyang, from
Stairway To Heaven
- her character here in
Ireland
is SO much nicer!) and his step-father Han Sang Man (Kim In Tae). He does sometimes get offended by Si Yeon's work in risque films --- but she makes a lot more money than he does, so he can't complain
too
much! He finds it hard to break away from this family and their easygoing lifestyle; they are the kind of people who are always nice to him, and who don't bother him or Si Yeon much at all as they engage in their romantic relationship while in the home. He does a lot of the housework and cooking in lieu of rent, while Si Yeon's rather large family choose to be lazy and watch endless hours of Korean dramas at night while laying on the floor together. (
Hilarious! I would have liked to have joined them! LOL!
).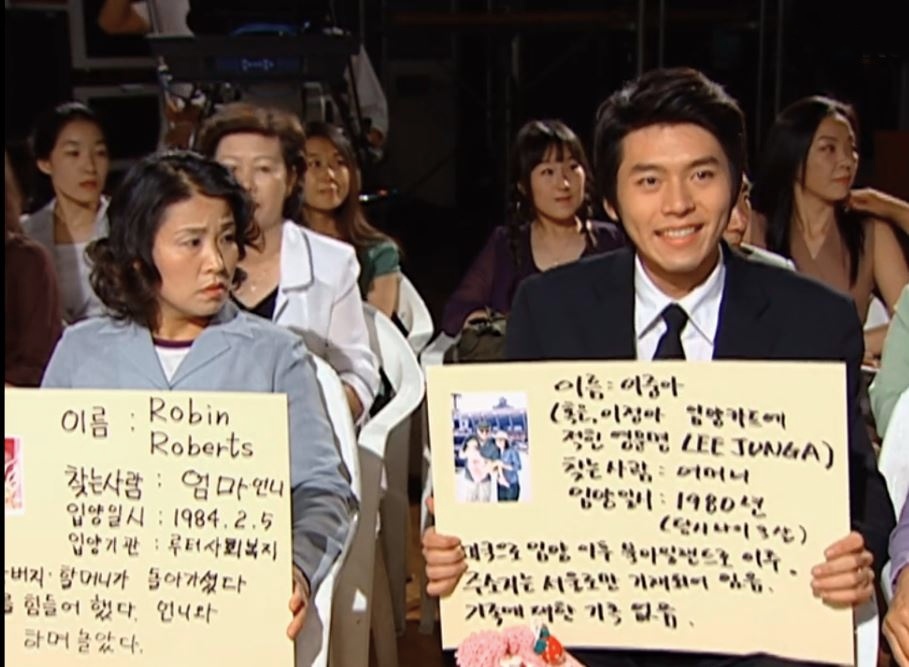 Kang Guk has the bright idea to appear on a popular television show that seeks to reunite adopted Korean children with their biological Korean mothers. He wants to surprise his wife Joong Ah and finally find her birth mother for her. Except a shock is in the store for all of them. Jae Bok's own mother Kim Boo Ja had given up her tiny daughter for adoption when she fell on hard times. When she watches the show and sees Joong Ah's photograph and papers she is shocked. She had called the child Jung Ah, not Joong Ah, but the names are close enough, and the picture shown looks so similar to the child she gave up for adoption. Jae Bok's mother Boo Ja becomes convinced Joong Ah is her own daughter. If true this would mean that both Joong Ah and Jae Bok, who have been secretly attracted to each other from the moment they met on that street encounter, would be biological brother and sister!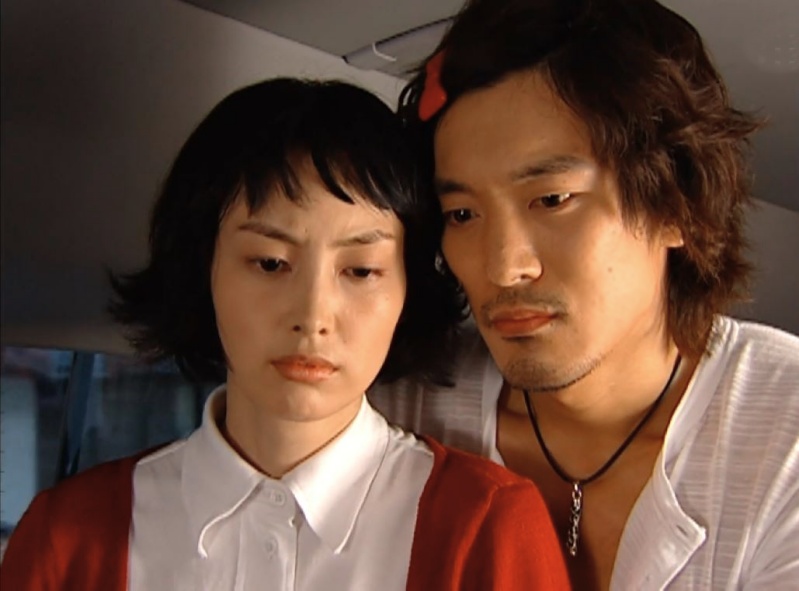 This would doom their secret feelings for one another from ever becoming physical in nature. (
I was like: GOOD!
). How can Boo Ja find out for sure if Joong Ah is really the child she gave up for adoption so many years earlier? When will she be able to meet her in person and talk to her? Would she agree to a DNA test?