The Story
:
Beautiful Yoon Seri (Ye Jin Son) is a spoiled heiress who tends to use handsome men as props to gain the attention of the paparazzi, to put herself in the limelight, since it helps publicize her company selling women's clothing and beauty products, but then once she's done with them she dumps them. Her latest reject is a secretive young man named Gu Seung Jung (Kim Jung Hyun from
Bing Goo
, a two episode drama masterpiece that I absolutely love). He keeps trying to get back into her good graces, but it becomes pretty obvious soon enough that it's not because he truly loves her, but that he is attracted to her wealth. She is right to keep her distance. Gu Seung Jung is a person who definitely needs to reform to be a truly decent human being. (Some of the drama, as it turns out, leads us up to that beautiful moment of reformation and self-sacrifice; he's just a fascinating character to watch - perfect casting!).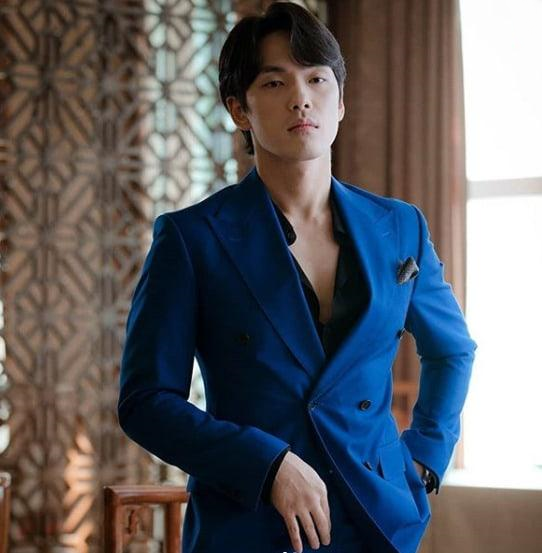 Seri's retired father Yoon Jeung Pyeong (Nam Kyung Eup) appreciates her ambition and her business skills, and gathers his family together, including two of Seri's jealous siblings, one brother named Yoon Se Jun (Choi Dae Hoon) and another brother Yoon Se Hyeong (Park Hyoug Soo), plus their wives Ko Sang A (Yoon Ji Min) and Do Hye Ji (Hwang Woo Seul Hye), to inform them all that he plans to make Seri the CEO of their family company. Seri becomes estranged from her brothers, and one of them plots to attack her secretly, so the father will change his mind and leave him the company instead. Seri is also estranged from her mother, Han Jeong Yeon (Pang Eun Jin), stemming from a day her mother deliberately deserted her on a beach when she was a child, but then eventually coming back to the family out of guilt, but not apologizing to Seri for the abandonment.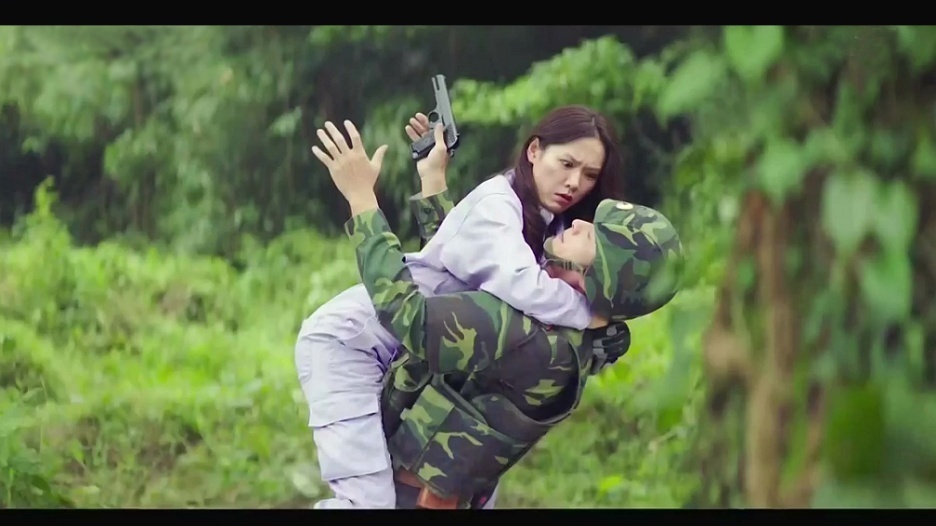 Seri loves to hang-glide as a hobby and then on one fine day she takes off into the sky from a mountain top, only to have a sudden tornado approach her while she's in the air, and she is violently thrust into communist North Korean territory, on the top of a tree in a forest close to the DMZ. When she revives she thinks she is still in South Korea and cries out for help. Her cell is out of range and she can't reach family or co-workers back in South Korea.
Then a North Korean soldier named Ri Jeong Hyeok (Hyun Bin) happens to spot her hanging from a tree branch and pulls out his gun. She becomes excited to see a human being and begs him for help, and then she falls out of her parachute and the tree and lands directly on top of Jeong Hyeok! (Hence the tongue in cheek, weird title for this show!).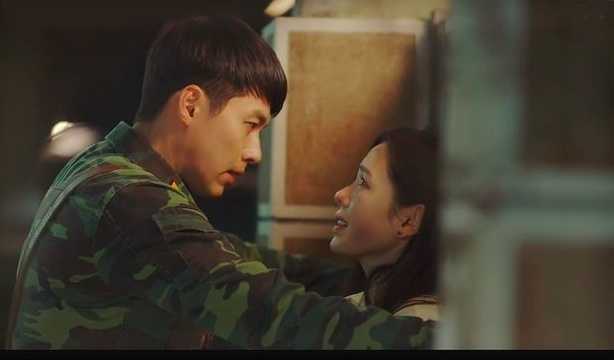 She ultimately tries to escape Jeong Hyeok to run back home (I burst out laughing when I recognized suspenseful music from
Stairway to Heaven
in that scene), but she ends up in a small North Korean village with a lot of nosy women wondering who she is. The humble and funny ladies of this village are Na Wol Suk (Kim Sun Young,
Because This Is My First Life
), Hyeon Myeong Sun (Jang So Yeon), Ma Young Ae (Kim Jung Nam), and Yang Ok Geum (Cha Chung Hwa), and they certainly gave the audience a lot of cute moments (how the heck are you supposed to survive communist North Korea if you don't have a sense of humor???).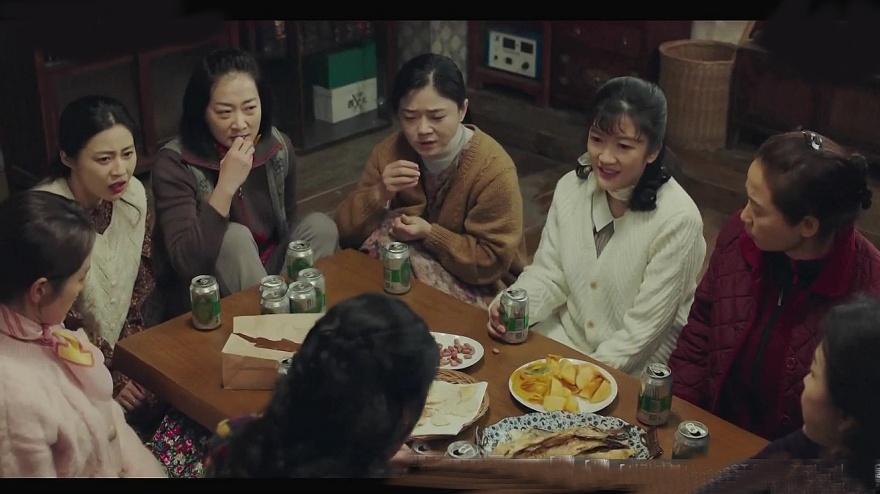 Seri ultimately is discovered by Jeong Hyeok again since this is his village too, where he has a small home he was given by his father Ri Chung Ryeol (veteran actor Jeon Kuk Hwan), who is high up in the chain command of important North Korean military men. Jeong Hyeok allows Seri to stay in his home and he tells the townspeople that she is his fiance.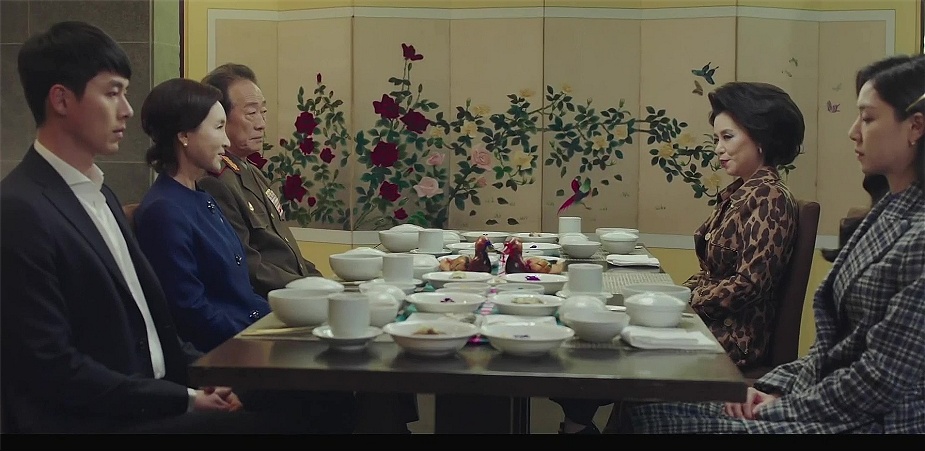 Not Exactly The Faces Of A Couple In Love!
However, the truth is he already has a fiance named Seo Dan (Seo Ji Hye,
49 Days
), which has been a secret for quite some time as a long ago family-arranged engagement. They don't love each other, they just tolerate each other, for their parents' sake. Especially conniving is Seo Dan's busybody mother Ko Myeong Eun (Jang Hye Jin) and her often bumbling uncle Ko Myeong Seok (Park Myong Hoon). They want their social standing to be elevated by marrying into the prestigious Ri family. Soon enough fate intervenes, however, and Seo Dan begins to fall in love with another man, Gu Seung Jung, who is on a secret mission in North Korea, just as Jeong Hyeok is falling in love with Seri.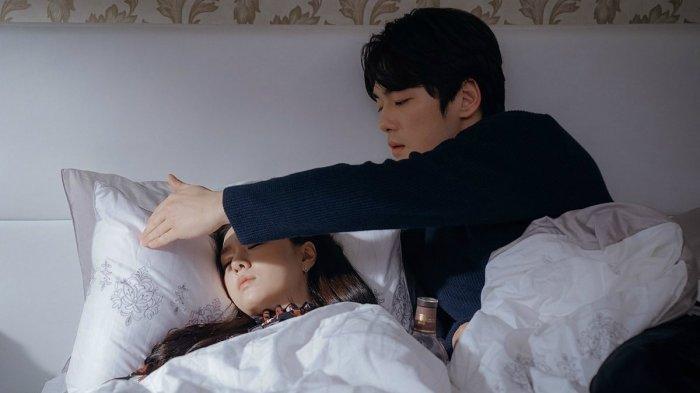 Eventually the townspeople, especially the gossipy ladies, grow to accept Seri and befriend her. And of course Jeong Hyeok and Seri are falling deeper in love day by day, though they don't admit it to each other. He teaches her about North Korea, their customs, their food, even how important it is to have your hair pulled back as a North Korean lady, otherwise you are seen as too flirtatious. He also tells her about his beloved older brother, a kindly officer who was murdered by communist thugs, named Ri Mu Hyeok (Ha Suk Jin in a cameo role - he played Ye Jin Son's husband in
Shark
). His mother Kim Yun Hui (Jung Ae Ri) has never truly gotten over her son's death and she doesn't want her other son to meet the same fate.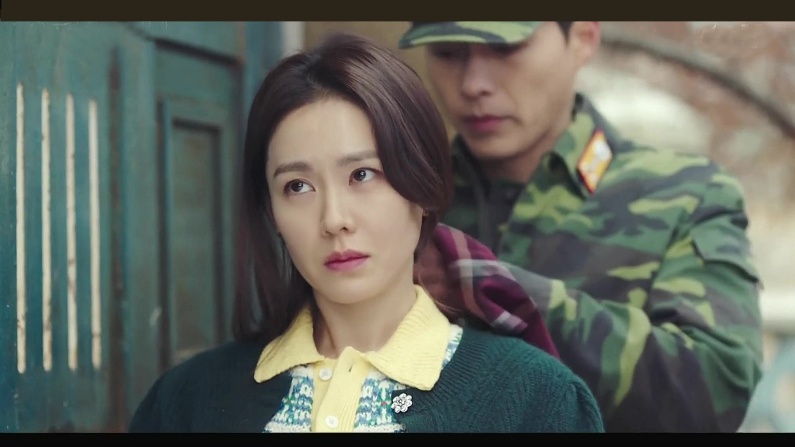 Meanwhile, Jeong Hyeok tries everything he can think of to sneak Seri out of North Korea and back to Seoul, South Korea which is her home. During her extended stay in North Korea she also becomes close to Jeong Hyeok's army buddies, called Company Five, who bring a lot of sweet levity to this drama: Pyo Chi Su (Yang Kyung Won), the oldest, who is just a wee little bit arrogant; quiet and reserved Park Kwang Beom (Lee Sin Young); Kim Ju Meok (Yoo Su Bin), who is in love with South Korean dramas and watches illegal bootlegs of them, especially the ones starring his idol Choi Ji Woo (
Winter Sonata
,
Stairway to Heaven
,
The Suspicious Housekeeper
); and the youngest Geum Eun Dong (Tang Joon Sang), who is a little innocent. They love Jeong Hyeok their commanding officer and will do anything for him, even protecting Seri when they have to, even if it risks their own lives and careers.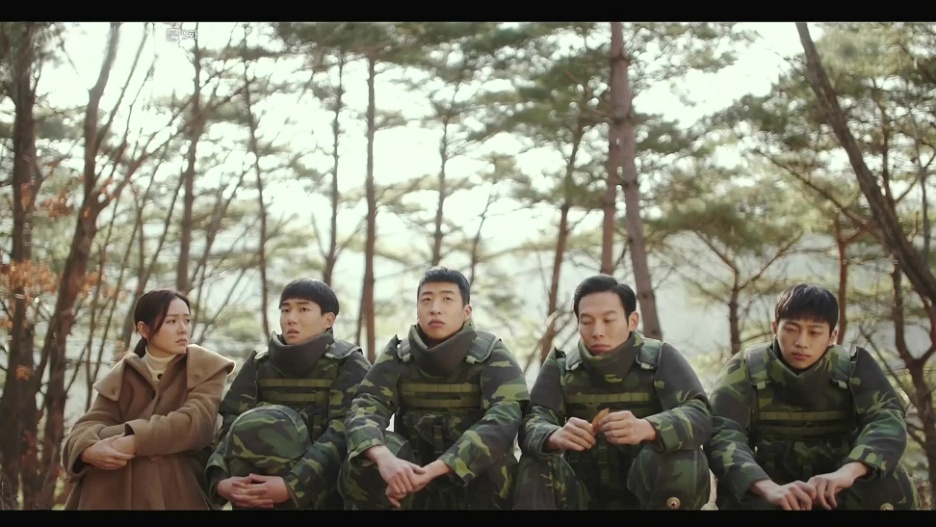 Several times Jeong Hyeok tries very hard to get Seri home before she's discovered by communist thugs, one time even being shot for his efforts, and then finally he is successful. She returns home to South Korea. He goes back home too, but eventually his life is on the line again from his late brother's murderer, Cho Cheol Gang (Oh Man Suk from
The Vineyard Man
). The villain is also given money by Seri's own brother Se Hyeong and his evil wife back in Seoul to get rid of Seri permanently, so they can take over the family company, and when Jeong Hyeok hears her life is in danger again he uses an old tunnel connecting both countries, which is at risk of collapsing, to sneak into South Korea. There he tracks down Seri in Seoul and they have a heartfelt reunion.
How can the good guy in The Vineyard Man
turn into a cold-blooded killer in CLOY?
However, with Cho Cheol Gang after them both now, will they be able to survive such a determined killer? The Company Five were sent into South Korea with a sports team by Jeong Hyeok's father to bring him back home safely, along with a professional snoop named Jung Man Bok (Kim Young Min) whose life had been saved by Jeong Hyeok's older brother who had been murdered. (Interesting to watch the progression of this actor's character here, too, since he played an outright baddie in
My Mister
).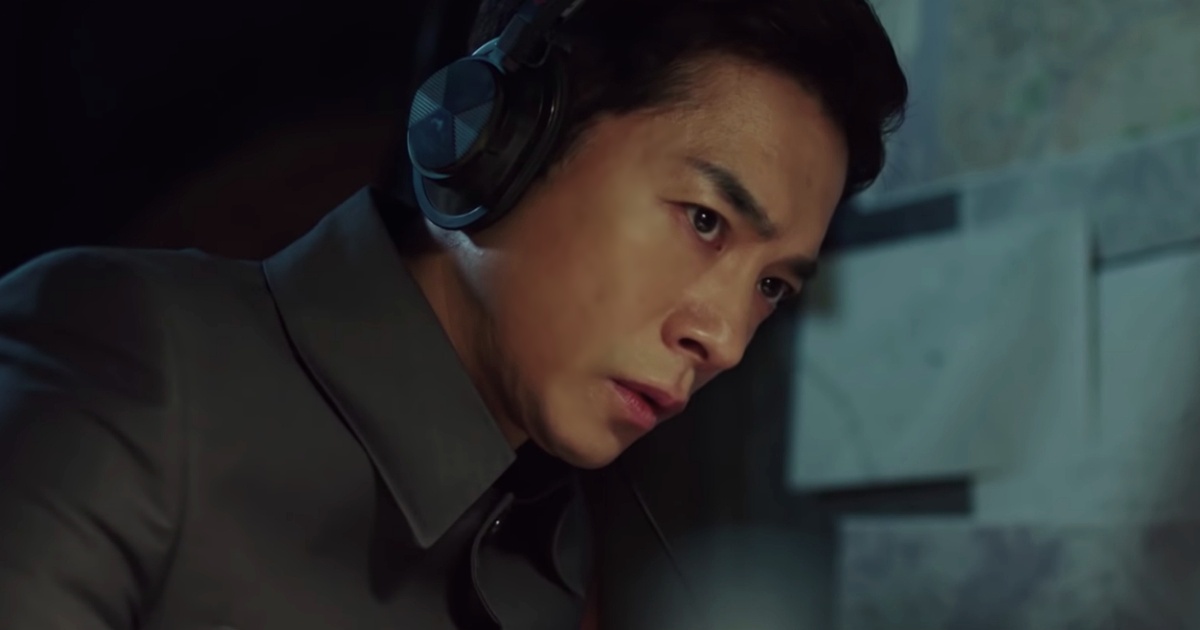 Does this actor look 50 years old to you? Well he is!
Seri even risks her own life, taking a bullet aimed at Jeong Hyeok, and she is put in the hospital on life support. Finally some of her family are united in concern for her, just not the evil brother and his wife who conspired to get her out of the way permanently. Father disinherits the scoundrel (at which point I cheered), and then finally he is confronted and arrested for plotting the murder of his own sister. Jeong Hyeok and his army buddies are taken back to North Korea under escort. Will Seri ever be able to see him, and them, ever again?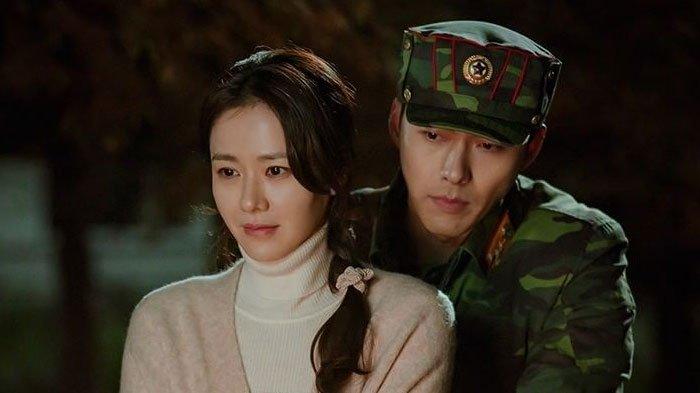 I hadn't watched a masterpiece level Korean drama for quite awhile, but this great drama
Crash Landing On You
made up for that deficit big time! It was just plain FUN to watch, and had adorable cameo appearances by Choi Ji Woo and Kim Soo Hyun. If you are a Korean drama fan, newbie, or experienced, and haven't seen this drama yet, then get thee to it without delay! You have missed a total winner! If you'd liked to see another Kdrama involving the theme of North and South Korean relationships then check out
King 2 Hearts
, another favorite of mine. It's excellent, too. Enjoy!