Another delight of this drama comes from its two
wonderful
leading ladies, Han Sun Hwa (
God's Gift: 14 Days
), who uncannily reminded me in appearance and voice very much like actress Yoon Hee Jo (
The King's Face
,
Nine: Nine Time Travels
), so much so that I kept shaking my head in disbelief at times, and Cha Joo Young (
Moonl
ight Drawn By Clouds, Cheese In The Trap,
Dr. Frost
) whose character was just so sweet and beautiful it could give one diabetes just to look at her! No wonder Go Man Soo would risk his life for her. I think the show made a great depiction of how much more chivalrous men were back in the day compared to now.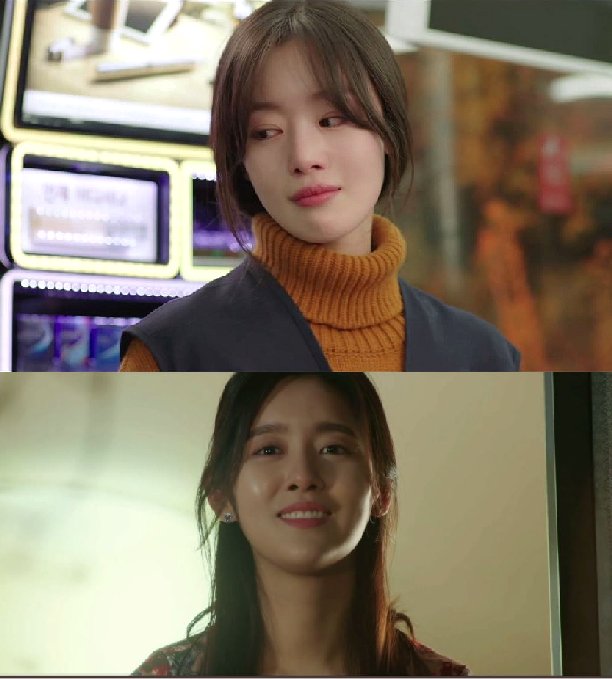 Han Sun
Hwa (top) and
Cha Joo Young (bottom)
The Story:
It is 1979 and a young man in love named Go Man Soo (Kim Jung Hyun) is riding his bicycle to bring flowers to his lady love Yoo Shin Young (Cha Joo Young) who is in the hospital with a chronic illness (the drama doesn't identify what it is but it's possible it's tuberculosis, judging by her symptoms). However, he just happens to ride his bicycle into a police sweep of students who are daring to flout convention by wearing long hair (for the boys) and mini-skirts (for the girls). He helps everyone to start running from the cops and many end up in a tea house run by Go Man Soo's best friend Jang Eun Seok (Kim Hee Chan). Some of the girls hide under the tables while the long haired boys are corralled and the police start to cut their hair against their will.
Under a table Go Man Soo butts heads with a pretty lady who is wearing a mini-skirt for the first time, named Han Yeong Sil (Han Sun Hwa). She had been there at the tea house to flirt with Jang Eun Seok, Man Soo's best friend, whom she fancies. Soon Man Soo and Han Yeong Sil are both found out and get another chance to run from the cops, when Jang Eun Seok blasts the audio volume of his tea house's stereo system so loudly that it shrieks and causes a distraction.
Man Soo visits Shin Young in the hospital and hears the exciting news that soon she can come home and just be an out-patient at the hospital. They go on a date to see the French movie classic
A Man And A Woman
at the local theater, and they're the only ones in the theater, then later have a serious conversation about their future. He buys her flowers again and then practices singing a love song, even though he's not the best of singers. He intends to sing it under her bedroom window at night, a la Romeo and Juliet style ... but then soon tragedy strikes and she falls unconscious and has to be rushed to the hospital by her father (veteran actor Eom Hyo Seop,
My Love From Another Star, Liar Game, Nine: Nine Time Travels
). Go Man Soo, kept out of the car by the father who isn't that fond of him, starts running to the hospital but never arrives. He trips, falls down a rolling hill, and suddenly begins to freeze as a layer of ice grows over him and leaves cover him up. However, during this magical event another one takes place and it seems that on the way to the hospital Shin Young recovers.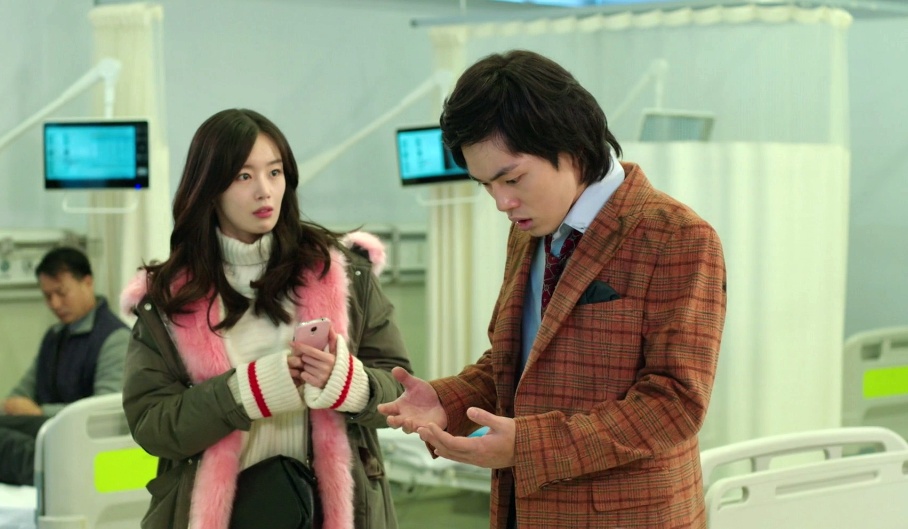 The time warp occurs and suddenly we are in 2016. A girl who looks just like Han Yeong Sil from the past, named Jang Ha Da (Sun Hwa again), discovers the frozen Man Soo and has him rushed to the hospital. When he recovers he is shocked by the changes he sees all around him! Everything technological is alien to him, there is no more political dictatorship, no more curfew, no more fashion restrictions. The theater he used to work at as a sign painter is no longer there. He has no idea where Shin Young is, or whether she is even still alive.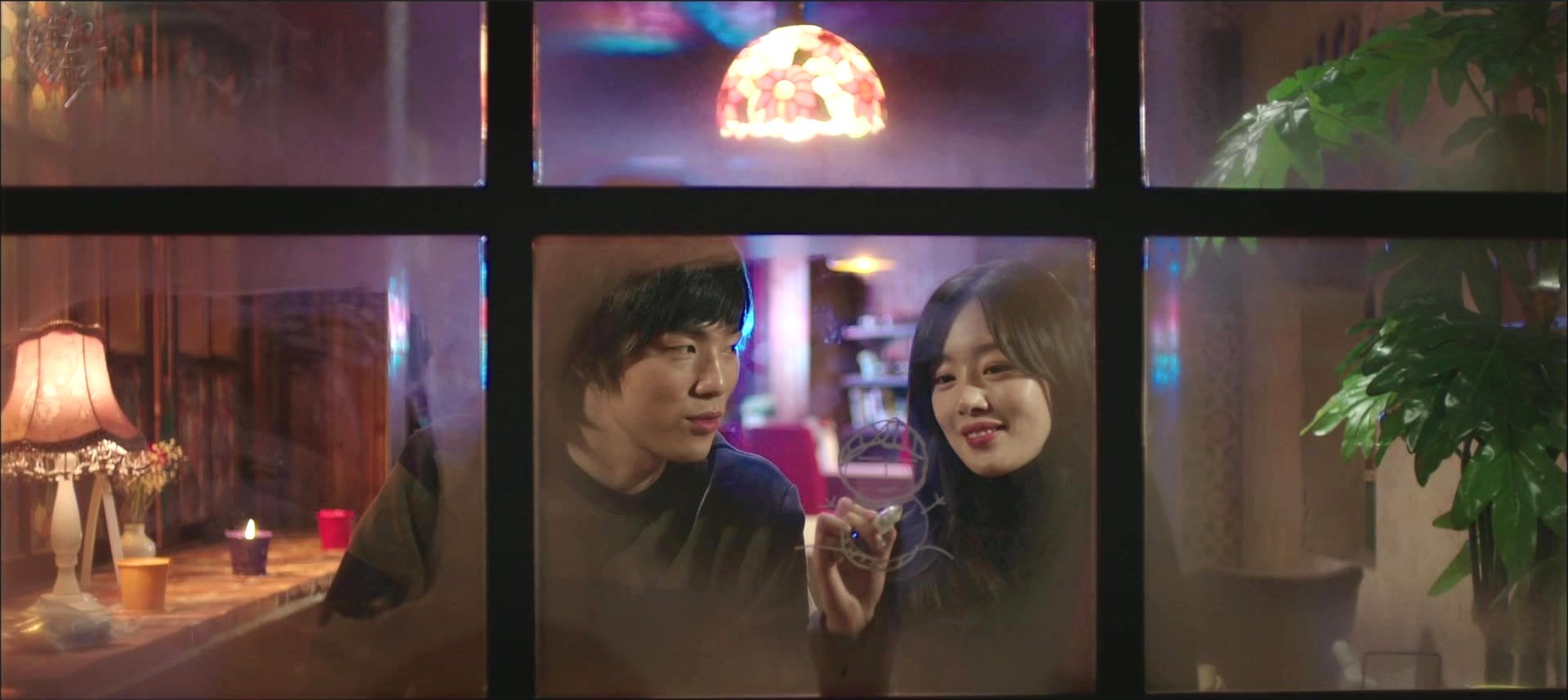 Kindly Ha Da takes Man Soo under her wing and soon even believes his time travel story, partly because he shows up at her house where she lives with her brother Jang Cha Da (Jung Ga Ram) and it's the same exact house Shin Young lived in in 1979! Their connection seems to be a strong one, and grows stronger day by day as they both try to search for the elusive Shin Young together.
On the search for Shin Young, Man Soo even discovers some long lost friends who are now approaching retirement age, including his former theater employer (Ahn Kil Kang), who doesn't quite buy Man Soo's story that he is Man Soo's son, and his old best friend who owned the tea house back in 1979 (now played by Jong Bo Suk).
Will Man Soo ever find Shin Young? What will happen if he starts to have feelings for Ha Da instead? Will he go back in time to Shin Young, or will he remain in 2016 and start a new life with Ha Da?
Enjoy this magnificent and deeply moving time travel romance! It's just so beautiful that my poor words cannot possibly adequately describe it. Watch and see the unforgettable story play out for yourself. There is no "the incense stick was me" moment, but there are plenty of surprises in
Bing Goo
that just might have you tear up anyway.
~~~~~~~
HOME TO KOREAN DRAMA REVIEWS
~~~~~~~