The first part of

Love Rain

which takes place in 1980 I have to admit is my favorite part of the show. I felt like I was in a time warp, because I came of age in the 1970's and this director nailed that time period down so well that I was truly in awe. The whole feel of that era was seen in the way the young people acted toward one another, spoke to one another, the music they enjoyed, their formal clothing and hair styles, the respect for authority which was demanded of kids back then (for instance, standing for national music and saluting, and having to obey curfews), the lack of cursing and disrespect toward adults, no internet yet so the kids actually read books and pursued intellectual interests, and the overall wholesome chivalry that men displayed toward women back then; all these aspects of the 1970's were brought to the forefront in the script. I thought to myself, only someone who came of age in the 1970's could know and understand the societal differences between the 1970's and 2012. Absolutely brilliant writing.




THE STORY

: Can you fall in love in three seconds? "Hana! Deul! Sam!" Our 1970's young college couple do! It's love at first sight for them, although they try and keep their feelings hidden for quite awhile, so as to not tip off their close friends. In Ha Seo (very popular young actor-singer Jang Geun Suk) and the girl he loves, Yoon Hee Kim (Yoona Im,

The Prime Minister And I

), are quiet and shy artistic types; she writes and keeps a diary, he paints and writes / performs music.

They have mutual close friends at university named Dong Wook Lee (Shi Hoo Kim), a handsome and popular boy who has a crush on the pretty Yoon Hee too, and is a member of In Ha's guitar band; Hye Jung Baek (Eun Seo Son) who has a crush on In Ha; and also our comic relief characters: Tae Sung Han (Young Kwan Kim) who always gets in trouble for his anti-government views and songs which he also performs in In Ha's guitar band, Chang Mo Kim (Seo In Guk in one of his earliest roles) who is like a class clown but still has a beautiful voice to add to In Ha's band, and cute Hwang In Suk (Bo Ra Hwang) who wants most of all for Chang Mo to finally get up the courage to kiss her.

When their children discover this they nobly break up, to avoid any heartache they might inflict on all their parents if they became step-siblings while loving each other deeply. Then the parents discover the reason their children broke up with one another and then they sacrificially call off their pending marriage, and ultimately decide to move to America as unmarried friends. So it seems there can be nobility and chivalry in modern day people after all! Ha Na and Joon Suh are then free to marry. Even Joon Suh's mother Hye Jung, who had hoped to restore her marital relationship with In Ha, ultimately accepts the marriage of Ha Na and Joon Suh and the inevitability of her ex-husband's relationship with the one girl he had always loved.


As is often the case with K-dramas, many characters in the story grow and improve as human beings over the course of the show. Sometimes even criminals in K-dramas are humanized (perhaps a bit TOO much for my liking!). However, there is little doubt that shows like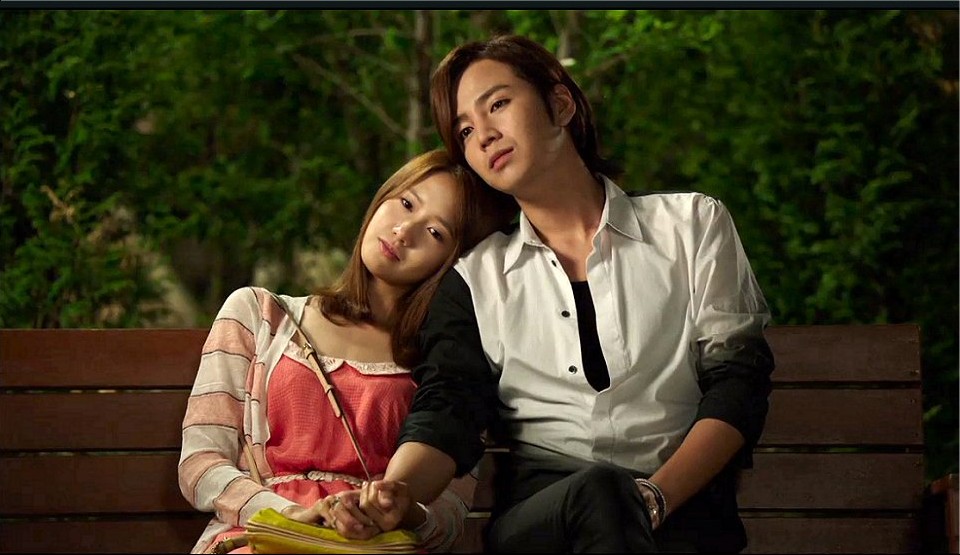 I went ahead and purchased a DVD set for Love Rain on Amazon, so that I would always have the show for posterity. I like how the DVD set was produced; each DVD contained episodes which weren't marked as individual episodes but flowed smoothly, as a movie does. There was no having to endure a repetitive intro at the beginning of each new episode. I highly recommend Love Rain to anyone who loves an absorbing love story which touches on universal themes like trust, truth, forgiveness, and fidelity.