Beethoven Virus (2008) quickly skyrocketed into my Top Twenty Favorites in my mammoth list of hundreds of Korean dramas that I've completed watching over the years. I was hooked from the first emotionally charged, beautifully filmed episode, and pretty much marathoned the whole drama in two to three days! It's unique in the K-drama canon: compelling, emotional, artistic, humorous at times, musically impressive with original themes and classical music combined in its OST, and it's just plain FUN, especially if you're into beautiful classical music.


OST - CD ONE



OST - CD TWO - FULL CLASSICAL PIECES
HEARD IN THE DRAMA


The cast had perfect chemistry with one another that was often bittersweet: I can't imagine anyone else in these roles: the lovely and lithe Lee Ji Ah (The Legend) as the violinist, resolute Kim Myung Min (from King of Dramas and the film Open City) as the genius orchestra conductor, and most endearingly, to me, the deliciously attractive actor and music genius Jang Geun Seuk (Love Rain), in an early outstanding performance that won him lots of acclaim and attention.

All the acting from the great ensemble cast was superb too (
I recognized many great character actors from other dramas I have watched and enjoyed - always a treat to see character actors you've already grown to love),

and all the wonderful classical music (and in one instance a sublimely beautiful film composition) was heady and beautiful to listen to, carefully chosen for maximum artistic expression and effectiveness. I loved this show so much that I bought two DVD box sets for it, plus the multiple music CD anthology set for the drama on Amazon before it went out of print.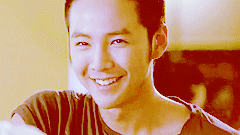 The story is a combination of the simple and the complex. The simplicity is in the basic love triangle story between the three main leads, and the complexity comes from their moral choices and how they react toward each other during challenges, and how they deal with the -- often of humble means -- talented musicians who end up in their newly formed city orchestra.


Each character undergoes tremendous personal growth during the course of the drama, and undoubtedly the greatest humanizing process takes place in the gruff exterior (and taciturn interior) of the orchestra conductor, played brilliantly by the always impressive actor Kim Myung Min. This was a performance of a lifetime for this actor, and I was mightily impressed by him. According to the Special, he trained for five months in the skills of conducting for this role, to learn how to conduct an actual orchestra professionally. That takes guts, dedication and humility!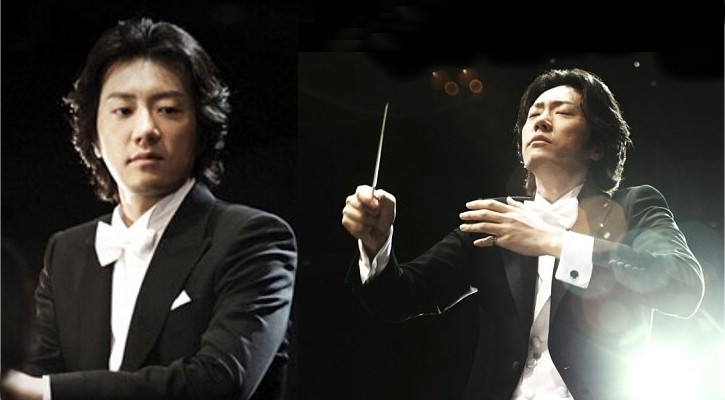 The Story Begins with a past dramatic moment for the famous orchestra leader Gun Woo Kang (Kim Myung Min), where he stubbornly refuses to conduct an inferior orchestra, even when the President of Korea is in the audience! More than losing face in front of politicians, Gun Woo Kang cares about his orchestra giving a masterful performance of a Brahms Symphony, and he doesn't think they are up to snuff. We are given a huge clue about his basic personality when he is initially threatened on to the stage, but then with a sudden flourish puts his baton down, explains to the audience that he won't conduct an inferior orchestra and risk insulting the long dead Brahms, and promptly leaves the stage! The incident makes national news and Maestro Gun Woo's future musical career in Korea is put at risk. "Orchestra Killer" becomes his nickname.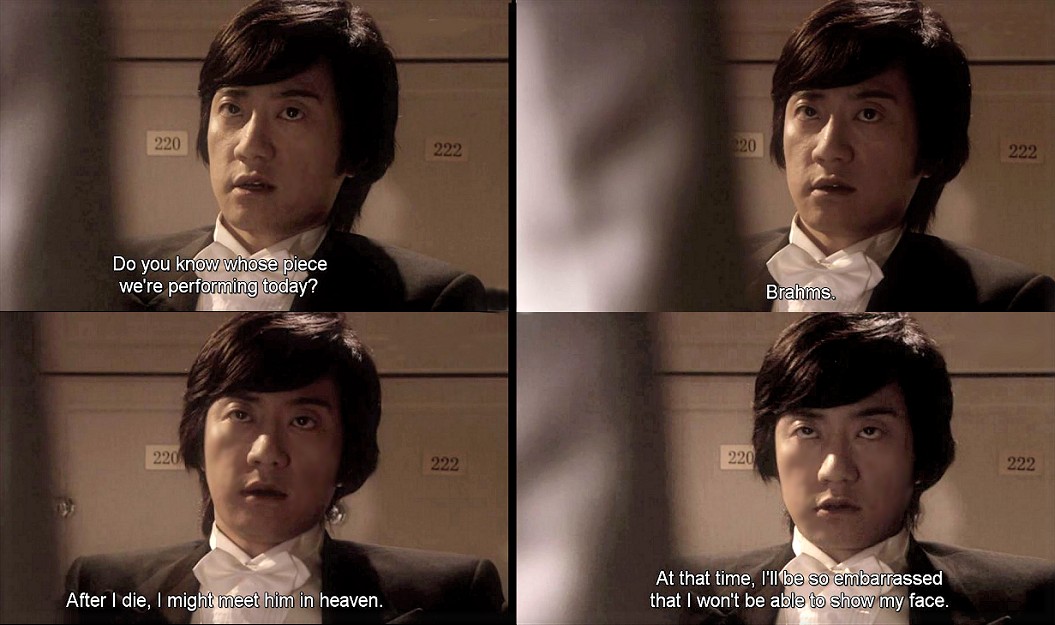 Gun Woo has to leave the country for Europe for a few years for work, and when he returns to Korea it's to start directing a community orchestra that a powerful mayor named Chun Bae (veteran actor Han Wie Lee from Spring Waltz) wants to create for his big city's public relations' glory.

The person hired to kick-start the new orchestra squandered away the taxpayer money raised for it, and a talented violinist who works in a civil service job, named Du Ru Mi (symbolic of keys A-B-C or Do Re Mi), played by beautiful actress Lee Ji Ah, knows she will be blamed for it because it was her idea to start a city orchestra in the first place and the mayor is counting on her to handle all the details. She briefly considers suicide but her plucky personality quickly helps her come to her senses, and she is ready to do the hard work of building the orchestra anyway, even if it means bringing talented amateurs in to audition for the orchestra.


She had settled on the moody Maestro Gun Woo, the "Orchestra Killer", as their conductor, and he is on his way to Korea, with his only friend his big collie dog named Thoven (short for Beethoven, of course!). However, Maestro has no idea he is going to be conducting amateurs! He thinks he will be conducting professional musicians.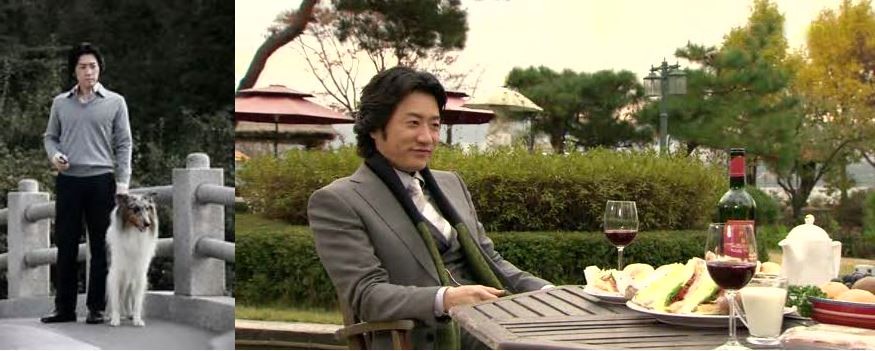 Du Ru Mi

has a gigantic challenge
,

for most musicians expect some kind of decent pay for their work and now there isn't much money to give them.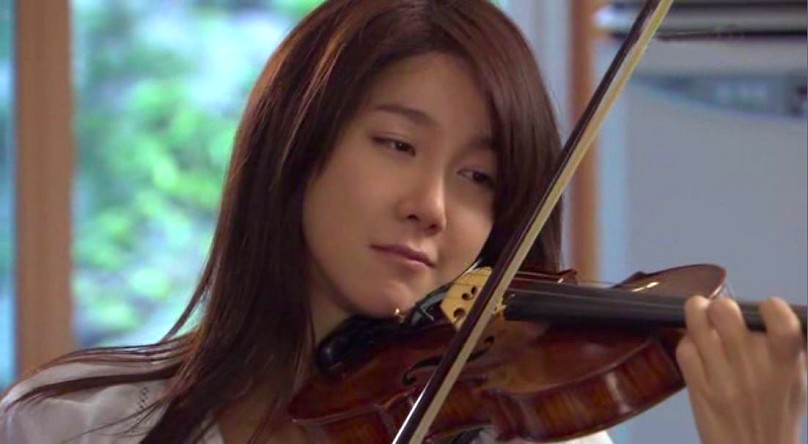 One of the most challenging people she ultimately persuades to join the orchestra is ANOTHER Gun Woo Kang (Jang Geun Seuk) who plays the trumpet by ear and has perfect pitch, but who cannot read music. He is a traffic cop by day but is put on leave when he deliberately crashes two cars blocking the road in order that a husband can get his pregnant laboring wife to the hospital in time. Now he has a lot of time on his hands, and his accidental meeting with Ru Mi intrigues him enough to try the orchestra gig.


Genius Jang Geun Seuk -
what else can I say -
I loved him like crazy in this show!

It's a definite irony, as it turns out, for these two men to have the same name -- both are musical geniuses but very different in temperament. Eventually when the older Gun Woo realizes how gifted the younger Gun Woo is he starts to take him under his wing; because they live in the same house they have daily contact and that brings them closer together than they ordinarily would have been.


The younger Gun Woo HATES classical music -- or so he thinks. However, at a critical moment for the entire new orchestra, the conductor Gun Woo teaches them all what the TRUE BEAUTY of music really is. He has them play film composer Ennio Morricone's plaintively gorgeous composition for the film The Mission, and in a great moment of special effects the entire orchestra is transported into paradise (this has to be my favorite scene in the whole show).



For the first time in his life the younger Gun Woo realizes how much music means to him and at this moment he basically becomes the worshipful slave to the older man, even to the point of wanting to learn how to conduct an orchestra for himself. Even after he develops romantic feelings for Ru Mi the violinist -- and she starts to fall for the older man instead of the younger -- he still doesn't strike back in revenge but continues to humbly learn from the older Gun Woo.


It's almost a father-son relationship as it develops. I found this aspect of the show so refreshing! (I get so tired of revenge dramas!). MUSIC is what they all love the most, and eventually nothing will tear them away from their First Love, not even romantic feelings which ebb and flow between Ru Mi and both Gun Woos she cares about, but in different ways.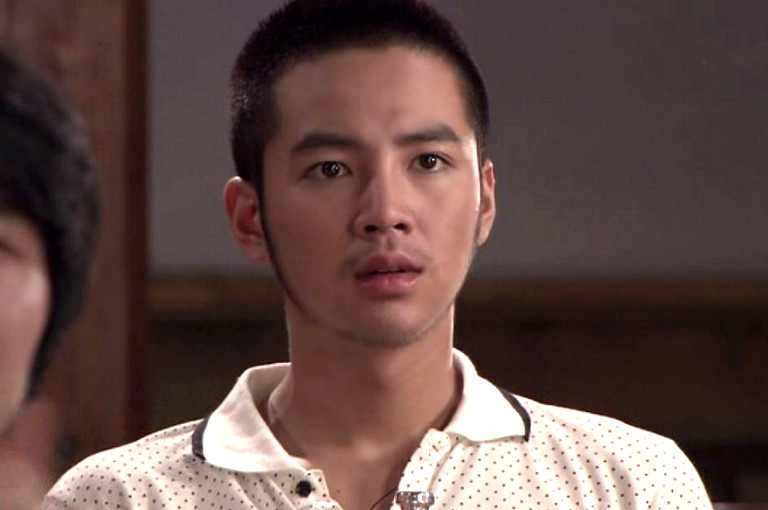 Love this expression on "Gun Woo Jr." as I nicknamed him,
as he returns from Paradise and realizes what he's been missing
When the police force hire him back the younger Gun Woo has to decide whether he will continue to direct traffic or become an orchestra leader! The older Gun Woo challenges him -- you know you're better than this, you have fire within you, boy! In a dramatic scene the younger Gun Woo leaves his traffic post and runs with lightning speed to the orchestra's first official concert. He will never put on a cop uniform again. He's going to become an orchestra leader!



It's rare to see an older man, younger woman romance based on true sentiment,
shyness, and not lust. I really adored this aspect of Beethoven Virus!
Besides the romance of the main love triangle, everyone else gets a chance to shine as well in this wholesome and gallant drama -- all the beautiful secondary characters in the orchestra are sympathetic and easy to care for, even with all their various idiosyncrasies.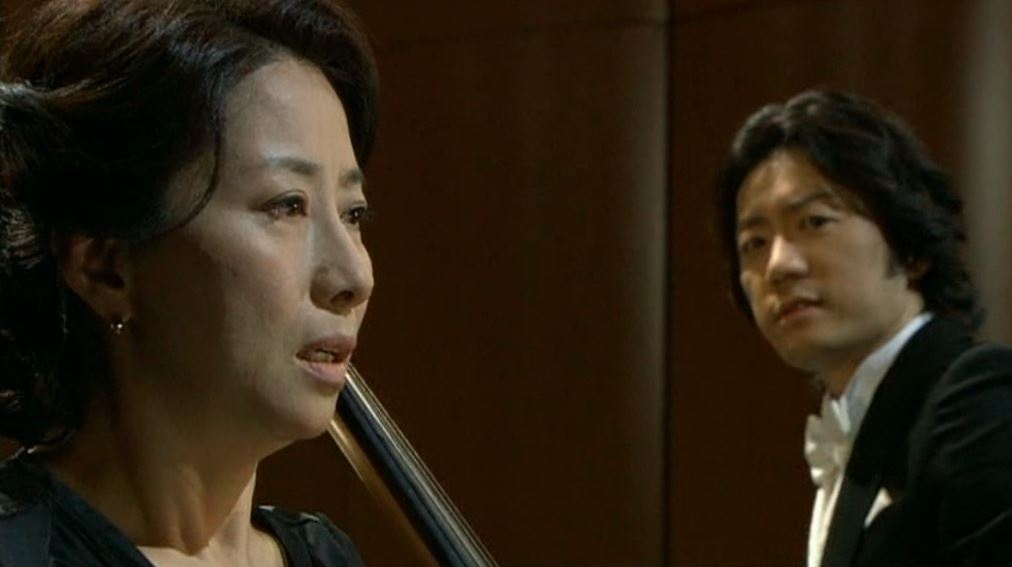 Go, Ahjumma!

A middle aged Ajumma named Hee Yun Jung (Ok Sook Song, brilliant performance) who plays the cello against the will of her jealous husband; a very poor young female flutist named Yi Deun Ha (Jui Ni Hyun from
Angel Eyes
and
Descendants Of The Sun
) who is sponsored by an aging grandfather type character, who plays the oboe but who is battling early senility, named Gab Nob Kim (WONDERFUL senior actor Soon Jae Lee from many dramas including
Stars Falling From The Sky
); family man Hyuk Kwon Park (Suk Yong Jung) who plays the contrabass but who feels guilty for leaving his paying job when his wife is pregnant; flamboyant and highly emotional Yong Gi Bae (Chul Min Park) who plays the trumpet in bars and who has a chronic coughing disability. Many times he brought much needed levity to scenes when they were becoming too serious. I also loved the two girls who both played the electric violin and danced together, Joo Hee Kim (Eun Joo Park) and Joo Yeon Kim (Se Eun Jo). When they auditioned for the orchestra in such a lively, spirited way I actually started clapping and cheering!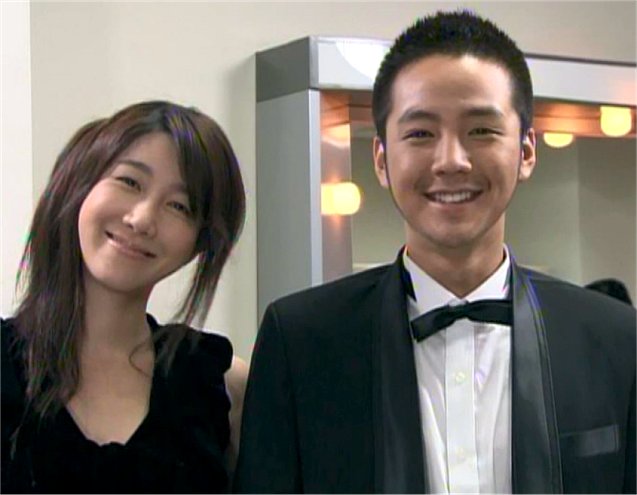 If you love classical music and a beautiful love story do NOT miss Beethoven Virus. It is irresistible, and peppered with so many interesting characters I can promise you that you will NEVER grow bored! You can buy Beethoven Virus on Amazon.com. There are two versions on DVD, the best one is HERE. Enjoy.


Second Review by Metrofan (Richard)

I finished
Beethoven Virus
and enjoyed it immensely. The ambiguous ending was perfect. All members of the triangle, Ru Mi, Maestro Kang, and Gun Woo, have grown spiritually and found a deeper significance in their lives and relationships.
Maestro Kang is a very interesting character -- an anti-hero who has to wrestle with his past. In the process he constructs a wall of anger to isolate his feelings of guilt and self-loathing. His attempt to create absolutely perfect music without any deeper emotional response ultimately is another way of avoiding the cauldron of anguish.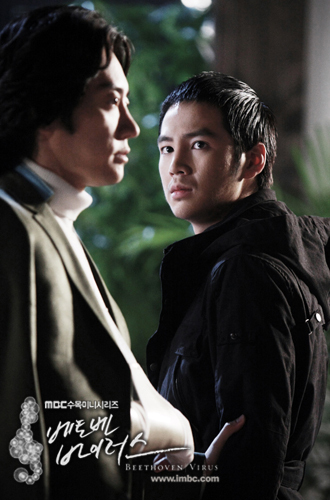 In the end, he lets the music speak through him and is strengthened and deepened as a Maestro. When he gives the ring to Ru Mi near the end he is acknowledging her part in this journey. And he reconciles with Gun Woo.
What will happen next? Is the ring a bond for the future? We are left to decide for ourselves.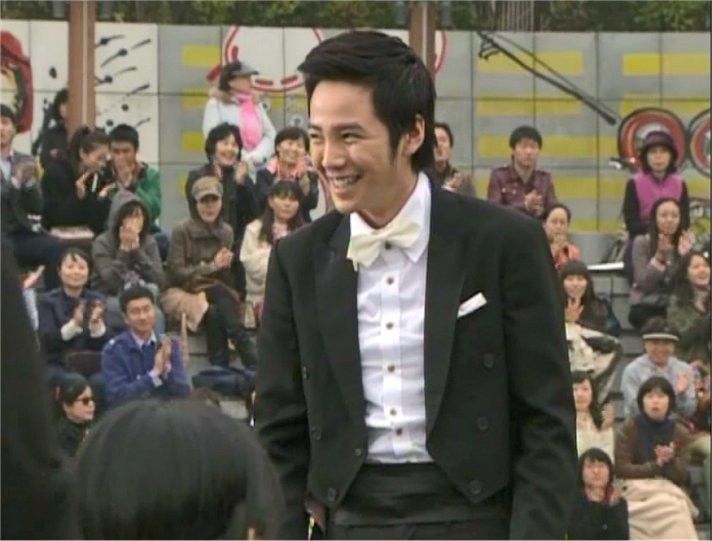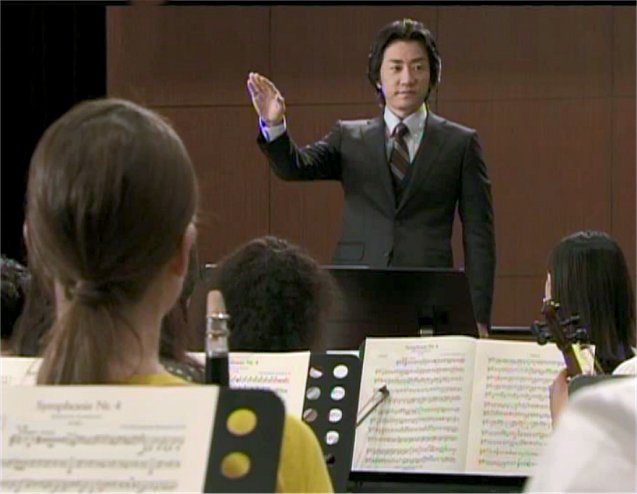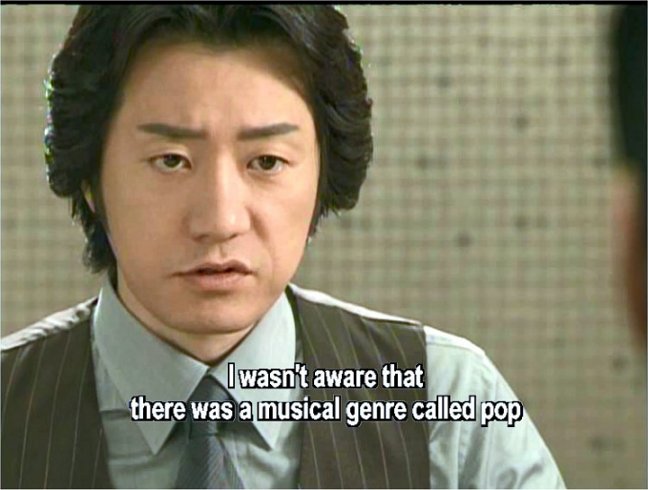 LOLOL!!!