Mimi
(2014) is the most dreamlike Korean drama I have ever seen. I fell in love with it almost immediately. It's a masterpiece in its wistful, bittersweet beauty and spirituality. It has a gentle otherworldly aura about it, from the first scenes to the last. I was so captivated by it that I watched it twice in one day, and due to its short length of only 4 episodes, you can easily finish it in one day, unlike most Korean dramas which are 16 to 20 episodes or more and can take several days to complete. Therefore it is an excellent choice to recommend to your friends who are new to Korean dramas and desire to know what all the fuss is about them. The story in the drama was loosely based on a 2007 Korean film called
M
which I watched after this drama but it totally failed to capture the sweetness of this drama. Probably one of few examples in history where a remake vastly outperforms its prior filmed story.
The cast were all new to me at the time: the two leads, Chang-min Shim playing fascinating, introverted artist Min-woo Han, and Ga-young Moon as Mimi, the elfin young girl he loved, were stunning to look at and were perfect choices for their roles. They didn't seem to be acting at all, but WERE their characters. The direction on this short romantic Korean drama by Chang-soo Song was just brilliant and flowed at a perfect pace. The cinematography was impressive, especially the use of frequent close-ups of these two beautiful young actors. I could see nary a flaw in the visuals and the perfection of their lovely faces. The script here was written by Yoo-sun Seo and boasted simple yet eloquent philosophical dialogue at times. Some of these lines would make lovely quotes for postcards, posters, or needlepoint embroidery. The music score was also memorable, with the unusual main love theme often expressed on the piano. I just loved it.


FULL OST

I only wish that someday this one will be released on legitimate DVD so we don't have to endure station "bugs" to watch it. I made my own DVDs with them using DVDSanta. How I wish that American television could give American kids such a lovely, gentle, thoughtful show, too.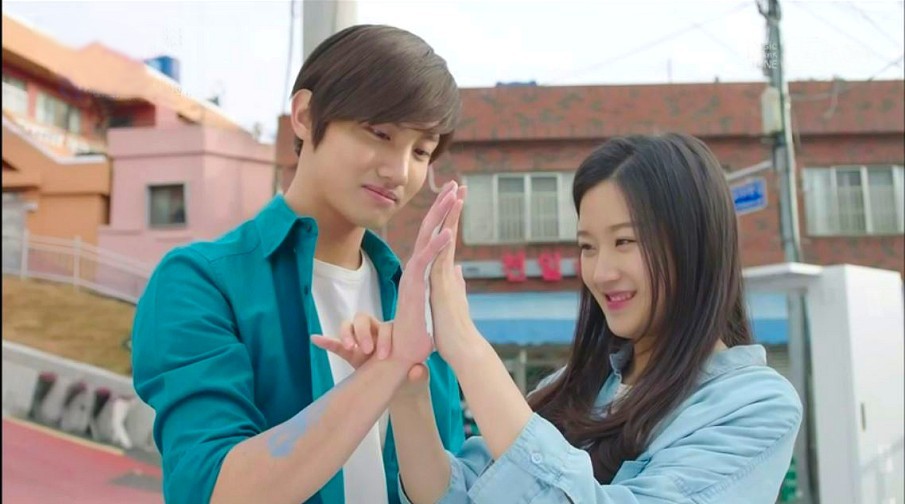 The Story
: Min-woo Han (Chang-min Shim) is a 28 year old artist who works for an online magazine and produces his own popular webtoon called
December 8th
, based on his own life experiences of losing his memory on that date 10 years earlier. He has undergone therapy for years and part of that therapy was to go through old belongings and in that search he had found a 10 year old calendar in which the final notation about his daily activities was made on that date. Because of the mystery of his artwork, filmmakers pursue him for his story, and fans write whole columns about how impressive his work is.
As he goes on his personal journey to regain his memory his old artwork from the time he was in high school plays an important part in helping him to decipher what he had been up to before his memory loss had occurred. One subject seems to take precedence, a very pretty young girl often wearing a high school uniform whom he seemed to draw in great detail. Min-woo becomes determined to learn more about this mystery girl. He goes back to his old high school, talks to his old art teacher, sees old friends and asks them questions. He soon learns a name to put to her imagery in his sketch book: Mimi (Ga-young Moon). Walking around his old haunts his memory is stirred and we begin to see flashbacks about how they first met and braved their shyness to come together as friends and ultimately sweethearts. There were so many heart-warming scenes that might bring back memories for you of your own high school days.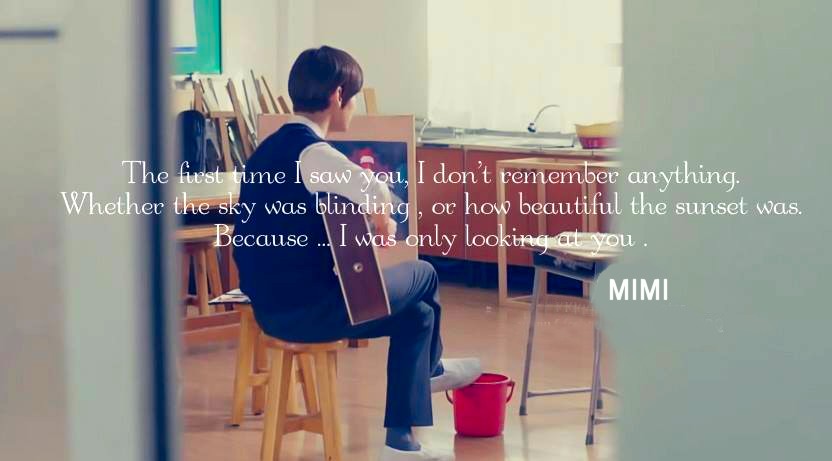 In the flashbacks we learn more about each person: Mimi lived with an aunt because both her parents had gotten sick close to one another when she was in grade school and had died. She has learned hair-dressing skills from her aunt and they both work in a modest place cutting hair (Min-woo braves a haircut there to be close to Mimi, with hilarious results). He also paints a beautiful oceanside mural on the wall of their business. Min-woo, in turn, lives with his loving mother who worries about paying the bills after the death of her husband, Min-woo's father, who had died by drowning when he tried to save his son after the boy had gone into the strong ocean currents without permission. Min-woo blames himself for his father's death.
Mimi admires Min-woo's incredible artistic and musical talents, and Min-woo admires Mimi's pure beauty, her joyous personality and exuberance for life. These two only have eyes for one another, although they do experience some typical spats as well. Kids will be kids!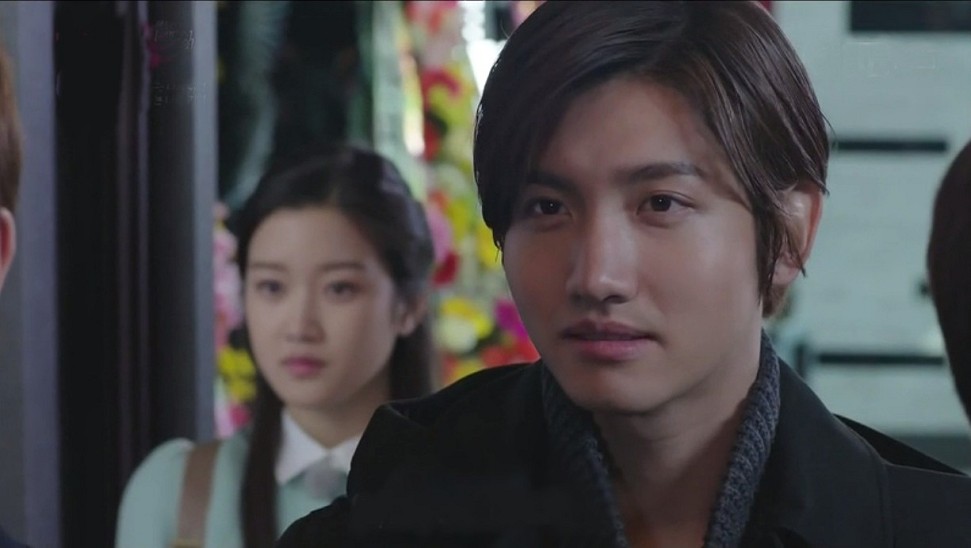 Early on in the show, in the present day scenes, we quickly realize that at some point Mimi had died, and she is now a ghost, following Min-woo around, hoping to see him remember her at last. In some rather spooky scenes, a fellow dressed in black (I see him as a grim reaper type), obviously a literal spirit who is serving folks liquid spirits behind a bar, hands Min-woo an antique box of matches with the word Lupin on it (there's also a red and white sign outside the bar with the same word on it and the picture of a fellow who looks a lot like the old time Mexican-American silent film actor Ramon Novarro!).
It turns out that each time Min-woo lights one of the matches in the box he can suddenly see Mimi's spirit, for as long as the match burns, and in these few moments they can communicate with one another. As soon as the flame is extinguished, Mimi disappears again.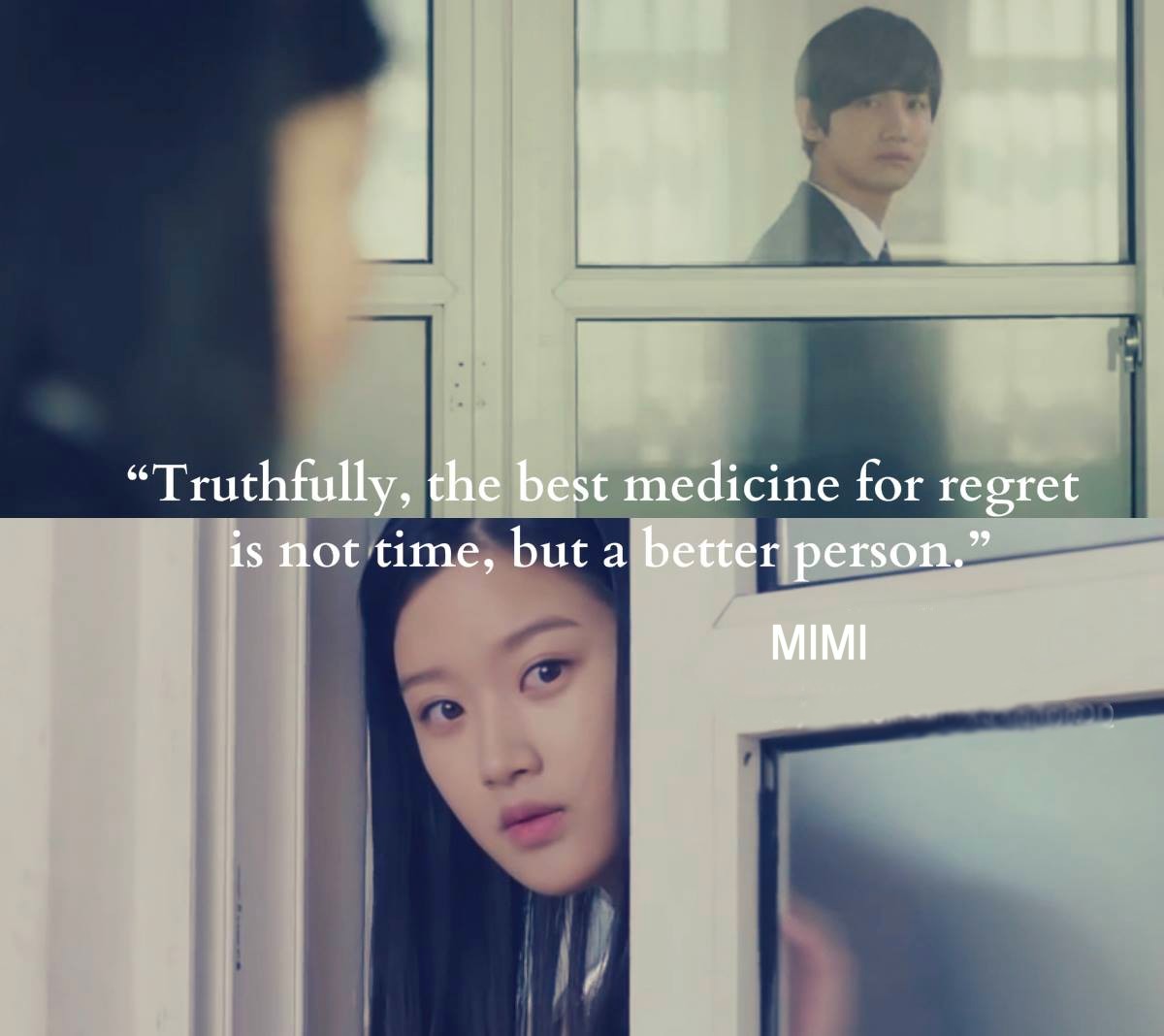 Their yearning for one another grows each time they see one another again, until it reaches a point that Mimi never wants to say goodbye to him, although the grim reaper fellow insists she must. On the sidelines, growing intensely jealous of the love Min-woo is rediscovering for Mimi, even if it IS for her ghost, is someone who works with him at the online magazine, Eun-hye Jang (Hyun-bin Shin). At one point, in her envy of Mimi, she rips out the words Min-woo had printed under one of his sketches of Mimi, about Mimi being his beloved muse. Later, however, in a poignant moment of reversal, Eun-hye becomes a bigger person and restores the words in a unique and special way.
The rest of the drama centers on how Mimi died, Min-woo's despair about it (including his considering committing suicide so he can join Mimi, which she prevents him from doing), and also scenes that take place during a lunar eclipse, when Min-woo and his friend hope for a moment where they might actually change the course of time and history and bring Mimi back to life. Will they succeed?


Love Song from Mimi (Piano)

The last few scenes left me with stinging tears but they were beautiful scenes nonetheless. This show is a definite keeper, to be watched more than once. If you love dream-like romances and / or ghost stories, give this wonderful, gentle K-drama
Mimi
a try.
If you would like to see this rarity online consider
joining our message board
- we share. ;)
~~~~~~~
HOME TO KOREAN DRAMA REVIEWS
~~~~~~~