The Story
: Overly secluded in a messy apartment in a modest district in Seoul, Cha Hong Do (Choi Kang Hee) is a single woman over thirty who suffers from an extreme social phobia, which causes her to blush excessively, making it hard for her to interact with people in a normal fashion. When she does venture outside she bundles herself up in frumpy clothes, sweaters and scarves, and avoids meeting eyes with people. Sometimes she'll ride her scooter to get where she needs to go, wearing a heavy helmet over her head, trying to hide her face as much as possible from strangers.
For seven years she has had a crush on a nice, gentlemanly male neighbor who is a police detective, named Jang Doo Soo (swarthy, good looking actor Lee Jae Yoon from
Cheers To Me
). Knowing she has a problem with socialization, he kindly pays her to drop off homemade boxes of food by his apartment door, but whenever he tries to initiate human contact with her to thank her for the food she runs away in fear, terrified he'll see her face.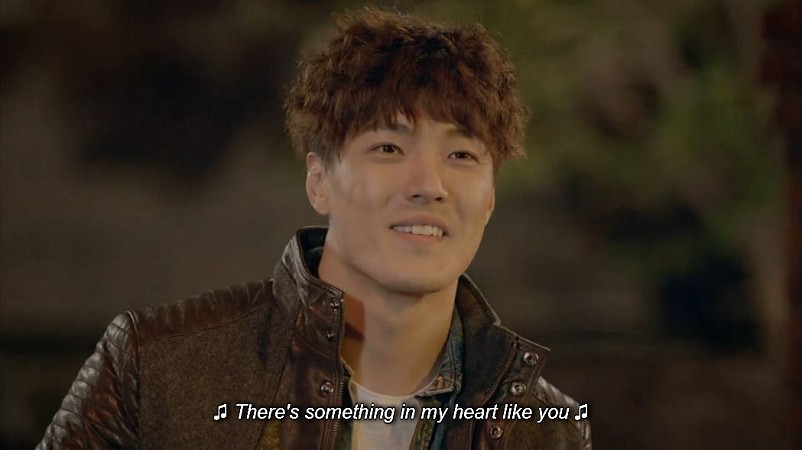 Detective Jang (Lee Jae Yoon) has a kind regard
for the repressed Hong Do but can that develop into true love?
When Hong Do's grandmother – her only connection to the outside world – dies, Hong Do is forced to venture out into society to earn her living, but the only job she can really find is as a maid / kitchen cook (and eventual typist) to a rich family named Ko. In order to get the job with this family she camouflages herself as an old lady, skillfully applying makeup and wigs to make herself look older. She also changes her name to Oh Young Rae. With this set up she can hide her real self from them and she has fewer problems relating to folks.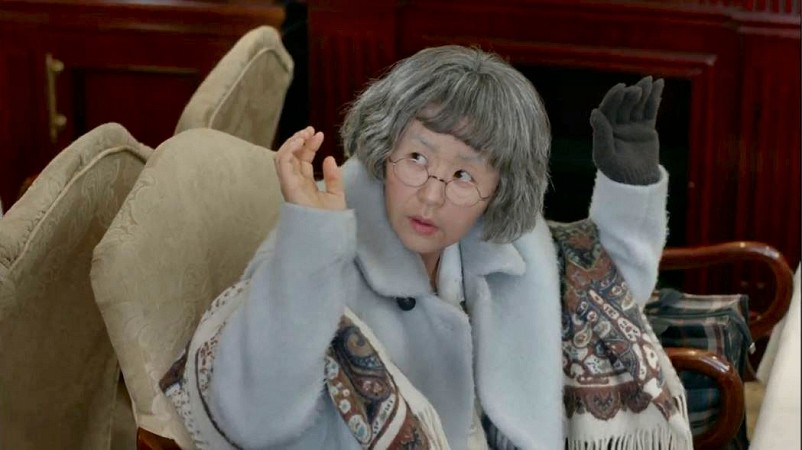 Hong Do's old lady act!
Soon she attracts the attention of the patriarch of the family Ko Sang Gyu (Joo Hyun from
Dear My Friends
) who has no idea she's actually a much younger woman in disguise. He falls for this older woman, who of course doesn't really exist, which later complicates her life in dramatic ways when the old man's grandson, the famous psychiatrist Ko Yi Suk (Chun Jung Myung), starts to develop warm feelings for the younger version of the family's old maid! What will happen when the truth comes out? Who will be hurt the most?
Hong Do first meets the psychiatrist Yi Suk by accident and gets him into legal trouble, although she also manages to save his life at the same time. Although the legal difficulty is soon resolved by a confession of a mental patient, the psychiatrist's business drops dramatically anyway because of bad press, causing him to have to downgrade his offices from the prestigious Gangnam area to a less wealthy area near where Hong Do lives.
Hong Do gets it into her head that the imperfect Yi Suk is the only one who can save her from a life of isolation, and she begs him to give her free counseling, since she had saved his life earlier. He eventually agrees, a situation which is made easier for him because whenever she is in his presence an odd tinnitus condition he suffers from magically disappears! (This kind of reminded me of
Master's Sun
, where whenever Gong Hyo Jin's character touches So Jisub's character the ghosts plaguing her suddenly disappear too).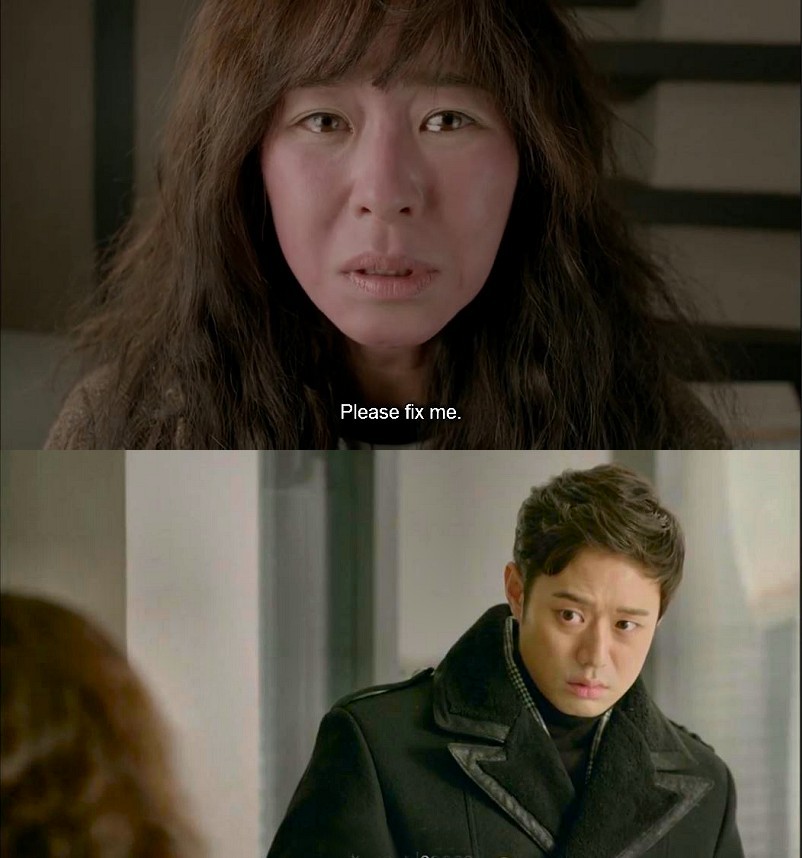 Yi Suk seems to have his own mental issues that he has to deal with, having to do with being the less favored son of his illustrious family. His mother Hwang Moon Sun (Jin Hee Kyung from
Sad Love Story
) is bipolar and never showed him much love, preferring his other brother who had died in a fire years earlier. She is depressed and at one point tries to commit suicide, so Yi Suk has that burden to worry about. He also has a younger sister Ko Sero (Ahn Sohee) who has suffered from parental neglect too, and so she turns to acting as a profession to give her life purpose and meaning. She also develops a girlish crush on Detective Jang, trying to act as competition for his affections from Hong Do.
However, there is something special about the repressed Hong Do that appeals to Yi Suk (I think mostly his sense that there is a real gem of a person underneath the dowdy clothes and frequently blushing face of this lady!), and soon it seems that even Hong Do's long term crush on Detective Jang is dissipating, in favor of her growing trust in, and affection for, Yi Suk. This twist kind of leaves Detective Jang on hold, even though he himself is intrigued by Hong Do and would dearly love to date her, if she could ever manage to look into his eyes, just once!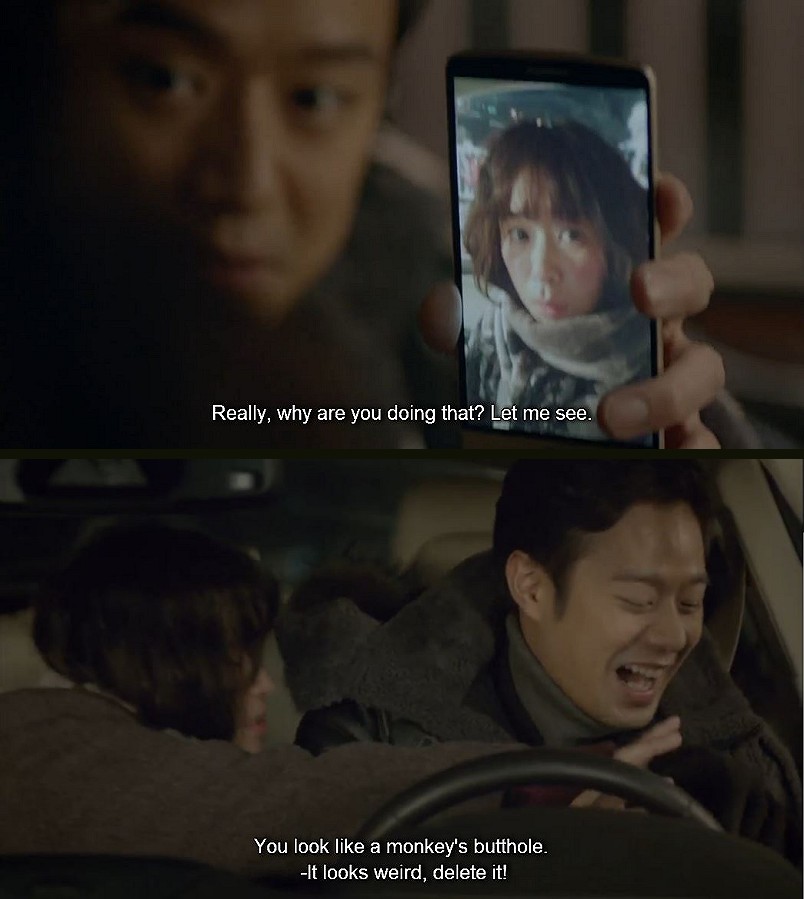 The odd couple of Hong Do and Yi Suk even get to the point where they can laugh together, and be intimate together. The start of a major miracle for a girl with a severe social phobia. The more he counsels her to be brave and face the world the closer the two of them become -- he had always given prior girlfriends necklaces, never rings
;
would Yi Suk ever get to the point where he will buy a ring for THIS woman? For the first time in a long life of uncommitted relationships Yi Suk seems ready to settle down with Hong Do, but there are still obstacles and perils ahead, including Ko family secrets that might impact Hong Do's lasting sense of security and happiness.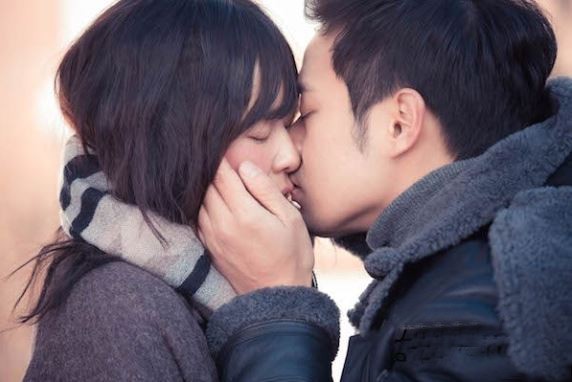 At times I thought this drama was a mixture of
She Was Pretty
,
Flower Boys Next Door
,
It's Okay That's Love
, and a bit of
Master's Sun
thrown together for good measure. I laughed out loud quite a bit and this is the best kind of humor for me: character driven, surprising, multi-layered, unique. It was obvious this was a tvN show, since they are known for shaking the status quo up quite a bit with their dramas, and also known for starting new trends in the industry. For instance, in one scene a diabetic young lady patient of Yi Suk's fasted for too long, which caused her to go berserk and run through the city streets naked! Have you ever seen
that
in a K-drama before? I haven't! It was rather shocking (even though the camera special effects pixelated her sensitive areas (and the actress was probably wearing a body stocking, lol!). For some intimate moments you normally don't see in most K-dramas I would suggest this drama is not age appropriate for anyone younger than sixteen years old.
If you are an adult and you really want something quirky and fun to watch, with some romantic suspense included, then don't miss
Heart To Heart
. Enjoy!