As in all step-families there are great challenges which occur after the wedding. The two girls continue to bring their parents grief. They fight over academic achievements; Eun-jo wins a math achievement certificate but Hyo-sun hogs the parents' attention instead after failing her dance audition, and no one praises Eun-jo but Ki-hoon (who is the only one she really cares about anyway). They fight over Ki-hoon and another boy who brings flowers to the house, which Hyo-sun thinks are for her when they're really for Eun-jo; despite the stresses the family live under, Eun-jo ignores every olive branch Hyo-sun offers. She doesn't seem to believe they could be real and perhaps she is right. Perhaps only Eun-jo knows that the human heart is really black and capable of all kinds of evil.
Then the worst happens when Hyo-sun and Eun-jo have a cat-fight over Eun-jo calling Hyo-sun out as a fake; they tear each others' hair out, and the father disciplines them both with corporal punishment. While Hyo-sun immediately admits she was wrong and apologizes after only receiving one blow, Eun-jo is her usual stubborn self and does not admit she was wrong, so she receives multiple blows to her legs, not showing any pain, until Ki-hoon, who is watching, can't take anymore and pulls her out of the room away from her father. He brings her to the building where the wine is fermenting in big jugs, and while she listens to the gentle "pop! pop! pop!" sounds, Ki-hoon applies healing compresses to her legs - the pain is so bad that Eun-jo hallucinates and imagines she and Ki-hoon are floating in a bubble to the moon (beautiful sequence).

... Fly Me To The Moon ...

Later the remorseful father carefully dresses her wounds while she pretends to sleep; however, the next day his punishment brings some measure of peace to the house because Eun-jo finally admits she was wrong at the dinner table, simply and matter-of-factly, and the episode is forgotten. Then more strain is added to the new marriage when Kang-sook begins getting phone calls from the old drunk she had lived with previously; he wants her back. Kang-sook even disappears for a day to see him and then lies to her husband and says she went to a temple to pray! More and more we are seeing the dark soul of Kang-sook coming out.
Suddenly Ki-hoon leaves to join the army (it seems partly to get away from his own family troubles). He writes a letter of explanation to Eun-jo in Spanish and then rather thoughtlessly hands it to Hyo-sun to give to Eun-jo after he's gone. Of course Hyo-sun can't read it since she doesn't know Spanish. She weeps when she gets home and tells Eun-jo that Ki-hoon is gone, whereupon Eun-jo runs to the train station to try and stop him. Sadly, they miss each other, and Eun-jo leaves the terminal, heads for the beach, and weeps as if her heart is breaking. Nearby in the sand is the pretty hairpin he had bought Eun-jo a long time ago, which had gone lost. The symbolism can't be missed - his gifts to Eun-jo too often miss their mark because of her dark, sad soul and his timidity. Love cannot be reciprocated in a healthy way when two people are caught up in their own turmoil and grief.

Then we skip ahead eight years. Dae-sung and Kang-sook are still married and have a little son. Eun-jo is all grown up, a seemingly less severe person, and working in her father's company in a management position. All her education had really paid off and she is quite successful and the company has prospered under her watch. The same can't be said for our "Cinderella", Hyo-sun, because she continues to live on credit cards, has no job, and goes up for dance auditions she always fails. Even her father is fed up with her. The more of a failure she is the more she dislikes "Cinderella's Stepsister", Eun-jo. Even when Hyo-sun teases her sister that she is dating Ki-hoon, who is back in the area looking for a job, Eun-jo plays it cool, and even compliments Hyo-sun and tells her she is pretty, which floors her. She challenges her sister, "What is your dream?". (THIS Cinderella doesn't have a dream that's a wish her heart makes). Ki-hoon comes and interviews with the company (very awkward for everyone due to the questions Eun-jo asks him) and he is hired, and now Eun-jo is thrown together with him again on a daily basis. It's obvious that there are residual feelings between Ki-hoon and Eun-jo, unanswered questions about why he had departed so suddenly and for so long, but for whatever private reasons she has Eun-jo does not feel like concentrating on those questions. She tries to keep their new relationship strictly business.
Another person from the past shows up as well, the young boy Eun-jo used to live with before her mother married Dae-sung, Jung-woo (handsome Taec in an early role), who had been so enamored of her years earlier and had never forgotten her. At first she doesn't recognize him but at a meal they share together his mannerisms while eating trigger her memory. Later they go and hang out by a lake and in a very sweet, delightful scene he dances for her to try and cheer her up and it's the first real laugh we have ever seen out of Eun-jo. She keeps imagining him as he was when he was little, portly, red-faced, and funny looking. Oh, but look at him now! Off in a distance sits Ki-hoon in his car, watching her laugh, and feeling sad that he doesn't seem capable of making her smile.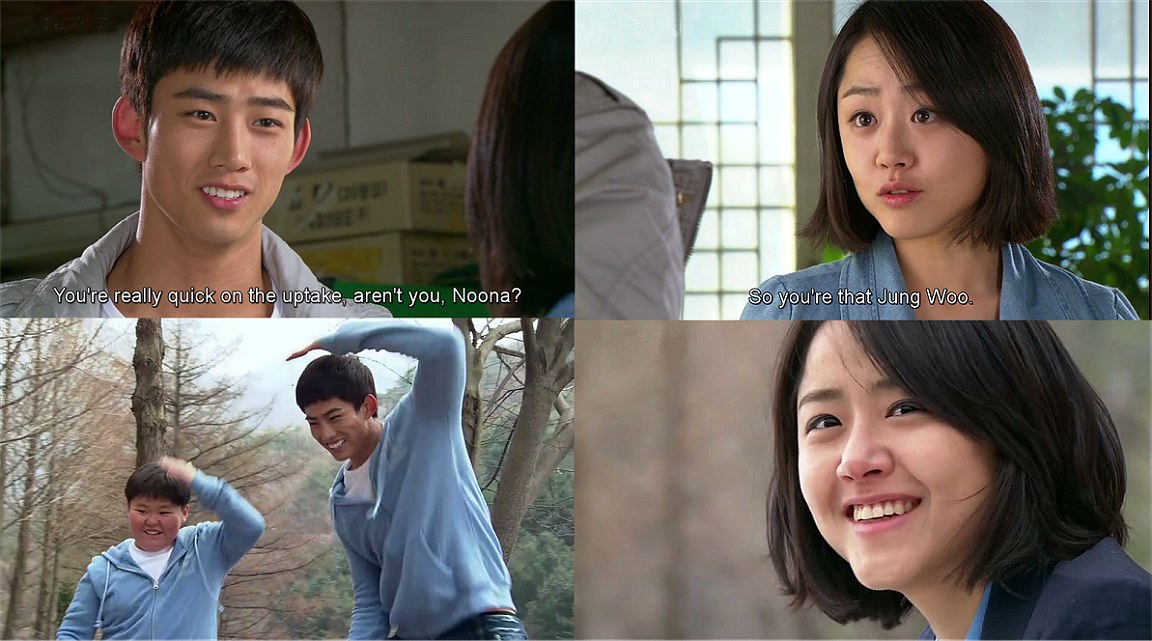 Then tragedy strikes. Ki-hoon fields a call from his father's company, and they want to execute an hostile takeover of the rice winery. When this message is relaid to Dae-sung he has a heart attack and dies at the hospital. Everything is about to change for Eun-jo, Hyo-sun, Kang-sook and her little son, Ki-hoon (who blames himself for the man's death) as well as the company. On a personal level, Eun-jo thinks back to all the great talks she had had with her step-father over the years; he was a man who truly had been a good influence on her life. He had always timidly asked her if she wouldn't mind calling him father. She never could manage to do it. Even as she weeps in a stairwell after his death, she struggles to say the word, "Fa - fa..." and
still
cannot do it. Now she finally realizes that she had been given someone she could depend on, and now that he is gone who will fill the void?
Suddenly, Kang-sook openly reverts to her true nature, because she doesn't have to impress a man anymore. Overnight she starts being cruel to Hyo-sun, becoming the Wicked Stepmother of fairy tale lore, and Eun-jo warns Hyo-sun that now she is alone, and that there is no one in her corner to protect her. Her usual baby cries for attention won't work; she needs to grow up fast. Ki-hoon's evil estranged family try to make a play for the floundering rice wine business and Eun-jo has to work harder than ever to save the company, even bringing in Hyo-sun to help. Events become violent at one point and all the hard work to save and improve the company may end up being in vain.
Will Eun-jo and Hyo-sun ever bury the hatchet over their past and come together as true sisters to help one another? will the stepmother self-destruct because she is left to her own evil devices, or will she end up as someone who is capable of reformation? Who will Ki-hoon end up with romantically, Eun-jo, or Hyo-sun? He's fond of both women, but really only loves one.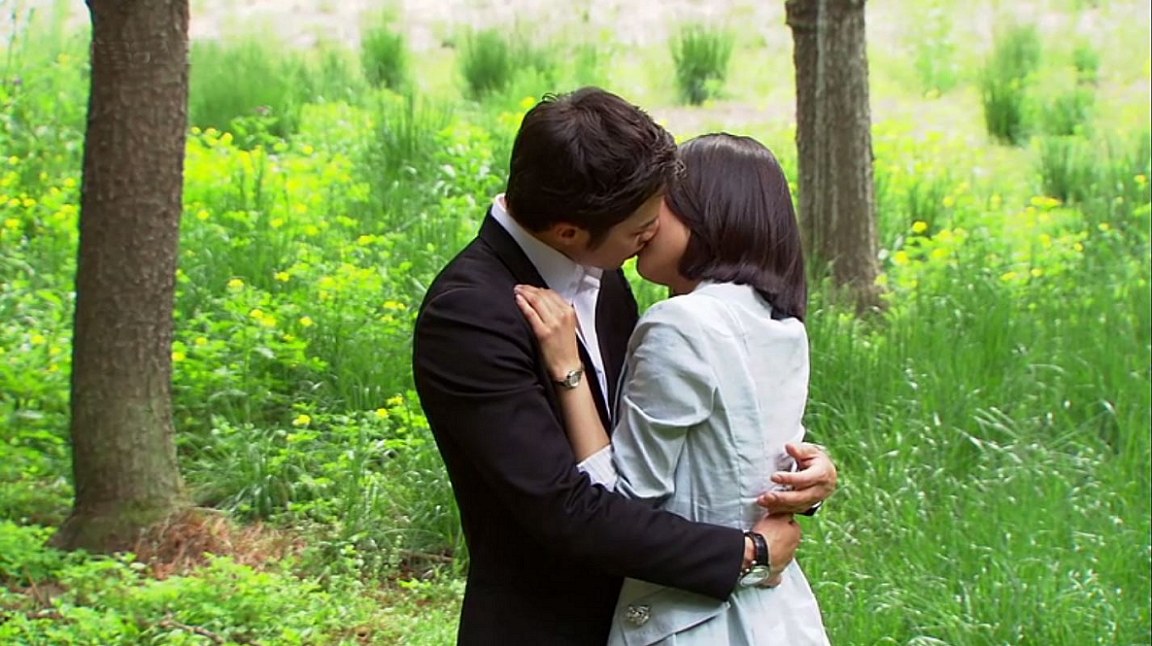 Many people claim the first four to five episodes of
Cinderella's Sister
are some of the finest K-drama episodes ever constructed, and others find the later parts of the drama more realistic and believable. The ratings were respectable for this show in Korea, averaging close to 20% share (most dramas average between 5% to 10%, with anything over 15% considered quite excellent and 20% or more considered outstanding).
I simply enjoy all these actors tremendously and I wouldn't miss this lineup of stars for the world. You've got seasoned pros working in a wonderful ensemble with good direction, cinematography and music; if you love an unique melodrama then check out
Cinderella's Sister
and judge for yourself if it's your cup of tea. As for me, I enjoyed the earliest parts of the drama the most, and especially loved the chats between Geun Young Moon's character and Kap Soo Kim's character; I recall that in the Extras' interviews on the DVDs for
A Tale Of Two Sisters
that both female stars made a special point of saying they missed the fatherly Kap Soo Kim very much. I am sure it pleased Geun to learn she would be working with him again on
Cinderella's Sister
.
You can buy a DVD set for
Cinderella's Sister
on
Amazon
.