Having an advocate on his side really helps Ji Heon become more stable, but sometimes he slips back and becomes like a scared child. Eun Seol begins to feel that she might actually be too much of a crutch for Ji Heon, and she grows concerned about losing her own freedoms in being at his beck and call so often. She tries to keep her emotional distance from him as much as possible, and maintains a sort of girlish crush on the cousin who hired her, Moo Won. Meanwhile, Moo Won finds himself seeing her more and more as a woman, and not just someone whose tenacity and ambition amuses him.
When a long gone lover comes back into the lives of both Ji Heon and Moo Won, an attractive lady named Yeon Seo Na (actress Ji Hye Wang, who was so good in
Personal Taste
and
The Suspicious Housekeeper
), who had been the object of both their affections in the past, it upsets the dynamics of both men's burgeoning romantic relationships with Eun Seol. Ji Heon is the first to get over Yeon Seo and tells her plainly he isn't interested in her anymore, which upsets Yeon Seo, but his honesty starts to divert her attention to Moo Won instead. Moo Won is still physically attracted to Yeon Seo, and even kisses her, but his mind and heart become more and more intrigued with Eun Seol. He asks Eun Seol for dates and she accepts and they have wonderful times together, but for whatever reasons Eun Seol's heart really belongs to the more fragile Ji Heon -- I think because he needs her the most (and most of us yearn to be needed, as well as loved).

The story ends up going in unexpected places; some sub-plots are more serious, for instance the company is about to be accused publicly of tax fraud, yet other sub-plots are more domestic and delightful, like the growing friendships between the three girls and roommates, Eun Seol, Yeon Seo, and the chubby, motherly Myung-ran Lee (Jae-sook Ha of
Pasta
). Yeon Seo in particular proves to be a wonderful, delightful character and doesn't go after Eun Seol to hurt her when she realizes both men are obsessed with her. I really delighted in this actress' performance here in
Protect The Boss
. She was funny, vivacious, quirky, surprising, and completely sympathetic. What a pro she is; she can play funny and sad, sometimes both at the same time! And her characters always seem to get some of the best lines in whatever show she is in at the time. The slumber party scenes between the women were some of my favorite scenes in the whole K-drama. Fantastic and joyfully funny! Sure, romance can be fun, but girly times among friends can be the best times of all!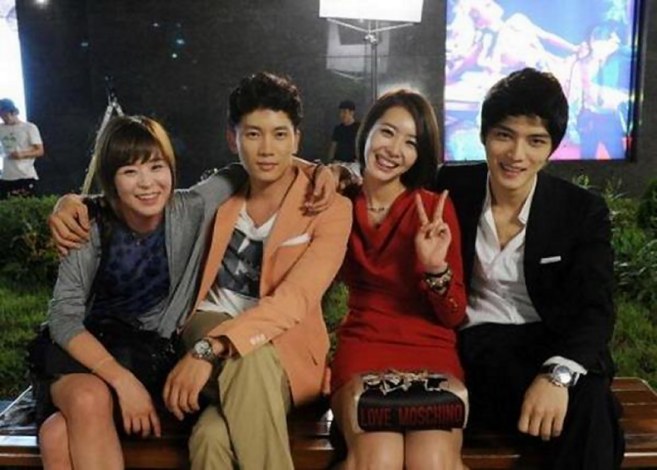 I really enjoyed this show and the cast was exceptional, and I liked the fact that we see a wedding at the end. Many times in K-dramas the weddings are never seen, just assumed. I think these writers set out to do some things differently with this K-drama and it shows.This was a very funny, upbeat and rewarding K-drama and I laughed out loud many times. All the secondary characters were a hoot too. It's a not to be missed experience. You can buy a legit YA Entertainment DVD boxset off
Amazon
. Enjoy!
~~~~~~~~~~
HOME TO KOREAN DRAMA REVIEWS
~~~~~~~~~~