Star's Lover
(2008-9) was inspired by the American film
Notting Hill
, and is basically a glitzy and warm showcase for the stunning Korean actress Choi Ji Woo of
Winter Sonata
fame. If you are her fan this is one to put on your watch list, she simply glows in this show. However, this is definitely one of those K-dramas that could have been shortened down to sixteen episodes or less to tell the same story that was dragged out in twenty, so therefore it's down on my K-drama favorites' list for that reason. Sure, I love watching Choi Ji Woo in anything, there are scenes in this show where her beauty is astonishing (I took a LOT of screen captures!), but I honestly expected to find this one far more exciting than I did. It kept my attention because of the solid acting but it simply lacked some writing spark that would set it apart from all the rest - once again, not the actors' faults, but the screenplay writers'.
Even the beginning is something you've seen many times before in K-dramas; two children grow fond of each other and then family problems separate them; the boy's parents separate and his mother deserts him and his baby sister and he is adopted by a group of entertainer women he calls his "aunts"; the girl's parents die together in a shipwreck and she is sent to live with her grandmother. They meet up again much later and fail to recognize each other for a long time. One has become a popular actress to escape poverty and its related problems, like being made fun of in school, and the other becomes focused on academics because the mother who sadly left him in his youth had handed him money and told him to go buy books with it. He becomes a teacher of literature and we are shown scenes where he mocks the profession of ghostwriting to his students. This issue comes up soon in the drama as a source of conflict.
Would You Fall In Love With Someone
Reading Jane Austen On The Street?

The Story
: Actress Ma-ri Lee (Choi Ji Woo) becomes a top star in Korea and throughout Asia, especially Japan. The head of her management agency, who knows how popular Ma-ri is in Japan, the overly-controlling and manipulative Tae-suk Seo (Ji Roo Sung), wants to hire a ghostwriter to write a travel essay book on a culturally significant area in Japan called Asuka, but he wants the work credited to Ma-ri. He approaches the low paid university lecturer and writer named Chul-soo Kim (Ji Tae Yoo from the film
Ditto
) to write this book, to help transform Ma-ri's star image from flighty actress to serious thinker. Needing the money, against his better judgement, Chul-soo reluctantly goes to meet Ma-ri during a publicity event and is struck by her beauty. He takes the job in order to earn a large amount of money quickly to repay his rich ex-girl friend, Eun-young Choi (Ye Ryun Cha from
Bad Love
) who had secretly paid for his college tuition years before. When Chul-soo had been angry and embarrassed to find out who was paying his tuition he had promised to pay her back as soon as possible, even though she had said that wasn't necessary.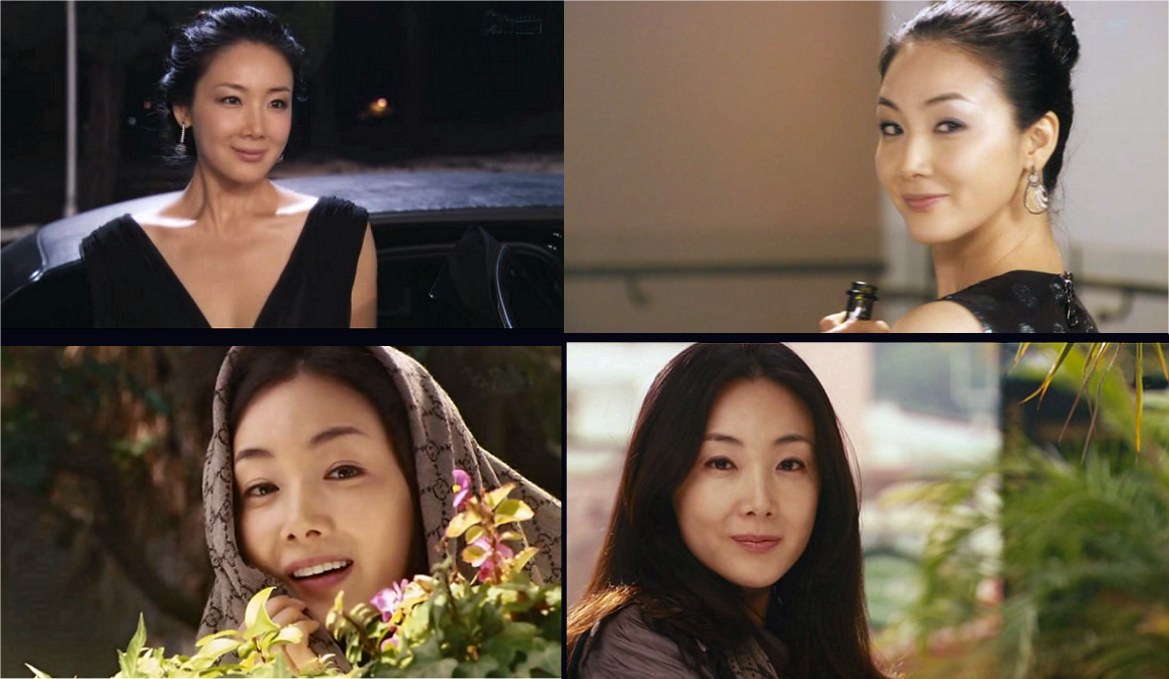 Just a few of the elegant close-ups of actress Ji-woo Choi in Star's Lover
While visiting Japan on tour, Chul-soo and Ma-ri grow close, though their relationship is rather testy in the beginning because Ma-ri is annoyed that the information might come out eventually that she wasn't capable of writing her own book. She proves to be right in her concerns later, but while in Japan she puts her better judgement aside too, because of her growing attraction to Chul-soo. One reason she begins to be intrigued by him is because he likes to play a certain Chopin Nocturne on the piano, the same piece of music she remembers her father playing on the harmonium when she was little. When she sees from a distance Chul-soo and his ex-girlfriend get together, a moment where he hands his ex an envelope filled with money he got from the ghostwriting job to pay back the tuition, she gets jealous and seeks to grow even closer to him when they return to Korea. She ends up asking him if they can get together for a month to write the book and he assents.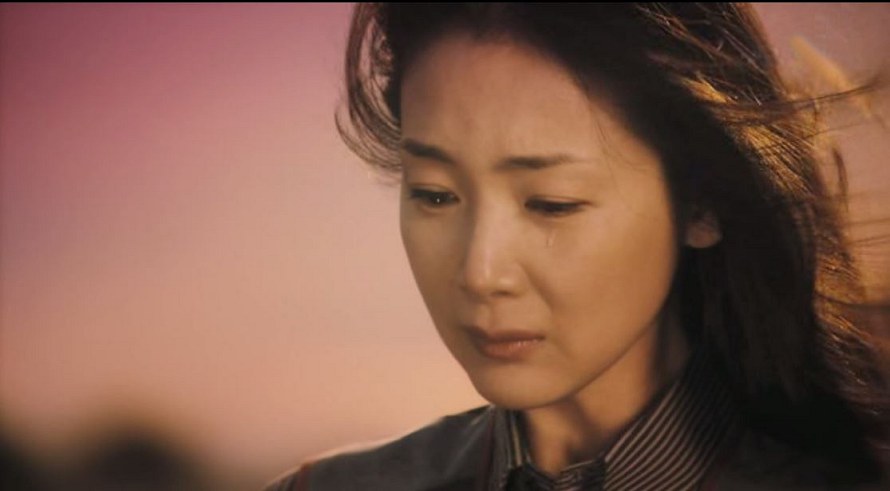 Years after he disappeared, Ma-ri still grieves the loss of the man she considers her first true love

Then the travel essay book "Lovers in Asuka," written by Chul-soo on Ma-ri's behalf, becomes a bestseller, and Ma-ri gets caught up in a controversy generated by the ghostwriting. She is becoming more and more attracted to Chul-soo, despite many funny arguments between them at first over her need to improve her mind by reading more books; the pair try to continue their friendly relationship away from the glare of the paparazzi but it's not easy. Ma-ri often secretly hangs out in Chul-soo's upstairs apartment in the house he shares with his sister and "aunts" so that they can study together. Eventually obstacles get in the way of their growing affection for one another, especially the arrival on the scene of other men who are interested in Ma-ri, like eligible TV executive Woo-jin Jung (Ki-woo Lee, from the film
The Classic
and the K-drama
Flower Boy Ramen Shop
), who pursues Ma-ri relentlessly with a lot of lies he conjures up to attract her to him, due to a bet he made with a friend, considering Ma-ri a prize to be won. Then even later the man Ma-ri considers her first love, who had mysteriously disappeared years earlier, Woo-jin Kang (Philip Choi), turns up again in her life, confusing her away from Chul-soo.
For Chul-soo, his ex-girlfriend Eun-young still continues to want to be part of his life, moving back from Japan to Korea. Then there is always the meddling manager Tae-suk Seo, who gets wind of their secret relationship and who doesn't want Ma-ri to be seen with a "common" man like Chul-soo, afraid he will ruin her star image. On top of that there are distracting family issues that crop up all the time that Chul-soo has to deal with, like his younger sister Yu-ri Kim (Min-hee Shin) trying to search for their birth mother Bo Young (Ji-sook Kim) who had abandoned them.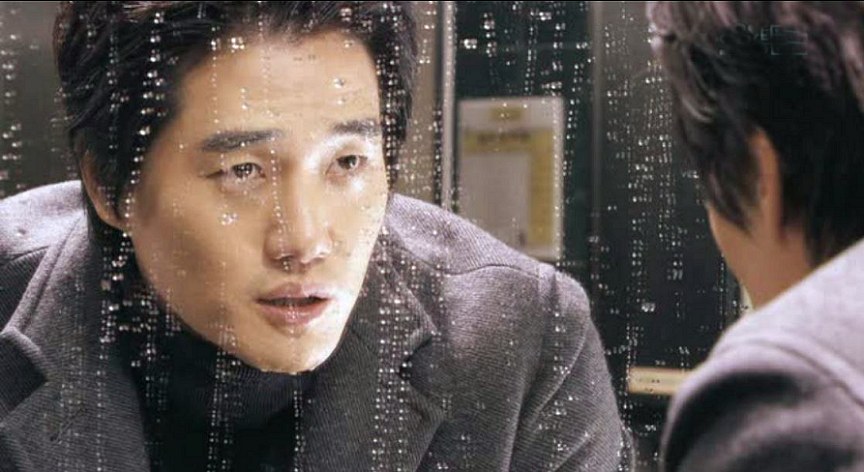 Ji-tae Yoo gives a very nice, understated performance as Chul-soo, caught in a struggle between love and ethics