Eun-bi's father tragically dies from heart disease, which causes Eun-bi to feel guilty that she hadn't been fair to her father in the past. Then comes one of the most remarkable and most moving scenes I have EVER seen in a K-drama, as Eun-bi breaks down in grief while at her father's humble ramen shop and sees her relationship with her father pass before her eyes in memory, showcasing several different stages of her life, babyhood, childhood, rebellious teenager, grown woman. I had to rewind that scene several times and watch it over and over, it was that great. Who among us hasn't thought back over our relationships with our parents, especially after their deaths? This is perfect evidence of why I say never be fooled when a show is labeled a romantic comedy, because woven inside the majority of them are very beautiful and serious scenes that make you care deeply about the characters.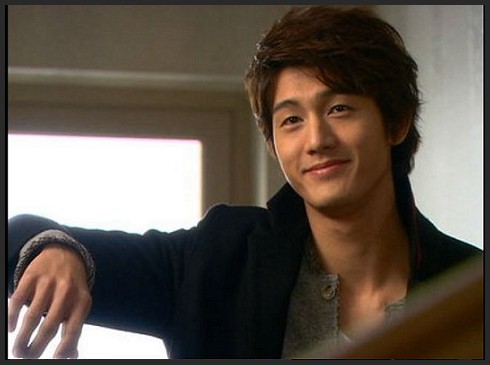 Eun-bi wakes up from her memory dream to find the man she is hugging in grief is not her father, but rather Kang-hyuk Choi (very tall and handsome actor Ki-Woo Lee, who played the friend Ye Jin Son married in the film
The Classic
) who has just arrived on the scene because Eun-bi's father had left him the ramen noodle shop in his will. Eun-bi doesn't even know this person, but it turns out that her father had helped Kang-hyuk straighten his life out when he was just a lad, grown fond of him, and he had hoped if he left the noodle shop to him that Eun-bi would marry him and they'd run the shop together as a business. Now with Eun-bi fired from her student teacher job she has no other option but to move back home to the apartment complex above the shop and she and Kang-hyuk agree to revamp the restaurant and make it successful. They hire "flower boys" from Chi Soo's school as
cooks and waiters, a strategy which smartly brings in a lot of new female customers who want some eye appeal with their lunch! The restaurant booms with new business and its financial success provides Eun-bi with the monetary security and independence she has always longed for. Whereas when she was young she had hated her father's restaurant now it becomes exactly what she needs to straighten her life out.
Meanwhile Chi Soo has watched all the changes in her life from the sidelines and has become quite jealous of Eun-bi's nice and friendly working relationship with Kang-hyuk. Kang-hyuk even calls Eun-bi "wife", which infuriates Chi Soo. Chi Soo himself begins working at the restaurant to stay close to Eun-bi. She has never forgotten her attraction to him, despite everything, and now with his constant presence in the shop their romantic and sexual attraction intensifies.
The Kimchi Kiss

Chi Soo's wealthy father Ok Gyun is not in favor of Chi Soo's relationship with this middle-class woman. His own wife had come from humble origins and he blamed their break-up and divorce on their social class differences. He gets set to buy out and demolish the properties on the street where the ramen noodle shop is, which will imperil the restaurant's success. Chi Soo's alliance is now solely with Eun-bi and the noodle shop and he defies his father, at which point his father disinherits him and revokes his American citizenship, which makes Chi Soo subject to Korea's two year required military draft for all men in the country. Ok Gyun sees these strategies as essential to breaking up Chi Soo's relationship with this woman. Will they work, or will they backfire? The ramen shop is forced to close and Eun-bi has to make a decision: will she stay with the nice and stable Kang-hyuk who calls her "wife" and who truly loves her, or will she choose Chi Soo and his insecure financial future, made even worse by the fact that she won't see him for two years while he's in the military?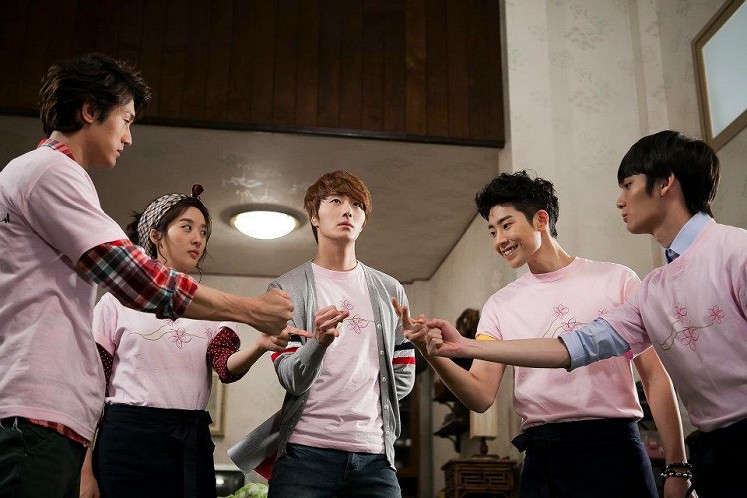 This little "flower boy" romantic comedy show is deceptive on the surface: it actually has a lot to say about choices in life and the repercussions which can develop when heart and mind are divided over the future. I loved all the actors in the show, they were perfect for their roles, including secondary characters who were just as wonderful to watch as the main characters, for instance Dong Joo Kang (pretty Yee Won Kim) who is a ballerina with a flirty air about her who used to date Chi Soo but who is really in love with the tempestuous Ba Wool Kim (cutie pie Min Woo Park) who works at the ramen noodle shop, and Eun-bi's best friend, the flighty Dong Joo Kang (beautiful actress Yi Won Kim from
Who Are You?
and
Operation Proposal
) who lives just to flirt with many different boys at once while claiming to each of them that they are the love of her life.
I think this show is the best of the "flower boy" type Korean dramas from a story standpoint (although I did prefer the
Boys Over Flowers
music soundtrack). I loved seeing all the growing maturity in the characters of Chi Soo and Eun-bi. It was a great lead part for Jung Il Woo, made the same year he did
49 Days
which had been more of an ensemble show than a showcase for his talents alone. Watch and decide for yourself if I'm right. Enjoy!