Ki Soo falls deeper into depression when he realizes his fiance seems unable to let go of her memories of her old love, Man Sae. He sees her backing out of dates with him to reconnect and spend time with Man Sae. He even tries to confront Man Sae, but he's nothing but polite to Ki Soo.
Three polite people, no bad guys, but Hyun Joo has to make a decision between the two men. Whom does she really love? Whom does she wish to spend the rest of her life with? Is there some practical way she can help Man Sae with a job opportunity, since he remains poor as a church mouse and is still late on his rent as he was a decade earlier. Unknown to Ki Soo, the practical Hyun Joo has been realistically examining her life over the past ten years, and still has not rejected him for her old love. Time is running out. It's obvious both men love her and want to be with her: it's the woman who has to make the final decision.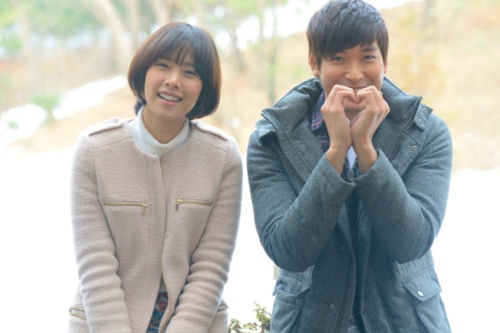 For a short drama this carries a lot of wisdom in its story line, and some humor too. I also was surprised when I heard several musical pieces from one of my favorite K-dramas
49 Days
(2011). Usually I would object to something like that, but here I accepted it because those musical pieces were absolutely perfect for the scenes in this drama that take on a rather mystical quality.
If you love thoughtful and unique romantic short dramas you can't do any better than
Love In Memory
. It's exquisite, and I just adore this actress Yoon Hee Jo from
Nine: Nine Time Travels
and
King's Face
. I'll watch her in anything. She feels like a real person in all her dramas, and not some flashy star.
My Friend Richard's Comments:

Love In Memory (2013) is a very gentle, understated romance, with a marvelous ambiance. There is a bittersweet mix of memories of love, particularly first love and the love that comes later in life. One of the best things about this mix is the avoidance of over-sentimentalizing and idealizing the memory of first love, without devaluing its value and the happiness that it provided. Each short episode is given a short title and it ends appropriately with the essence of true love -- Hope.