From the very first few minutes of
The Crowned Clown
(2019) I was hooked, and knew I was on rarefied ground in K-DramaLand
:
Masterpiece Level! Its fantasy story of a mere clown becoming an excellent King in the old Joseon era was electrifying, the cinematography amazingly beautiful (more like a first run theater film than a television drama), and the entire cast's acting performances were out of this world superb, remarkable, and perfect in every way. The developing love story was also beautiful to witness, and often I would find myself transfixed by the tentative, gentle, poetical, and sweet love scenes between the male lead Yeo Jin Goo (
The Moon Embracing The Sun
,
I Miss You
, and Lee Se Young (
Trot Lovers
,
I Miss You
), and I would re-watch their scenes together multiple times.
The first time I had ever laid eyes on Yeo Jin Goo was when he was a little tyke in his first movie, 2005's
Sad Movie
, in which he played a schoolboy who grieved when his beloved mother (Jung Ah Yum, who played the wicked stepmother in
A Tale of Two Sisters
) died from ovarian cancer. I knew even back then watching him in that performance that I would see him again in future because he was simply unforgettable in that short role, and I've enjoyed watching him grow up on screen in the years since. That's one of the best perks of being a long term K-drama fan
:
watching the child actors grow up to become stars in their own right. In the case of Yeo Jin Goo that success is richly deserved.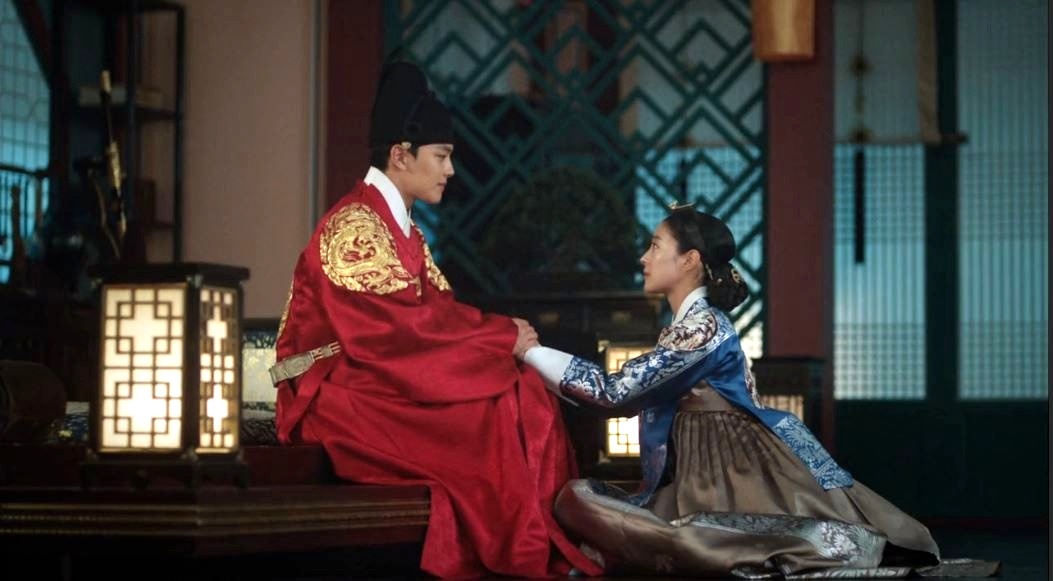 I've always felt that many Korean historical dramas tend to be too long-winded, going on and on till they reach a cumbersome fifty to sixty episodes, but at only sixteen episodes
The Crowned Clown
is just perfect for those K-drama fans who have never watched an historical K-drama before and would like to sample a beautiful one for the first time. In fact, part of me would have loved to have seen this one go longer, at least to twenty episodes, just so that I wouldn't have to say goodbye to this wonderful cast so soon!
All The Gorgeous Instrumentals - OST

I also loved the instrumental pieces on the OST, particularly the tension music with the wild violin, and the sad goodbye piece with the mournful cello playing, often bringing me to tears. I hope someday they release the instrumental music for this one (as of this writing they have not) and not just the vocal pieces. One musical piece that required a bit of emotional adjustment for me was when they chose to use Schubert's
Serenade
as the main love theme for the Clown King and the Queen, since that classical piece is SO associated with the classic 4 Seasons' K-drama
Summer Scent
, with Seung Hun Song and Ye Jin Son. That was
their
love song!
Some
of us have long memories for that kind of thing. With all the gorgeous classical music they could have chosen, why chose a piece that's already been used in a significantly important K-drama? Something by Chopin or Grieg would have been a nice replacement love theme, so that I wouldn't keep having deja vu and flashing back to a K-drama from 2003!


All The Gorgeous Vocals - OST

The Story
: (some spoilers, but no end spoilers)
The drama opens with the death of an adult King (played in a powerful cameo role by favorite actor Jang Hyuk from
Chuno
and
Thank You
) who leaves two princes behind, one beloved (the younger child), but one disliked (the older teenager, Prince Lee Hun, played by Yeo Jin Goo). In short order it seems that the troubled Lee Hun has his younger brother prince poisoned to get him out of the way, so there are no challenges to his own reign as King. On his deathbed the father King had sensed that coming and had had some harsh words for his older son Lee Hun.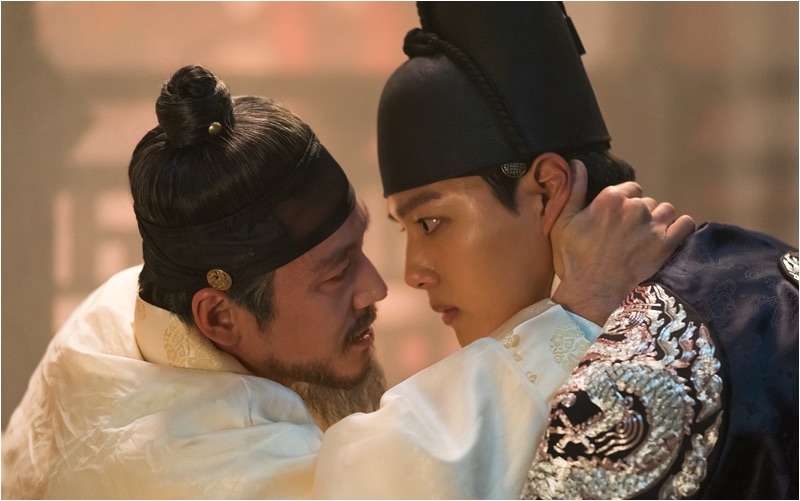 Jang Hyuk and Yeo Jin Goo
Playing Father & Son
Great Scene!

The cruel death of her young son infuriates the current Dowager Empress (Jang Young Nam, who played the mother in the film
A Werewolf Boy
) and she vows vengeance against the new King Lee Hun. She aligns herself with three noblemen of the court who dislike Lee Hun for their own ambitious reasons, and would love to get rid of him, the Left State Minister Shin Chi Soo (Kwon Hae Hyo, who played Bae Yong Joon's best friend in
Winter Sonata
), his nasty rapist son Shin Yi Kyeom (Choi Kyu Jin), and the formidable Prince Jin Pyung (Lee Moo Saeng), who has the backing of a small infantry at his disposal and command.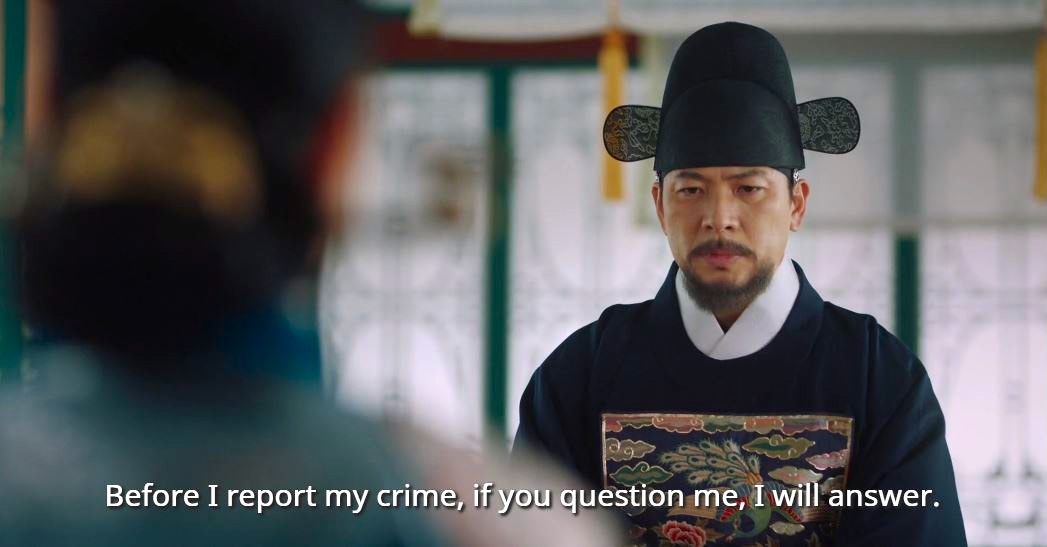 Kim Sang Kyung as the patriotic
b
ut flawed Right State Minister
Enter the more conservative and patient Right State Minister Lee Kyu (Kim Sang Kyung in a BRILLIANT multi-layered performance that I will
never
forget!) who has no love lost for these troublemaker noblemen, and who tries to guide the flamboyant new King Lee Hun into wisdom, though he sees the writing on the wall
:
the young man often has bouts of madness which disrupts the court and the Kingdom. (Only later do we discover that Lee Hun was surreptitiously plied with psychotic drugs by an evil courtesan aligned with Left State Minister Shin Chi Soo, so he was rarely in his right mind, but it wasn't entirely his fault).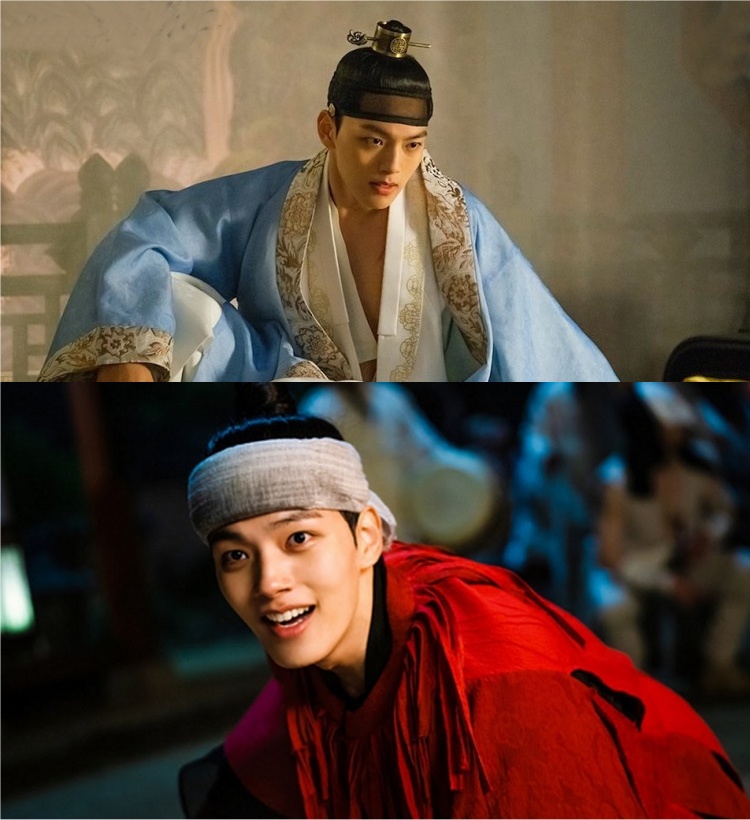 Mad King and Wise Clown
A rumor comes to the Right State Minister's ears that there is a clown in a traveling performing troupe named Ha Seon (dual role for Yeo Jin Goo) who is a dead ringer in appearance for the real King Lee Hun. He has the clown kidnapped and brought to the royal court in secret. The scene when King and Clown meet for the first time is one of the biggest highlights of the drama, obviously done with some double exposure camerawork because both are played by the same actor. The plan is concocted by the Right State Minister that this clown take the place temporarily for the real King so that his attempted assassination can be thwarted. The Clown doesn't understand at first that he's supposed to be a Fall Guy, but soon enough he catches on, though he is helpless to do anything about it as a commoner. These people have ultimate power and he has none. King Lee Hun goes into hiding with a monk at a Buddhist temple to rest, in the hopes that he can also detox and recover from whatever is causing his mental illness, plus of course avoid assassination by his enemies.
While King Lee Hun is away at the temple, the fake King Ha Seon actually starts to surprise the Right State Minister with his innate cleverness and wisdom, his sincerity and humble nature, and his willingness to strengthen the peasantry over the royal classes. Lee Kyu actually starts to wonder if this clown would make a better King than the troubled Lee Hun. Matters become more complicated when Ha Seon starts to fall in love with the real King's often neglected Queen, Yoo So Woon (Lee Se Young). For the first time this Queen receives affection from the substitute King, not knowing he isn't really her husband! The real King had threatened her and preferred wicked courtesans over her simple wifely devotion. Now there is a change in him and of course she likes it. She gifts him with a compass, as if to say that wherever he is bound in life he can use the compass to find his way back to her.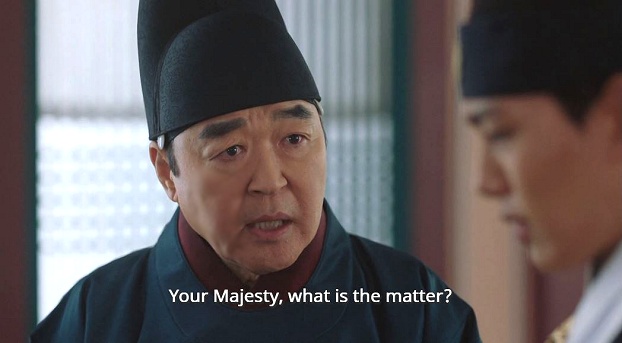 Wouldn't It Be Neat If All Of Us
Could Have A Lifetime Eunuch? :)
This growing relationship disturbs the Chief Eunuch Jo (Jang Gwang, beautiful performance, he made me cry in the last episode!) and Right State Minister Lee Kyu. Very soon Lee Kyu has to make a decision
:
will the country be better off with a stable King, even if he is really a clown, or should the real King return and take the throne, even though he remains psychologically wounded from years of being a drug addict?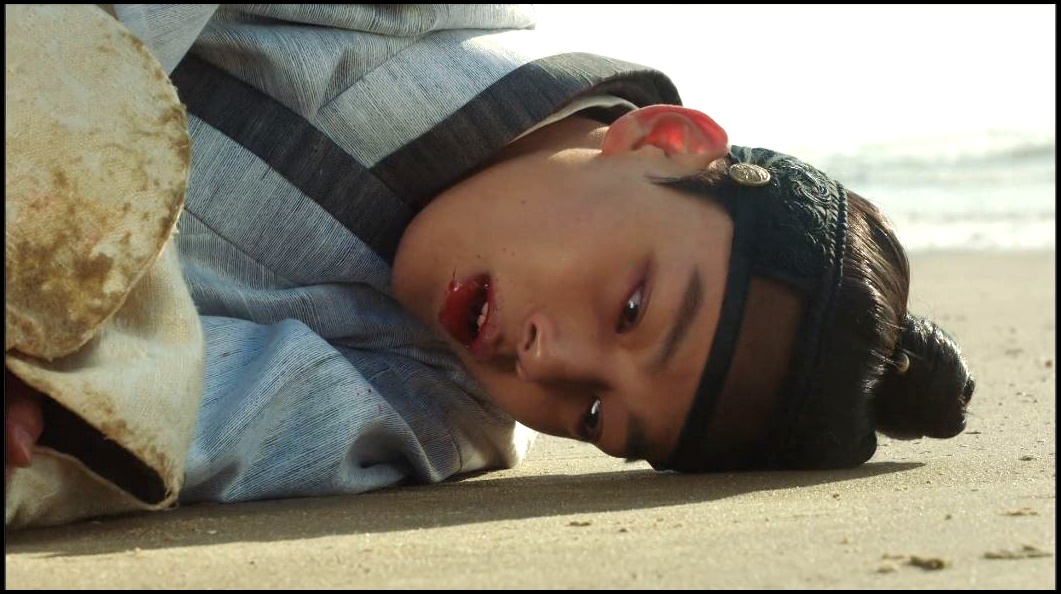 It is the measure of an INCREDIBLE actor that in the scene when Minister Lee Kyu makes his decision and lures the real King to a beach and poisons him, on his birthday no less, Yeo Jin Goo made me weep yet again, playing the dying real King, when I should have been
happy
that such a whacked out, evil King was finally out of his misery and the country was safe from him! However, he played the scene so poignantly that I actually cried for this pathetic waste of a King! Unbelievable scene! John Barrymore, move over!!!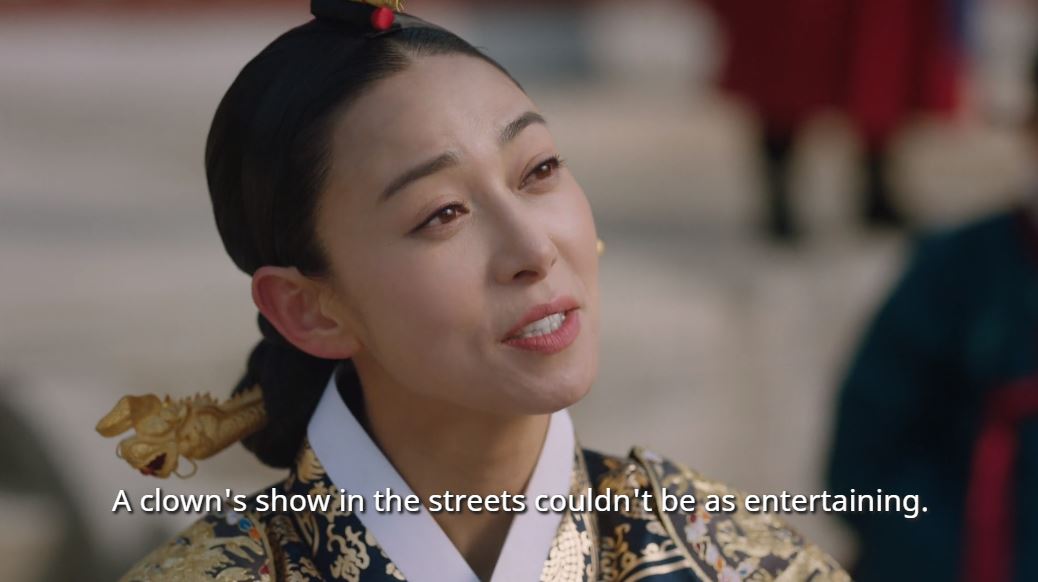 Queen Dowager's Hatred For
Her "Son" Knows No Bounds
The Left State Minister, the Queen Dowager, and Prince Jin Pyung combine forces to get rid of this fake clown King once and for all. The Right State Minister is in their sights as well. An open rebellion is brewing in the Kingdom, which isn't helped by the Chinese Ming kingdom threatening to invade Joseon and take over while the country is being torn from within. Right State Minister knows there is much more at stake than just the petty revenge plans of the Left State aficionados.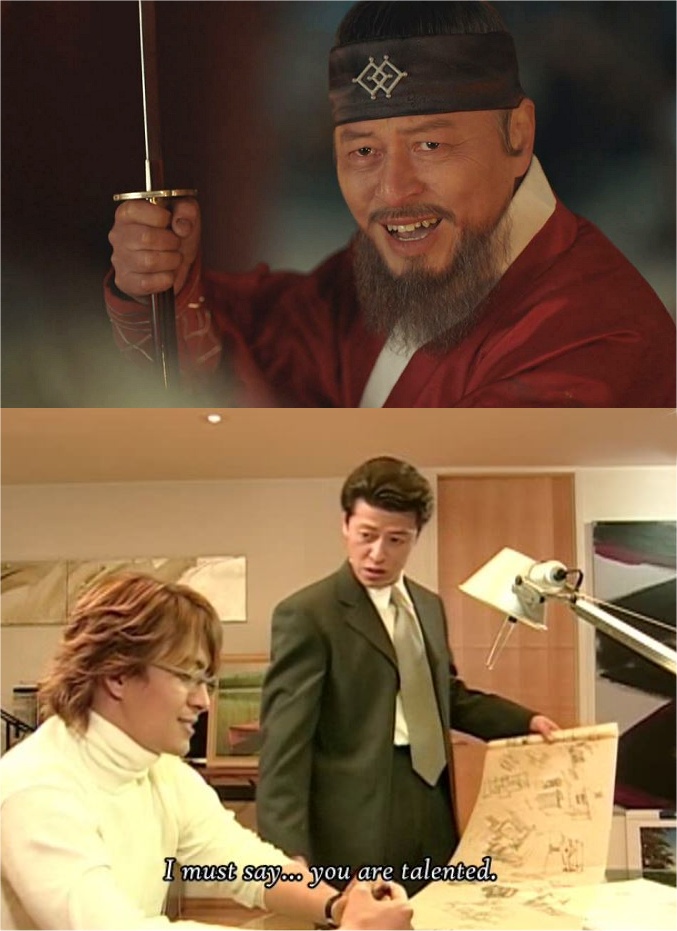 Actor Kwon Hae Hyo Playing Left State Minister
and Bae Yong Joon's Friend in Winter Sonata (2002)
17 Years Can Sure Change A Man! I Thought It Ironic
They Cast Him As The LEFT State Minister When In
Real Life The Actor Is A Leftist Activist LOL!

I can't finish this review without mentioning an actor who played a minor character but who had me grinning and laughing every time he appeared, Lee Gyu Han, playing a royal court mathematician, and supporter of the Right State Minister, named Joo Ho Geol. Every K-drama, no matter how intense, always seems to insert occasional comic relief and this guy delivered in spades. He has won a new fan in me! Just his facial expressions alone made me laugh!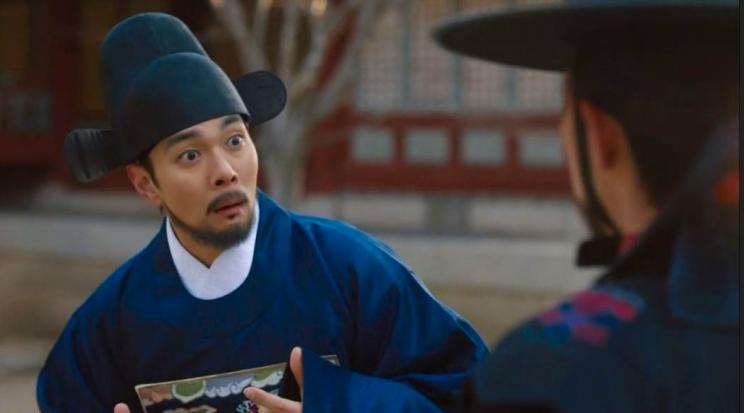 Who, Me???
Meanwhile, the Queen also discovers the truth about her "husband" and has to decide if she will remain with the fake clown King who has been so kind and loving to her, or leave the royal court altogether and go to live with her father in the country, abdicating her royal position. An arrow shot into the Clown King's back by rebels makes her realize how much she truly loves him, and that she will follow him anywhere that he is bound.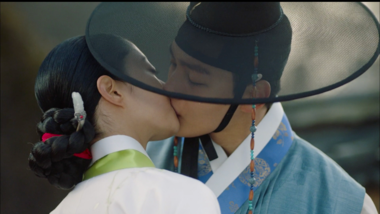 Then the King's enemies dare to go after his family, his younger sister Dal Rae (Shin Soo Hyun who had so impressed me playing Lee Young Ae's daughter Mae Chan in
Saimdang, Light's Diary
), and his adoptive "father" Kap Soo, a fellow clown (Yoon Kyung Ho)
;
this is finally the last straw to Ha Seon. He has to send them far away into the country again so that they are safe, which results in yet another scene that made me cry, when Dal Rae silently and bravely waves goodbye to her King brother from a distance. Once again Ha Seon's bravery touches his admirers' hearts, the Right State Minister, Eunuch Jo, and his now devoted personal bodyguard Jang Moo Young (Yun Jong Seok, another beautiful performance by a secondary cast member in this drama).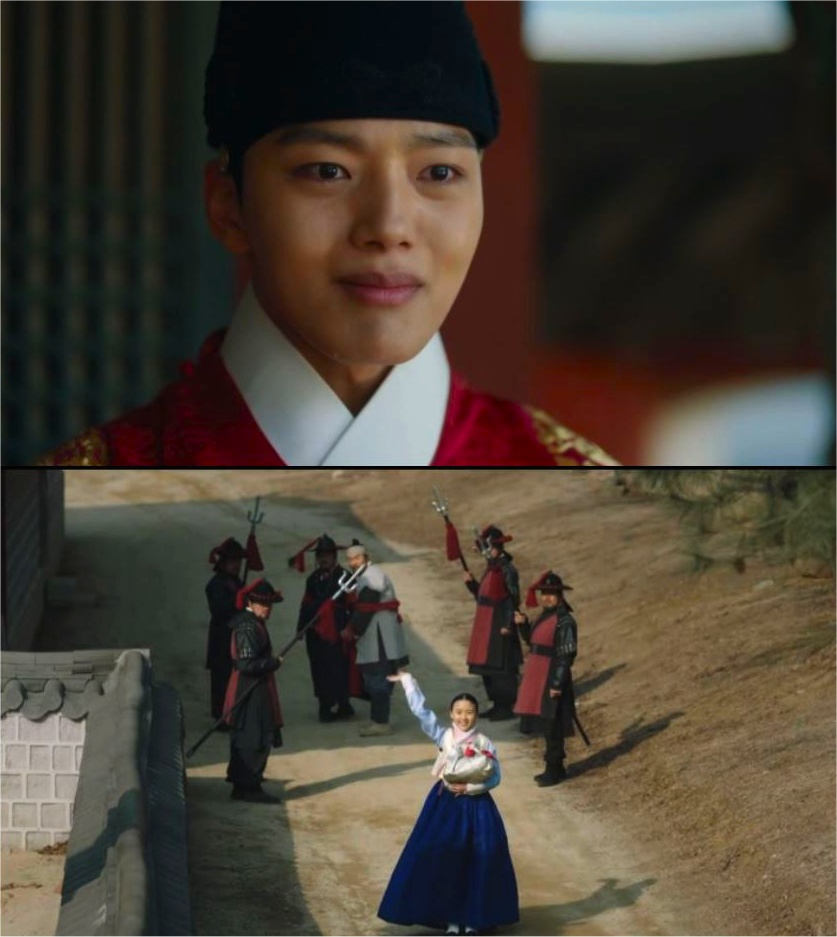 There are some dramatic twists and turns in this story, and the writer definitely had the audience guessing the whole time until the very last episode about how things would turn out. Rumors began that maybe King Lee Hun had never died since we never saw what happened to his body.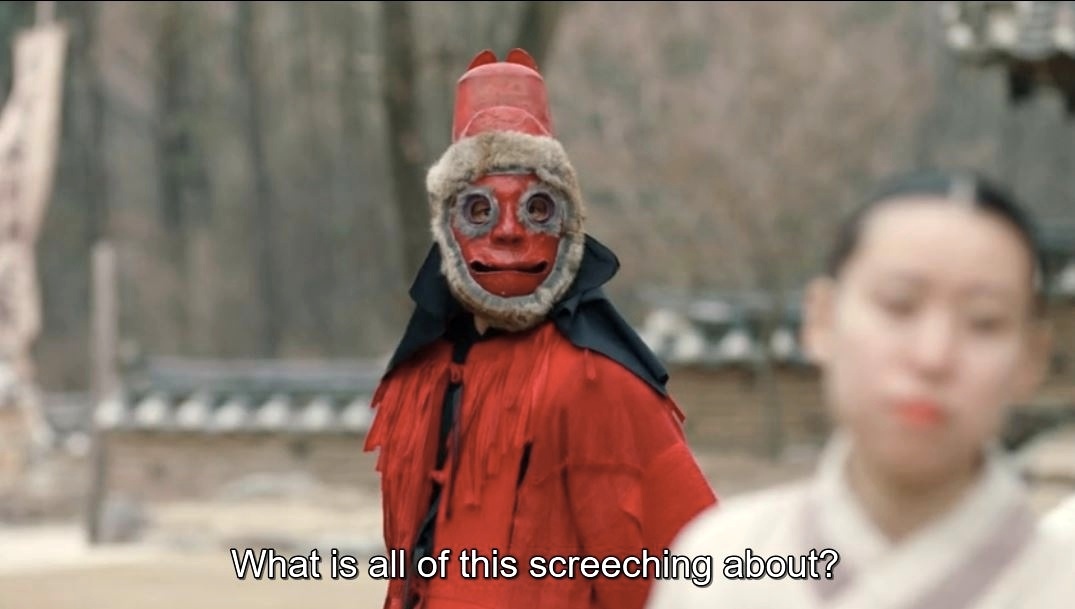 Just Who IS This Masked Man???
The audience wondered if Ha Seon and his lady love would end up together, either as King and Queen, or as commoners together living in the countryside. Personally I felt I would be happy with any ending to this story as long as Ha Seon was not killed.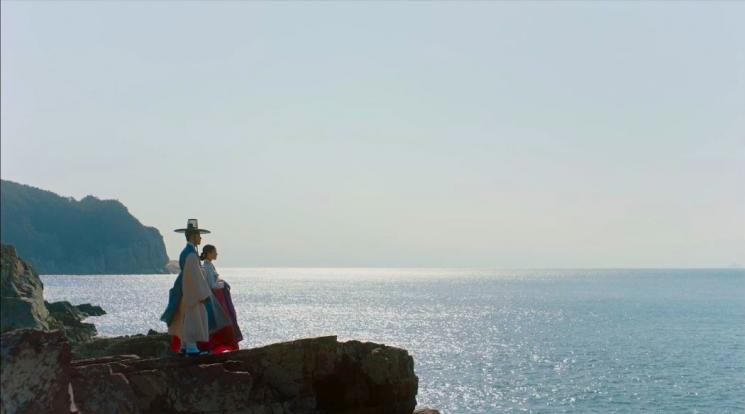 This is a Korean drama that I plan on returning to and re-watching several times in the future, it was that splendid. It hit all the necessary high notes in its "song" to its viewers. As usual when a drama touches people's hearts this deeply people wonder if there will ever be a sequel, but sadly most K-dramas do not get them. It's just a fact of K-drama life. Enjoy this beautiful masterpiece as it is, like a magnificent ship passing in the dusky early night. And bring tissues!