Misaeng
, otherwise titled
Incomplete Life
(2014), is an award-winning modern masterpiece Korean drama that totally took me by surprise. I usually don't gravitate toward business-related story-line K-dramas like this one, but this particular show held my attention throughout its twenty episodes. It's unique, majestically written, both thoughtful and exciting at times (especially the action scenes at the beginning and end of the show that were filmed in Jordan in the Middle East, at places like Amman, Petra, and Wadi Rum). As of the time of this writing,
Misaeng
has won the highest drama award in the country, the Grand Prize Daesang, the Best Miniseries Award at the Seoul International Drama Awards, and has been nominated as Best Drama in the Korean Drama Awards (and I'm sure it will win). Its actors have won multiple awards as well. Its cinematography and staging were impressive, and the director Kim Won-seok (
Monstar
,
Sungkyunkwan Scandal
) crafted all the scenes with a good flow, style, and artistic substance.
It seems many people can identify with the stresses of office life depicted in the show because the ratings were high for the drama on the usually lesser watched tvN cable channel in South Korea. Usually the bigger, non-cable stations like SBS, KBS, and MBC gather more viewership ... but not always! As with many television dramas, a good word of mouth can help promote a brilliantly written show like
Misaeng
.
Misaeng
was based on a popular web toon written by Yoon Tae Ho and which is now considered essential reading in South Korea. The storyline is intricate, often quietly subdued, as many of the characters keep their inner feelings private at the office, and you have to guess by the actors' faces and body language what they are really feeling. This is especially true for the lead male character, a young man named Jang Geu-rae (his name is kind of a joke, since Geu-rae means "Okay" in Korean), played by Yim Si-wan (
The Moon Embracing The Sun
), who spent the primary years of his young life training to become a baduk master - an Asian board game similar to chess. The best baduk players in the country can actually earn their living by playing the game, through contests and sponsor-ships.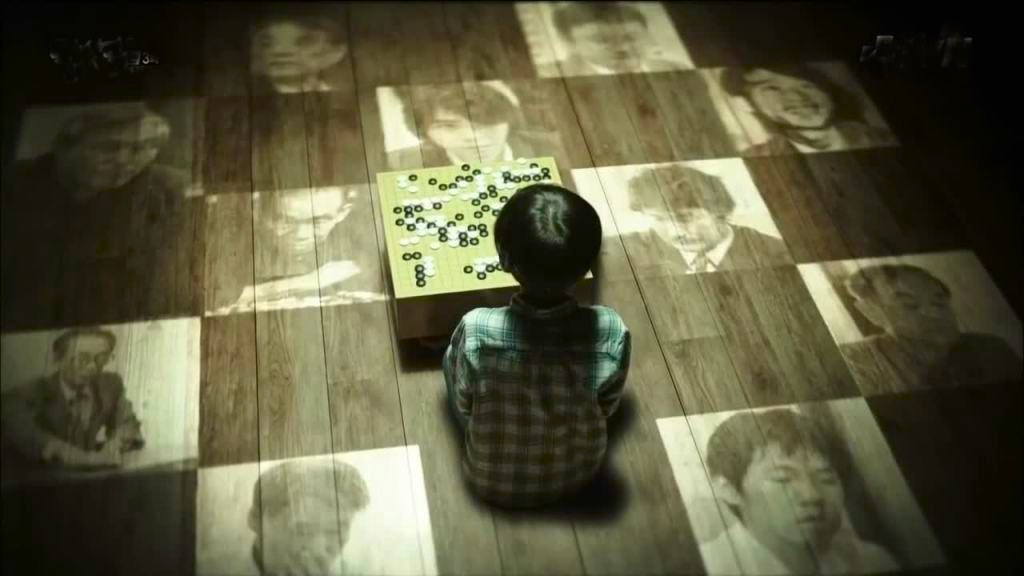 Then when he is in his mid-20's Geu-rae has to leave that world behind him when he fails an important competition. Armed only with a GED high school diploma because he was too busy learning baduk to go to college, he has to join the workforce for economic reasons, partly because his mother (Sung Byung-sook) is getting older and poorer by the day. He begins with part time menial jobs, like becoming a designated driver, but then through a series of mysterious personal connections he is hired on a temporary, full time basis as a trainee intern for One International, a worldwide trading company. His co-workers at first treat him roughly but then he starts to earn their respect by his humble demeanor and for some smart ideas he puts forward to the company, using his logic training in baduk to build his successful reputation. People grow curious about him and try to draw him out, but a few people resent him because they had to finish college to be hired at the company, while Geu-rae only has a GED.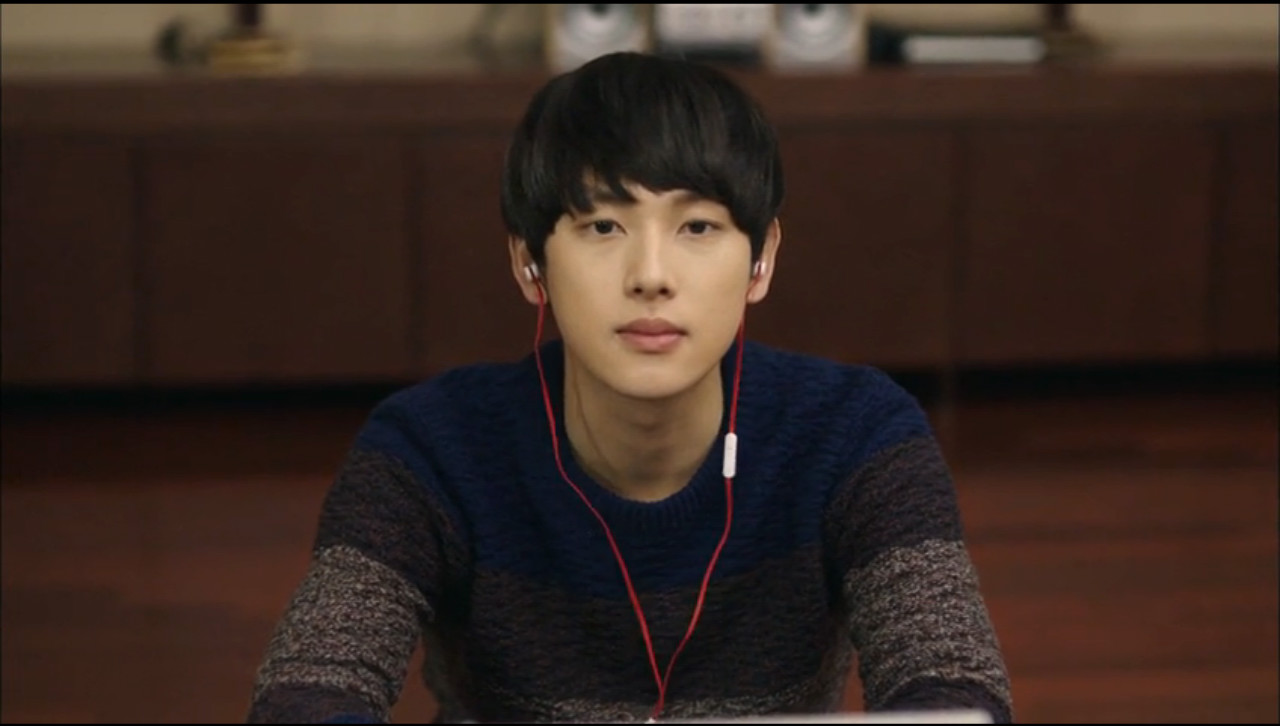 Geu-rae knows all along his position will only last a year, but in that time he wins so many people over to him that they don't want him to leave, including his boss, good-hearted Oh Sang Shik (marvelous character actor Lee Sung-min who played the wonderful King in
King 2 Hearts
), who even attends meetings on his behalf campaigning for him to be rewarded with a permanent position at the company.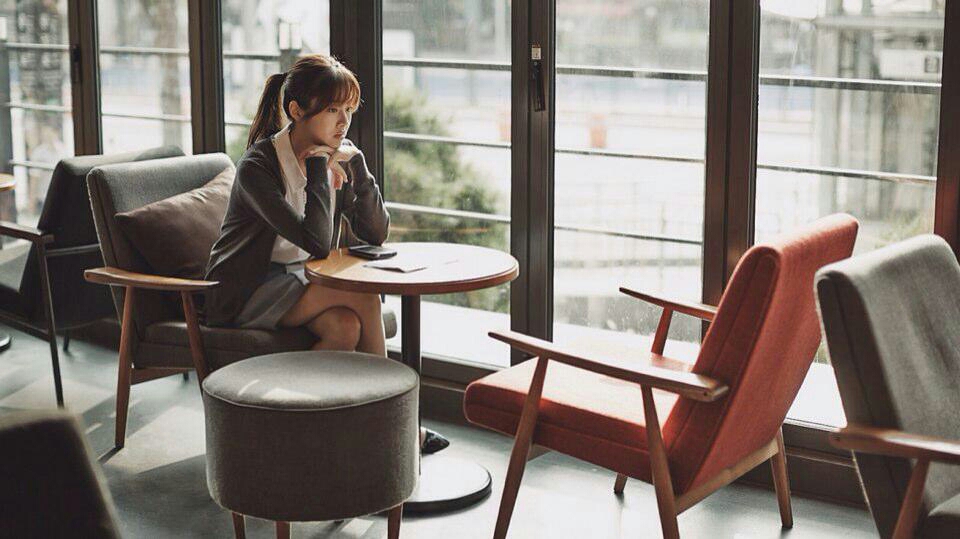 Gossip spreads in the company that Geu-rae might just beat the odds because of his brilliant mind. I actually thought that Geu-rae was so quiet in the beginning because he had Aspergers' Syndrome, a mild autistic deficit, but during the course of the show, largely due to his boss becoming a father figure to him, he improves in his social skills so radically that by the end I had to put away that assumption, for it no longer fit! At the end he is dodging cars in the streets of Jordran and confronting thieves! He seems to know no fear anymore.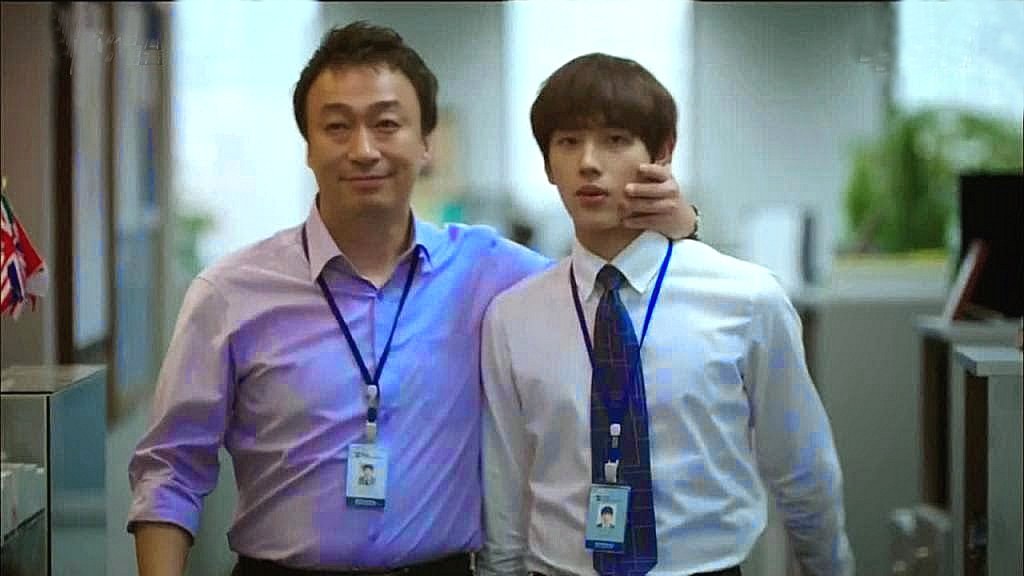 There really isn't any romance in
Misaeng
, although it's largely suggested that several men at the company are gaga over the hard-working, shapely secretary Ahn Young-yi (Kang Sora, in what I think is her best performance, far better than she gave in
Doctor Stranger
, for instance). Sora spoke English and Russian fluently in this drama
;
I was quite impressed.
Although he tries hard not to show it, her primary admirer is another trainee, Jang Baek-gi (one of my favorite actors Kang Ha-neul from
Angel Eyes
,
Missing Noir M
,
Two Weeks
) who stumbles around her and has all kinds of awkward moments trying to hide his special regard for her at the office. However, Young-yi is too busy for romance, she has a male chauvinist boss who is always criticizing her publicly in a rude fashion, in an attempt to frazzle her and to get her to mess up so she can be fired. I wanted to slap him! No human being should have to tolerate that bad behavior at work. Her father and mother have put the family into enormous debt, which she feels compelled to pay off (goodness knows why! - I kept yelling at the screen "You don't owe those two losers a dime if they can't control their spending!" - my American attitude vs. the Korean attitude toward wayward parents is obviously quite different). She hides all her irritation at work in the desperate attempt to keep her job. When she finally pays off their debts her ridiculous father goes out and gambles a large sum away so she is right back where she started from again! I felt so sorry for her trodden upon character and was anxious to see her stand up for herself more, which she eventually does, thank God. No one can take advantage of you unless you first give them permission.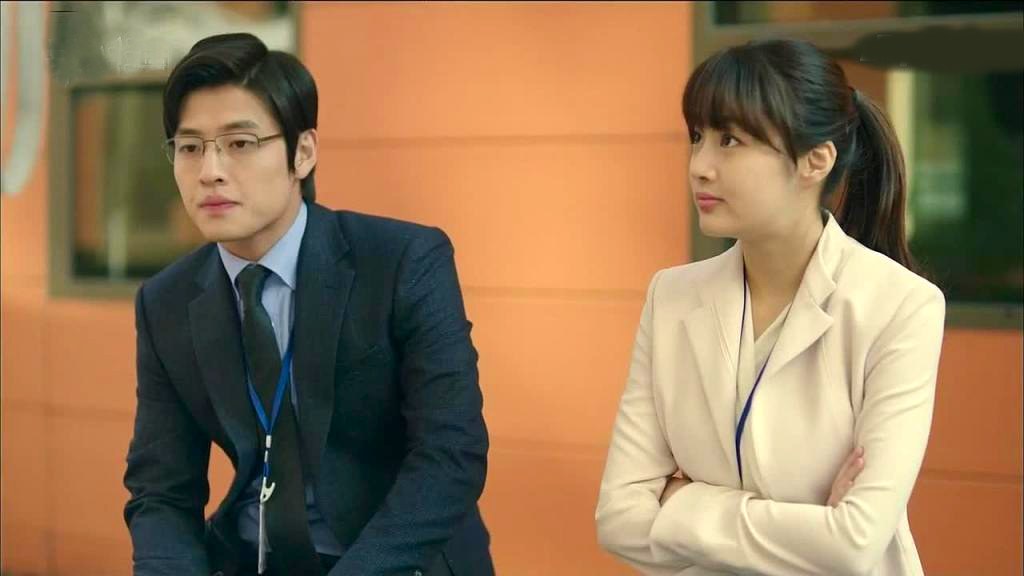 There are other characters I admired and enjoyed watching in this office drama
:
hyper-active, funny trainee Han Seok-yool (Byun Yo-han) who was the office busybody and always gossiping whenever he could, chubby right hand man to boss Oh Sang Shik, named Kim Dong-shik (Kim Dae-myung) who always liked to hold secret meetings on the rooftop of the building (I have never seen as many rooftop scenes in my life as I did with
Misaeng
!), handsome and kind newly-hired executive Chun Kwan-woong (actor Park Hae-joon who played the North Korean communist hit man in
Doctor Stranger
and I was so thrilled to see him play a genuinely nice guy here for a change), and smart and serious female exec Sun Ji-young (Shin Eun-jung from
Faith
).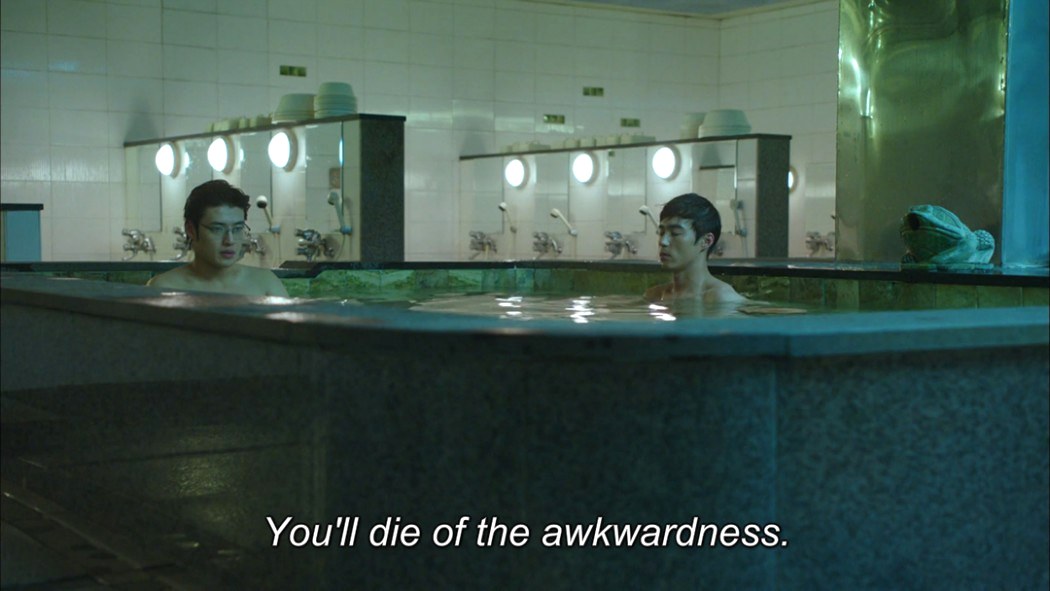 "Mr. Hot"
- Oh Min-Seok - is to the right, according to
all the girls screaming about him online

Someone who kept getting the comments from the ladies, "He's hot!" is the actor playing Kang Ha-Neul's boss, Cha Jung Ho (actor Oh Min-Seok, who for some bizarre reason has question marks after his character's name on 99% of the stupid, widely incorrect K-drama data sites on the web - I had to dig for an hour to find his name!), whose character was hard to decipher at first because he was overly critical of his trainee, but then out of the blue he started to support him more. I think he finally realized he had overstepped his boundaries toward an underling. A funny scene with the two men in a hot tub made me giggle like crazy, as they surreptitiously eyed each others' bodies, you know where! LOL.
Misaeng
is the type of drama that will take you out of yourself for twenty hours -- the time will pass by so quickly that it just seems to melt away. If you head off for an office job every day you will no doubt recognize in this drama all the same types of people you work with every day
:
the same egos, ambitions, humor, pluck, patience, resentments, despair when things go wrong or an account is lost. You can learn a lot about the kinds of personal characteristics that make a successful businessman or woman -- and what not to do, to avoid becoming a forgotten cog in the wheel of progress.
I don't want to give away too many spoilers, but please do not miss this excellent K-drama. The ensemble chemistry between all the actors is second to none. Enjoy!
~~~~~~~
HOME TO KOREAN DRAMA REVIEWS
~~~~~~~
MISAENG PICTURE GALLERY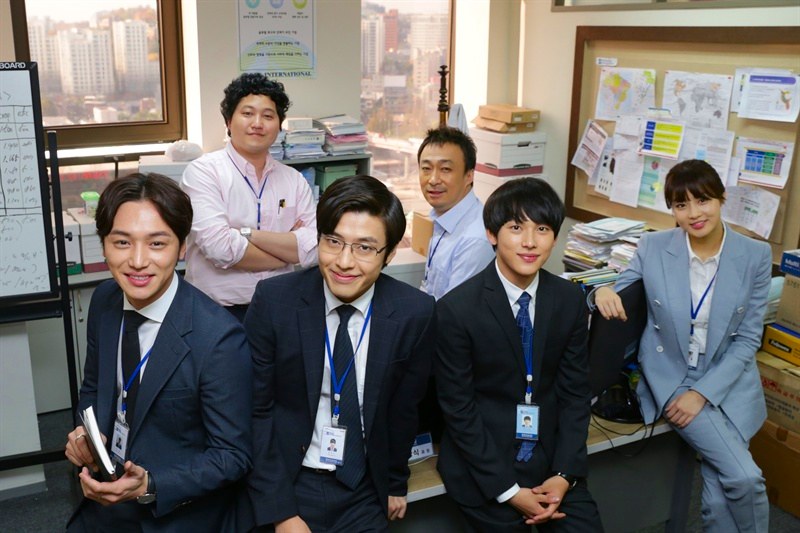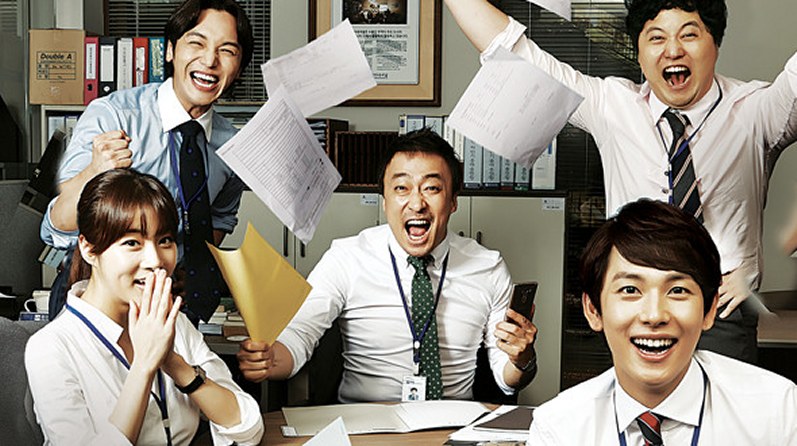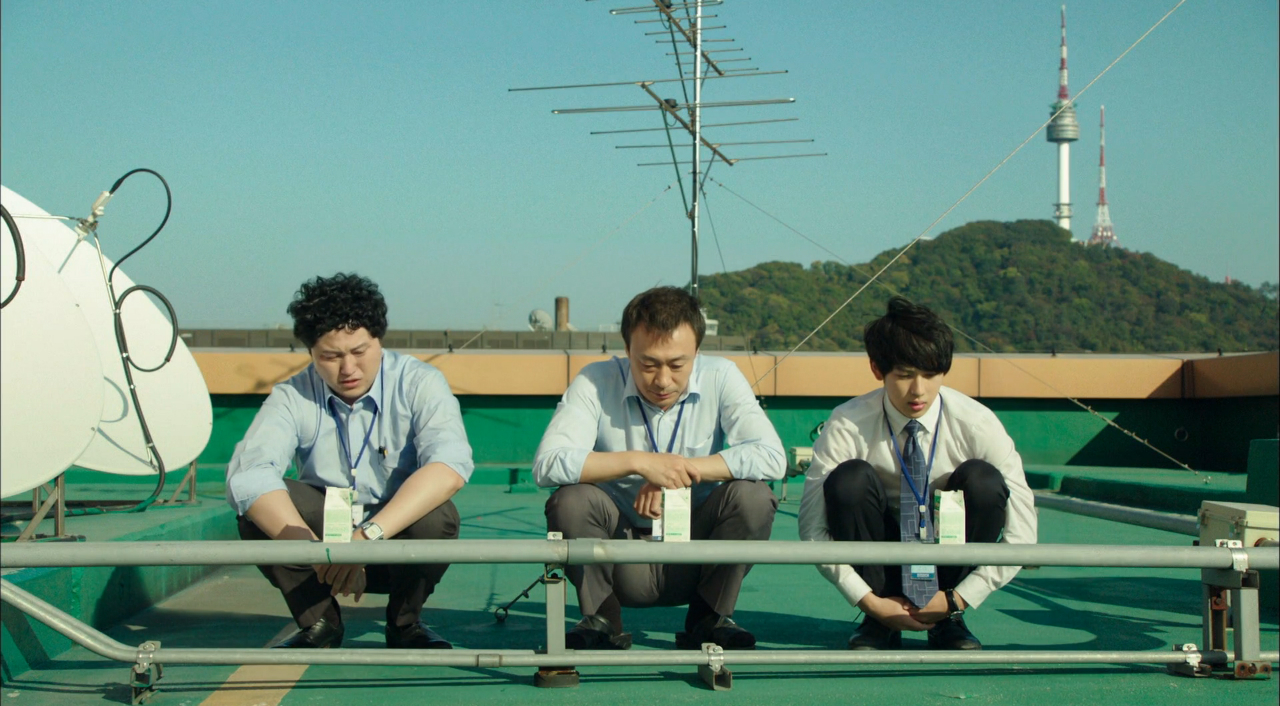 The rooftop is the most popular place to
discuss what's really going on in the office!
Namsan Tower in Seoul is in the background.
There is a restaurant up there that you
can see in My Love From Another Star.