The story basically revolves around corporate intrigue and an attempt at a hostile takeover of a big cosmetics company founded by the deceased father of Min Ho Kang (Jung Kyung Ho)
;
Min Ho's taciturn uncle is in charge when Min Ho arrives from America and he wants to put his own stamp on his late father's company, and oust his uncle from control. The uncle eventually dies and Min Ho obtains control of the company by default. However, a jealous competitor in both business and love, Joon Hee Lee (Hyun Min Yoon), conspires to obtain the company away from him by stealth. Joon Hee, who really is criminally insane (so much so that he kept reminding me of the evil character of Jae Kyung in
My Love From Another Star
, played by Sung Rok Shin) had deliberately run down with his car the cop fiance, Dong Wook Ma (Jin Goo), of the chief female secretary at the company, Soon Jung Kim (Kim So Yeon)
;
he had been the best friend of Ma, supposedly, but had always secretly desired Soon Jung since childhood. He wanted a chance to get him out of the way permanently before the wedding. The murder had been witnessed by others, including Joon Hee's own father, a security guard, and a petty gambler with a dying wife, but Joon Hee basically has them emotionally and financially blackmailed for various reasons, so they are afraid to come forward to identify him. The crime is labeled an unsolved hit and run by police, but eventually Min Ho starts putting some pieces together so that he can attempt to stall Joon Hee's takeover of his company and get justice for officer Ma at the same time.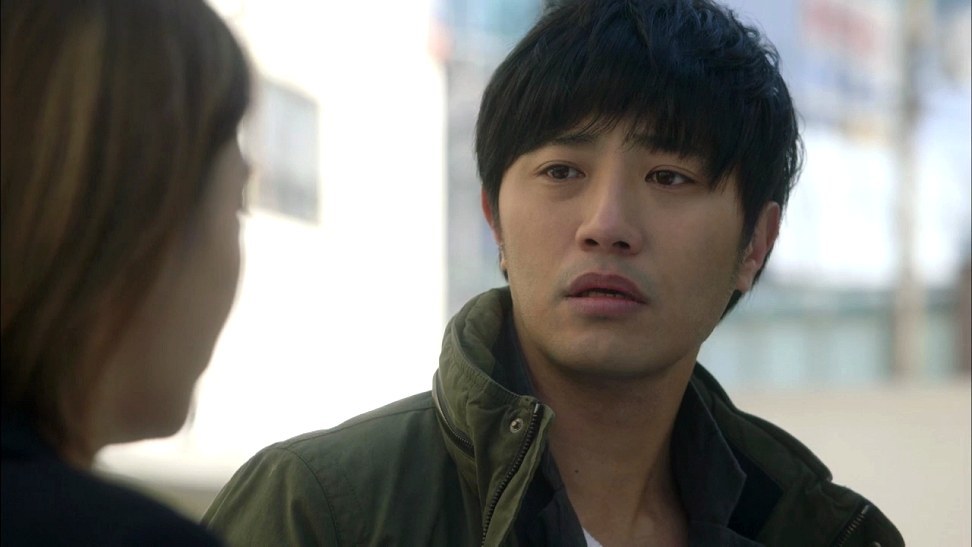 Wonderful Officer Ma (Jin Goo), Soon Jung's fiance, is struck down by a car
and killed by the evil Joon Hee, who desires to have Soon Jung to himself

In the beginning of the story Min Ho is suffering from heart disease
;
as it turns out the same night that officer Ma is struck down and killed by Joon Hee, Min Ho's heart begins failing. Unknown to grieving Soon Jung, her new boss Min Ho receives the transplanted heart of her fiance in an operation. This part of the story reminded me so much of the classic K-drama
Summer Scent
(2003), because when Min Ho comes to after the operation his heart starts beating wildly for Soon Jung and he doesn't understand why. He becomes a much more compassionate person -- could the transplanted heart change the recipient's character? Do our hearts have memories? Eventually Min Ho is so concerned by the changes he is feeling that he goes on an illegal search for his heart donor and discovers that his new heart came from Soon Jung's murdered fiance. He has to answer for himself
:
does he love Soon Jung for her own personality and character, or is it simply the loving, longing heart of officer Ma calling out to her from inside his own body? He and Soon Jung had become increasingly close over time, but now Min Ho feels like he should put some distance between them. Will this give an opening to his rival, the evil, conspiring Joon Hee?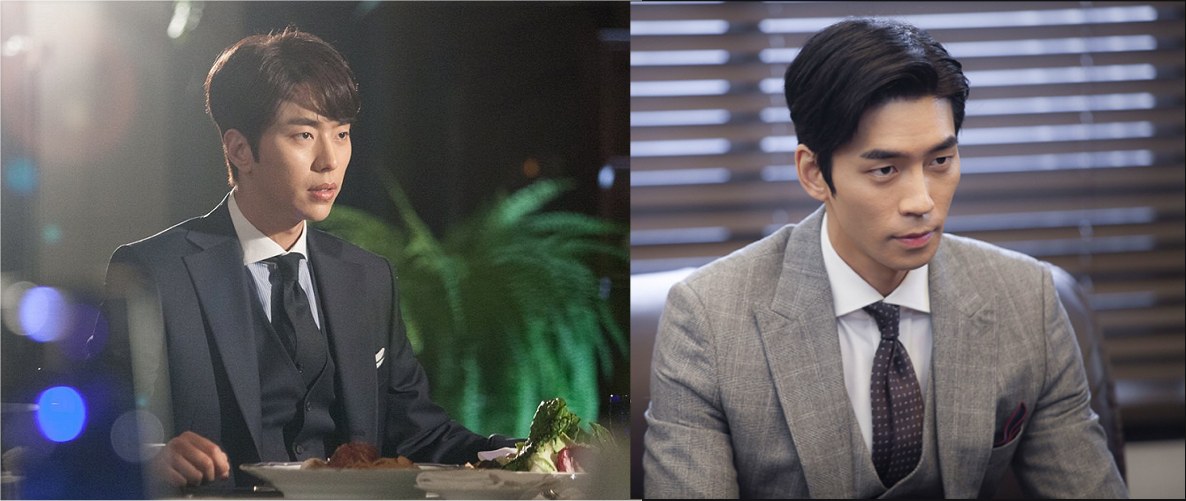 Deja vu villain! Evil Joon Hee reminded me so much of Jae Kyung
from My Love From Another Star that it freaked me out big time!

A sweet romance that develops on the sidelines is between Min Ho's best friend and private male secretary Woo Sik Oh (Shi Un Lee) and officer Ma's co-worker, female cop Ok Hyun Na (Eun Ji Jo from
Personal Taste
), and is a nice break from the main stressful storyline of officer Ma's murder and Joon Hee's corrupt takeover plans. Min Ho comes increasingly into detective Hyun Na's confidence (I think it's hilarious that he calls her "Wendy" from Peter Pan) when he tells her he receives supernatural glimpses of the crime scene in his memories -- he is actually experiencing the memories of the dead officer Ma! In them he identifies a watch worn by the perpetrator of the crime, and then happens to see Joon Hee wearing the same watch in the men's restroom.
The puzzle pieces are coming together, but they still need more evidence in order to arrest Joon Hee -- he is very clever, will they ever be able to get enough evidence against him to issue an arrest warrant? What about the witnesses to the crime, will they continue to protect the murderer? Officer Ma's father, Tae Suk Ma (actor Suk Hwan Ahn, a wonderful character actor who never disappoints me!), a worker at Min Ho's company, also wants answers as to what happened to his son. Closure is important to him, too, not just to Min Ho and Soon Jung. And what will happen with Soon Jung when and if she discovers that Min Ho's heart was her fiance's heart? Will she be able to understand and not let that be a hindrance to a new relationship with Min Ho?
Falling In Love With Soon Jung
is one of the more charming Korean dramas I've watched over the years, with great ensemble acting. Characters cope in realistic ways to what befalls them in the story. There is much hopeful optimism, despite the machinations of the primary villain Joon Hee and his various co-horts. Secondary characters are fun to watch for comic relief at times. I have to admit that corporate dealings are not some of my favorite plot devices in K-dramas but as the story progresses this aspect of the story doesn't overwhelm the love stories, which I was happy to see. I think this show will give a lot of people warm fuzzies. If you are tired of a strict diet of one-note melodramas that never seem to have a break to their oppressive story-lines then try this show for a nice change. Enjoy!
~~~~~~~~~~~~
RETURN TO KOREAN DRAMA REVIEWS
~~~~~~~~~~~~
PICTURE GALLERY