I watched this popular romantic comedy,
EXO Next Door
(2015) with my daughter and got a lot of laughs out of it. It's very short compared to most Korean dramas -- don't let the 16 episode length fool you. Each episode is only about 13 to 14 minutes long, so you can watch this entire Korean drama in one evening's time. It was sponsored by Line on Naver TV in Korea, and did so well in the ratings it was combined into one movie and sold to different Asian countries for large sums. I guess that is no surprise because it features the stars of the wildly popular boy idol singing and dancing group EXO, some of them acting for the first time as fictionalized versions of themselves.
Favorite Character: The Younger Brother :)

I'm not into K-POP but I have seen some videos of them performing on YouTube and they are very pleasant, and good role models for young people. Individually I was only familiar with two of them, Chan Yeol from
Roommate
, and D.O. from
It's Okay, That's Love
. The other boys with primary roles were Baekhyun and Sehun, and in more cameo type appearances Suho, Kai, Tao, Chen, Xiumin, and Lay. The female lead is the delightful Moon Ga Young from the beautiful K-drama
Mimi
. I love her and she was the primary reason I decided to watch the show.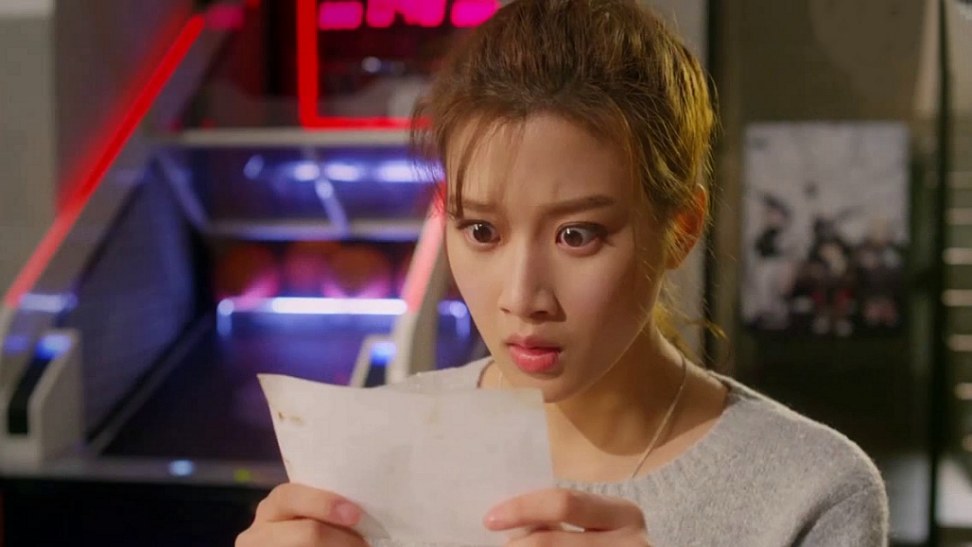 The Story
: The plot revolves around a silly 23 year old girl named Yeon-hee Ji (Moon Ga Young) who lacks direction in her life and who has an active and fertile imagination. She has never dated because of painful shyness and a chronic blushing problem whenever she is around boys she is attracted to. She lives at home with her tolerant mother (Hee Jung Kim) and thoroughly wacky brother Kwang Soo (Jang Yoo Sang, who reminded me a bit of actor Seung Gi Lee and made me laugh like crazy with his antics). Her mother is a real estate agent and she is commissioned to rent out the home next to hers by an entertainment company who refuses to let out the secret about who is going to move in
:
four boys from the K-pop group EXO. When Yeon-hee and her brother Kwang Soo get their first glimpses of them it's under several strange circumstances and of course Yeon-hee is quick to blush profusely whenever she has contact with them. She starts to spy on them through her bedroom window and is noticed by the boys, shades of the K-drama
Flower Boys Next Door
.
Then her mother strong-arms her into becoming their housemaid, saying she will receive an excellent salary. Yeon-hee is extremely reluctant to do so but if she is to avoid paying rent to her mother she has to take the job. At first the boys don't know quite what to make of her, and then eventually both Chan Yeol and D.O. fall for her, creating a classic love triangle. However, it turns out there is a secret connection between Chan Yeol and Yeon-hee stemming from their childhoods, and that might tip the scale in favor of him
;
the home they are renting was once owned by Chan Yeol's grandfather (veteran actor of many dramas, Yoon Joon Sang). They used to play together as children.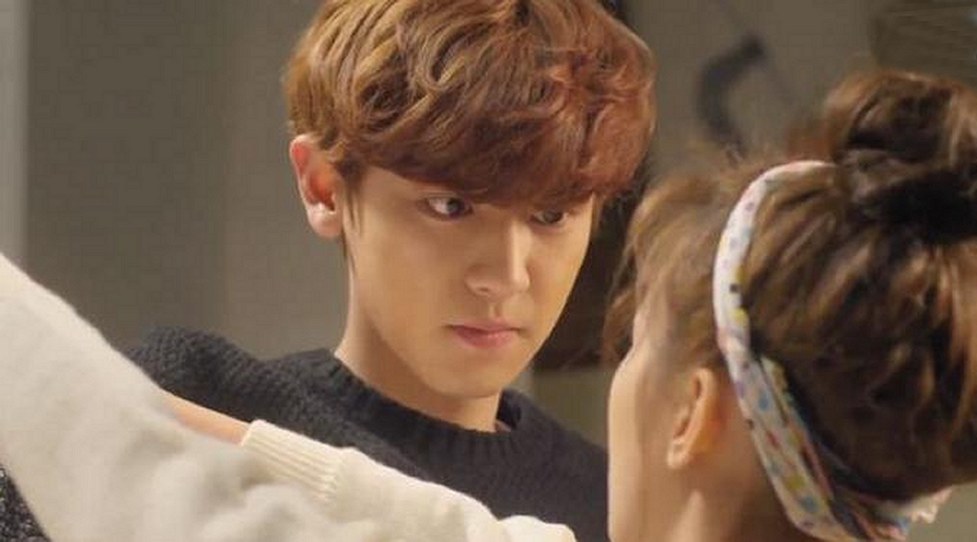 Chan Yeol doesn't inform Yeon-hee of his former identity, which leads to some typical misunderstandings. After seeing Chan Yeol as himself in
Roommate
for 19 weeks last year I know in real life he is a polite sweetie pie, but here in
EXO Next Door
his character is rather mean and impatient toward Yeon-hee, so I had an emotional adjustment to make and was happy when his character finally let down his guard and became nicer to her. All the same I was privately rooting for D.O. but he was acting here as the second male lead and they rarely get the girl in Korean dramas. However he is still cute as the dickens and my personal favorite, especially after seeing his outstanding performance as Jo In Sung's younger version in
It's Okay, That's Love
.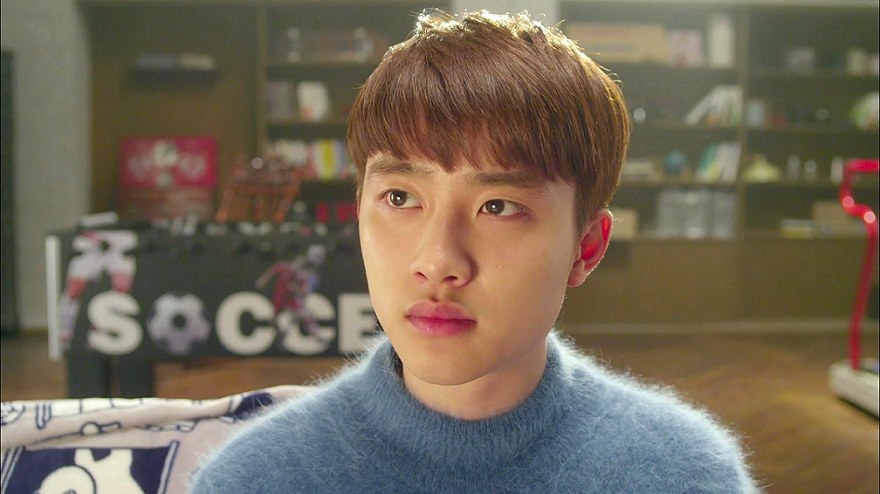 I have to admit, however, that it wasn't one of the "pretty boys" from EXO who entertained me the most in this show - that honor goes to the actor who played Moon Ga Young's crazy brother, Jang Yoo Sang, who had me in stitches laughing during every scene he was in. His facial expressions and his jerky movements were the stuff Laurel and Hardy were made of. I certainly hope I see him again in other comedies -- he's addictive!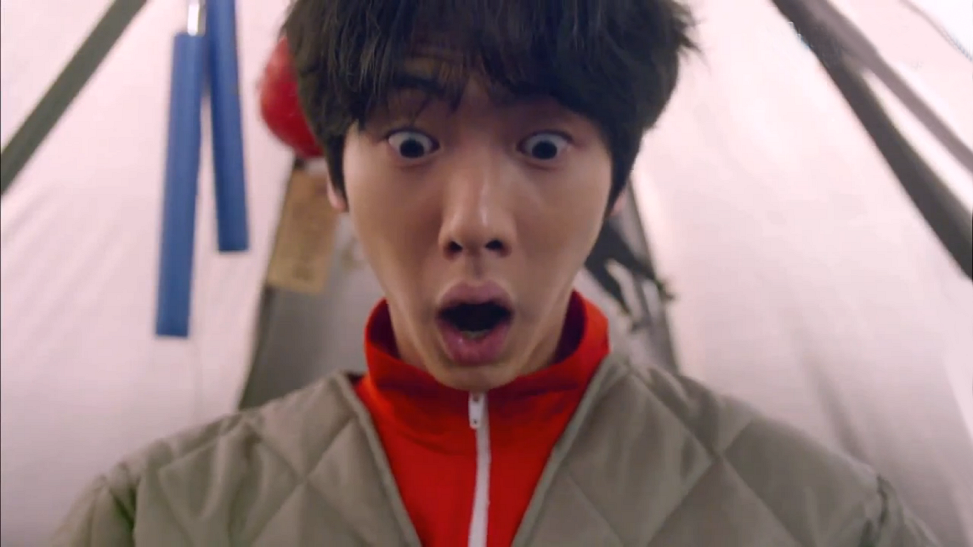 HAHAHAHAHA!!!!!
Loved when he shadow boxed with a coat rack!
There are some typical K-drama cliches in the show, like when Moon Ga Young and Chan Yeol get locked into a secret room and no one knows where they are, which brings them closer together, or the old bromance angles between male characters, but then again it wouldn't be a K-drama if not for the tried and true story cliches we've all become used to over the years. I guess I'd miss them if they weren't there!

EXO Next Door isn't Shakespeare, but it's cute and funny and endearing, and you will probably love it. It's a great show for mothers and daughters to watch together. In fact I think I am going to watch it again soon with my other daughter! If you need some laughter in your life be sure to check it out. Enjoy!

~~~~~~~~~
HOME TO KOREAN DRAMA REVIEWS
~~~~~~~~~
EXO Next Door Photo Gallery