The Story
: Han Seung Wan (Kim Jae Won) leaves for Singapore to surprise his girlfriend on her birthday, and Jung Se Jin (Eugene) is on the same flight, to say farewell to her deceased "first love" who died in Singapore. When literally bumping into each other at the airport they accidentally take each other's passports. They meet again to correct the mistake and Seung Wan and Se Jin end up spending the day together, finding they enjoy each other's company.
Coincidentally, Se Jin happens to know about Seung Wan's girlfriend, who is two timing Seung Wan with Min Do Hyuk (Lee Ji Hoon in an early role, too). Partially to help Seung Wan avoid discovering the truth, Se Jin spends the rest of her time on her trip with him. Near the end of the trip both of them get drunk out of frustration from their disappointing love lives, and end up sleeping together.
We transfer back to Korea and Se Jin discovers she is pregnant (on these impromptu one night stands do they ever stop to think they could stop at a drug store and pick up some condoms? Although I guess if they did that would be the end of this story).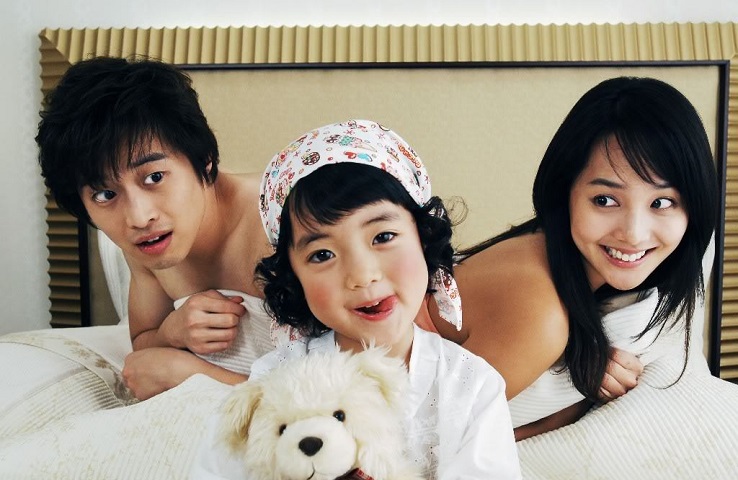 She decides to have the baby alone and not inform Seung Wan about his upcoming fatherhood (yet another mistake). A series of typical K-drama circumstances happen for about a year, and Se Jin's clueless sister ends up spilling the secret about his fatherhood to Seung Wan and at this engagement party, no less, showing up with Han Shin Bi (Jung Da Bin), his baby daughter, without Se Jin.
Seung Wan's life is forced to change because of his new fatherhood, and the hypocritical anger of his two-timing girlfriend Lee Chae Young (Han Eun Jung). Se Jin reappears in his life and they are forced to marry by their families. Complicated love twists take place, as Do Hyuk starts to fall for Se Jin, and so does Seung Wan, although Se Jin is more focused on loving her daughter. Slowly though something surprising happens to her as well: she makes a decision for love and constancy.
The rest of the story revolves around the family's journey in learning to take responsibility, and learning to love each other in sacrificial ways. It's all very predictable but it does have its cute and valuable redeeming moments.