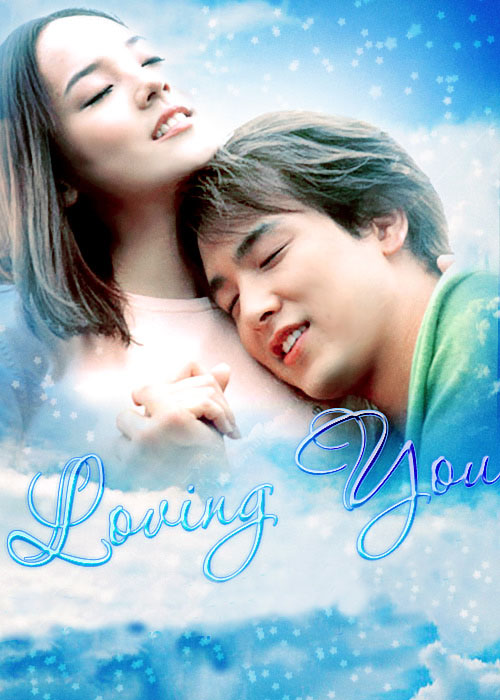 Korean Drama Review by Jill, USA
~~~~~~~~~~~~~~~~~~~~~~
This enjoyable romantic K-drama was filmed entirely on gorgeous Jeju Island and boasted pretty cinematography, music, and expert performances from some of the best Korean actors in the business, who were just at the beginning of their careers when Loving You was made in 2002. On top of that we have sparks that fly between a lead couple, played by Park Yong Ha (Winter Sonata, Story Of A Man) and Yoo-jin Kim (Eugene is her stage nickname, from Save The Last Dance For Me, and Hundred Year Inheritance), who fell in love in real life while making this drama and ended up having a long-term, not so secret love relationship for many years (though both denied it repeatedly through publicists, which is typical for Korean entertainers). It's so obvious they were madly in love during the making of this show that their romance almost jumps out of the screen while you are watching! Talk about your physical sensual chemistry! It would be similar to viewing the American classic film To Have And Have Not and watching Humphrey Bogart and Lauren Becall igniting the screen with the personal chemistry that was just starting to take place off-screen. A wise director knows how to make the most of such a burgeoning romantic relationship between his stars. These two were so compatible physically in this drama that they almost looked like brother and sister. Of course they would be attracted to one another! This show had a huge viewership of 47.9% share ratings when aired in Korea. It was the second most watched serial among the three major stations in 2002. Perhaps a lot of that could be because it was Park Yong Ha's first drama as a male lead after being a popular supportive lead in Winter Sonata, and another factor could be that it was filmed on Jeju Island, which is the number one resort choice for vacations (and especially honeymoons) among the Korean populace.





Opening Of The Drama


Other superb actors in this production were handsome Dong Wook Lee (Scent Of A Woman, Kang Goo's Story, who later also made an excellent film with Eugene called Heartbreak Library in 2008), stunningly beautiful actress Yu-ri Lee (All That Glitters), and in his first drama ever, Ji-hoon Kim (Stars Falling From The Sky, Flower Boy Next Door) who plays a small role as an actor in the drama. All these performers were at the height of their youthful physical beauty when they made Loving You, making it a delight to watch for the die-hard K-drama fan. Because the majority of the drama was filmed out of doors, all the cast members looked refreshingly attractive due to the active lifestyle they experienced while making this drama. Personally I feel that Park Yong Ha, the male star, looked the most attractive in this drama compared to the others I've seen him in. He radiated good health. It's just sad that only eight years later he was to commit suicide, the reason for which was never explained because he left no suicide note.


Supporting cast members Dong Wook Lee, Yu-ri Lee,
and Ji-hoon Kim at the beginning of their careers

Also, the print available on Dramaload.com is free of annoying station bugs, news tickers, and advertisements, making it terrific to watch without these typical distractions. I strongly suggest you download the video files and subtitles on there. The gorgeous scenery alone on Jeju Island makes this a not to be missed drama.




FIRST FUNNY MEETINGS :)


Our story begins

with a dramatic rescue at sea as a typhoon looms off Jeju Island, while at the same time another man drowns, and another man is murdered. Watch the both sets of opening scenes, above, to get a taste of how

Loving You

begins. English subtitles included.

Our female protagonist, Da Rae Jin (Eugene), is the hard-working and athletic daughter of a professional female diver (Eun-sook Sunwoo) on Jeju Island. She works in sales at an orange processing plant. Her executive father (veteran actor Dong Hwan Jung, who has been in more dramas than I can count!) dies (murdered, as it turns out) and Da Rae tries to uncover the truth about his death. On that same stormy day during which her father had died she happened to be swimming in the harbor and suddenly sees a man, fledgling filmmaker and director Hyuk Lee (Park Yong Ha), jumping off a boat to save his colleague who was drowning. When he doesn't come up again for air Da Rae jumps into the water to save him. A necklace Hyuk Lee was wearing slips off his chest during his rescue and she pockets it for the time being, hoping to return it eventually. Then tragically she and her Mom have to rush to the hospital after hearing that Da Rae's father had died under mysterious circumstances, and they have to identify his body and confirm his death. It is initially thought by the police to be an accident but Da Rae and her mother are not convinced.



Hyuk Lee, feeling guilty over his colleague's death, which occurred simply because Hyuk Lee wanted one additional take during the movie he was shooting, gives up his dream of being a filmmaker and starts to work as a laborer in an orange tree grove business as a form of penance and self-punishment, work that is against the will of his rich father, Chairman Lee (veteran actor

Geun Hyung

Park), who owns a successful resort management business that he would like Hyuk Lee to take over. Hyuk Lee doesn't have many memories of the day he was rescued but he seems to have some hazy dream of being rescued by a beautiful female diver, though he cannot remember her face. Meanwhile, Da Rae still holds onto his necklace and wonders whatever became of the young man she had rescued on the same day her father died.

Da Rae and Hyuk Lee accidentally meet when Da Rae is bicycling on a scenic drive through the orange groves, and they are immediately attracted to one another, though neither wants to admit it. "If you like me," he insists, "just tell me. Honesty is attractive." Hyuk Lee likes to tease Da Rae, like taking off his shirt and exposing his muscular sunburned torso, which unsettles her, but it is also during one of these moments that Da Rae recognizes the scar on his back from the accident and realizes that he is the man she had saved from drowning, a fact which she keeps to herself. She doesn't want him to feel obligated to her. They grow even closer to one another when Da Rae bravely stops a robbery from taking place at a local hotel cafe, by hitting the thief with a tray, and as Hyuk Lee joins the fight she mistakenly hits him over the head with it. From that moment on he jokingly refers to her as "Tray". Then one night while Da Rae is walking by a hotel pool she sees a man who looks like he's drowning, she jumps in to try and save him, and he jumps up and grabs her for a kiss. There is only one word that fits that scene: hot!


Gradually the couple fall passionately in love, as much as they try and resist one another, but as is typical of most K-dramas, there are love rivals for each of the main characters' affections. Su Kyong Cho (Yoo-ri Lee), a former high school classmate of Da Rae's, on Jeju Island to make a movie, is secretly jealous of Da Rae and wishes to destroy her. On the surface she seems so nice to everyone, but then she shows her true colors by meddling into everyone's private affairs, especially Da Rae's. She ends up stealing the necklace that Da Rae had kept in her possession since saving Hyuk Lee, and passes herself off to him as the angel diver who had saved Hyuk Lee's life on that stormy day. He feels obligated to his supposed rescuer and puts his growing romantic relationship with Da Rae on the back burner in order to spend time with the conniving Su Kyong. Su Kyong looks on it as just another way to hurt Da Rae.


Meanwhile, growing deep in love with Da Rae is Hyuk Lee's own younger step-brother, who is trying to make a movie on the island, the kind and gentlemanly Min Lee (Dong Wook Lee), who proves to be a good friend to Da Rae during times of crisis. Once more the viewer might actually develop what I jokingly call "2nd Male Leaditis", an all too common K-drama phenomena in which some audience members might actually feel they would prefer to see the lead female end up with the second male lead instead of the first male lead. All four of these lead characters get entangled in a complicated competitive love quartet, which is really put to the test when both Hyuk Lee and Da Rae begin to suspect that Hyuk Lee's father could possibly have been involved in Da Rae's own father's death.


The plot thickens around the corporate espionage that had taken Da Rae's father's life, and it seriously jeopardizes the already strained but still passionate love relationship between Da Rae and Hyuk Lee. Hyuk Lee's relationship with his father had not been good ever since the death of his artist mother and his quick marriage to Min Lee's mother only a month later. The fact that his father hires people of dubious character to do his bidding, like the malevolent Supervisor Kang (character actor Gyu Chul Kim from Shark and That Winter, The Wind Blows), doesn't help to improve relations between father and eldest son. However, fate takes a hand and some element of justice is served by the end of the show, though there is also some sadness as well.

I don't want to give away too much more, since this show is only twelve episodes and you can watch it fairly quickly, but it's very enjoyable and you should definitely put it on your K-drama itinerary. I basically started watching it for Park Yong Ha, whom I've always liked, but ended up liking actress Eugene just as much by the end of the show. She made her character fun to watch. What a petite beauty. She also had the required class to show up at Park Yong Ha's funeral in 2010, and I tip my hat to her for that. She married the following year to another actor,

Tae-young Ki

(Star's Lover, To The Beautiful You, and Creating Destiny, the latter show in which they first met and appeared together in 2009). She meets him in 2009, Park Yong Ha kills himself in 2010, and Tae-yong and Eugene marry in 2011. Hmmm.............