When I first heard this show,
The Time That I Loved You: 7000 Days
(2015) announced on K-drama websites, read its description, and saw the trailer, I was a little suspicious that I would find it bland and boring and silly, despite liking the stars in other shows, and I was right. I am not going to waste a lot of your time on this review, because there are so many other dramas
much
more exciting to watch than this lightweight summer romance, and I honestly was disappointed in it and can only grade it a C. I'll just give you a brief synopsis and personal opinion and you can decide for yourself whether you want to spend time on it.
The Korean version is based loosely on a 2011 Taiwanese drama called
In Time With You
, with the same theme, that it would take two incredibly good looking and passionate people who grew up next door to one another for twenty years all that time to finally figure out they were in love. Right off the bat that doesn't make them very intelligent people, does it?
They go through other relationships with people whom they are obviously not compatible with, yet when they are together as friends or chatting on their cell phones as buddies, laughing and bantering with one another easily and naturally, they seem to have an ideal relationship that would be perfect for a married couple. It's not until episode thirteen out of sixteen that she finally figures out how he really feels about her, and in turn he doesn't tell her he's in love with her until he gives her the script of a play he wrote when they were teenagers going to the same school, a script which clearly depicts that he has a secret admiration for her. If he hadn't handed her the script she still wouldn't have figured it out! What's wrong with an open declaration, fellow, you're in your 30's now after all, "I love you." It's not hard to say at all if it's really true - why be such a wimp about it? All this just tried my patience. I can understand if he was torn about his feelings for the girl but he wasn't. He always loved her.
Just like a mind:
Twenty years is a terrible thing to waste!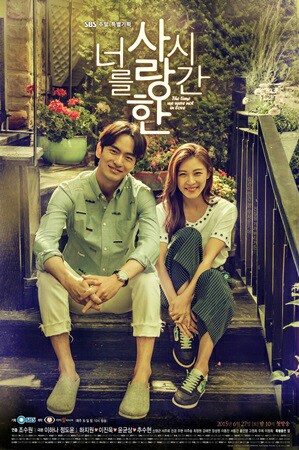 Ha Ji Won (
Secret Garden
,
Damo
) and Lee Jin Wook (
Nine: Nine Time Travels
,
Alone In Love
) did have an easy chemistry together, after all they are professionals and used to pretending all different kinds of emotions with co-stars, so the problem with the show wasn't with them so much as the WRITERS. Their script lacked excitement and intelligence. I haven't seen the version from Taiwan so maybe the original was better and this remake was just a poor substitute. The two leads both look very beautiful but good looks alone does not an exceptional drama make! You need a believable STORY, first and foremost.
Perhaps giving them better professions than just home shopping network exec (her) or boring flight attendant (him) would have made them more dynamic characters. Ho hum. As far as I am concerned the home shopping job has been seen way too many times in Kdramaland and none of them have been able to compete with the finest one that is the standard of excellence,
I Need Romance 3
with Kim So Yeon. In fact, if you're in the mood for a warm, interesting and sexy summer romance story I would completely ignore this one and just watch
I Need Romance 3
instead! That one will keep you on your toes. Or if you haven't seen them yet you can watch Ha Ji Won in her best performance, as an exciting stunt woman in
Secret Garden
, where her sexual chemistry with co-star Hyun Bin is off the charts, or for Lee Jin Wook watch his best drama which I consider a masterpiece,
Nine: Nine Time Travels
.
~~~~~~~~