The Story
: Dong-jin Lee (Woo-sung Kam), who works as a manager in a big bookstore in Seoul, and Eun-ho Yoo (Ye Jin Son), who works as a swim coach at a large recreational complex not too far from the bookstore, were divorced after only a few years of marriage, but find it difficult to detach from each other lives' completely. They meet frequently in familiar places that had meaning to them as a couple, like the local Dunkin Donuts for coffee time at lunch break, and they still talk on the phone every day.
When Dong-jin rides the bus to work every morning he always makes it a point to check to see if Eun-ho's yellow bicycle is present at the bike rack outside of the place where she works; if it's not there he worries that she might be sick or have some other problem. When Eun-ho introspectively wonders why she still feels lingering jealousy over Dong-jin's activities she calls a local radio program where a fundamentalist pastor gives relationship advice, and disguises herself as different women with different names each time she calls, and asks what she should do in particular situations that arise.
It is revealed later why Eun-ho seems obsessed over calling this show a lot
:
the pastor is her own widowed father whom she has been estranged from since her divorce, Ki-young Yoo (Kap Soo Kim who played the father in the movie
A Tale Of Two Sisters
). There comes a time, however, that it becomes clear that she has never really fooled her father. Not once. He knows who is really calling him every single time.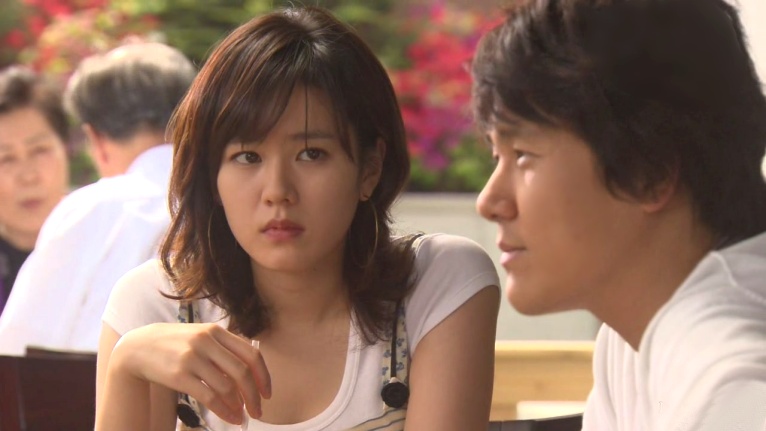 Dong-jin and Eun-ho even try to set each other up with new mates! Eun-ho tries to set him up with a divorced, attractive woman who visits the pool where she works, named Mi-yeon Kim (Yoon-ah Oh), who happens to have a six year old daughter named Eun-sol (superb little actress Ji-hee Jin, from the movie
Hansel and Gretel
). The woman is so taken with Dong-jin and his gentle personality that she moves herself and her child to an apartment complex opposite his, but for some reason, even though Dong-jin finds her physically attractive he flinches from being around her too much, though he does seem to bond with her lonely little girl, who asks him point blank if he will be her next daddy. Dong-jin, in turn, tries to set Eun-ho up with a younger man who worked at the wedding facility the day they got married and who had been captivated by her beauty, named Hyun-joong Min (cutie-pie actor Jin-wook Lee -- I can easily see why Ji Woo Choi dated him for two years - he seems just her type!). However, even though Eun-ho considers Hyun-joong attractive too, she brushes him off when he attempts to get closer to her emotionally, or attempts to kiss her.

Eun-ho calls her estranged father Ki-young while he
does his radio broadcasts and asks for relationship advice
Whenever friends or family try to figure out why Dong-jin and Eun-ho really got divorced, since they seemed so perfect for one another, the pair never answer the questions specifically, simply saying they grew apart. It's no wonder that the people in their lives who care about them the most, including Eun-ho's younger sister Ji-ho Yoo (Ha-na Lee in a perfect performance), who shares an apartment with her, and Dong-jin's best friend since childhood, obstetrician Jun-pyo Gong (funny actor Hyung-jin Gong), can't quite believe that they are not still in love with each other on some level. Jun-pyo and Ji-ho often team up to try and get them back together, but each time their arrows miss their marks. Dong-jin and Eun-ho remain in emotional limbo, unable to move on with other people. However, due to all their conspiracies to get them back together, it's ironically Jun-pyo and Ji-ho who grow closer and closer.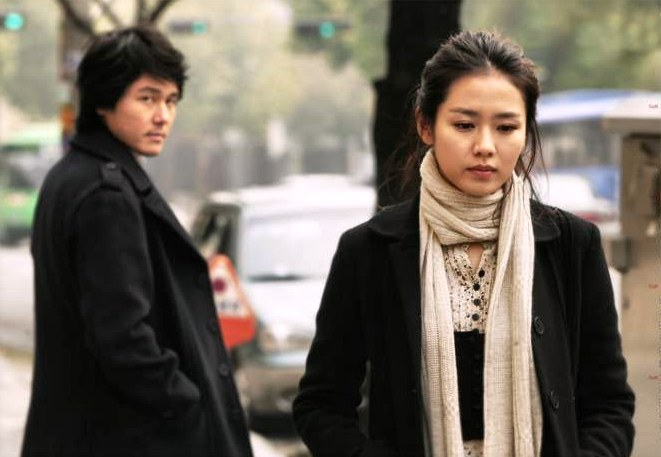 The series slowly gives us flashbacks to show how this couple first met, grew close, got married, and more flashbacks explain what went wrong in their marriage and how they felt about it. Eun-ho will often say to people that she filed for divorce, but it's revealed later that it was Dong-jin who actually filed. "I didn't want to hurt her anymore. Marriage should be about love, not pain."


In Walks A Young Lee Jin Wook

It turns out that Dong-jin's best friend, Jun-pyo, deep down senses the real reason they got divorced: neither could deal with the pain and guilt over the loss of their child, who had been a stillborn baby at birth. Every year on the anniversary of their son's death Dong-jin and Eun-ho meet at his grave and have a commemoration ceremony. Each year Dong-jin repeats the same mantra at the grave: "he would have been one year old today", "he would have been two years old today", "he would have been three years old today". Jun-pyo had been their obstetrician, and there is a reason why, ever since the day that baby died, he continues to faint after every baby's birth he attends!
Eventually Dong-jin finds someone he is intrigued by to get serious with, a pretty woman named Yoo-kyung Jung (Jung-hee Moon), who had been his first love in middle school when he was a child; he meets her at a school reunion and asks her out. As his relationship with her grows, Eun-ho seems accepting on the outside, but inside she is dying. She can't sleep due to nightmares, she can barely keep food down and vomits a lot, she will stare out into space and disassociate from reality.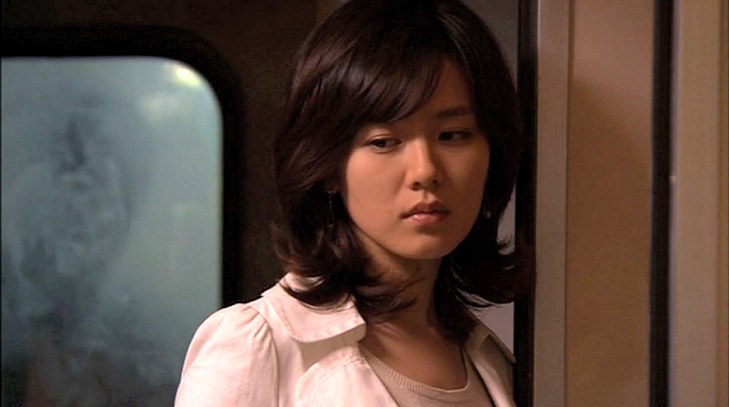 The always beautiful Ye Jin Son, my favorite actress,
in yet ANOTHER magnificent performance in Alone In Love
Even a brief dating relationship she has with a college psychology teacher named Yoon-soo Jung (Tae-hwa Seo), who is one of her students at the pool, can't pull her out of her continued sadness. Dong-jin rather hastily marries Yoo-kyung, and Eun-ho even sings at their wedding! Her younger sister is distraught at how events turned out, and afterward she sends a note to Dong-jin implying that Eun-ho is going to Chuncheon to commit suicide. He races out of his bookshop and rushes to the train and throws his arms around Eun-ho. "Don't do it!" he cries. Eun-ho replies she has no intention to do that, that she was only going on a brief vacation trip. The whole set-up had been achieved by her meddling younger sister.
Meanwhile, there is one stop on the train route where Dong-jin can get off and go back to his waiting wife. Will he do so, or will he stay on the train and re-commit to Eun-ho, whom he has really never stopped loving, despite everything?
This is the kind of K-drama I can watch over and over again, since it is so true to life. Everyone has flaws in the story but you still like them. This is a thinking person's show, and would actually be therapeutic for many people contemplating divorce or who have been divorced. I really loved it. Since this rare K-drama has never been on any legal streaming site I would suggest purchasing
the official YA Entertainment DVD box set
(YA always produced the very best DVD sets, as opposed to cheap Chinese bootlegs) as your best option to enjoy this great show. Enjoy!