This Korean drama
Friends
(2002) is breathtakingly beautiful and tells the story of a love that knows no international boundaries. How wonderful it is to watch a show where the lead couple become respectful friends first, before becoming romantic sweethearts. That's the way romances should begin in "real life"; they have more meaning and permanence that way.
Friends
was a ground-breaking, landmark television series that was the first television collaboration between Japan and South Korea and aired in both countries, made in the same year that the hit Korean drama
Winter Sonata
had such a huge impact on Japan as well. Since that time many Korean dramas have been sold for record prices to air on Japanese television. They are hugely popular. These shows are not just entertaining, they serve a mission: to build bridges between people who for a long time had tenuous, even violent, relationships with one another due to the long history of multiple Japanese military invasions of Korea, going back centuries.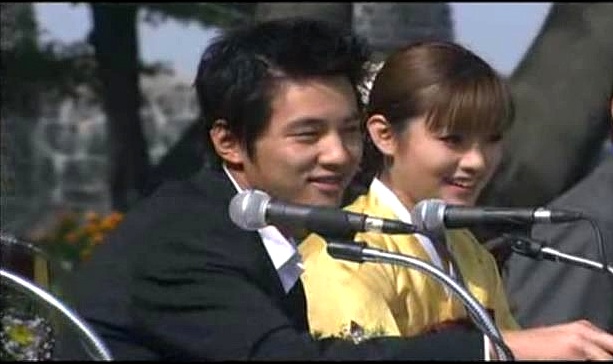 Each country contributed a top acting talent to head their cast lists; the female lead was the glowingly lovely Japanese actress Kyoko Fukada, who has had a very long history of doing Japanese dramas and films, and the male lead was dashing Korean actor Won Bin, who became world famous after appearing in the first of the "Four Seasons" landmark Korean dramas
Autumn In My Heart
in the year 2000, and has since made many excellent well-received films like
Mother
and
The Man From Nowhere
.
In addition to cast and crew members from both countries the composer was internationally known and respected female composer Remedios, who wrote the exquisite score for the classic Japanese film
The Love Letter
(1995), one of my favorite films of all time. It was so nice to hear her music again in
Friends
! I must also add that the cinematography is glorious and the print is brilliant in appearance and looks like it was filmed yesterday, not 2002! It's also free of any station "bugs" or commercials or news tickers, which is so refreshing! Plus the English subtitles are excellent.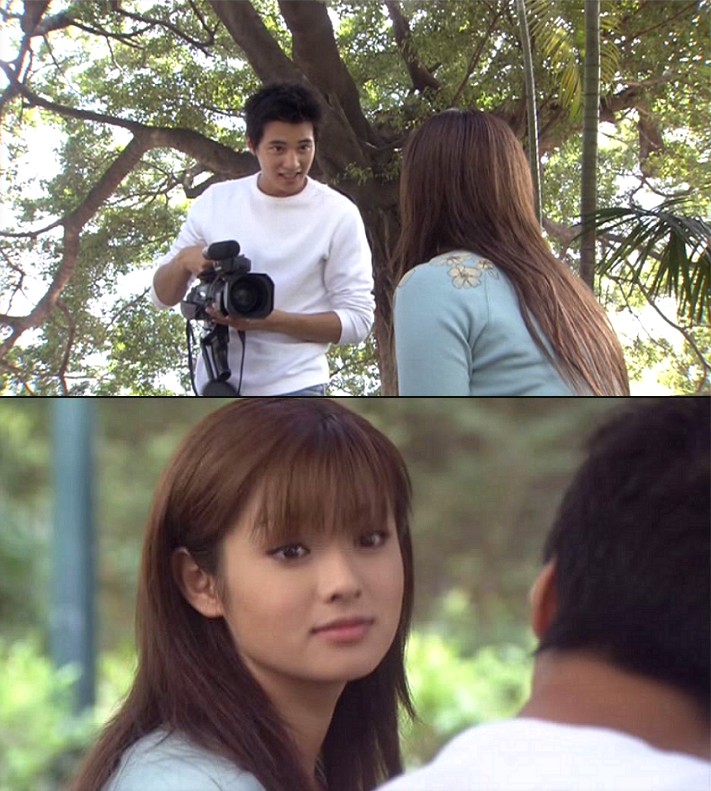 The Story
: Two Japanese female friends visiting Hong Kong together are separated while sightseeing and one of the girls, the pretty and diminutive Tomoko Asai (Kyoko Fukada) has her purse snatched by a young man wearing a white baseball cap. She runs after him and then mistakenly thinks that a young Korean man standing in a crowd of people, Ji Hoon Kim (Won Bin), an amateur filmmaker, is the thief because he too happens to be wearing a white baseball cap. After hearing her cries for help the police arrest Ji Hoon and take him to the station for questioning. Soon it is obvious that Ji Hoon was not the thief so he is let go, with Tomoko trying desperately to apologize in Japanese while Ji Hoon tells her to leave him alone in Korean!
Of course she doesn't understand what he is saying and so she follows him down the street and then suddenly she sees the
real
thief handing over her purse to his partners in crime; Ji Hoon sees it too and starts chasing the thieves to try and grab her purse back for her. Now Tomoko is even more grateful to him. They manage to communicate using broken English and he takes her to a relative's diner to have some dinner.
RARE FULL OST

Both of them try to elevate themselves to the other; Tomoko says she is a fashion designer and Ji Hoon claims to be a professional filmmaker. The truth is Tomoko works in retail as a sales girl in a Japanese department store, and Ji Hoon is just out of college and expected as an only son to work in his father's business. However, while they are together in Hong Kong they both maintain the illusion and Ji Hoon films Tomoko walking and running along the Hong Kong Harbor and takes her to see fireworks. The two exchange email addresses and depart to go back to their home countries.
Once they are both home they start to communicate via email and finally admit the truth to one another about their professions, plus what their hopes and dreams are for the future. Tomoko confides that her opinionated, strong-willed mother Satoko Asai (Keiko Takeshita) is a perfectionist whom she has had trouble getting along with, and that she had even tried to commit suicide in the past because she felt she could never live up to her mother's expectations of her.
Ji Hoon admits he isn't a professional filmmaker and he's presently working as an un-glamorous go-to messenger for his father's business. He grows concerned for her about the suicide attempt and tells her never to try that again. She encourages him to fulfill his film-making dreams, even if it means starting part-time at the bottom of the totem pole handing out scripts and clicking the "action" sign. Before they know it their emails to each other become the highlights of their days. Thank God for online translation services!

Tomoko can't forget Ji Hoon and she starts taking a Korean speaking class with the hopes of one day visiting Seoul and maybe seeing him again. Ji Hoon does even more than that: he saves his money to visit Japan and seeks out Tomoko to tell her he loves her; however a male co-worker named Shota Sakamaki (Yukiyoshi Ozawa), who has secretly been in love with Tomoko for a long time, intercepts Ji Hoon and in private begs him not to pursue her anymore, that he loves her and can do more for her as a Japanese man, and that there are far too many obstacles in the way of their relationship ever turning permanent. Ji Hoon, an incredibly nice gentlemanly guy, takes the fellow's words to heart and backs off. He stares at Tomoko longingly through an elevator as she is busy serving customers in her department store, but then turns around and goes back to Korea.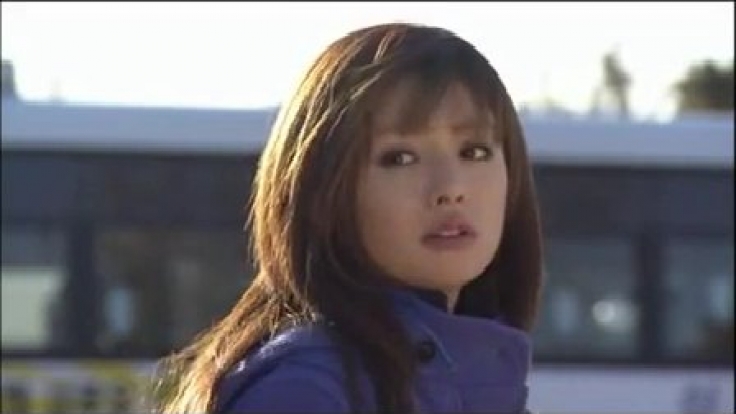 Ji Hoon decides to get over his broken heart by joining the military to do his required two year service. While he is serving, Tomoko visits Korea and tries to contact him at his army base. He sees her from a distance in the camp and asks his superior for time alone with the girl. He is kind but firm, takes her hand and tells her their long distance friendship is over and that she should go back home. For these five minutes of time with Tomoko Ji Hoon has to do an hour of grueling physical exercises.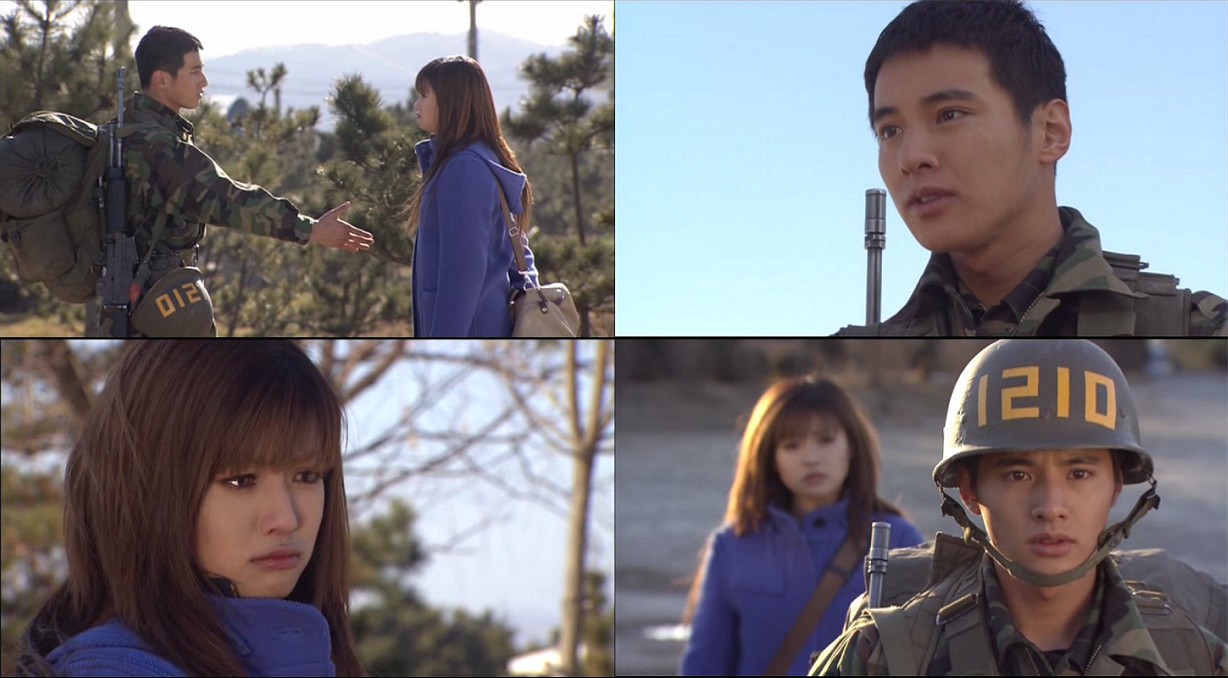 "Sayonara."
Tomoko returns to Japan but continues her lessons in Korean and improves so well she is eventually hired as a tour guide for Japanese tourists visiting Korea. She justifies it by saying that just because the relationship with Ji Hoon didn't work out that that was no reason to abandon her consuming interest in Korea as a nation. She loves her job, and even though she makes mistakes, her humble attitude impresses her boss at work and an extension is granted.

Two years pass by, and Ji Hoon is out of the military and working part-time as an apprentice with a film crew, and suddenly he happens to see Tomoko on the street in Seoul and makes a beeline for her. They awkwardly meet again and stare at each other as if time had stopped still. On the sidelines, however, is the sister Hye-jin Park (Shin Se Kyung of
When A Man Loves
) of his best friend and roommate Kyong Joo Park (Dong Gun Lee from
Stained Glass
and
Ruler Of Your Own World
) and she's had a crush on him for years. Tomoko assumes Hye-jin is Ji Hoon's new girlfriend and walks away. Good brother that he is, trying to support his sister, Kyong Joo tries to persuade Tomoko to leave Ji Hoon alone, that cultural differences are too profound for her and Ji Hoon to ever make a go of it, but Tomoko, although respectful of his words, simply does not agree.
Ji Hoon finds out where Tomoko lives and one rainy night he finally runs to her and confesses he's never stopped loving her -- and he speaks these words in her own language, Japanese. They are a couple once more but there's trouble on the horizon from Kyong Joo, Hye-jin, and mostly his own conservative parents who prefer for their only son to work in the father's business instead of in film-making, and to marry a Korean girl, not a Japanese girl.

Ever the dutiful son, Ji Hoon feels a tremendous responsibility to his parents and he ends up having an argument with Tomoko when she tells him he should never give up any of his dreams. Tomoko is hurt that he is willing to back down on his dreams to live the kind of life others want for him. She gets up and walks away from Ji Hoon and flies back to Japan and to her mother's home. Her mother can see she has had a tough time of it and begins to be respectful and encouraging to her daughter for the first time, which brings mother and daughter closer.
Some time later Ji Hoon has applied himself so well that he wins an award for a short film and dedicates it to a nameless friend who inspired him to never give up his dreams. His parents have become more respectful of his endeavors, especially since he is achieving recognition in his field. After winning the award he tells his father he has one more tradition he wants to break - but leaves what that is an unspoken secret. He flies to Japan with the intent to propose to Tomoko in a most romantic way -- but will she still want to marry Ji Hoon when so much time has passed and her personal life has become much more stable?
Friends
is a wonderful drama that you will most likely want to enjoy more than once. I found it totally charming and educational as well, especially about cultural differences between Japan and Korea. As a fan of Won Bin, I was a little sad that he has made so few dramas compared to films, so I was thrilled to find this high-quality K-drama with excellent production values and performances to enjoy. I thought his gentlemanly character of Ji Hoon to be so endearing. I became a big fan of this Japanese actress Kyoko Fukada after watching her heartfelt and earnest performance as Tomoko. They had great bittersweet chemistry together as a couple! I'd love to see more of their work in future. If you're a romantic at heart don't pass
Friends
by. You will love it!
~~~~~~~~
HOME TO KOREAN DRAMA REVIEWS
~~~~~~~~~
FRIENDS PICTURE GALLERY