Starring 2PM's Lee Junho (
Just Between Lovers
, film
Memories Of The Sword
), lovely, irrepressible actress Jung Ryeo Won (
Love Story At Harvard
,
My Name Is Kim Sam Soon
,
The King Of Dramas
,
What Planet Are You From?
), and the always brilliant and utterly fantastic Jang Hyuk (
Thank You
,
Chuno
,
Bandit
,
Beautiful Mind
,
Midas
,
Into The Sunlight
,
Voice
,
The Crowned Clown
,
Old Goodbye
,
Successful Story Of A Bright Girl
and hit films
The Flu
,
Windstruck
, and
Please Teach Me English
), who is a huge bias of mine, plus a marvelous back up cast with many familiar faces to the long-term K-drama fan,
Wok Of Love
was guaranteed to do well. It found a lot of devoted fans online on the streaming sites. I think I put it off for several years just because I have to be in a special mood for a show based on characters' love of cooking! All the food dishes prepared by the characters look so delicious that those scenes encourage me to snack too much while watching, and I end up gaining weight! LOL! I read an interview of Jang Hyuk online about this show and he said he chose to do the drama because he loves to cook in real life. He also loved the way his character was written, and he enjoyed bringing him to life. This is one actor who doesn't appear in a drama unless the writing really appeals to him.
The Story
:
Top chef Seo Poong (Lee Junho) works at one of the biggest hotels in Seoul named, appropriately, Giant Hotel. The dining rooms are always packed with visitors who want to eat his delicious gourmet dishes, meals he has worked on perfecting for ten years in his profession. The restaurant in the hotel concentrates mostly on Chinese cuisine, which primarily is created and cooked in a wok. There is a huge staff working at the hotel under him, but of course his success has made a few people working there jealous of him, including the kitchen administrator Wang Choon Soo (Lim Won Hee), who is an authoritarian type of person who rarely smiles and who would like nothing better than to get rid of Seo Poong. Thankfully it's not his decision to make!
Seo Poong has lived with his fiancee for a few years and recently signed a marriage registration certificate with her. However, not too long thereafter Seo Poong discovers his wife Seok Dal Hee (Cha Joo Young) has been cheating on him with the CEO of the hotel he works at, an arrogant rich man named Yong Seung Ryong (Kim Sa Kwon), and then he discovers an even more hideous betrayal: she had secretly aborted their baby and now wants a divorce, to be with the slime-ball hotel CEO. Seo Poong is totally devastated. He carries the ultrasound picture of his now dead infant around with him for days. When this hotel CEO finds out Seo Poong is on to him he demotes him, trying to send him away to another hotel outside of the city. Seo Poong refuses to transfer and quits. He swears revenge on this CEO, and the hotel he used to work for so diligently for a decade.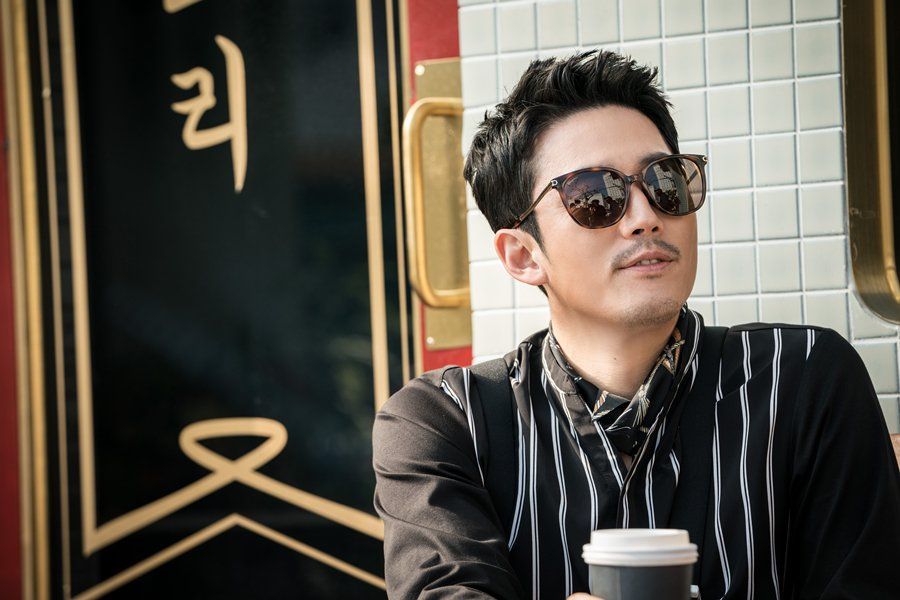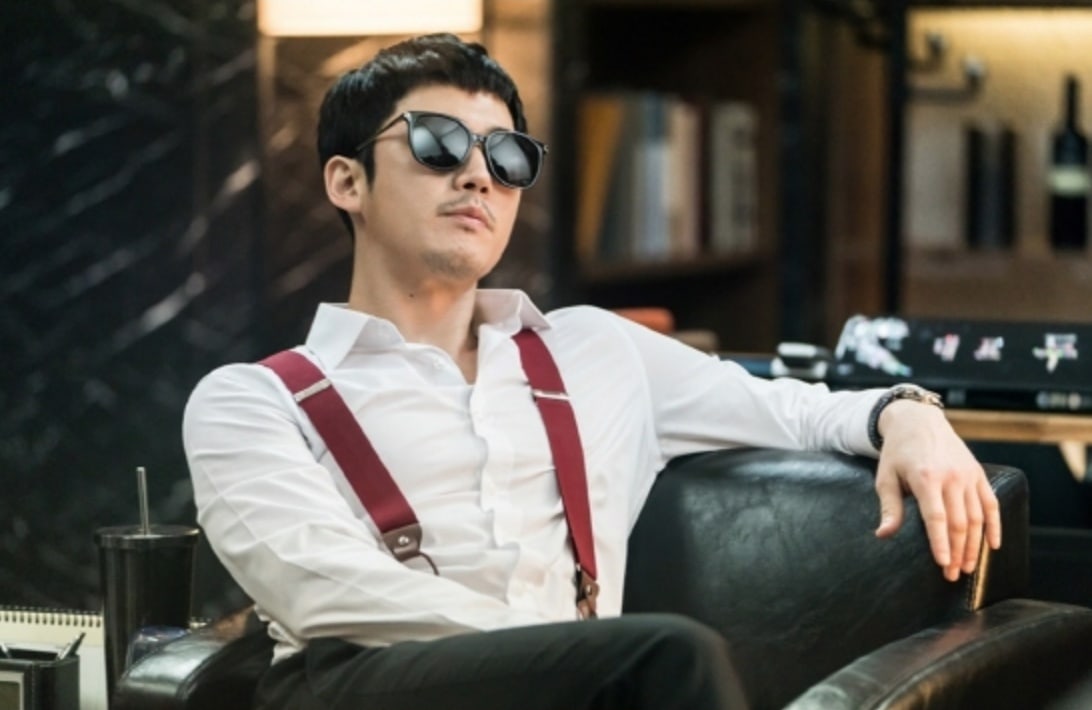 Mr. Cool - Jang Hyuk
Seo Poong visits the smaller Chinese restaurant directly across the street from the hotel and asks if they are hiring. This restaurant is not doing very well because it is run by a loan shark named Doo Chil Seong (Jang Hyuk) and his gangster buddies who really don't know a thing about good authentic Chinese cooking. They just throw ingredients together in a wok and hope the dishes work out to be something good. Seo Poong eventually convinces Chil Seong that if he takes over his restaurant he can bring many of the customers from the hotel to his restaurant instead, and finally make it a big success.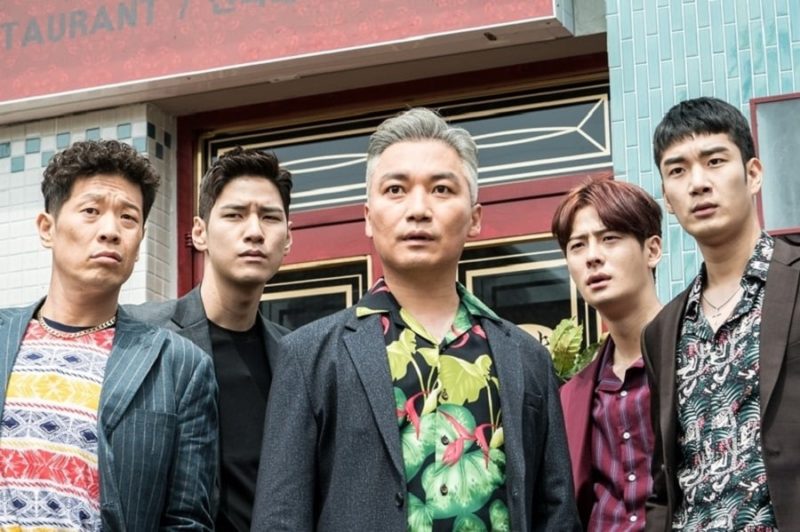 C
hil Seong's Gangster Buddies Who Don't Know How To Cook:
(l to r) Actors: Choi Ki Sub, Kim Hyun Joon, Jo Jae Yun,
Cha In Ha (who sadly died in 2019 at age 27, suspected suicide),
and last but not least, Choi Won Myeong
Chil Seong does seem to be a good guy in some ways; for instance, he wants his loan shark buddies to achieve normal lives, leave the loan shark "business", learn a marketplace skill, marry, have families. Seo Poong promises to help in that regard, to teach them authentic Chinese cooking. Slowly, very slowly, after some typical fights transpire, they start to warm to Seo Poong and decide to devote themselves to the restaurant's success. It's nice to see these fellows become normalized, and Chil Seong grows more and more grateful to Seo Poong. The two men seem to be growing close, like brothers. When some former worker at the hotel restaurant steals Seo Poong's private cherished cookbook, with his custom secret recipes inside, Chil Seong risks his life to steal it back for Seo Poong. Seo Poong is touched to his soul by this sacrifice. (If all loan sharks in dramas were as principled as these guys they wouldn't have such a bad reputation overall!).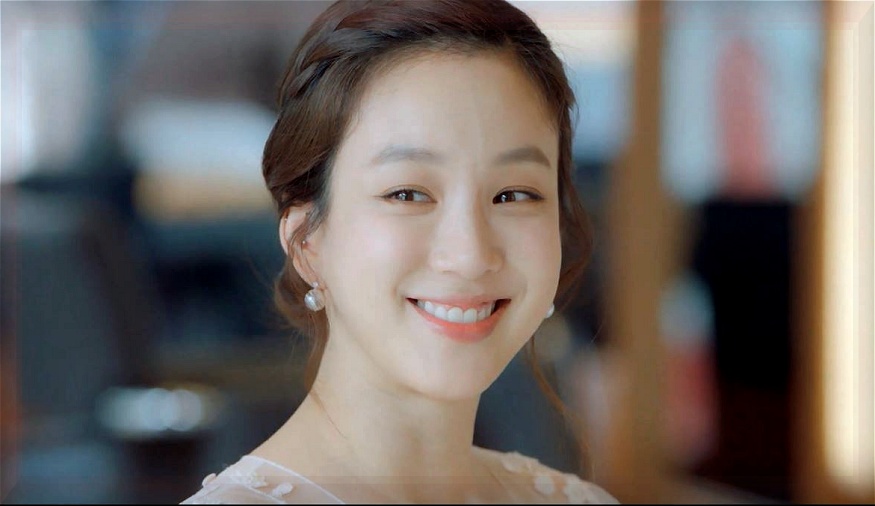 Actress Jung Ryeo Won as Sae Woo in Wok Of Love (2018)
Jung Ryeo Won with Hyun Bin in My Lovely Sam Soon (2005)
Thirteen Years Later She's Still Gorgeous :)



Before all the above happened, both Seo Poong and Chil Seong had separately met an attractive young woman named Dan Sae Woo (Jung Ryeo Won). Both men had been instantly attracted to her. Sae Woo is an upbeat daughter of a wealthy father named Dan Seung Ki (Lee Ki Young). She was engaged to be married but her father was arrested the morning of her wedding for supposedly stealing money from his investors, and Sae Woo's groom never showed up. Sae Woo is shaken to her core; they had even bought a house together. Now she can't stand sleeping there alone. On top of this disaster her beloved pet horse Imma was diagnosed with cancer, and she suddenly needs money for an expensive surgery to save the horse's life. But she's poor now, with her father in jail. How will she make enough money for the treatments her horse needs?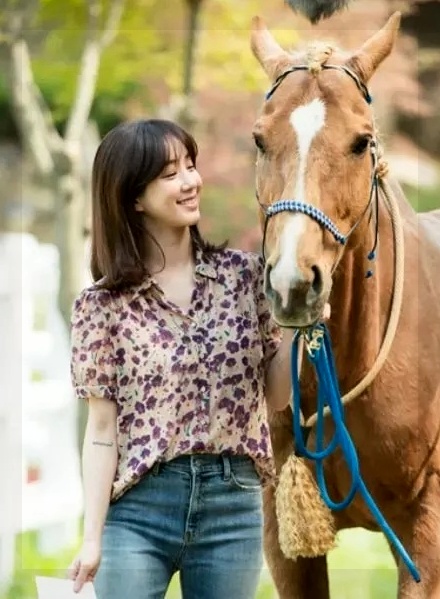 Thanks to Chil Seong's generosity, who had fallen in love with her at first sight, she begins working at the Chinese restaurant newly opened by Seo Poong and is able to raise money to save her horse. It becomes obvious that, while Sae Woo is attracted to Chil Seong and his innate kindness, she is physically attracted more to Seo Poong, who is fighting his attraction to her as he waits on his divorce to be finalized. They both discuss with each other off hours that they need to recover from their former sweethearts before they can be ready for a new relationship. Chil Seong can see what is going on between them but still tries on occasion to win her heart. He does have a good sense of humor, which Sae Woo really appreciates. (During some of these scenes I found myself humming the old song
Torn Between Two Lovers
, lol!). It doesn't make it easier on anyone that the two men care about one another as friends now as well. Will fate intervene and cause Sae Woo to choose Chil Seong instead of Seo Poong?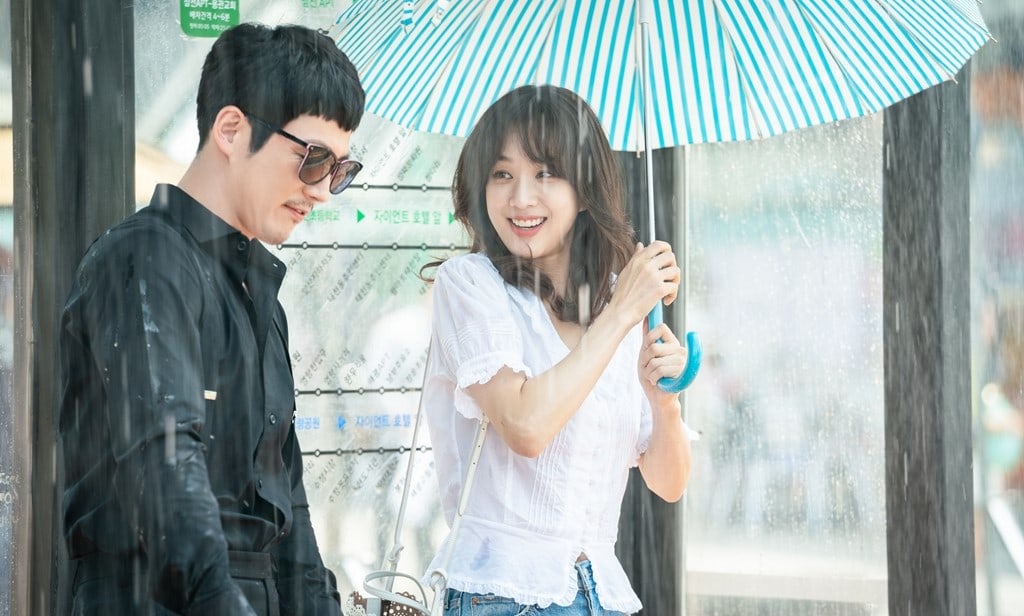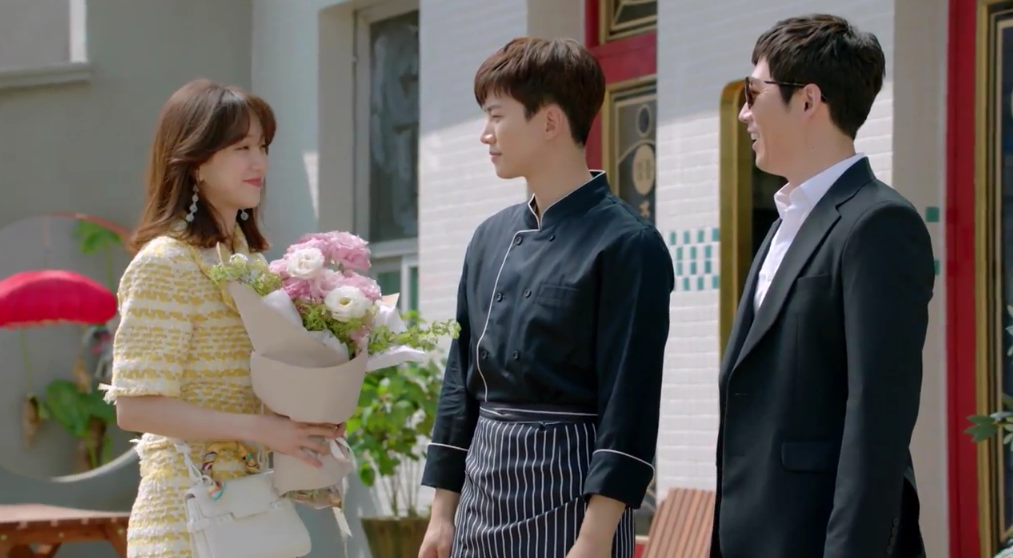 Meanwhile, the new restaurant is beginning to take off and Poong needs to hire more workers quickly. In addition to Chil Seong's gangster buddies who are being trained, he also hires Sae Woo's tender-hearted mother Jin Jung Hye (Lee Mi Sook, who actually plays a double role here as a mysterious old lady following Jang Hyuk's character around), her brother Geok Jung (Tae Hang Ho), and their servant, devoted Chae Seol Ja (Park Ji Young).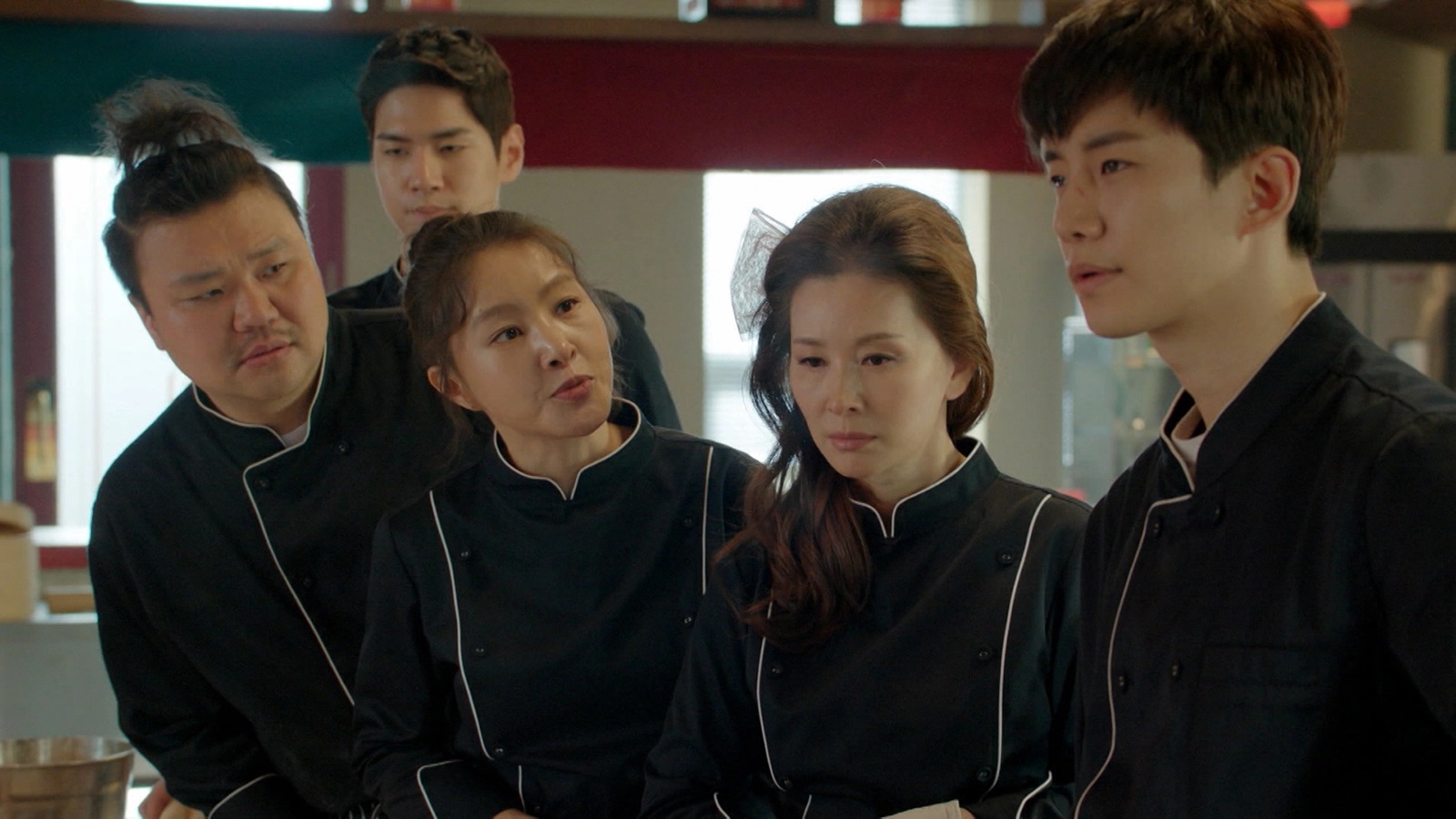 Restaurant workers (l to r) Actors Tae Hang Ho, Kim Hyun Joon
Park Ji Young, Lee Mi Sook, Lee Junho

The running of the new restaurant improves dramatically with all these hard workers in tow. But trouble brews again from the Giant Hotel's restaurant staff who try and compete with them and steal their ideas; that hotel has a lot more money to spend on promotion, too. Will Seo Poong ever achieve his desired goal of seeking revenge on that dastardly, conniving huge hotel conglomerate, and the evil CEO who had stolen his wife from him? Will he obsess over what he has lost so much that he forgets how much he has gained by living a more independent life?
I must confess, even though I grew to love all the characters, that it was Jang Hyuk's funny, tender, and inspiring Chil Seong character who won my heart the most. Sometimes I would replay his best scenes over and over again and melt each time, like the one, above, when the three main characters are sleeping off a night of drinking. His facial expressions were pure Jang Hyuk. Probably most younger women audience members were carried away by Junho, but since I'm older I prefer the "Alpha Male" actors like Jang Hyuk in their thirties and forties, who started in K-dramas two decades ago when I first discovered them. If you are as strong a fan of Jang Hyuk as I am then don't miss
Wok Of Love
! Enjoy.
~~~~~~~~~
HOME TO KOREAN DRAMA REVIEWS
~~~~~~~~~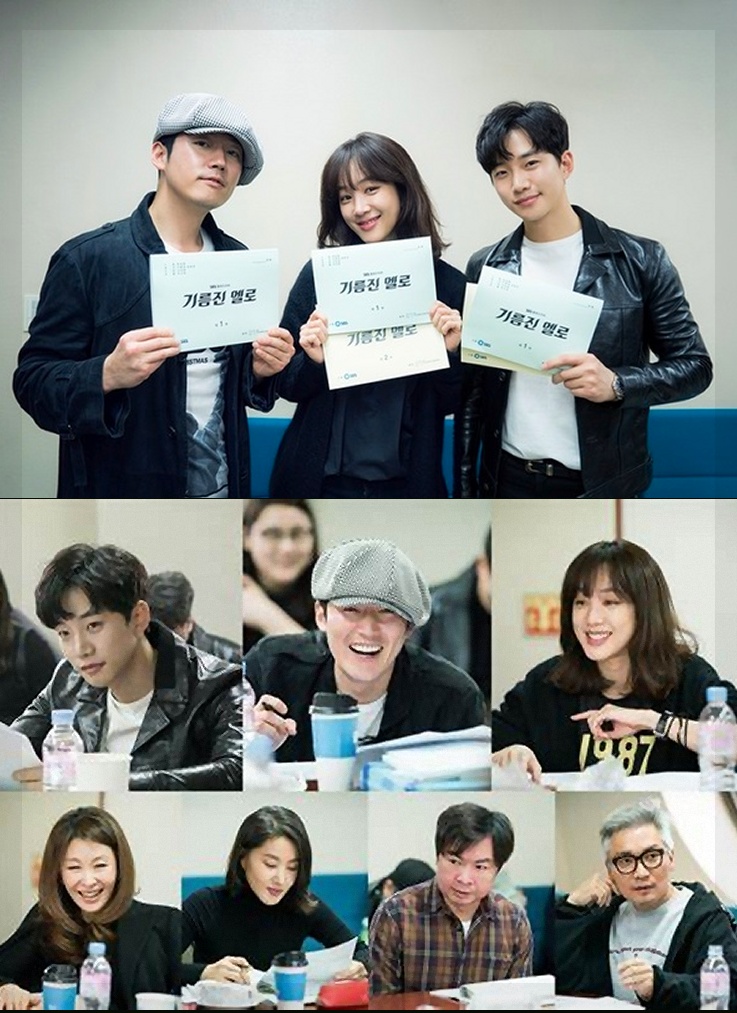 Script Reading, Cast Of Wok Of Love