Still the number two highest-rated Korean drama of all time, based on single episode viewership ratings, reaching a massive 65.8% on its April 10, 1997 episode,
First Love
(1996-7) is still remembered fondly by middle age and senior viewership who were watching Korean dramas over two decades before they began to be streamed online by various Asian drama web sites and started to become popular worldwide in the "Korean Wave".


First Love
has long been out of print on DVD and I was fortunate a friend had a copy on DVD to loan me! The visual quality could have been better. I could tell a lot of work went into the original cinematography by Joachim Jung, but it's over twenty years old and the DVD technology they used in the 1990's is world's apart from today's visual resolution on official DVDs and Blu-rays and streaming.
Rare Full OST with Scenes
This was the longest K-drama I've ever watched at 66 episodes and it did absolutely exhaust me, it must have been an epic watch in its day. I managed by limiting myself to 2 episodes a day and was able to finish in about a month and a half. The ONLY reason I wanted to watch this long K-drama was, frankly, because its stars were the famous couple from
Winter Sonata
(2002) whom I had loved together, Bae Yong Joon and Choi Ji Woo. They must create magic when they are together in a drama because in 2005 Japan re-aired
First Love
, solely based on their popularity from
Winter Sonata
. The average rating for the entire show when originally aired in Korea was 52.6%. It ran from September 7th, 1996 until April 20, 1997. That's a long time to follow several families' stories!

Choi Ji Woo and Bae Yong Joon team up
the first time in First Love in 1996-7
The theme was a common one: two men (in this story two brothers) are in love with one woman, and this show could be seen as a prototype of a "first love" story which has been repeated countless times in the decades since
:
who will win the lady (Lee Seung Yeon), the lead male (Bae Yong Joon) or the second male lead (Choi Soo Jong)? Then of course there is always a second female lead (Choi Ji Woo) waiting in the wings for the first male lead to notice and love her instead.
While I didn't think this drama could touch the beauty and romance of
Winter Sonata
, it still was interesting to see these two actors at the start of their acting careers. Of the two stars Bae Yong Joon had the most scenes and really drove the story along, however Choi Ji Woo displayed some decent acting chops too. I think she must have learned some better beauty tips in the years afterward because in many scenes in this drama her makeup was way too heavy for her delicate face. The actual leading lady in this show Lee Seung Yeon was better made up and often looked like a more modern Choi Ji Woo; it was a little exasperating for me
:
I wanted my favorite girl to look as good, if not better, than the leading lady! I believe they often do this in the dramas, deliberately make the leading lady look prettier than the second female lead. Most of the time I don't mind this, but here I did! Choi Ji Woo's character was a good girl, a strong girl, and she deserved to sparkle too!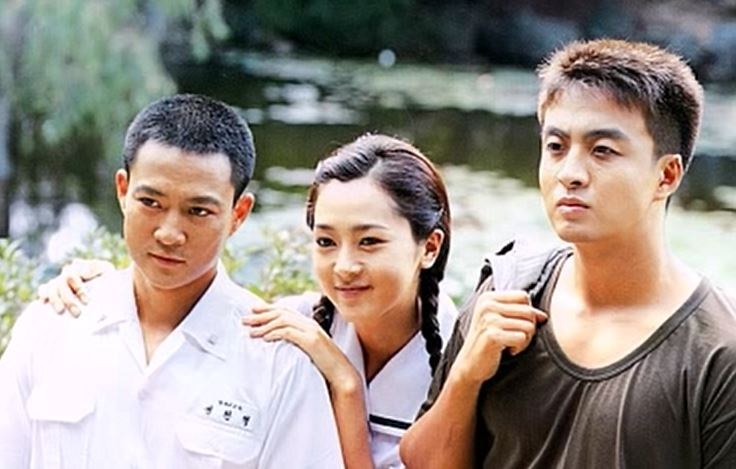 The Story
: Brothers Sung Chan Woo (Bae Yong Joon) and Sung Chan Hyuk (Choi Soo Jong) and their sister Sung Chan Ok (Song Chae Hwan) live in the poor countryside outside of Seoul with their father Sung Duk Bae (Kim In Moon), trying to get through the stresses of life as a farming family. When Chan Woo discovers that his high school crush Hyo Kyung Lee (Lee Seung Yeon) is dating his older brother Chan Hyuk (Choi Soo Jong), his heart breaks and he has difficulties even looking at her or conversing with her afterward, though she tries to continue to be friendly with him. She simply seems to prefer the softer artist brother Chan Hyuk to the often stern looking, and hard working, muscular Chan Woo.
As time marches on conflict arises between Hyo Kyung and Chan Hyuk, as Hyo Kyung's rich gangster father Lee Jae Ha (Jo Kyung Hwan) is unhappy about his young daughter dating a poor aspiring artist, and he begins to wreck havoc on their relationship. A mysterious accident caused by Hyo Kyung's uncle leaves artist Chan Hyuk paralyzed, and Chan Woo, now a law student, gives up a promising career and joins the underground world of the mafia so he can seek revenge on Hyo Kyung's family for his own family's suffering. Will Hyo Kyung remain faithful to Chan Hyuk or will she turn to Chan Woo for comfort and support?

If there was one big thing I would have changed
about this drama
:
make Bae's character smile more!
He was far too serious during this Korean drama.

Waiting patiently in the wings for Chan Woo to notice her is Suk Hee Kang (Choi Ji Woo,
Twenty Again
) who has never given up on her love for Chan Woo. She works in the business her brother Kang Suk Jin (actor Park Sang Won from
Sandglass
and
Healer
) has built himself from the ground up. Will they join forces with Chan Woo against Hyo Kyung's family, and will Chan Woo ever wake up to notice which woman truly loves him?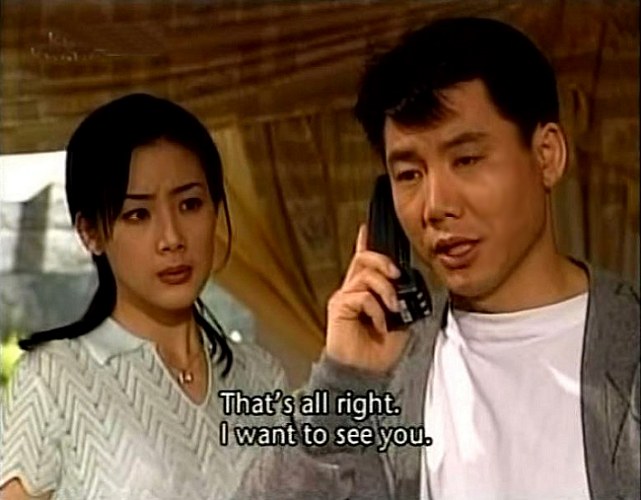 There's a lot more to this story but I would be writing a 25 page review if I covered everything that happened. Since it would be pretty rare for anyone reading this to be able to watch this drama since it's long out of print and is not online anywhere as far as I can tell I'm not going to bother, since this drama is pretty much now a footnote in the history of K-dramas. It was executed in an old fashioned style that is now out of date, for instance lots of conversations between characters sipping tea over a table, and not as much action as most people are used to today. On the positive side it is a pretty well developed plot and the relationships make sense and are very realistic.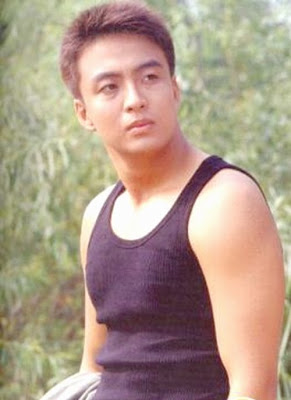 The biggest reason to watch this is for Bae Yong Joon. He's just a gorgeous looking animal in this piece (or at least I think he is). Look at those muscles. It's no wonder he became so popular an actor after this show. His career mushroomed after this and today he is running a well known talent agency helping young stars flourish in the business. If you want to learn more about him make sure to read his 2010 book
In Search Of The Beauties Of Korea.
I loved it, and I love him, and I wish he'd make a return as an actor, the last time we have seen him act is in 2011's
Dream High
, a cameo role for about two episodes only. Maybe he thinks he's too old now, but I don't think so: he was young enough to get married recently in his 40's, so why not return to acting? I would be thrilled. I'm his devoted fan forever and would love to see him again.