The Story
:
Ahn Dae Sung (Lee Kwang Soo) is a highly intelligent man in his thirties who has tried multiple times to pass the Civil Service exam so he can get a well paying government job, instead of working as a clerk in his mother's small grocery store, called MS Mart, located in the outskirts of Seoul. His Mom, Han Myung Sook (Jin Hee Kyung) constantly encourages him to keep trying to pass that test, to no avail. Dae Sung keeps failing, which is very strange for a man with a high IQ and excellent memory. Not until over half-way through the story do we see what is truly bothering him, and making him freeze up in terror each time he sits for the exam
:
as a young boy he had been traumatized by seeing his Mom being viciously attacked in her store by a deranged counterfeiter named Oh Cheon Won (Jang Won Young, crazy performance too!), and he had to save his Mom by throwing a can of peaches at his head, knocking him out cold. He thought he had killed this man, but years later this insane man returns to the neighborhood to wreck havoc on many lives, out of an urge of revenge against Dae Sung and his mother.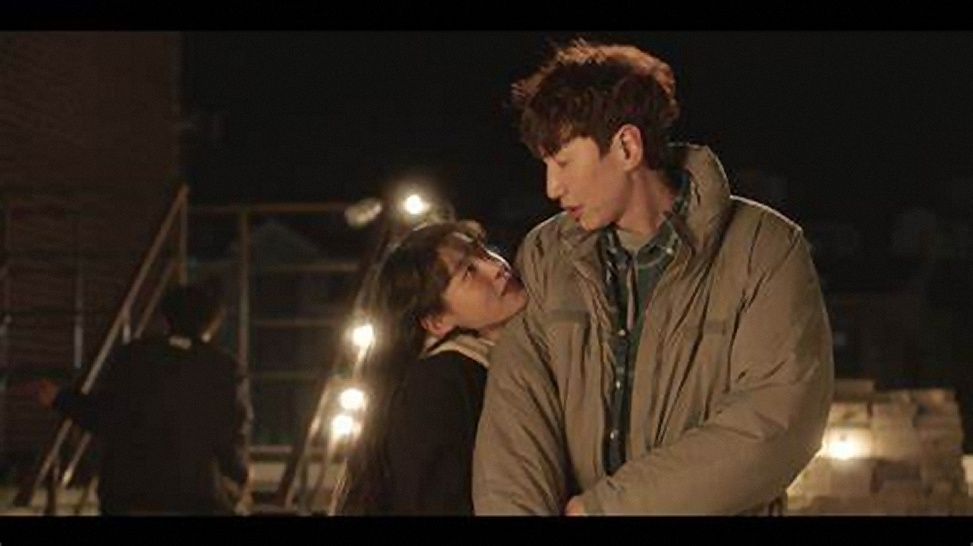 Also waiting patiently on the sidelines for Dae Sung to finally get his life together is his long-suffering girlfriend, a lady cop named Do Ah Hee (Seol Hyun), who has loved him since childhood. However, she hesitates to marry him because of his mental / emotional issues. Being smart intellectually doesn't always mean someone will have an optimally successful life, especially when they are plagued with nightmares about a childhood trauma. Meanwhile, he keeps working as a clerk in his mother's grocery store to support himself, and eventually he gives up on trying to pass that all important civil service exam. His mother is finally exasperated with him and tells him to go sleep in the attic! His often absent musician father Ahn Young Choon (Shin Sung Woo) isn't much help to his family, often away playing at music gigs, and when he
is
around he's often too busy flirting with the lady customers at the store, including a pretty older lady named Cho Yang Soon (Moon Hye Kyung,
Because This Is My First Life
). Some "husband"! His wife looks the other way, and the marriage doesn't fracture. (Strange!).
One day Dae Sung discovers the murdered body of a young female near the store and the local Catholic church, and he notifies the police. It becomes a big item of gossip among the staff at the grocery store, including chubby busybody "Products" (Kim Mi Hwa), personable "Vegetables" (Oh Hye Won), obliging "Meat" (Lee Kyo Yeob), transgender "Fish" (Park Ji Bin), and pretty, quiet "Part Timer" (Jo Ah Ram). The local police chief, Ah Hee's boss, Kim Doo Hyun (Lee Yoon Hee), not too swift in the mental department, considers Dae Sung a prime suspect in the girl's murder because he is so interested in the unsolved case. With no evidence whatsoever he "arrests" Dae Sung, and without even reading him his Miranda rights! ("Is this guy a Keystone Kop?" I asked myself several times. LOL). Dae Sung explains to the cop that he is suspicious of this older man, the counterfeiter, who has returned to the neighborhood. He is still acting erratically, following Dae Sung around, playing with knives in his presence, as a threat. Definitely creepy.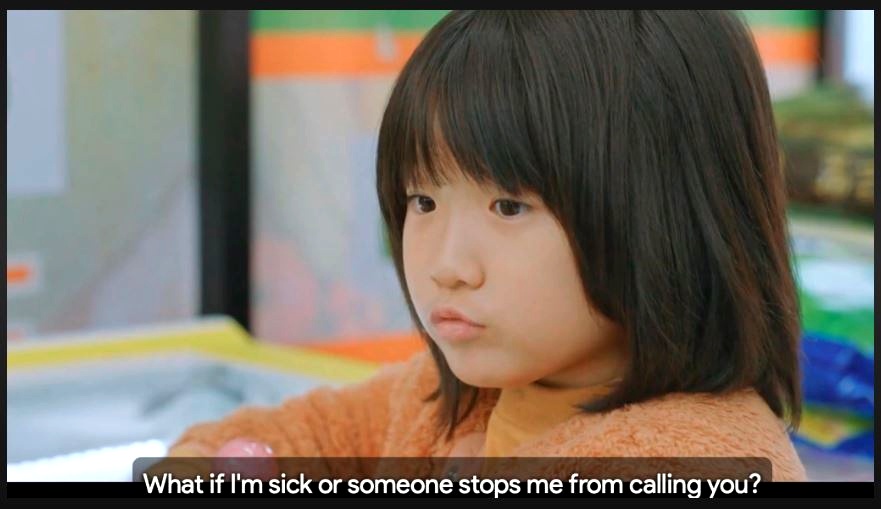 Move Over Shirley Temple!
Boy, can this girl act!
As the murder remains unsolved, the murderer obviously becomes emboldened by the police's weaknesses, and more and more people who used to shop at MS Mart, disappear, and their bodies eventually discovered. Now they have a serial killer on their hands and few clues as to whom it could be. The wacky counterfeiter vehemently denies murdering anyone, and eventually even he disappears. Dae Sung, his cop girlfriend Ah Hee, and his Mom Myung Sook, fed up with the police chief's slowness in finding the killer, put their heads together and try to find their own clues. Dae Sung eventually discovers a clue in an abandoned receipt from MS Mart. If he can figure out who bought all the items on the receipt he just might find the killer! Also, some stockings and a slipper show up as possible evidence, plus a strange bubble toy that also pops out pills!
Another source of possible clues, a young girl in the neighborhood named Seo Yool (Ahn Se Bin, phenomenal performance!), who often rides her bike around watching people intently, admits to Dae Sung that she was a witness to the first murder! Her real estate professional Dad named Seo Cheon Kyu (Ryu Yeon Seok) seems really obsessed with her not talking to the people at MS Mart, especially not to Dae Sung. Could it be just a Dad's natural concern that his young daughter might be caught up in a serial murder case, or could something more nefarious be his motivation? All the stress about the killings is causing MS Mart to lose all its customers. Even some of the workers there wonder if they will be the next target of the serial killer. They can't waste anymore crucial time on conjectures. It's a matter of survival for all of them. They have to trap the REAL killer themselves!
Now
!! Can they? He always seems one step ahead of them.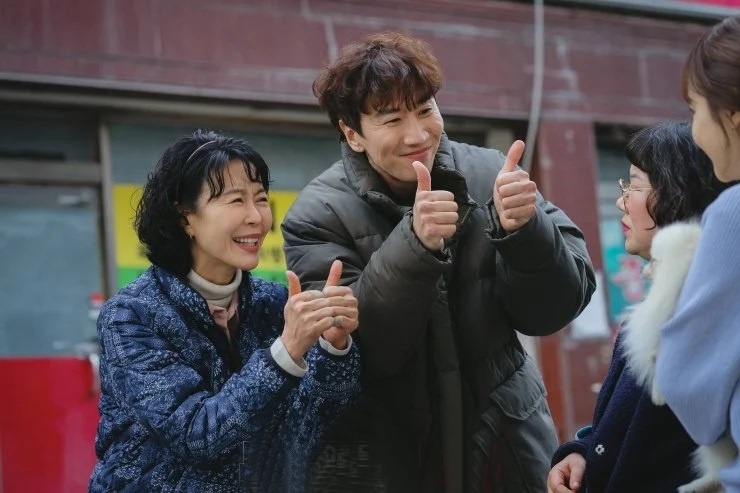 I confess I have grown tired of so many Korean drama crime thrillers being made these days, so I probably wouldn't have watched this one if it had not been for such an exemplary cast. I pretty much figured out who the serial killer was by episode 4 but I kept on watching, just to enjoy my favorites act up a storm. I can tell they really enjoyed working on this drama.
If you love them as much as I do you can watch
The Killer's Shopping List
on
Viki.com
. Enjoy!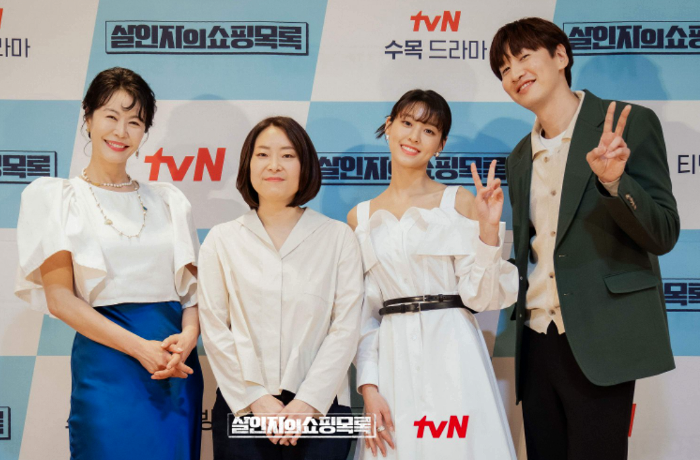 ~~~~~~
BACK TO KOREAN DRAMA REVIEWS
~~~~~~