The ambitious and questionable Do-hun hears of an opportunity that might make him a CEO of the ailing Power Entertainment company. If he can come up with a certain amount of money to bail the company out he will be made CEO, but he can only come up with $50,000. He lies to his friend Ba-dah and his sister Sora and says he will marry Sora and buy them all a house to live in together. The too trusting Ba-dah hands over his life savings to Do-hun who then puts it into the company instead of a house, and then he refuses to marry Sora! Ba-dah and Sora are heart-stricken at their "friend's" theft and duplicity, and on the sidelines watching is the good-hearted Sung-tae, who weeps for them. They are starting to become like family to him and he takes the betrayal personally. Despite all that is happening to him and his sister, the wonderful Ba-dah continues to be a good friend to the dyslexic Sung-tae and says he will manage his future acting career.
Then Do-hun commits an even worse crime: when Ba-dah confronts him about the evil he has done against him and his sister the two former friends slug it out and Do-hun hits Ba-dah so hard that he falls and cracks his head open against a road barrier. Watching from the sidelines is the actress Yae-rin, who shows her true colors after Do-hun runs away with blood on his hands. She pockets Ba-dah's wallet and later at the hospital she says that he was attacked by a mugger for his wallet, leaving the real culprit, Do-hun, free and clear of any culpability! The reason? She is now able to blackmail Do-hun who is the CEO of the entertainment agency she wishes to join as an actress. Left with no choice, Do-hun brings her into the company and she is able to achieve her first real acting jobs in the industry. Even though they dislike one another intensely Yae-rin makes their relationship physical as well, going to bed with Do-hun when he's in a drunken state. What a conniving little vixen - she has a pure innocent face but underneath she is the biggest conniver you've ever seen!
The doctors tell Sora that Ba-dah will now be permanently brain-damaged. Finally Sora realizes how much her brother had protected her over the years and she determines to grow up and take care of him instead. She gets her first real job and starts earning money to pay the hospital bills. When Ba-dah wakes up in the hospital he at first doesn't remember how he got hurt, which unfortunately buys time for the backstabbing team of Do-hun and Yae-rin.

Shades of Pontius Pilate, hurting an innocent man and then trying to wash the blood away

Sora and Sung-tae become very close over the tragedy. Sora becomes his manager because Ba-dah is no longer capable of doing the job, and she tries to get him entry level acting jobs, showing him how to use recording devices to memorize scripts by hearing the words instead of reading them. With each small success Sung-tae achieves they become stronger as friends and human beings, cheering each other on constantly. Eventually, however, Sung-tae goes up for acting jobs where he will have to act opposite the treacherous, lying Yae-rin, who is still working with the treacherous, lying Do-hun. While presenting a falsely encouraging face to the fledgling actor, Yae-rin back stabs Sung-tae professionally by having scripts changed at the last moment, knowing Sung-tae can't read due to his dyslexia. "What a B!" I kept yelling at the screen. "When will she ever get her comeuppance???"
Sung-tae at first gets a reputation of running away in the middle of shoots because he becomes flustered due to his hidden disability. But always by his side to help him through the rough patches is his new "family", Sora and the slowly recovering Ba-dah. They find ways to circumvent Do-hun and Yae-rin so that it is no longer easy for them to ruin Sung-tae's acting career. Ba-dah eventually remembers how he was hurt and confronts Do-hun on his treachery, telling him to back off his vendetta against Sung-tae. That only stops the villains for a short time and then they are right back at their evil ways.

The snarky faces of the villains Yae-rin and Do-hun as they plan yet another trap
for Sung-tae to derail his acting career ...
Argh, I wanted to slap both of them to kingdom come!

Sung-tae lands a big role as a villain in a new film and becomes a star, but will he be able to maintain this stardom once the people in the industry finally realize he's dyslexic? Ba-dah encourages him, telling him that if Tom Cruise can achieve his huge acting success, even though he's dyslexic, then so can Sung-tae!
Sweet Ba-dah finds some new happiness with Sora's best friend Mi-ryun, who is like a second mother hen watching over him during his recovery. Then Sora and Sung-tae finally admit to one another that they are in love, but when Ba-dah finds out he is against it, saying that he doesn't want Sora to get hurt again and that Sung-tae is much younger and will have temptations in future since he's now a star and recognized everywhere he goes. His words seem prophetic because the scheming, malevolent Yae-rin, who still feels compelled to hurt Sung-tae and Sora, entices him to her apartment with lies that she is being stalked, and once he's inside her bedroom she grabs him and kisses him passionately. The flustered Sung-tae, who had once had a crush on Yae-rin, finally realizes that she is dangerous, and he goes running back to Sora. The next day Yae-rin makes a point to tell Sora that Sung-tae had spent the night with her, which is a lie, but it's an incident that Sora can't quite brush off so easily.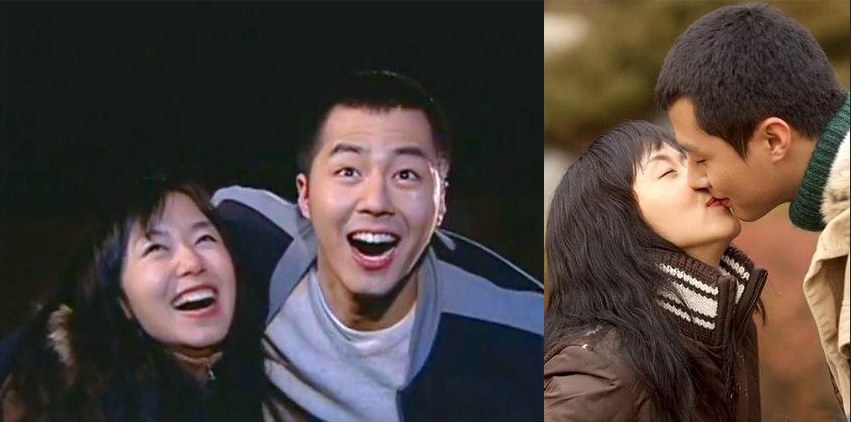 By this time I was REALLY ready to see some kind of swift justice befall the evil Do-hun and Yae-rin, but there are still more troubles ahead. Will they ever get their comeuppance? Will Sung-tae's dyslexia ever become known to the public and the people he works with in his profession? Will it risk his success if it does become known? Might he be able to overcome his disability to some extent with more education? Will Ba-dah ever relent and accept the love that Sora and Sung-tae have for one another? Will the industry look with scandalized eyes on a hugely popular star possibly marrying his - gasp! - older manager? Will Sung-tae ever find the foster family he lost track of and wants to be reunited with?
I will reveal one thing more -- it's worth shooting for that star yourself in watching this wonderful K-drama -- to find out! :)