This is a suspenseful, sometimes weepy, melodramatic story, about a forty-year-old woman, a classical pianist named Yoon Ji Soo (Lee Bo Young), who suddenly one snowy winter night at a train station comes face to face with her first love, a businessman named Han Jae Hyun (Ji Tae Yu), whom she hadn't seen since their college years when they were a young couple in love. She recognizes him almost instantly, despite the passage of twenty years. He is still handsome, personable, ambitious, and unafraid to approach her. They had both traveled to a countryside boarding school because her son, Lee Young Min (Ko Woo Rim), had gotten into a fight with his son, Han Joon Seo (Park Min Su) and the principal had called for a meeting of the parents to decide disciplinary action. They had not known their children attended the same school, or were pupils in the same classroom! So, in essence, their children (whom they had with other people) bring them together again.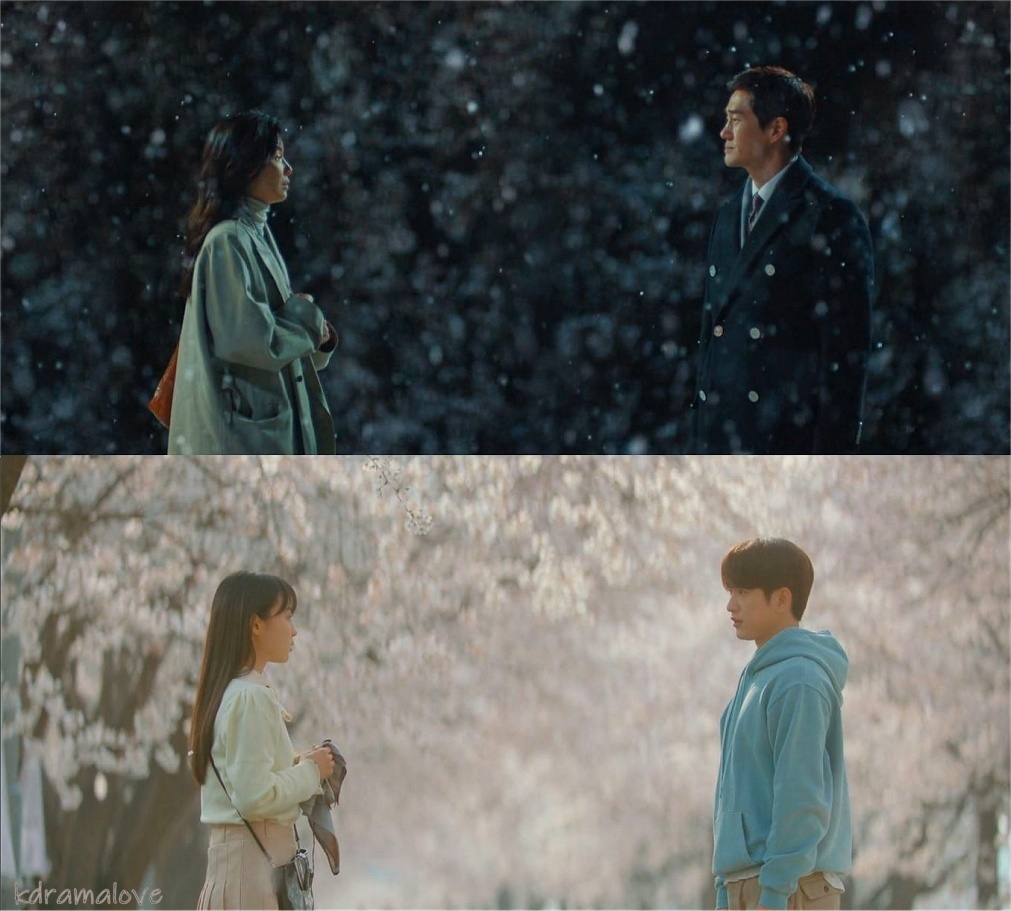 Ji Soo and Jae Hyun:
Middle Aged & College Aged
Ji Soo and Jae Hyun end up discussing the matter and Jae Hyun comforts her that "boys will be boys" and that he won't seek any disciplinary action to be taken against her son, even though he supposedly started the fight. She is grateful and they part company. However, he keeps secret tabs on her (some would call it "stalking") because he senses she doesn't have much money and he is concerned about her well-being. Sometimes he has his chauffeur and friend Kang Joon Woo (Kang Young Seok) follow her to see if there is any assistance he can give her.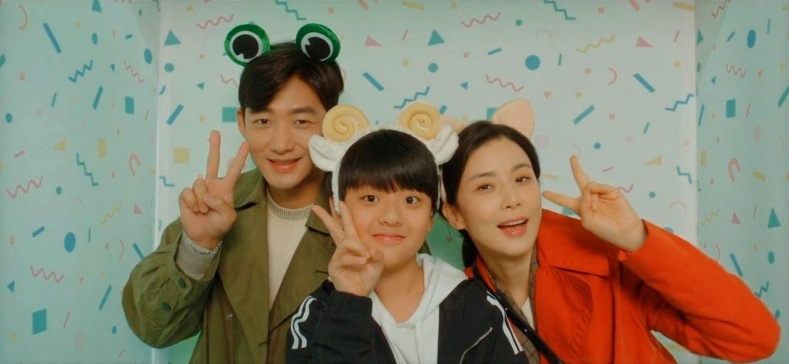 Then as added protection he tells his oldest friend Joo Yong Woo (Lee Tae Sung) about meeting Ji Soo again, and that she might need help in the near future, financial and emotional. This is a little bit complicated, as it turns out, because Yong Woo had had his own crush on Ji Soo back in their old college days, and it hasn't dissipated any, now that they are all middle aged.
Top: Jae Hyun's Wife & Best Friend
Bottom: Jae Hyun's Father-in-L
aw & Ji Soo's Father
Ji Soo is divorced, and pretty bitterly, from her ex-husband Lee Se Hoon (Kim Young Hoon), a lawyer. She has primary custody of her son but Se Hoon pays for his boarding school as part of the settlement. Ji Soo engages in short contract jobs, and piano playing and teaching, in order to make financial ends meet. Her mother and sister had died in the infamous mall collapse in Seoul in 1995 and she only has her father, Yoon Hyeong Koo (Jang Gwang) left to care for, who sadly is suffering from Alzheimer's, is in a long-term care hospital, and sometimes doesn't know her when she visits, or even worse, behaves belligerently toward her. She tries to throw herself into other diversions, like her friends and her piano pupils, but her life is tinged with much sadness nevertheless.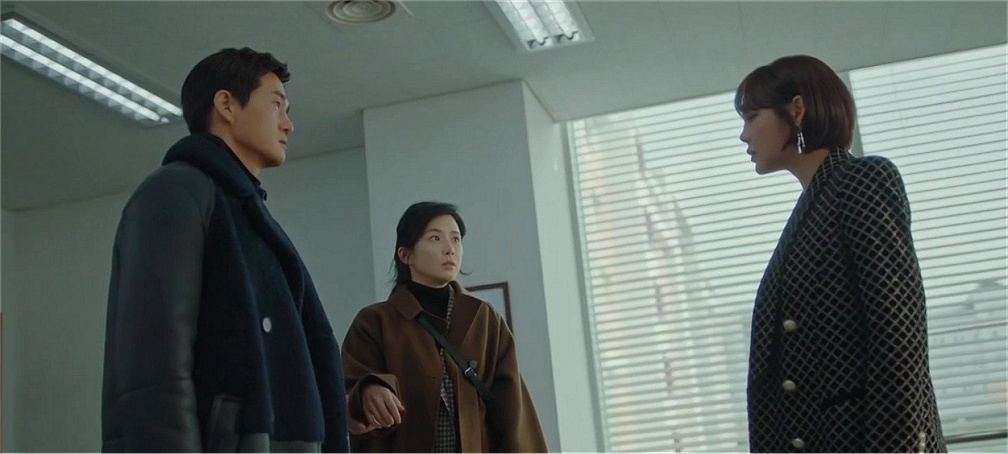 Jae Hyun, on his part, had had an often too distracted and overly idealistic father, Han In Ho (Nam Myung Ryul), who didn't give him much solid emotional or financial stability in his life, and who ends up dying when Jae Hyun was still young. Later in life Jae Hyun married the daughter, Jang Seo Kyung (Park Si Yeon), of a rich corporate business owner and CEO, Jang San (Moon Sung Geun), and over those two decades accumulated a lot of riches by working for this corrupt father-in-law. In many ways he had deserted the young idealism that he had had in college, for the sake of accumulating wealth. Frequent labor disputes at the company risk Jae Hyun's respectability in the public eye. Later we learn that the fathers of Ji Soo and Jae Hyun, and his father-in-law, had experienced deep conflicts and enmity against one another earlier in their lives. Do the sins of the fathers always have to replay themselves out in their children's lives?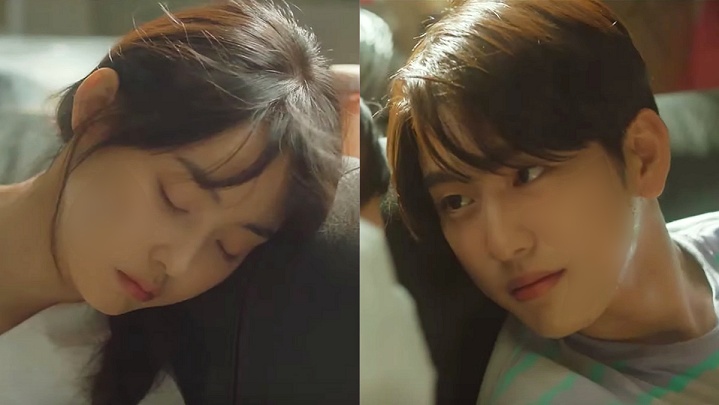 Seen in frequent flashbacks, Jae Hyun and Ji Soo during their younger years had both had a rather turbulent time of it, so they tended to make their own sometimes radical decisions about life that got them into frequent trouble. When he was a university student Jae Hyun (Jin Young) had read forbidden poetry, was a rebel on campus, and was sometimes caught in legal trouble for being heavily involved in the protest movements against military dictatorship.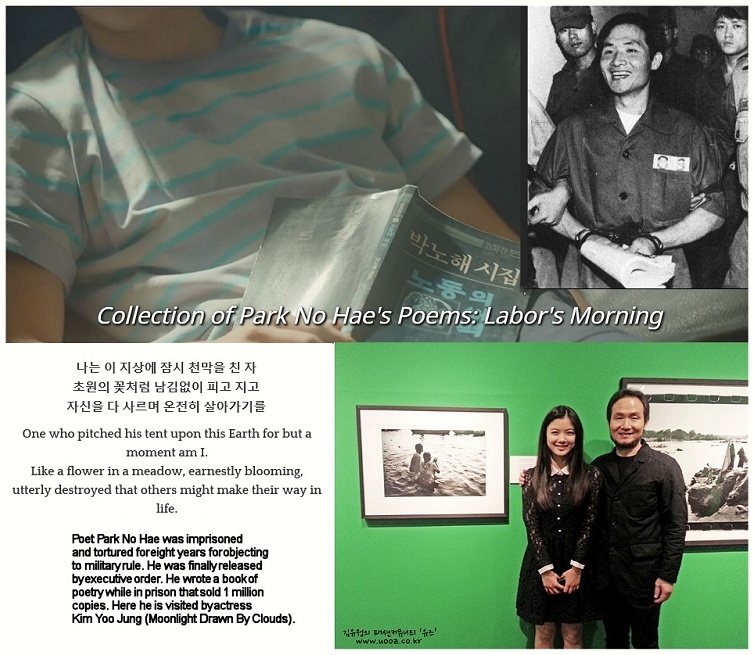 In Episode Four Of When My Love Blooms
We See Jae Hyun Reading Banned Poetry
He then found himself becoming emotionally involved with pretty Ji Soo (Jeon So Nee), even though she is the first one to develop a crush on him, and he's reticent about beginning any romantic entanglement. The girl is so beautiful, though, that his hesitation doesn't last long! They even discover they love the same classic Japanese movie,
The Love Letter
(1995) and watch it together. He starts to admire her even more when she chooses to join him in political protests. Ji Soo especially gets in trouble from her father, who didn't like Jae Hyun at all, considering him nothing but a troublemaker. However, ultimately, the young couple's romance is not to last because both are caught up in frightful family and legal / political troubles, and are forcefully separated, with both of them actually spending time in jail at different times in their lives. What a couple!
As time goes on in the present day, Ji Soo and Jae Hyun become closer and closer, and slowly renew their feelings for one another. As they do, her ex-husband and his estranged wife get together to see if there is anything they can do to break them up. Jae Hyun finally moves out of the house (he should have done that right away), and Ji Soo tries to placate her ex and gives him more time with their son, but not much can deter the long-standing feelings this couple have for one another. Even the ex-wife eventually realizes they were destined to be together, and has to admit her own cheating on her husband had been a factor in their fragile marriage dying completely. Ji Soo's ex plans a more sinister means of revenge, one that might even risk Jae Hyun's life. A tidal wave of events leaves the audience wondering for the last few episodes how the story will play out - violently, or peacefully.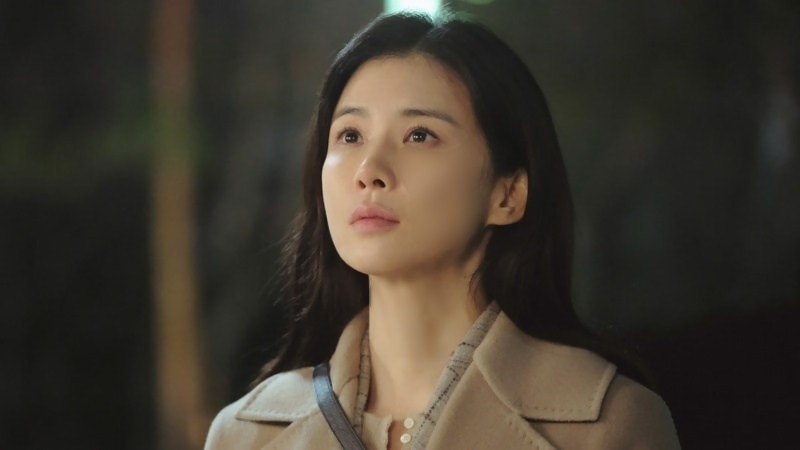 This drama is quite addictive in how it leaves you guessing about what is going to happen next, with sometimes spine-tingling cliffhangers that make you antsy and unable to tear your eyes away from the story. I was also happy to see a brief cameo appearance of beautiful actress - singer Nam Gyu Ri (
49 Days
,
Different Dreams
- Ji Tae Yu starred with her in that second one) in the last episode. I've always loved her.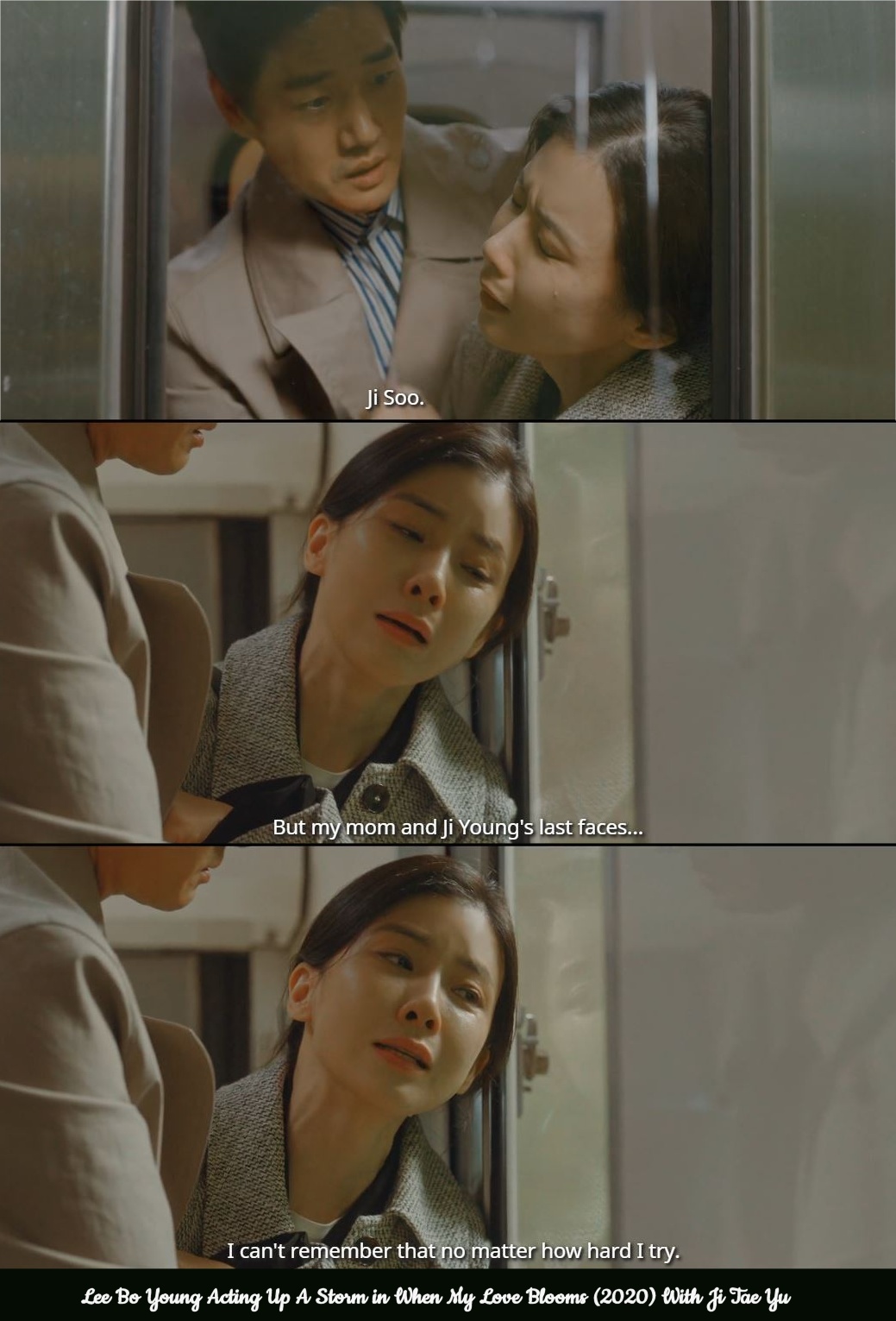 However, ultimately for me it was Lee Bo Young's
incredible
acting prowess that made me keep coming back for more in this unforgettable drama. I think her very best scene was when she relived the death of her mother and sister in the shopping mall collapse. She rushes to the back of a train she was traveling on, feeling an overwhelming sense of claustrophobia and grief, and sobs her eyes out - and I did the same!
What an actress!
My sentimental favorite drama of hers will probably always be masterpiece
I Hear Your Voice
because I adored her chemistry with Lee Jong Suk in that drama, but
When My Love Blooms
is definitely high up there in my top favorites of her career, along with the powerful
Mother
. If you're a romantic at heart then you will be sure to love this drama. Enjoy!
~~~~~~~~~~