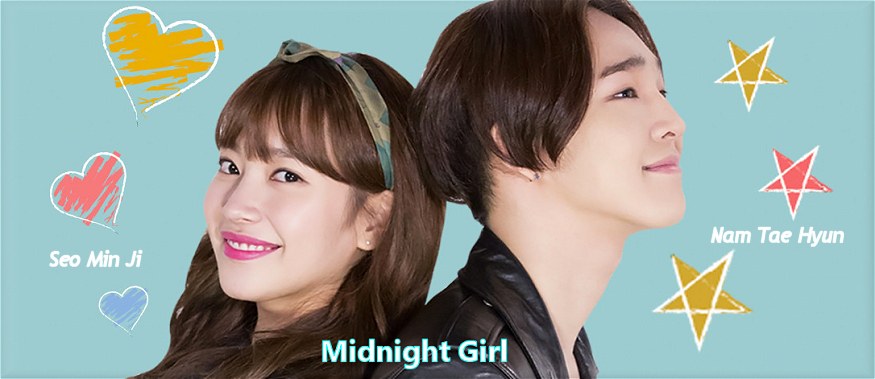 Midnight Girl
0시의 그녀
MBC (May 2015) 8 Episodes
Grade: B
Korean Drama Review by Jill, USA
~~~~~~~~

I enjoy watching short dramas, many pack just as much of a powerful punch emotionally as the longer series do. For various reasons I decided to watch this one - a 2015 short drama - eight episodes of only 15 minutes each -- called Midnight Girl. It was adorable. It's really geared more toward young people -- but if you're young at heart you'd probably like it too!

The same actor, Nam Tae Hyun, who currently caught my eye playing Min Woo the young student in Late Night Restaurant, is the lead in this earlier show. He plays a struggling musician named Jidan Gong who is trying through repeated auditions to become a pop star. While he waits for his big break in show biz, to pay his bills he is hired to run a karaoke café in a rather poor side of town, and every night at midnight on the dot a beautiful young girl named Sera (Seo Min Ji in a lovely performance) arrives to help him -- her mission is to round up arguing couples on the street who are about to break up and bring them to the karaoke place where they can then sing together and recall happier memories and why they fell in love in the first place. The healing of the relationships is done through music.

Of course Jidan and Sera fall in love, but Sera is a mystery: she just happens to be the ghost of a young girl in a coma, and she has loved him since they went to high school together. He has no memory of her but she had loved him from afar and had hoped and prayed for him to make a success with his music.


Then one night she fails to arrive at the karaoke cafe by midnight and Jidan is worried. How can he find out more about her and why she is no longer showing up? He misses her like crazy.

A very sweet and funny show. In Late Night Restaurant, in the very first episode, this young actor made me tear up and I NEVER cry in the first episode of ANY show! Not traditionally handsome, but nevertheless cute as a button, he won my heart and so I went looking for other shows he's been in and found this one. I enjoyed every moment of it and in the first two episodes especially he made me laugh uproariously at his antics, like dressing up as an old grandpa and strumming his guitar out of tune on a park bench. So he has won me over completely now: he made me cry in the first episode of Late Night Restaurant and he made me laugh in the first two episodes of Midnight Girl. I foresee a promising acting career ahead of him. Not every young thespian can make you both laugh AND cry.


When you are in the mood for a short Korean drama that will leave you with a warm glow inside then definitely tune in to watch Midnight Girl. Enjoy.