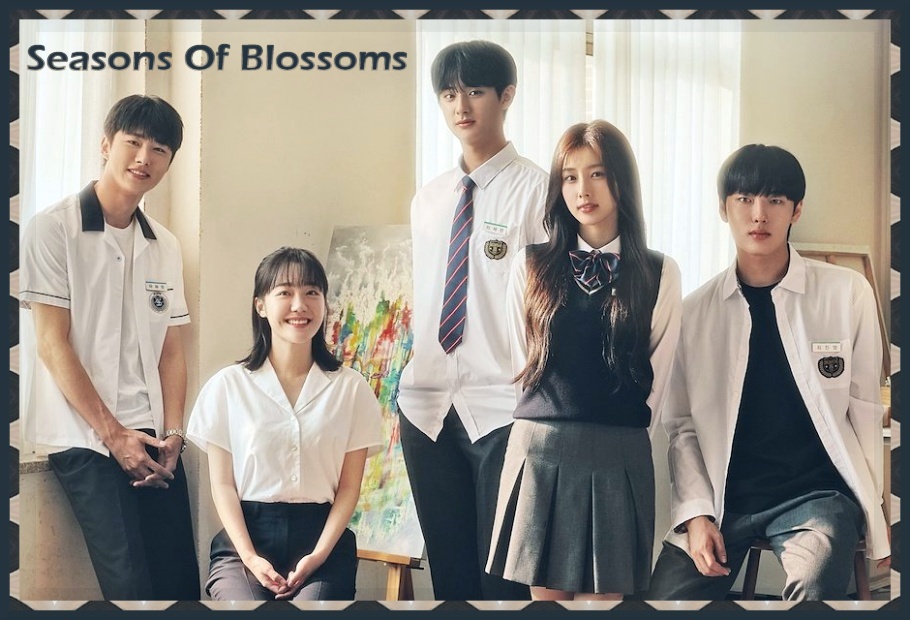 Seasons Of Blossoms
청춘블라썸
Wavve (2022) Web Drama 16 Short Episodes
School Drama / Romance / Tragedy
Grade: A+
Korean Drama Review by Jill, USA
(Some Spoilers)
~~~~~~~~~~~
It's rare that I ever give a web drama a full A+, but this one, Seasons Of Blossoms (2022), truly touched my heart, even though it was a rather simple and straightforward tale. I think a lot of that had to do with the marvelous lead actress, So Ju Yeon, who had also stolen my heart in the adorable drama A Love So Beautiful (2020-2021). The rest of the young cast proved to be excellent as well, including handsome Seo Ji Hoon, who played the love of her character's life when she was in high school; Kang Hye Won, who played a sweet female student at the same school years later, when So Ju Yeon's character becomes a trainee teacher; Oh Yu Jin, who played Kang Hye Won's character's best friend; and the two boys who both liked Hye Won's character in the updated school setting, actors Kim Min Kyu and Yoon Hyun Soo. From what I read online the webtoon, created by Hong Deok and Nemone, had been well received, and most fans of the webcomic had enjoyed the Korean drama production as well.



The Story:

During the year 2016, high school students Lee Ha Min (Seo Ji Hoon) and Han So Mang (So Ju Yeon) both attend Seoyeon High School in the countryside. So Mang is an artist and loves to paint, and she spends some time every day during recess by herself in the art room at the school, drawing and painting pictures of nature and people.



Ha Min is a popular type of guy who is a good student and who has a solid reputation at the school, but he feels inexplicably drawn to the shy So Mang, and eventually he ends up being a model for her during these quiet times in the art room. (Some of these scenes reminded me of my much loved 2014 K-drama Mimi). They deliberately choose to keep their budding friendship and then romantic relationship private from others at the school.

Sadly, Ha Min has a troubled family life, including divorcing parents, and a younger brother who doesn't feel close to him at all. He keeps a secret journal where he records his inner feelings about his life, and his friendship with So Mang. A misunderstanding arises between them eventually, and when Ha Min needs her the most she storms off in anger. Unable to cope with his troubled mind and family life anymore, Ha Min commits suicide. So Mang is devastated and blames herself. She gives up her drawing and painting, as if to punish herself, and decides to train to become a teacher when she graduates high school and then college.




We jump to the year 2022, and So Mang is hired as a teacher in training at the same high school she had attended in her teens. On her first day as a teacher trainee who should she run into but her old love's younger brother, named Jae Min (Kim Min Kyu). She forgets where she is for a moment and, in tears, touches Jae Min's cheek with her hand, imagining him as the double of the dead Ha Min. Jae Min is shocked. Teachers aren't supposed to be too close to their students!




When Jae Min learns about her connection with his deceased brother he starts to observe her quietly, to try and understand what had attracted his brother to her all those years ago. He wants to question her about his brother, and what might have caused his suicide, but he decides to bide his time for awhile. His divorced parents are little to no help in answering his questions; for the most part they keep to themselves, and don't wish to dwell on family tragedies.



Other students who care about Jae Min include pretty Yoon Bomi (Kang Hye Won), who is a compassionate model student; the rather aloof Choi Jin Young (Yoon Hyun Soo), who loves playing games on his cell phone; and Kang Sun Hee (Oh Yu Jin), Bomi's best friend, who has a domineering personality on the outside, but who is actually quite tender-hearted when her fellow students get into trouble.

None of his fellow students know that Jae Min once had an older brother who committed suicide at their school one rainy night six years earlier; Jae Min tells them he is an only child. He doesn't want anyone to know his family's secrets. That's why he is so shaken when a new teacher trainee ends up teaching his class who actually was close to his deceased 'hyung', brother.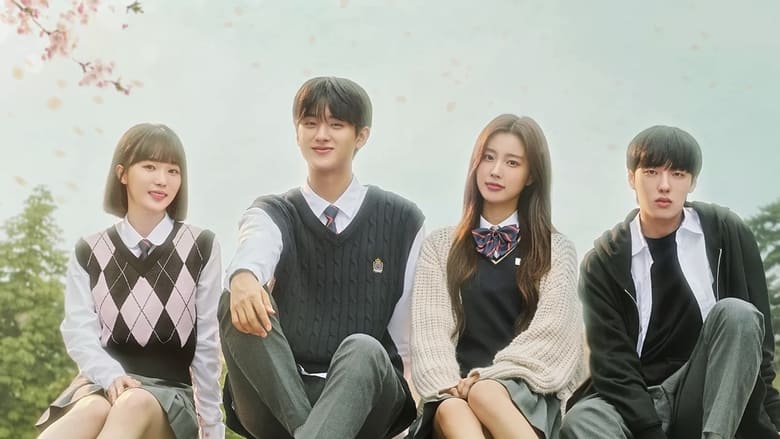 Left to Right; Sun Hee (Oh Yu Jin), Jae Min (Kim Min Kyu),
Bomi (Kang Hye Won), Jin Young (Yoon Hyun Soo)
Student Sun Hee develops a crush on Jae Min and becomes jealous of her best friend Bomi because she thinks Jae Min likes Bomi better. When sacrificial Bomi figures this out she pretends to like the quiet Jin Young, so Sun Hee can have a chance at developing a romantic relationship with Jae Min. However, as time goes on Bomi actually starts to have feelings for Jin Young. Jae Min really isn't that interested in having a romantic relationship with any girl at present; he is much more interested in getting to the bottom of the reason why his older brother Ha Min had committed suicide. Jin Young falls for Bomi and gets jealous of any time that Bomi and Jae Min spend together, even when completely innocent. He moves himself to the desk next to Bomi in order to get closer to her.

Meanwhile, Jae Min gains access to his brother's diary and shares it with teacher So Mang. This process of discovery about Ha Min's thoughts and feelings before his death helps to bring Jae Min and So Mang closer together, to the point that gossip about them is brought about by students who misinterpret their meetings as something inappropriate between a student and teacher. Could it threaten So Mang's job as a teacher at the school? Will Jae Min finally confess to his fellow students, and unaware teachers, that his brother had committed suicide? Will both So Mang and Jae Min ever come to terms with the reasons for Ha Min's decision to take his own life? Will all the emotional upheaval in Jae Min's life cause him to consider committing suicide like his brother? If so, can So Mang prevent a second tragedy?
I lost track of how many times I teared up watching this bittersweet drama. If you want to watch something truly touching, and even inspiring, then Seasons Of Blossoms is well worth your time. You can watch it at the Viki website at this link. Fair Warning: Bring tissues!

~~~~~~~~~~~