The Story
:
Jo Su Ah (Ji Ye Eun) is a professional photographer hired by an up and coming boy idol band called
Yellow
, with four members: Nam Ji Hoon lead singer and keyboardist - guitarist (Kim Do Wan), backup lead guitarist Song Tae Min (Kim Kwan Soo), drummer Japi (Kim Hae Woo), and third guitarist Park Dong Woo (Lee Se Jin).
Since she first came on the scene she has had a secret crush on Ji Hoon, but he had been in a long time relationship with another girl named Lee Yeo Reum (Kim Ye Ji). When suddenly she discovers that Yeo Reum has recently broken up with her crush Ji Hoon, saying she has outgrown him and wants to go abroad, Su Ah sees a potential to move in romantically and mend his broken heart. She
is
very cute, and fun to watch, and so you begin to root for her early on.
All doesn't go very smoothly, however
:
Ji Hoon sees her as more like a little pesky sister rather than girlfriend material, and he rebuffs her. However, on the sidelines, taking mental notes of what is going on between them, is Tae Min (the actor playing him, above, had an uncanny resemblance to a young Park Bo Gum, I couldn't get over it! they should pair them up in a drama playing brothers!), who has had his own silent crush on Su Ah for quite some time. He starts to make some timid advances toward her, and while she seems grateful for his kindness she is still hung up on Ji Hoon and doesn't give him much hope.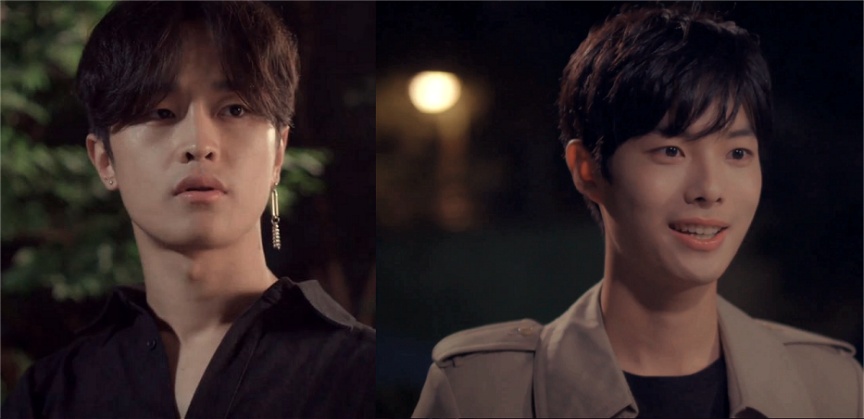 First Male Lead / Second Male Lead
WHOM WILL SHE CHOOSE???
Oh, I just have NO IDEA!!!! LOL!!!!
Then as Ji Hoon heals from his breakup he decides he is attracted to Su Ah after all, and when he sees his band buddy spending more time with her he becomes jealous. Who will win out in the end? The lead male, or the second lead male? Well, if you've watched even a minimum of ten Korean dramas you'll be likely to guess the outcome from at least the second episode out of ten.
;)
Check it out if you're interested, you just might enjoy it if even
I
could stay the course with it, even though it was filled with cliches, and by the end I had my own silly mini-crush on the second male lead Kim Kwan Soo because his character was much nicer overall - look out! another
Second Male Leaditis Disease Alert
!.
:)