KDRAMALOVE KOREAN DRAMA REVIEWS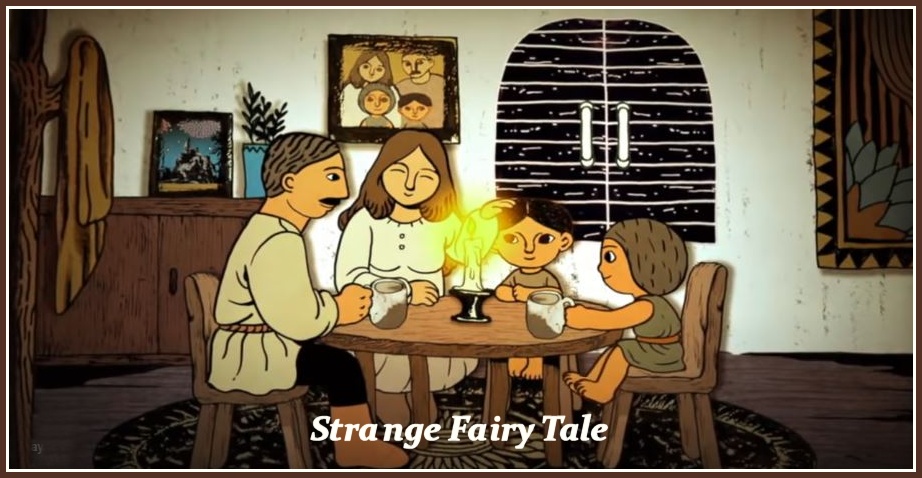 Strange Fairy Tale
낯선 동화
KBS2 1 Hour Korean Drama Special (2015)
Family-Themed Drama
Grade: A+
Korean Drama Review by Jill, USA
(Video Embedded; Some Spoilers)

~~~~~~~~~~

I was totally floored by the strong poetic-style writing of this one hour drama special, Strange Fairy Tale (2015)! No wonder why it won a script-writing award that year for its author Shin Soo Rim! Out of the close to one hundred of these K-drama specials I have watched over the years (most available free on YouTube), this one is clearly in my Top Five Favorites' List. Absolute kudos must go to the brilliant acting prowess of the child actor Jung Yoon Suk (Master's Sun, Good Doctor, The Legend, Yong Pal) who played the oldest brother in the story, and the veteran actor who played his Dad, Kim Jung Tae (Miss Ripley, Bad Guy, Swallow The Sun, Late Night Restaurant, Oh My Venus). Their chemistry together was amazing for such an emotional family tale!



The Story:

Joo Bong (Jung Yoon Suk) is a resourceful young boy whose family has fallen on hard times and are living in a cheap hotel. He has taken to putting up small poster ads around his city neighborhood to make some pocket money to help his Dad, Sang Goo (Kim Jung Tae), pay their bills. Dad works as an illustrator for a television production company and has created an animated story called The Bong Bong Brothers, loosely based on his own two young sons, Joo Bong and the younger Jae Bong (Gil Jung Woo). Dad's rather snide boss, named Ki Poong (Jung Hee Tae), doesn't pay him enough, and he makes Sang Goo work long hours creating the animated toon for the company. The two little boys often feel lonely because Dad isn't around much, and their Mom, Mari (Ji Su Won), apparently is away in Japan for two years, so any comforting maternal influence is missing in their lives. Joo Bong will often stare longingly at their one family picture taken when they were all together.



Joo Bong is determined to start saving more money so that he and his brother can fly to Japan and visit their mother sooner rather than later. He doesn't quite believe her promise that she will return to Korea when he enters middle school. Desperately missing her, he even takes up with a high school gang who steals cell phones from unsuspecting bystanders. He feels guilty about it, and determines he will stop as soon as he raises the money for the air fare, but of course he gets into trouble eventually. How will his Dad handle the situation when he finds out? Will Dad even get in trouble at work due to his wayward son? If he's fired how will they survive? Will Joo Bong's Mom want to return to the family at all if her husband is even more impoverished than before?



The occasional sweet animation of the imaginary happy Bong Bong Brothers, inserted into the rough darkness and sadness of the real broken family, made this story even more poignant than I suspected when I first began watching it. What a superb idea it was to combine the two. I just wanted to hug Joo Bong; his character seemed so full of hurt that he made me cry numerous times. Definitely a sterling A+ performance from this young actor, in one of the best drama specials I've ever seen. Don't miss it! (But you may want to grab a tissue!). Enjoy!






~~~~~~~~~
HOME TO KOREAN DRAMA REVIEWS
~~~~~~~~~