Jong Hyun keeps accidentally running into this young girl in his neighborhood who is crazy about cats, named Oh Na Woo (Cho Hye Jung from
Because It's The First Time
), who takes a big interest in his cat Bok Gil. At first he finds her annoying, but slowly begins caring about her, and caring what she thinks about him. She has a sad side to her, she was a little girl who never got over the loss of her pet cat who disappeared one day and was never recovered.
While Jong Hyun is working at his desk one day, the gas meter reader visits and then inadvertently leaves the door to his small apartment open. Bok Gil slips out and gets lost, and Oh Na Woo helps Jong Hyun look for her for an entire day and evening, before they find her on the roof -- Bok Gil had climbed UP the stairs of the apartment complex, and not DOWN the stairs, as they had assumed.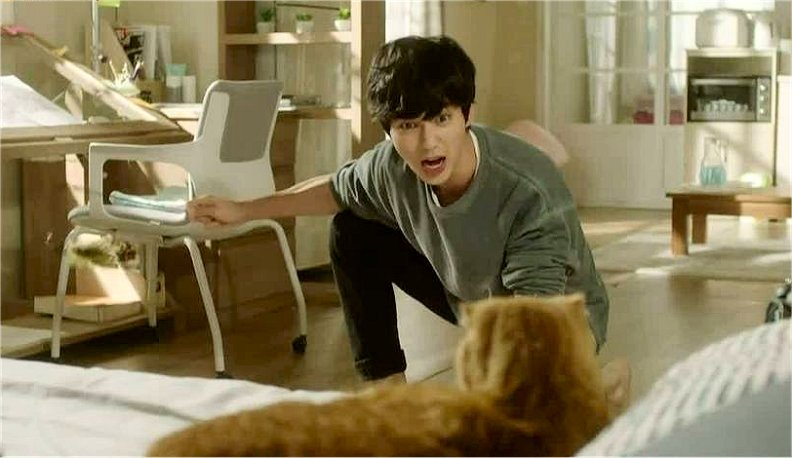 Ultimately both Jong Hyun and Oh Na Woo finally realize that Bok Gil is actually the same cat that used to belong to Na Woo when she was a child. DNA tests prove it. At first Na Woo emotionally demands the cat back and then later reconsiders more thoughtfully
:
Jong Hyun had raised the cat all these years, she really belongs to him now more than she belongs to her, and of course the cat doesn't even have any memories of Na Woo, too much time has passed by. Na Woo tries to get closer to Bok Gil, buying her presents, and it does work a little bit: Bok Gil seems to finally warm to her at last, whereas before she only bonded with Jong Hyun.
But then tragedy strikes: Bok Gil becomes sick, and when Jong Hyun rushes her to the kindly neighborhood vet named Lee Wan (actor Choi Tae Hwan who totally bowled me over in
Ballerino
) he informs him that Bok Gil is quickly becoming paralyzed. In just a few days her body will break down completely and she'll be gone.
All this comes at a time when Jong Hyun is finally making a name for himself professionally and will receive a salary from an employer who will syndicate his web toons. Success in his professional area of life, met with tragedy in a personal area of his life. Why is life so cruel like that? The vet says there is a small chance she might survive awhile longer if he does a risky surgery on Bok Gil
:
at first Jong Hyun pushes for it, but in the operating room he changes his mind. He will take Bok Gil home and let her die in peace in his arms.