Sometimes you can watch an older, classic Korean drama and spot a future star, even when he's only a young teen and just starting out as an actor. One such young man was the actor who played opposite Park Shin Hye in the children's portion of
Stairway To Heaven
in 2003, named Baek Sung Hyun. For thirteen years since then he's played largely supporting roles, which makes no sense whatsoever
:
he's handsome and a dynamic actor. So I was very happy to find a Korean drama where he grabbed the lead role, and I found it in the MBC short drama
Running Shirt
(2010). He knocked my socks off in this role, and it shows he is perfectly capable of handling the lead male role in any drama.
Korea needs to get on the ball with this -- last I checked he was
still
playing supporting roles in 2015, with the drama
My Love Eun Dong
. Come on Korea! It's past time to give this man a strong leading role. He deserves it, and so do we, the audience. He's phenomenal.
Another great plus in watching this short K-drama is the cinematography. It was absolutely stunning, filmed in the countryside of Gyeongju province, and many times I would just freeze the images just to drink them in with my eyes. I think the Koreans make a mistake by filming so many dramas in Seoul -- once you're outside of the capital city you find really lush and scenic spots to enjoy.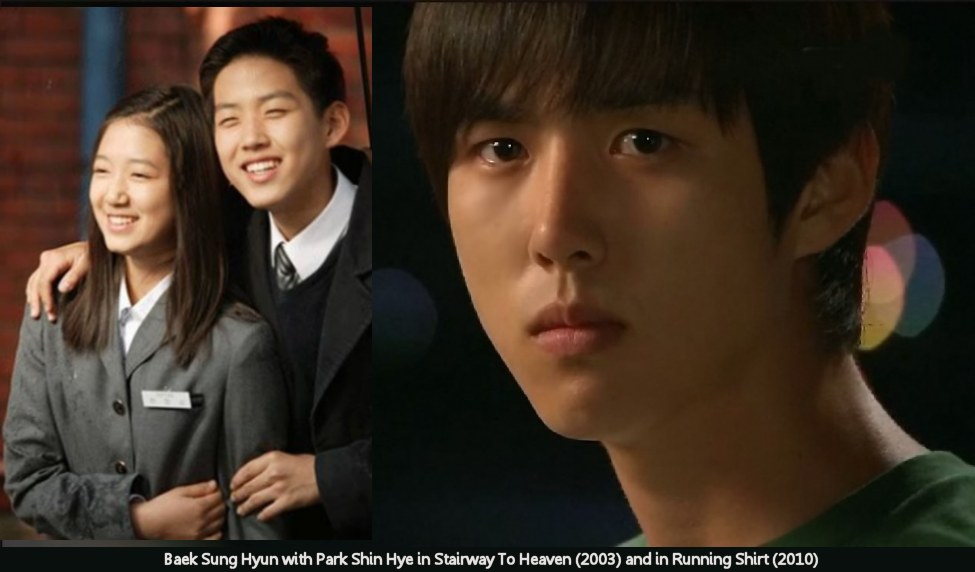 Baek Sung Hyun plays the lead role of a young man named Dae Gu who is wrongly blamed for the death of his mentally retarded brother who was hit by a train, and so he spends his formative years training for marathons because, he states to friends, that the only time he can forget about his brother and his father's long depression over his death is when he is running. It looked to me like "Dad" wasn't all there mentally either
;
while the mentally retarded son was still alive he ignored him and made Dae Gu babysit him constantly -- even though he was younger -- so that he rarely had time to himself just to play or study. Selective parenting, where a parent obviously prefers one child over another, is something we see a lot in Korean dramas (
Masked Prosecutor
, for example), and it's quite irksome. I just want to shake these parents: TREAT THEM ALL EQUALLY!
Dae Gu's best friend from childhood Heo Ji Man (Yoo Yun Suk from
Gu Family Book
and the film
A Werewolf Boy
) also trains for marathons with him, and they both have liked the same girl for years, named Haeng Joo, played by Park Min Young, from
City Hunter
and
Healer
. Since she is friends to both boys since childhood, and in many ways the far more mature person, she doesn't seem to want to play favorites. Of course there ends up being the inevitable misunderstandings and some jealousy over whom she will choose in the end. Will the friendships suffer because of this competition for her affections? (It's also amusing to see veteran character actress Kim Mi Kyung - "Horseface!" - show up to play Park Min Young's mother in this show. She had played the computer hacker in
Healer
).

Park Min Young and Yoo Yun Suk co-star with Baek Sung Hyun