I've long been a fan of lead actress Ha Ji Won (
Secret Garden
) but didn't much feel like joining yet another streaming web site at the time it premiered to see one of her best roles,
Empress Ki
(2013-14), so a few years after its premiere, once it left the streaming site, I splurged on an
excellent legit DVD set available on Amazon
and settled in for weeks to enjoy her in the title role, playing a Korean woman of low birth who eventually has two Kings fall in love with her, a Korean one (played by Joo Jin Mo) and a Chinese one (played by Ji Chang Wook), and who later became a crowned Empress of China. Eventually her own son became an Emperor as well, so in that respect her life was very victorious compared to many other women of her time.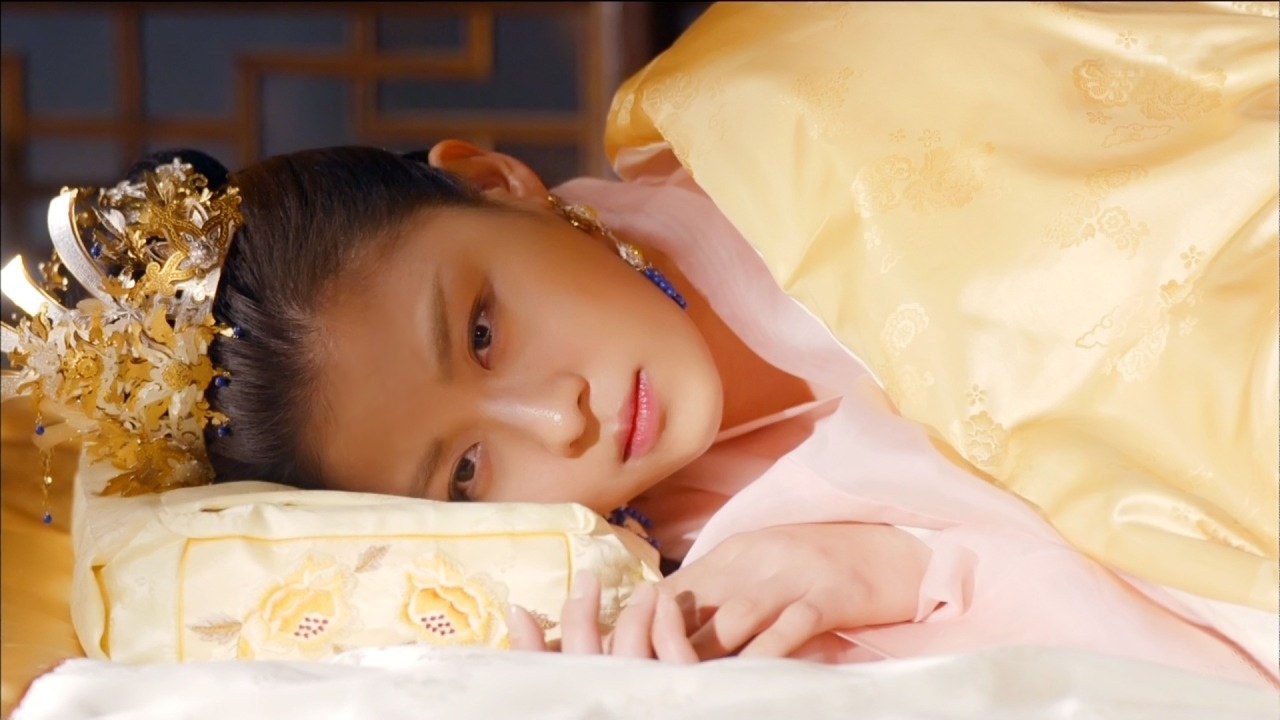 I loved every minute of this historical drama and was never bored. I never felt any urge to watch anything else, either, while immersing myself in its story, which was loosely based on that real Empress' tumultuous life. There was lots of action and romance, with three beyond beautiful and brilliant lead actors to drink in with my eyes, a gorgeous soundtrack to melt to, superb costumes (probably the very best I've ever seen in any historical drama), luscious cinematography, and great cliffhangers at the end of each episode to keep me coming back for more. You'll also see lots of familiar faces in the supporting cast, both veterans and younger actors. It seemed sometimes to me that every actor in Korea wanted to be part of this production, and I can't even imagine how many millions of dollars it cost to shoot it!
The Magnificent Opening

Another miracle occurred for me while watching this drama
:
I had had mixed feelings previously about two of the lead actors, since they had appeared in some K-dramas that didn't exactly float my boat.
Empress Ki
changed all that and now I find each of them much more interesting and attractive than I did earlier, and I'm much more likely to follow up and watch any future dramas they make as well.
The Story
:
A feisty young girl named Gi Sung Nyang (Ha Ji Won) grows up essentially as an orphan renegade in Koryeo (ancient 14th century Korea) after her mother is killed during an attempted slave escape. Her mother before death had handed her a ring and told her to find her missing father with it, but it takes a long while until these two meet up, so the protection of a loving father is missing from her life in its formative years.
FULL OST

Posing as a man so she wouldn't be sent to China as a female sex slave, Sung Nyang escapes and grows up into a free-spirited young adult, leader of a group of noble male activists saving other Koryeo maidens from being forcefully sent away to China as sex slaves too. She even becomes an expert at the sword, and the bow and arrow, besting many men. (Ha Ji Won is always best when showing off her physical prowess and athleticism, like she did playing a stunt woman in
Secret Garden
and a policewoman in
Damo
).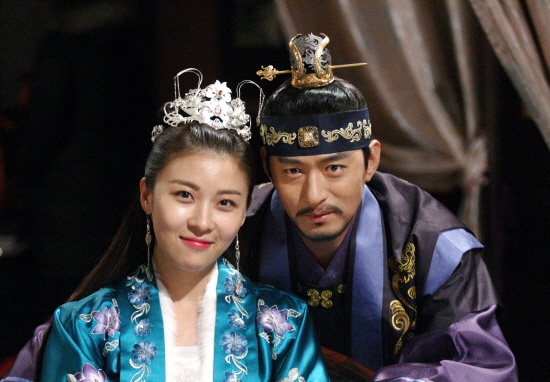 She meets the strong and upright King of Koryeo, Wang Yoo (Joo Jin Mo), and secretly falls in love with him, and he with her -- eventually -- because at first he thinks she is a "he" (shades of
Coffee Prince
) and struggles with his feelings. Through various circumstances she eventually also meets the goodhearted Prince Toghon Tem (Ji Chang Wook), from Mongolia, China, and eventually he will become China's new Emperor. He promptly falls in love with him/her too. Of course in time both men discover the truth of her sex, which makes for some cute comedy and suspense.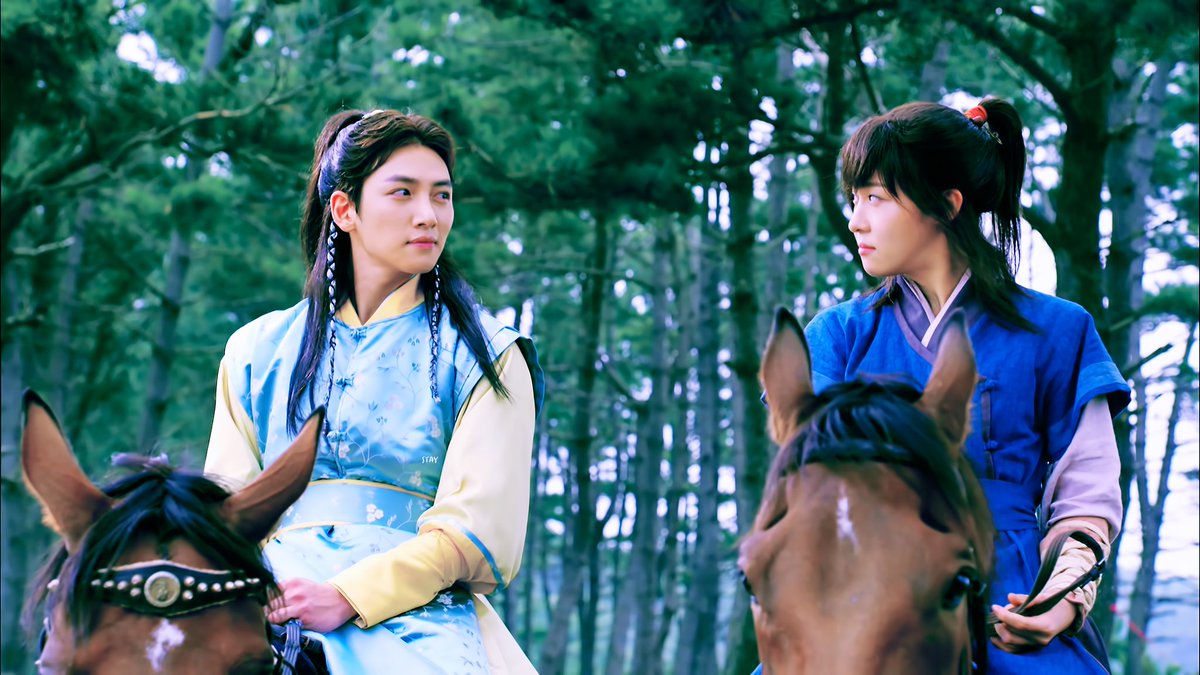 So here we have our typical K-drama love triangle starting up again, albeit 14th century style, but in this case it's hard to favor one man over the other (at least it was for me) because both men seemed to care for her welfare equally. It really comes down to who can offer her the most stability in her chaotic life, the most power for her worldly ambitions, and she eventually makes a very difficult decision for China, in time to become a future Empress of the Yuan dynasty. There are those who wisely see that the choice will soon pit her against her own homeland and countrymen, in ways she cannot quite foresee at first. And yet her own countrymen didn't always treat her well, either, or her mother, so where should her true allegiance reside?
After Sung Nyang arrives in China and becomes Prince Toghon Tem's wife, internal family matters and royal court intrigues seem destined to interfere with any simple marital happiness Sung Nyang could experience with the Prince. The Prince also doesn't seem to have much power; older ambitious diplomats at court and his overly controlling mother the Dowager Empress (Kim Seo Hyung) interfere constantly. To make matters worse Sung Nyang also has trouble forgetting Koryeo King Wang Yoo (since he often keeps reappearing in the story for political and eventually military purposes) which naturally makes her husband jealous. It almost seems at times that the Prince loves Sung Nyang because she can give him the motherly type of love he didn't get from his own mother. The Koryeo King, on the other hand, is definitely a man's man and not a boy.

There is some temporary happiness, however, when Sung Nyang gives birth to a son named Ayurshiridar - who will one day be an Emperor of China himself. The Prince names the boy his successor early on, due to his great love for his wife, which again causes disharmony within the court.


When Toghon is crowned Emperor of Mongolia after his father's death he seems to be less interested in political matters, and more involved with family dynamics, passing more of his real power onto his wife in quick increments, and eventually she is crowned Empress Ki (a title gained through great objections by certain Mongol noblemen because she was born in Koryeo, not China). She begins to flex her own political muscles in big ways. (These scenes always fascinated me the most; Ha Ji Won really shone in them).

Eventually the Emperor (and his annoying mother) also seem to be afflicted with weakened health (looked like TB type illness to me), and Empress Ki's personal ambitions become even stronger. At this time, in historical reality, Empress Ki made decisions against Koryeo, her home nation, and in favor of Mongolia, and significant political and military conflicts resulted. This tends to be a bit minimized in the series at times, which caused some criticism among modern day reviewers of the show. In every historical drama I watch there seem to be those critics who want screenwriters to stick to true recorded history only, while others are far more forgiving of weaving in a tapestry of romance and imaginative beauty into the basic ingredients of a royal story.

If the Emperor dies early, will Empress Ki retain sole power of the kingdom since her son is still a minor? Will there be people in the kingdom who want to assassinate her? What about her first love, the Koryeo King? What will he risk in order to protect her, even though she's now in a position of political control over a warring nation against Koryeo? When does a person's love for their adopted country become stronger than any love they had for their native country?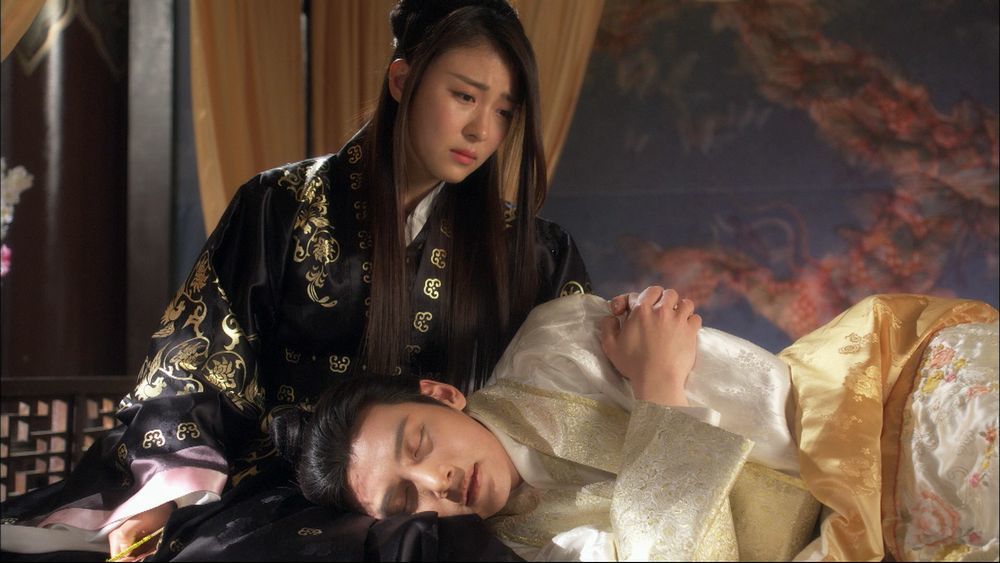 The ending was a poetic one, seen in flashback, but somehow it all fit together nicely, though with a touch of sadness. Once again I found myself wishing for a sequel to show what would happen between Empress Ki and King Wang Yoo. Since K-dramas almost never have sequels I'll just have to content myself with reading up more on the end of her life, and his life, and filling in the blanks myself. Part of me will always wonder, though, how her life would have been different if she had chosen the Koryeo King over the Mongol Prince.

Definitely recommended for historical drama fans, and in particular Ha Ji Won fans. Don't miss it! Honestly, sentimentally, I think I will always love her in Secret Garden the most, her personal chemistry with actor Hyun Bin was the absolute best of her career, but this 51 episode epic is next in line for her best production, followed by Damo, the latter of which she has stated is still her own sentimental favorite drama production of her career. I'd say enjoy them all, and make up your own mind which you like best.

~~~~~~~~~~~~

~~~~~~~~~~~~