Definitely my top favorite Korean drama of the year 2021,
Melancholia
is yet another cable channel tvN masterpiece on every level, including outstanding script-writing (Kim Ji Woon,
Hyde Jekyll and I
,
Cheongdamdong Alice
), wise direction (Kim Sang Hyub,
Dong Yi
), and incredible acting, starring the always mesmerizing Su Jeong Im, who introduced me to the fabulous Korean entertainment industry for the first time, way back in 2006 when I watched my first Korean film
A Tale Of Two Sisters
, and then right after that my very first K-drama
I'm Sorry, I Love You
. More recently she also performed brilliantly in the excellent K-dramas
Search: WWW
, and
Chicago Typewriter
, and many other great Korean films as well over the years. As soon as I learned she was the lead in this drama I knew I would watch it, without fail. She never disappoints me with her drama or film choices, or her consistently beautiful performances.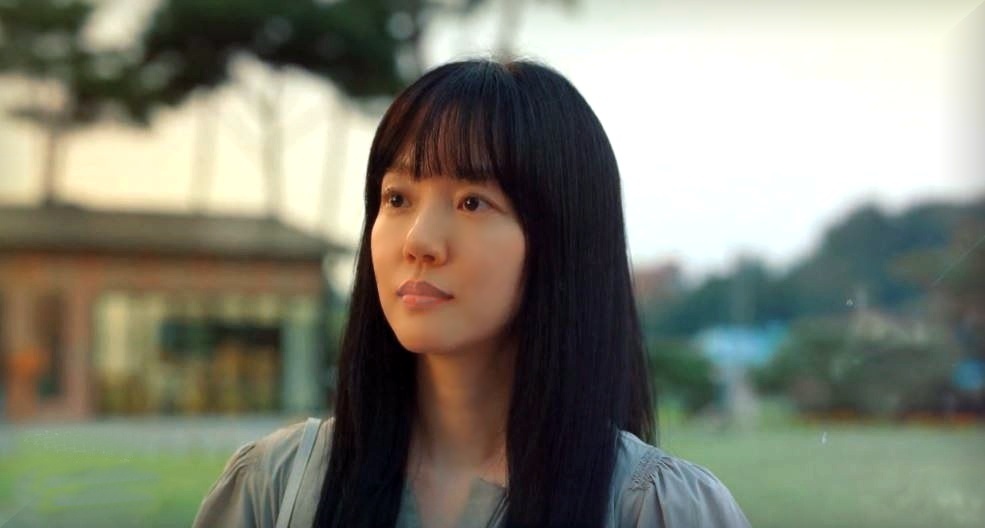 Melancholia
also showcased mature actress Jin Kyung, in an absolutely mind-blowing performance! (best known from
It's Okay That's Love
and
Pinocchio
) - she deserves a Baeksang Award for her amazing performance here, and I hope she gets it; we also get to enjoy the fabulous new young actor Lee Do Hyun as first male lead, who aced a very complex and dashing character in
Hotel Del Luna
; contemplative actor Choi Dae Hoon,
Do You Like Brahms?
,
Crash Landing On You
; wonderful senior actor Oh Gwang Rok, whom I'm always glad to see in
anything
, from the film
A Moment To Remember
and K-dramas
Page Turner
, Bae Yong Joon's
The Legend
,
Healer
, and
Tomorrow With You
; fun familiar female face Pyeon Jung Su, whom I loved in K-dramas
Shoot For The Stars
,
Last Scandal Of My Life
,
The Manny
,
Queen's Classroom
; prolific character actor Jang Hyun Sung from
Angel's Last Mission: Love
,
Signal
,
Alice
, and
While You Were Sleeping
; and to my total delight, exquisite young actress Shin Soo Yeon from
The Crowned Clown
and
Saimdang: Light's Diary
, who can get both tears and smiles out of me in the same scene - she is a
Star in the Making
- mark my words! Phenomenal, blossoming talent. I've loved watching her grow up on screen!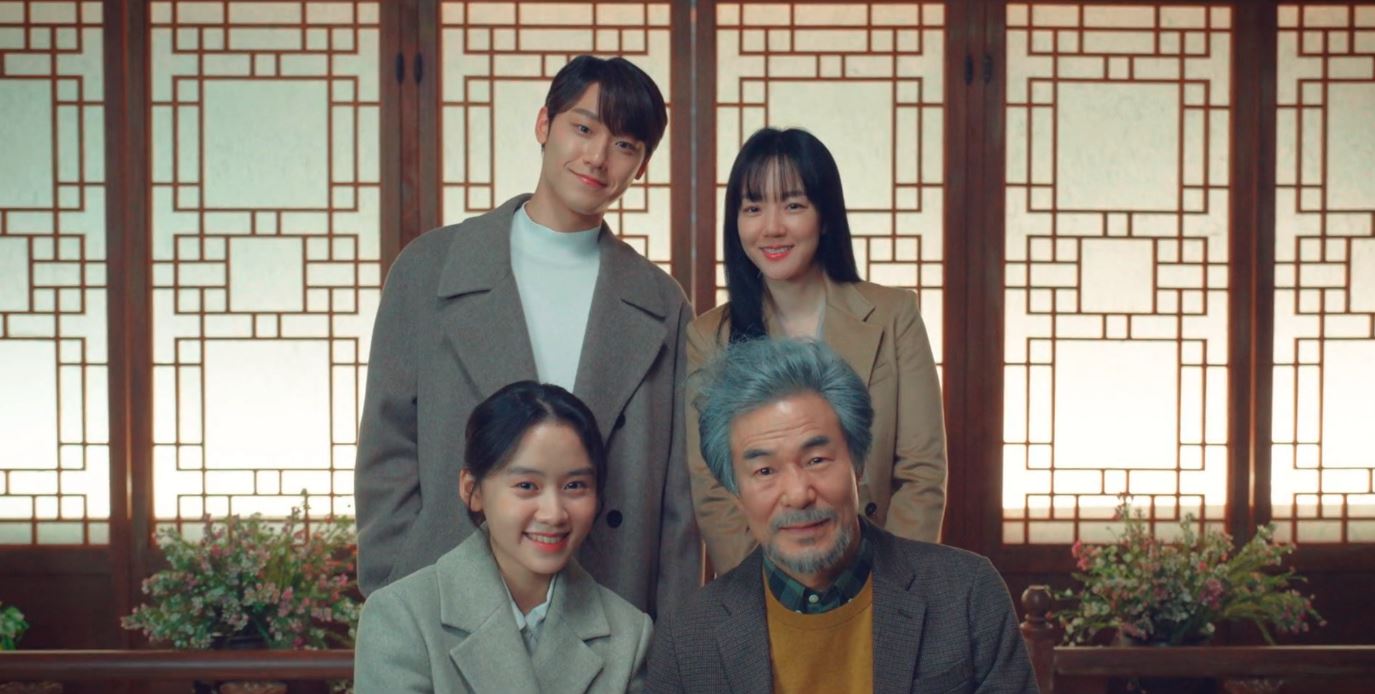 Evocative, poetic cinematography and addictive music, in particular several extra-pretty vocal songs and lots of gorgeous, moody instrumental pieces, helps the story of two brilliant people from different age groups -- who both love mathematics, and eventually each other -- flow along perfectly, with sublime emotional finesse. Each episode boasted excellent plot transitions and cliffhangers. Never once was I bored watching this total gem; in particular I teared up like a baby in the last three episodes at certain memorable scenes, where the writer threw several surprises at me, and I am sure I will be watching this drama again in future.
Melancholia Full OST


The Story
:
In 2017 a genius female mathematics teacher named Ji Yoon Su (Su Jeong Im) is hired by a well-regarded public high school in Seoul, named the Aseong School, run by an ambitious female administrator named No Jung Ah (Jin Kyung), who desires to convert this school eventually into a private school for the gifted. She feels this honored math teacher will help her achieve that goal, and attract rich, accomplished students to attend Aseong ... for hefty tuition payments, of course!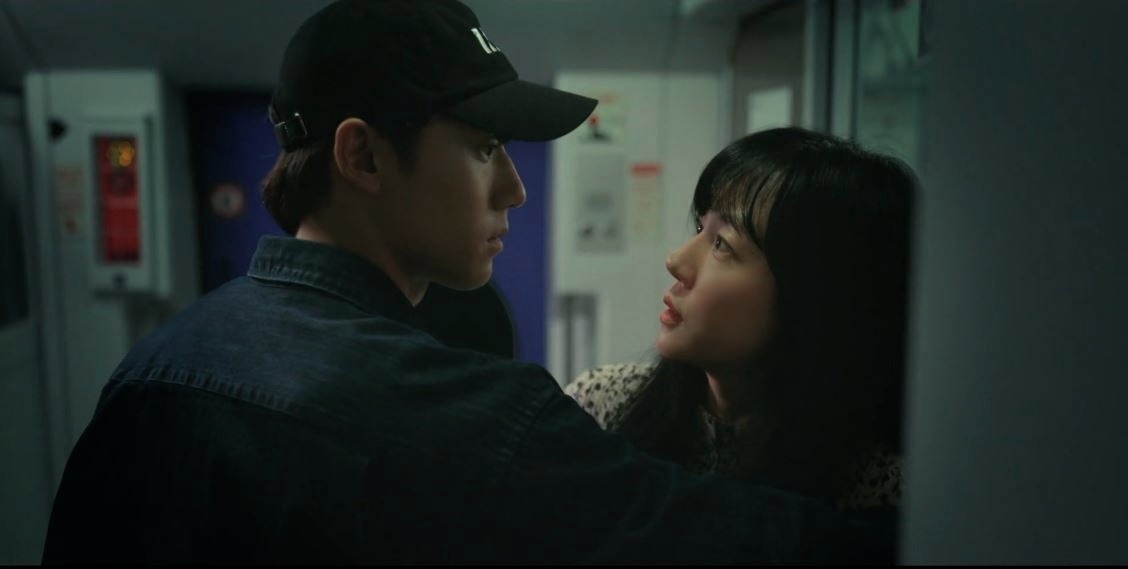 Yoon Su travels by train to the school for the first time, and while on the train she has a brief encounter with a young, quiet male high school student named Baek Seung Yoo (Lee Do Hyun), and by mistake, as their train lurches at one moment, they happen to bump into each other, and end up switching their identical traveling bags - his has a camera in it, and hers has a laptop and important papers in it.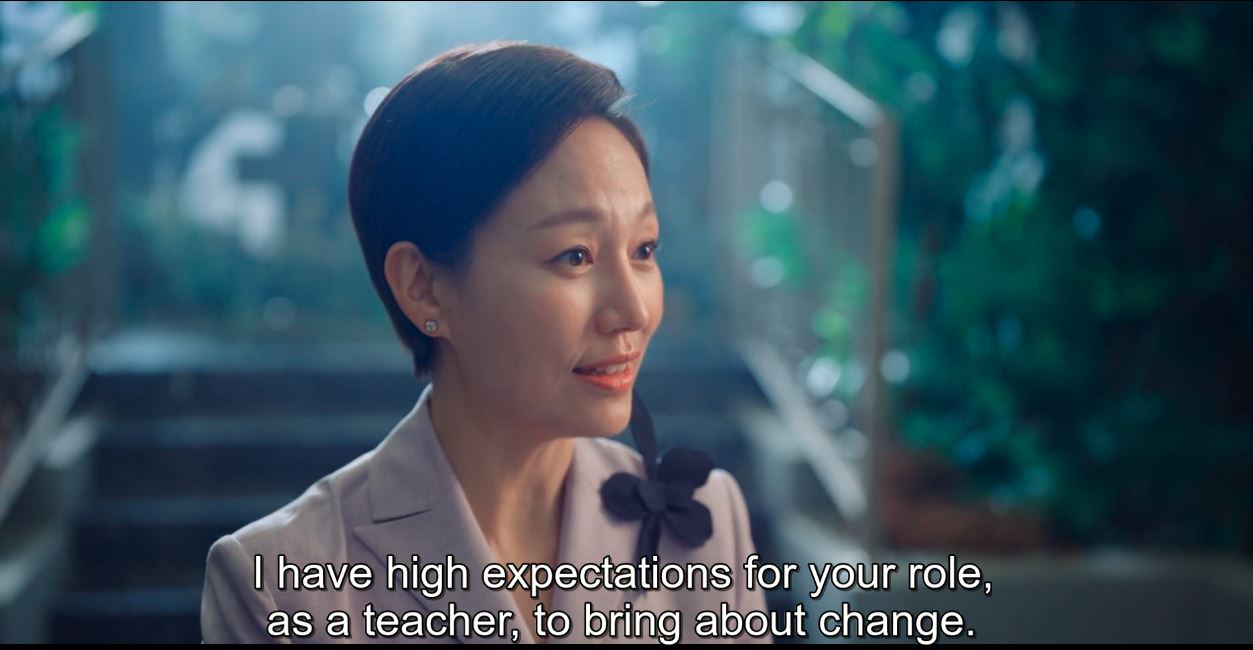 Later they track each other down, to exchange their traveling bags back again, and Yoon Su soon discovers that this young man attends Aseong School as a student. Unbeknownst to Yoon Su at first, Seung Yoo is also a mathematical genius, and actually was admitted to MIT in America when he was ten years old as a prodigy student! He totally sees the world in mathematical equations, measuring objects in his head and taking delight in learning about past mathematical geniuses throughout history.
However, the suicide of a dear male friend, who had also loved math and who had felt hopeless that he could ever compete with Seung Yoo, had made him turn away from math as a subject to study. The guilt of this friend's death has been ruining his life. He is actually getting failing grades in math at the school, on purpose, which distresses his parents, father Baek Min Sik (Kim Ho Jin,
Heaven's Garden
) and mother Min Hee Sung (Baek Ji Won,
Beautiful Mind
), humble people who run a small restaurant popular with parents whose children attend Aseong. They know he's a math genius and is deliberately not living up to his potential in life. In fact, when he was on that train he had been returning to Seoul after visiting the grave of that friend who had killed himself. He just can't seem to get over his death, but in time, once Yoon Su realizes his amazing talents in math, she helps him heal from the loss, and to rethink the direction of his life: to refocus on his inherent love of mathematics again. The two grow closer and closer through their love of mathematics, and their affection for each other - though platonic - begins to be noticed by others at the school, and they start to become the focus of gossip among staff and students, particularly when some students and faculty take a trip to Jeju Island.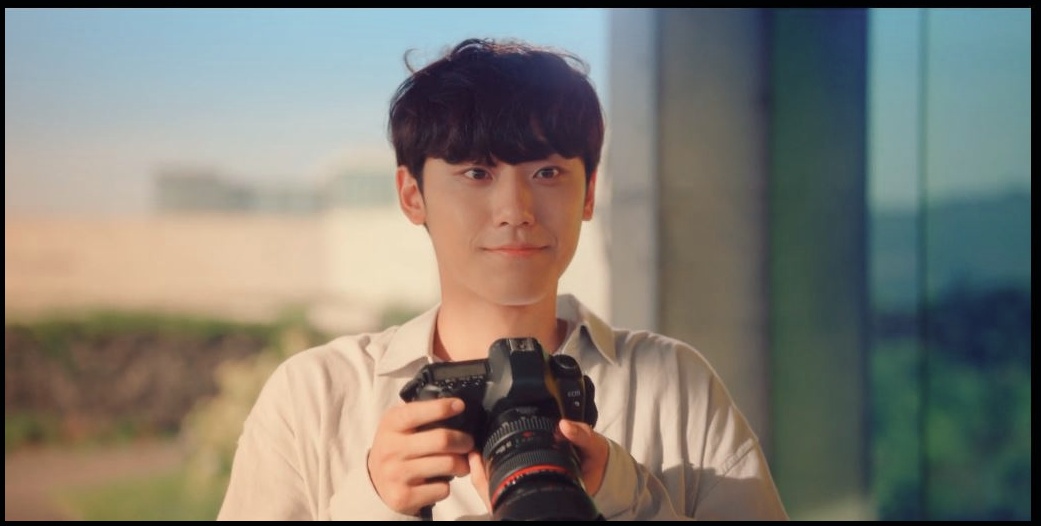 The administrator Jung Ah begins to wonder if she shouldn't use this gossip as a means to get rid of Yoon Su, who has crossed her on her ambitions for the school several times. A jealous female student named Sung Ye Rin (Woo Davi), the daughter of flamboyant parents Assemblyman Sung Min Joon (Jang Hyun Sung) and fashion icon Yoo Hye Mi (Pyeon Jung Su), who privately likes Seung Yoo, takes a picture of the two of them at the Jeju airport when they had been sleepy and innocently leaned against one another to rest. This photo ends up being used by Jung Ah to fire teacher Yoon Su, insinuating they had had an improper relationship as teacher-student. This accusation all but destroys Yoon Su's career as a teacher, and Seung Yoo is distraught at this loss of a beloved teacher, telling her he will seek revenge, even if it takes him years to accomplish his goal. The scandal also ruins Yoon Su's marriage plans with a political aide to the Assemblyman, named Ryu Sung Jae (Choi Dae Hoon). Yoon Su disappears from teaching and finds a job as an administrative assistant to another school's principal. Now it is Yoon Su who is stripping the love of mathematics out of her heart.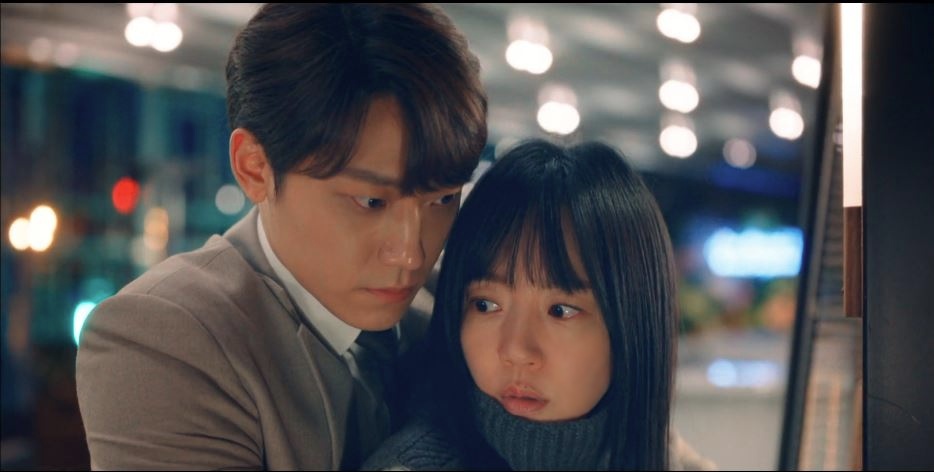 On the run from the spying Jung Ah
our lead characters resort to a back hug
to shield themselves from her tyrannical ways
Four years go by, and Seung Yoo has advanced in his mathematical career to the point that he becomes world famous in his field. Now, as an adult, he accepts a job as a teacher at Aseong, but of course he has an ulterior motive for doing so: he wants to destroy Administrator Jung Ah for destroying Yoon Su. Now as an adult Seung Yoo meets Yoon Su again, who at first wants nothing to do with him -- too many bad memories. However, in time, as it becomes more and more obvious Administrator Jung Ah is corrupt as the day is long, and in addition is having a nervous breakdown because of her evil choices in life, the two of them decide to act to get Jung Ah out of her position of power in the school permanently. Will they succeed? They utilize the services of someone else who really wants Jung Ah out of power at the school: her step-sister Noh Yeon Woo (Oh Hye Won), who has always felt that she was person who should have been placed in charge of the school. In addition Jung Ah's own teenage daughter Kim Ji Nah (Kim Ji Young) conspires to bring her own mother down by turning over incriminating papers to the police. It seems that the bizarre Jung Ah has rubbed too many people the wrong way. Will she finally be removed from her position running the school?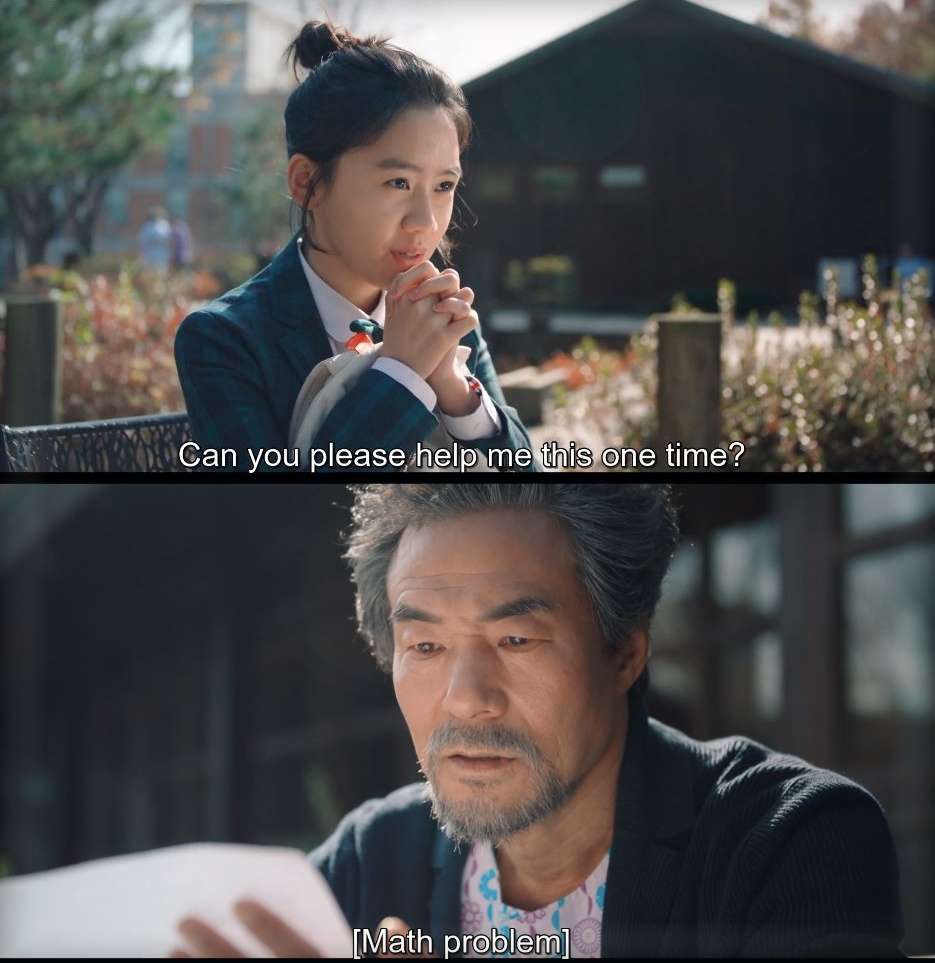 While all the drama at the school is going on both Seung Yoo and Yoon Su find rare moments of peace and joy mentoring Yoon Su's new math talent discovery, female student Choi Si An (Shin Soo Yeon). They also enjoy taking her to meet Yoon Su's father in a nursing home, who once was a math genius too, but who is currently suffering from Alzheimer's. They grow as close as real family members over time, but then a tragedy strikes the lovely Si An, she ends up in the hospital, and her case might involve attempted manslaughter. Seung Yoo and Yoon Su become determined to learn the truth of what happened to Si An as she lays in the hospital bed unresponsive. Could someone connected to the disturbed Admin Jung Ah be involved, and why?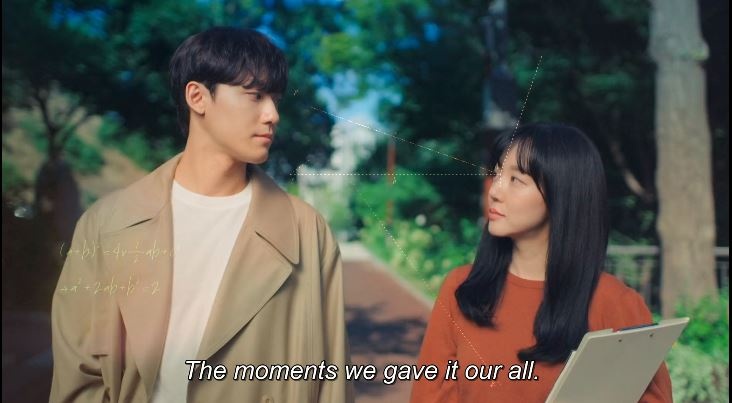 I really enjoyed that
Melancholia
did not emphasize any inappropriate physical relation between the two lead characters. Although student-teacher crushes are rather common in real life, though rarely talked about, this scriptwriter was wise enough to avoid anything immoral occurring between Seung Yoo and Yoon Su in the storyline. Even though it's obvious that they were immediately attracted to one another, in the early train scene, never did teacher Yoon Su act inappropriately toward her younger student. Years later in the story, when they are both adults, they
still
were not quick to admit their feelings for one another. Anyone who has any reluctance to watch this wonderful Korean drama because of the issue can rest assured the characters always behave in above-board ways. I found this refreshing, especially compared to the overly sexualized "entertainment" we get from Hollywood, USA, these days, which I avoid like the plague.
You can watch
Melancholia
currently on Viki.com. If you are a true K-drama fan don't miss it!