Snow Lotus
(2015) is an other-worldly tale, an only two-episode fusion sageuk (a Korean historical drama that includes fantasy or modern day elements), and which starred several of my favorite Korean actors and actresses, including Ji Jin Hee (
Spotlight
,
Second To Last Love
,
Love Letter
), Lee Ji Ah (
Beethoven Virus
,
My Mister
,
The Legend
), and Seo Ji Hye (
49 Days
and
Crash Landing On You
). As the villain Ahn Jae Hyun (
My Love From Another Star
) was suitable twisted material (creepy eyes on the kid!).
I first watched it without subtitles when it first came out, and then it premiered eventually with English subs on the now defunct Dramafever, so I watched again to see if I had missed any nuances in the story the first time
;
essentially I didn't. It was pretty straightforward to understand, even without subtitles, almost like a silent film, although I saw some viewers were a bit confused by the ending.
The opening sequences really grab you, with an energetic sword-fighting night scene that looked almost like a dance, with magnificent music in the background to further stir things up. (I will never understand how the Koreans can keep writing such amazing soundtrack music repeatedly in show after show, year after year. Is there no end to their musical genius???).

The Story: Snow Lotus
is actually a fairly simple story of two people, handsome Lee Soo Hyun (Ji Jin Hee) and pretty Han Yoon Hee (Lee Ji Ah) who first meet in their dreams, the setting hundreds of years earlier, falling in love as university students, but with tragic results when a jealous prior fiance of Yoon Hee's, Ma Moon Jae (Ahn Jae Hyun), set up for an arranged marriage with her but surprisingly falling in love with her as well, comes between them with harmful intentions. He had planned to marry Yoon Hee until she began to feel drawn to Soo Hyun instead
;
what makes it worse for Moon Jae is that he had been on friendly terms with Soo Hyun beforehand, so he feels this new situation is a double-blow to his hopes and dreams: he's losing a friend and a fiance. The green eyed monster takes over and Moon Jae becomes unhinged.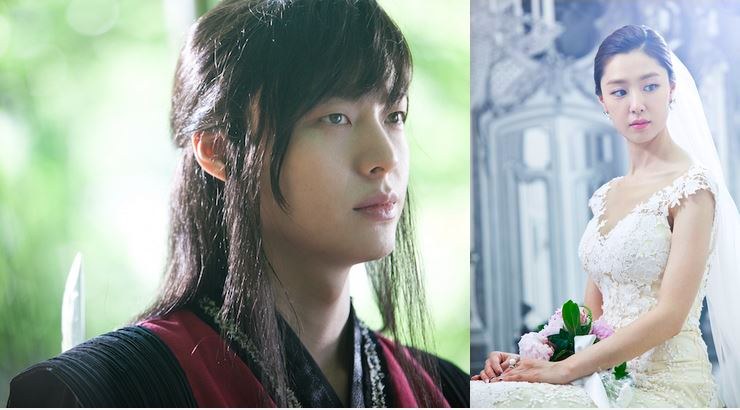 How are a student in the middle ages and
a beautiful modern bride-to-be related?
You'll
have to watch the drama to find out!
(and warning: it's a doozy!)
The strength of Soo Hyun's and Yoon Hee's love for each other is symbolized in the snow lotus flower, which has deep roots underground that "mate" under cold water or snow to other snow lotuses, and the flowers can live for years by sustaining each other. You've heard of The Tree With Deep Roots? Well, here is a flower with deep roots, too!

We then cut ahead to the modern day, and while working in the same company, creative business manager Soo Hyun, and new hire artist Yoon Hee, become immediately attracted to one another and they don't understand why. They seem so different, and Yoo Hee has to pretend to be a male to land the job in the first place. So here we have more gender bender situations going on, similar to the classic romantic comedy
Coffee Prince
.
They slowly begin to realize they both had the same exact dreams of living hundreds of years earlier, and the realizations come about through Yoon Hee's beautiful artwork and stories that she submits to her boss. Soo Hyun has been in her dreams depicted in her artwork. Fate seems to conspire to bring them together romantically, Soo Hyun realizes "he" is a "she", and once again there's a jealous prior suitor who arrives on the scene, this time female Choi Yoo Ra (Seo Ji Hye) who
is in love with Soo Hyun. Will Yoo Ra begin to understand that she too was in the dreams of the past with Soo Hyun and Yoon Hee? Will tragic history repeat itself?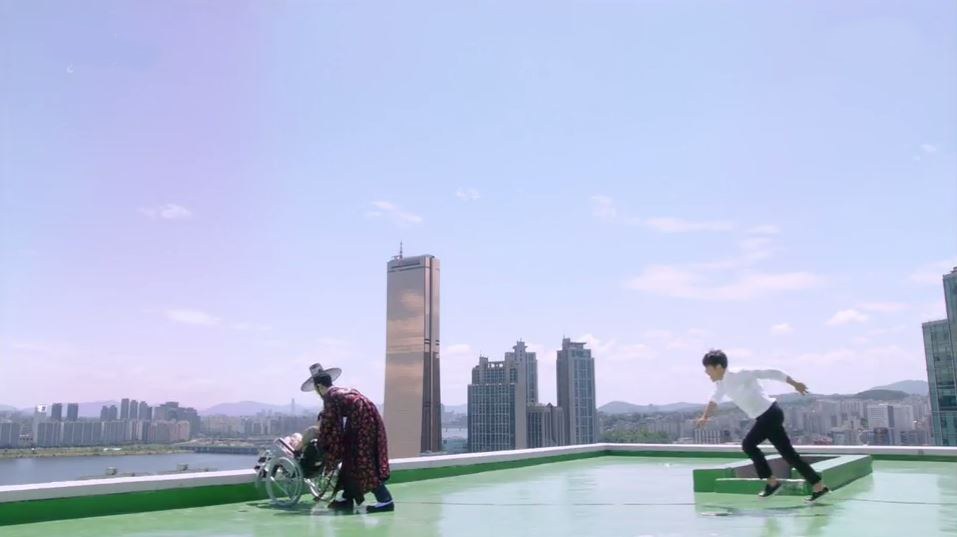 The CGI effects and production values were actually quite interesting and professionally done in this fantasy story. The acting was fine among all the leads
;
sometimes though it's difficult to pull magic out of a love story bridging two different eras, but it does succeed here, although not as expertly as in
My Love From Another Star
(that was 21 episodes, however, so in that respect it's really not fair to compare the two stories).
It was simply fun to watch all these actors together (some had worked together previously), even though the story was short and could have been clearer in narrative at the end (but then the writers could always fall back on the "it was only a dream" excuse!). It was bizarre at times, but I've seen far stranger situations pop up in K-dramas over the years, so can advise you to just go with the flow if you like these actors
:
it's a romantic fantasy and not meant to be over-analyzed and critiqued. Simply sit back and enjoy. The Korean entertainment industry seems to be moving more and more on its own toward shorter dramas. Not always a bad thing!