KDRAMALOVE KOREAN DRAMA REVIEWS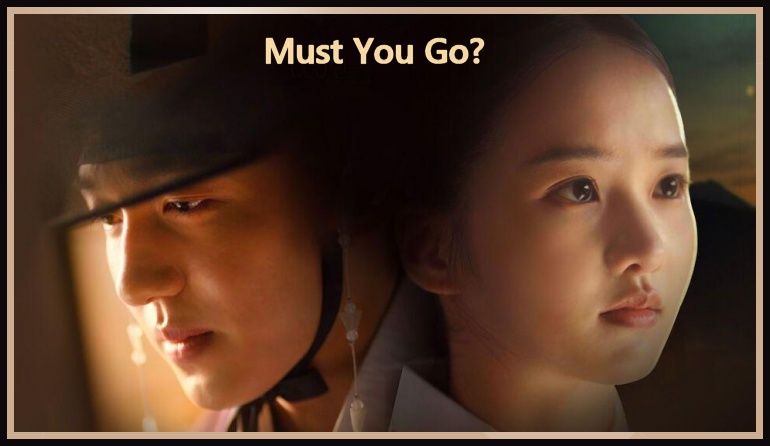 Must You Go?
가시리잇고
Channel A (2021) 8 Episodes
Time Travel, Romance, Reincarnation
Adapted from Webtoon
Grade: A
Korean Drama Review by Jill, USA
(Some Spoilers)
~~~~~~~~~~
A true gem of a time travel web drama, Must You Go? (2021) had me hooked on its story big-time, and its main leads, Chani (from SF9) and Park Jung Yeon (who bore a striking resemblance to more well-known Korean actress Kim So Hyun), who were mostly new to me, had me gripped and fixated on their performances throughout! They were so attractive! Second male lead Lee Seung Hyeop impressed me too with his intense acting. I hope I see all three of these wonderful actors in future projects. They all deserve to be in regular television K-dramas too, not just web dramas.



Left to Right: Chani, Park Jung Yeon, Lee Seung Hyeop

Most web dramas have limited financial budgets compared to longer running 16 and 20 episode Korean dramas appearing on the main broadcast stations in South Korea, but here it was obvious that this budget was much higher than normal, because fine details of the two different time periods covered in the story were not ignored, and they obviously spent more to obtain an original OST (Original Soundtrack), whereas a lot of web drama producers just take stock music available to the industry to use over and over again. Plus this original OST often had unique flavors of old Joseon times to it, which makes most K-drama soundtracks stand out from others with just modern songs in them, and several scenes boasted musicians who could play vintage Asian instruments like the stringed gayageum. Several of the songs I could not stop humming each time a new episode ended. (Always a good sign I've fallen in love with a particular show).


The Story: Pretty Min Yoo Jung (Park Jung Yeon) is a 25-year-old aspiring professional singer living in Seoul who dreams of becoming a successful pop musician. She plays the guitar and sings beautifully. She has an agent who has a rather large crush on her, named Lee Won (Lee Seung Hyeop), but still her dreams of actual stardom seem far off. To keep plugging away at performing, in addition to the regular auditions she goes to, courtesy of Lee Won's promotion, she often tries busking on the city streets, and mostly achieves a nice response from the folks gathered. However, the industry is very competitive, so she knows it might take awhile before she experiences the success she dreams of. Meanwhile, she works at a convenience store to make ends meet, and lives in a cheap rooftop apartment (which kept reminding me of the rooftop apartment in the classic K-drama Rooftop Prince).



One day a mysterious female acquaintance of Yoo Jung's named Jung Do Young (Jian) makes an appeal to her: will she take one of her vintage instruments and sing a famous archaic song outside of an old Joseon building still in existence? She will pay her well. Yoo Jung, only too happy to take the generous amount of money from this woman so she can easily pay her rent that month, obliges, and at night goes to the building with her instrument and starts playing and singing. Suddenly from out the doorway appears a handsome young man in Joseon era garb (Chani) and as he approaches Yoo Jung she faints!



This young man takes care of her until she awakes (oh, those cute piggy back rides!). It is soon revealed that this young man's name is Park Yeon and that he was a famous composer of noble birth 600 years before, who had been transported through time to the present day. In shock, but still fascinated by the gentle Park Yeon, Yoo Jung allows him to sleep in her apartment and helps him adjust to the modern day, its technology, clothing, food, social norms, etc. However, lurking in the background is that mysterious "friend" of Yoo Jung's, Do Young, whom it seems also lived 600 years earlier in Korea; she had missed out on snaring Park Yeon's affections in the past, and wants to claim him for herself this time in the present day. It's also revealed that Yoo Jung herself had lived 600 years earlier in Joseon days, and that she, as a servant back then, and Park Yeon, as a nobleman musician, had been in love. Their relationship was doomed back then, however, due to the class differences of the time, and in fact as punishment Yoo Jung's prior manifestation had been executed by fire! Yikes! Of course neither Yoo Jung or Park Yeon have any interest in going back to that far more violent time period, even if possible, when few people had any rights or conveniences.





Yoo Jung starts to show Park Yeon around Seoul, introduces him to restaurants and stores and even a modern library (a very fun scene, above). They even look in a book of history and see an old portrait of Park Yeon as a famous composer and musician of Joseon. All this togetherness makes Yoo Jung's agent jealous; the more she grows closer to Park Yeon the more distraught Lee Won gets, wondering what he can do to separate them. Meanwhile, Yoo Jung gets a big chance to sing on a TV reality show and she brings Park Yeon with her. They perform a beautiful song together, he in his Joseon era clothes, and they become the talk of the pop music crowds. However, since Park Yeon doesn't have any IDs like a Social Security number the only jobs he can find are manual labor jobs, once Yoo Jung has Park Yeon groomed to look like a modern day man, and not a strange throwback figure wearing historical clothes.




Celebratory Dance In Old Joseon



Then Park Yeon becomes aware that he might not be able to stay in the modern day after all. A lunar eclipse time slip might send him back to old Joseon against his will! Then Yoo Jung will be all alone again in 2021, and now they are deeply in love. How will she be able to endure with him gone? Will a miracle happen that will allow this beautiful reincarnated couple to remain together in the present day? Or will they be doomed to be parted forever, he in the past, and she in the modern day, alone?



Park Yeon's Transformation At The Barber Shop



Although there was not much too original in this short web drama I still enjoyed it thoroughly and will absolutely watch it again in future. The performances were truly outstanding. (I especially loved Chani's speaking voice, which had a lilting quality to it, and his eyes, which gave his character an innocence that was quite endearing).

Definitely give Must You Go? a chance. Too many K-drama fans ignore the web dramas in favor of the longer (and many times long-winded) Korean TV dramas. Don't make their same mistake! Enjoy!