The lead actress was the one and only sublime Ha Ji Won, whom I've been watching in dramas and films for over two decades, including the classic
Secret Garden
,
King 2 Hearts
,
Empress Ki
,
Damo
,
Secret
,
The Time We Were Not In Love
, and films
Ditto
,
Phone
,
Love So Divine
, and
Daddy Long Legs.
I'll watch her in anything, she is a total delight.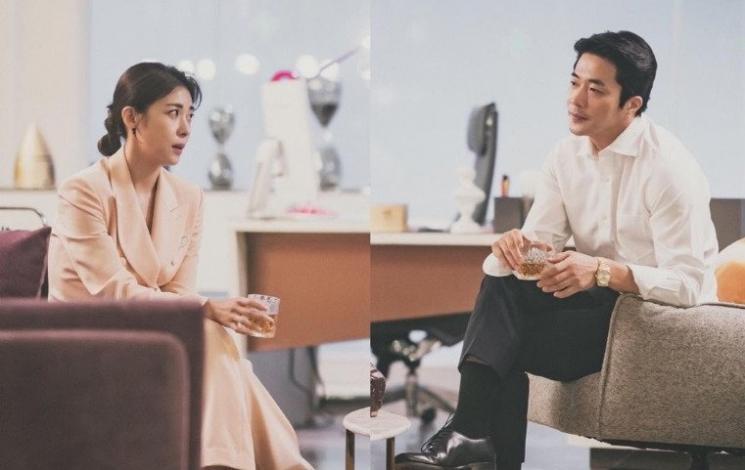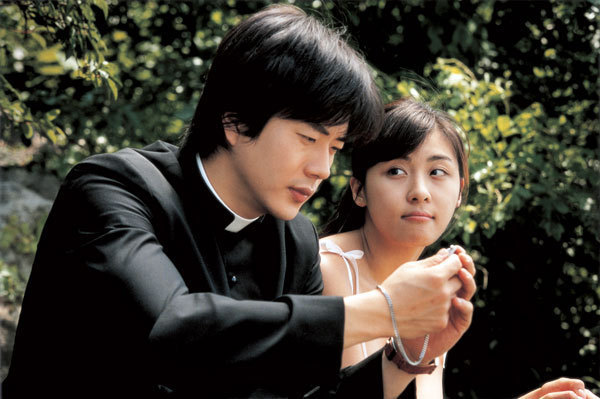 (And since her co-star in the 2004 film
Love So Divine
, Kwon Sang Woo, above, made an appearance in
Curtain Call
, it was like Old Home Week for me to see them together again after eighteen long years! I loved the way they looked at each in this drama, you could see the memories of that hilarious earlier film in their twinkling eyes!).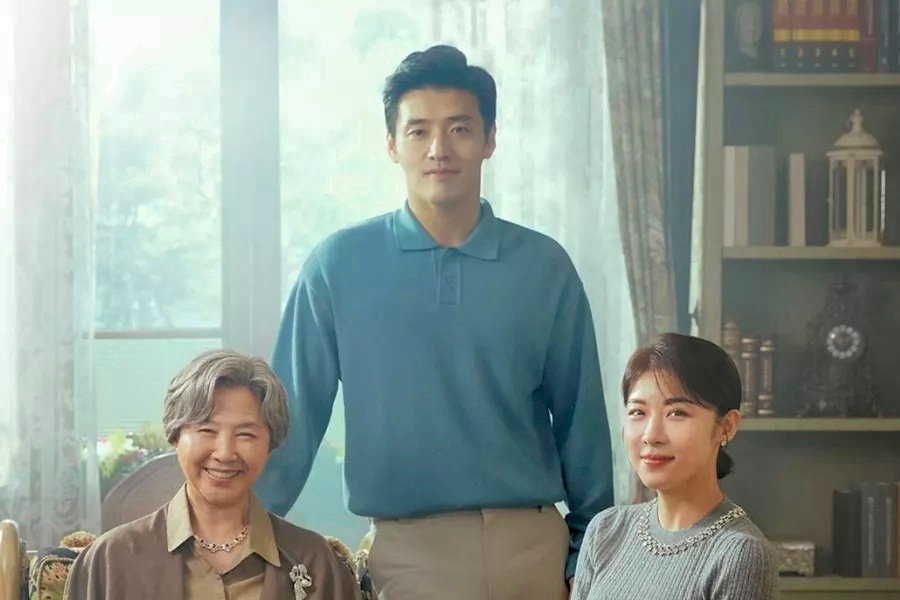 Male lead was the fantastic Kang Ha Neul, a consummate actor who can play any role imaginable, best known for great dramas and films like
Angel Eyes
,
Misaeng
,
To The Beautiful You
,
Missing Noir M
,
Moon Lovers
,
When The Camellia Blooms
,
Heirs
, unforgettable film
Dong Ju: Portrait Of A Poet
,
Waiting For Rain
, and the sequel to
The Pirates
. As sweet counterpoint to the story we have the flawless veteran actress of many dramas and films going back three decades, Go Doo Shim (i.e.
Our Gab Soon
,
Swallow The Sun
,
Snow Queen
,
Sparkling - All That Glitters
,
Dear My Friends
,
My Mister
,
When The Camellia Blooms
), playing Ha Ji Won's grandmother, the center of the story. In real life she's a lot younger than the elderly, dying woman character in her nineties whom she plays here, but a lot of elderly women
do
tend to look younger than their years, especially if they've never smoked, and we never see this character smoke throughout her entire life.

The Story
:
A married young mother named Ja Geum Soon (Ha Ji Won when young, Go Doo Shim when old), and her loving husband Ri Jong Moon (Kang Ha Neul), try to escape warring North Korea one late night in 1950 when some foreign ships try to rescue villagers at their seaside town. Throngs of village people yearning to be free rush to the waterside at night and try to board the ships, some falling into the water and unable to climb up the rope ladders thrown down to them. When a nearby mother loses her little child Ri Jong Moon rescues the child but loses his chance to climb up the rope ladder to his wife, who had made it onto the ship safely. "Survive!" the husband cries out to his totally distraught wife, while holding their water-sogged infant baby in his arms. They are never to see each other again. The husband dies later in North Korea. Their son Ri Yeong Hoon (Kim Young Min,
Beethoven Virus
,
My Mister
) grows up resenting his mother for what he unfairly sees as her abandonment of him and his father. In time he ends up having his own little son (though we never see the child's mother) whom he names Ri Moon Seong (Kang Ji Young) who yearns to meet his grandmother in South Korea someday.


This Incredible Scene Must Have Cost A Fortune To Film!

As the years pass in South Korea, Ja Geum Soon remarries and has more children of her own, and then her share of grandchildren as well. She works hard and opens her own restaurant and eventually her own luxury high-rise hotel in Seoul that she calls the Nakwon Hotel. Her granddaughter Park Se Yeon (Ha Ji Won again) runs the hotel as administrator, and another grandson named Park Se Joon (Ji Seung Hyun,
Descendants Of The Sun
,
Kang Goo's Story
,
Search: WWW
) manages the finances (watch out!). A third grandson Park Se Gyu (Choi Dae Hoon) is rather a loafer, an alcoholic, and likes to impress his friends in bars with his money from Grandma, but he's basically only good for some comic relief in the long scheme of things.
(Why in the world did he become my favorite character by the end? LOL! Anyone who makes me laugh that much in a drama or film I'm a sucker for! I hope I see this actor in something again soon!).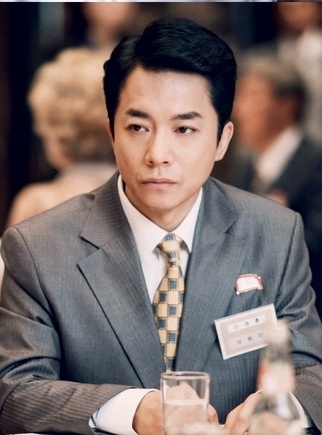 Reunion With His Mother Ja Geum Soon:
Ri Yeong Hoon (Kim Young Min) Can't Hide His Sadness
During an internationally planned North-South Korea Family Reunion Day (based on a real life event) finally the middle aged Ja Geum Soon meets her lost baby son from North Korea, Ri Yeong Hoon, all grown up now, and with his own little son Moon Seong coming along for the big event. There is joy in their meeting, but also recriminations between these three estranged family members. Ja Geum Soon promises her little North Korean grandson to see him the following year again in another reunion, but it never happens. Ri Yeong Hoon ends up dying suddenly, leaving his son all alone. Moon Seong grows up to be a criminal, and hating the grandmother he feels abandoned him after his father's passing.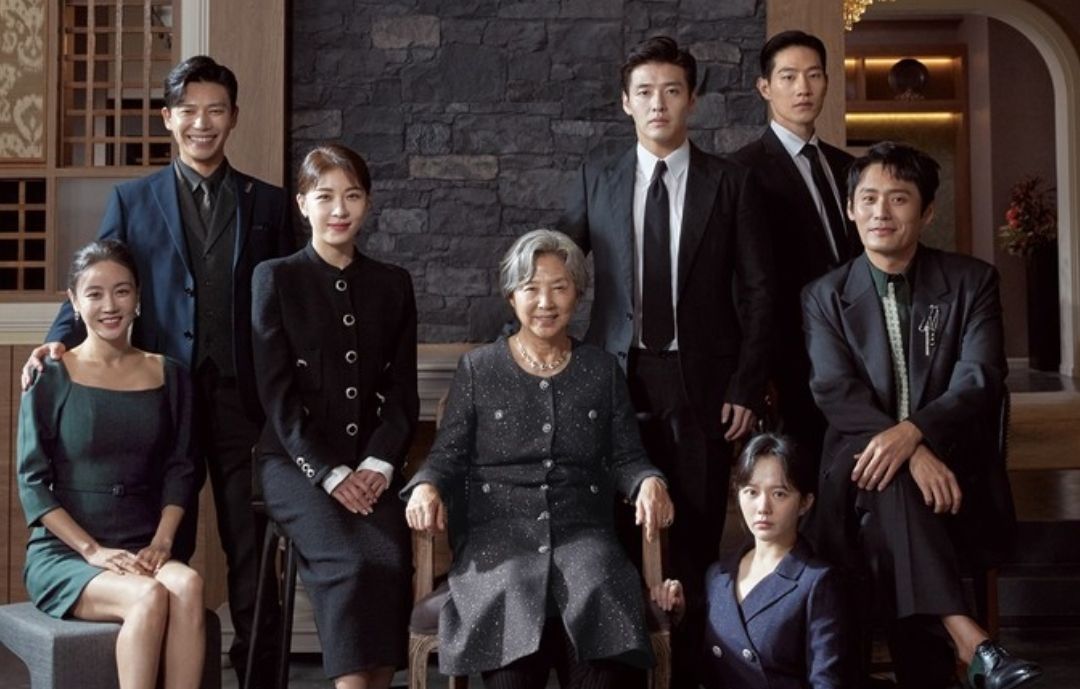 More time passes. Ja Geum Soon approaches the end of her life, is diagnosed with cancer, and is told by her doctor (Ahn Nae Sang) that she only has a few months to live. Her faithful male assistant Jung Sang Cheol (Sung Dong Il,
It's Okay That's Love
,
Jirisan
) develops a plan to help bring peace to Grandma before she dies
:
he will hire an actor to pose as her long missing North Korean grandchild, Moon Seong!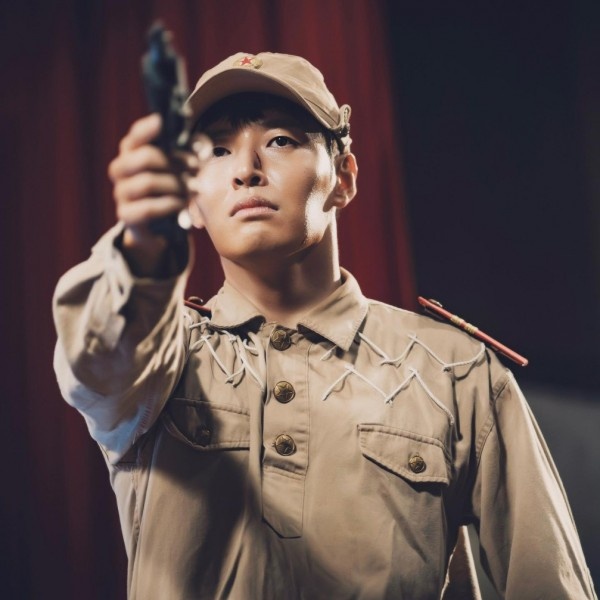 He seeks out and hires Yoo Jae Heon (Kang Ha Neul), a struggling stage actor who has been playing a North Korean soldier in a local theater performance. Yoo Jae Heon ends up with a pretend wife as well, Seo Yoon Hee (Jung Ji So, very sweet performance), his fellow thespian in their acting troupe, who is secretly in love with him. He is told to pose as Grandma's North Korean defector grandson Moon Seong who has come to visit his grandmother for a while before returning to the North. This he ends up doing incredibly well, impressing the entire family, and bringing Grandma a lot of happiness in her dying days. Jae Heon gets along especially well with granddaughter Park Se Yeon (Ha Ji Won again). He takes her side when her brother Se Joon attempts to sell the hotel, but is sad when Se Yeon agrees to marry an old fiancee named Bae Dong Je (Kwon Sang Woo) because if she co-owned his shares in the hotel she could prevent the forced sale of Grandma's hotel that she had built from scratch.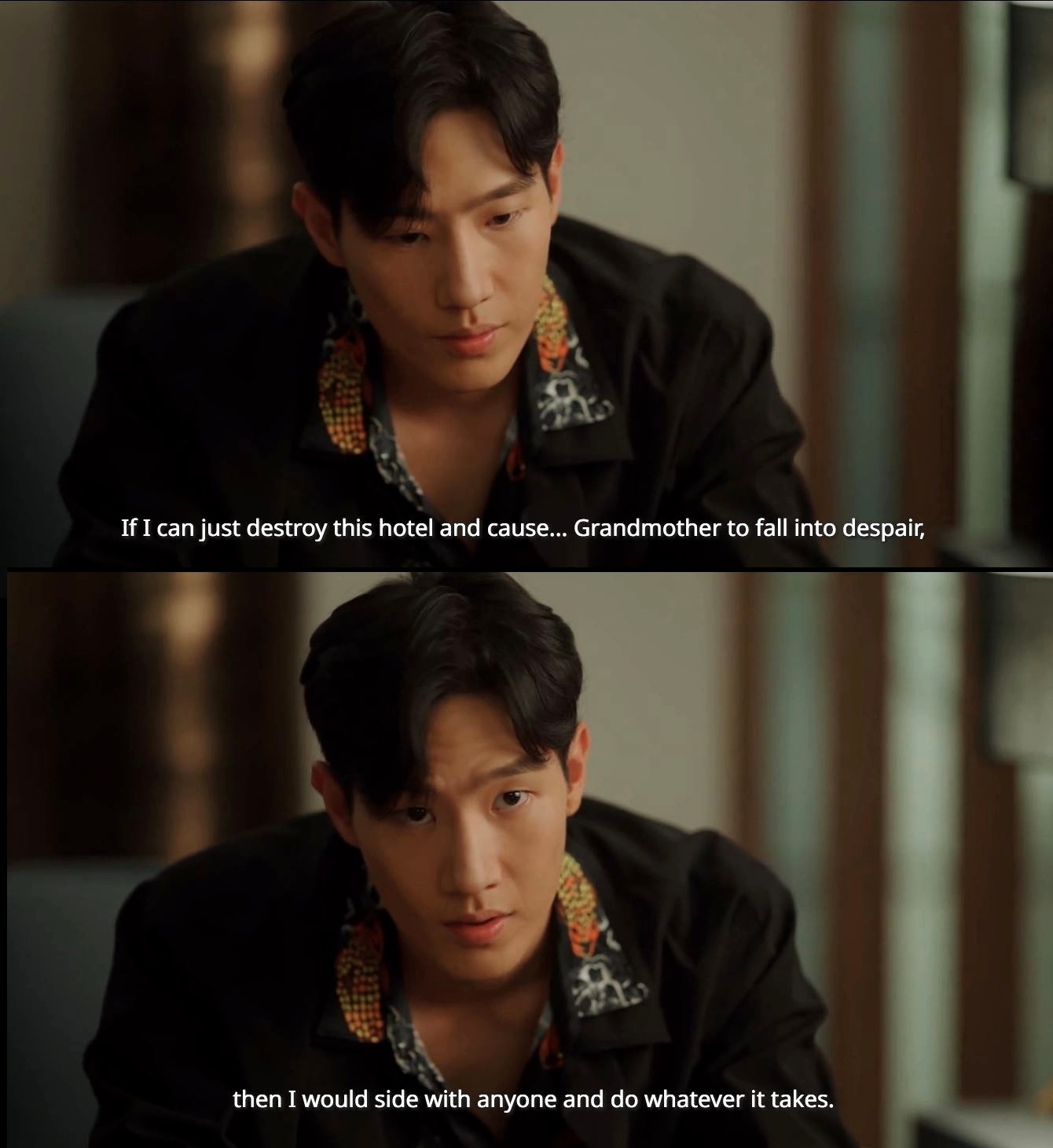 While this "stage play" is taking place in the family in South Korea, the criminal adult grandson (Noh Sang Hyun) in North Korea finagles his way to China and then South Korea. His resentment against Grandma is formidable (as if it's her fault the communists took over the North and separated their family!), and his motivation is to cause her pain in her last days, not happiness. Cruel! Eventually the truth about Jae Hoon's real identity as a "mere actor" is revealed to one and all, and the North Korean Moon Seong slowly introduces himself to Grandma's extended family as the "real" North Korean grandson. Jae Heon even tries to be nice to him, but will this non-smiling, resentful criminal from the North ever warm up to his biological family and their friends, or will he simply continue to show up for his share of the inheritance when Grandma dies?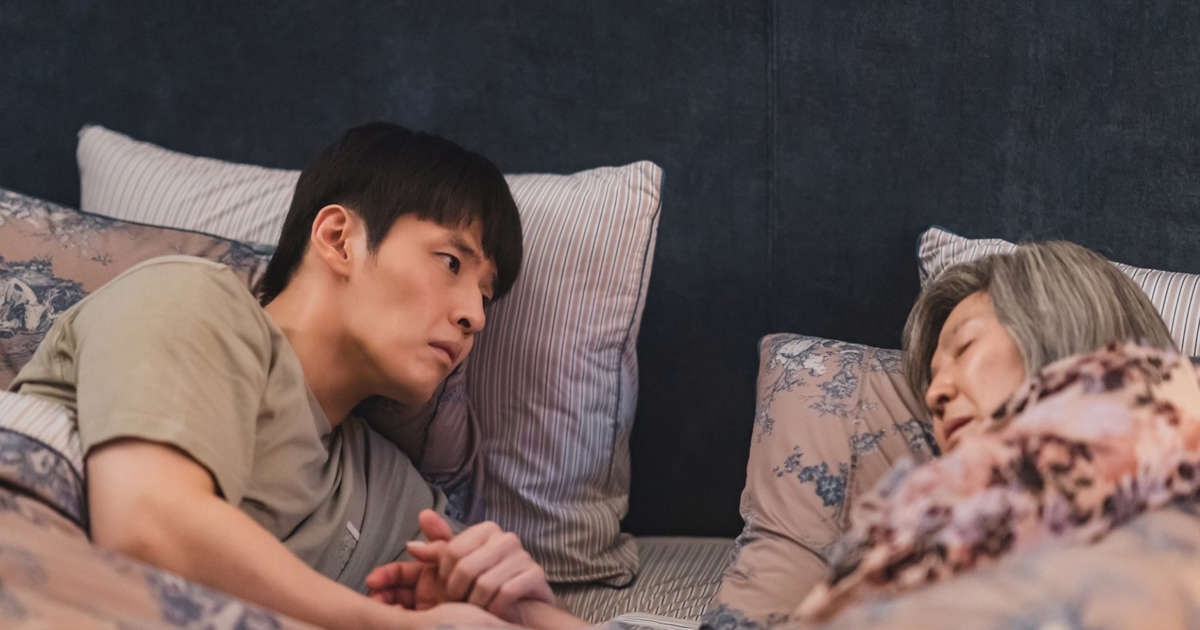 Jae Heon Loving Dying Grandma Far More Than Moon Seong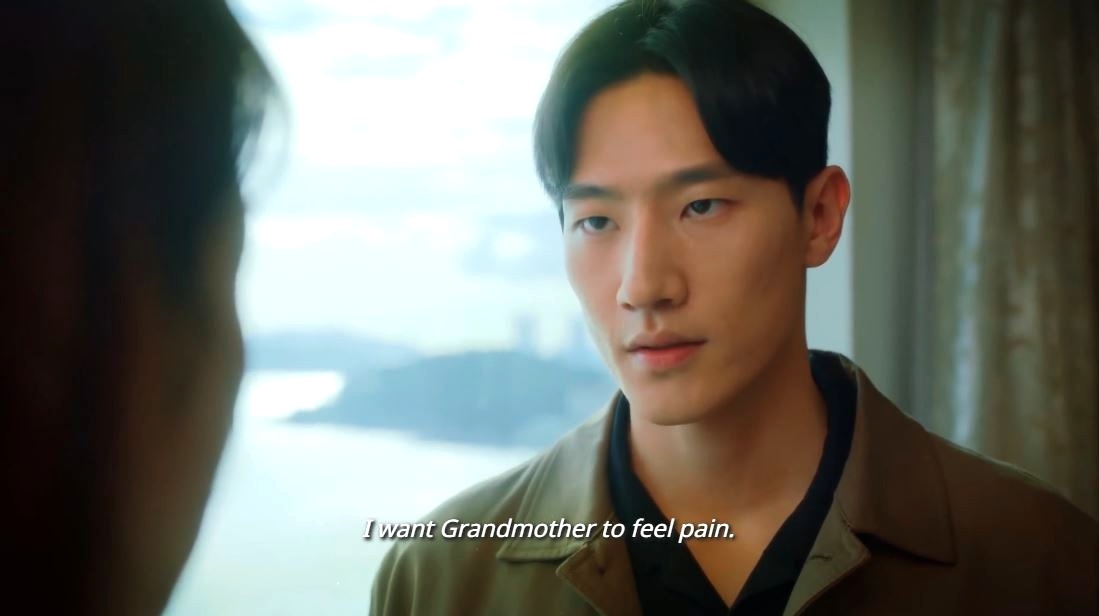 Okay. I am going to take the liberty to say here what I would have done differently with this incredible story if I had written it.
:)
And why, although I gave it an A+ grade because I loved it overall, I do not consider it worthy of the description Masterpiece.
First:
Since Grandma's first husband when she was young in North Korea is played by the same actor, Kang Ha Neul, who plays the "fake" grandson decades later to comfort Grandma in her dying days, and the two characters are therefore the spitting image of each other, it's only natural that some audience members would wonder if Kang Ha Neul's Jae Heon actor character could have been the REAL grandson, and not the "fake". The writer made it a point to show that the character of Jae Heon didn't have a family; we are only shown him abandoned at a theme park as a child by someone who could have been an adoptive "mother", and he would have been raised by an orphanage. Grandma's family could very easily have been his real family after all, especially if two infants in the first scene in the drama were switched after falling in the water. I feel the production team should have used a different actor in the first scene of this drama when all the villagers were trying to escape North Korea at war in 1950. It would have made the situation so much clearer. What are the chances that two men who look
exactly
alike are unrelated? Practically nil. That threw me off for the entire production. I consider that unfair to the audience. If they were going to use the same actor then I would have written a big surprise near the end of the drama and made Kang Ha Neul's Jae Heon character the real grandson, corroborated through legitimate DNA testings.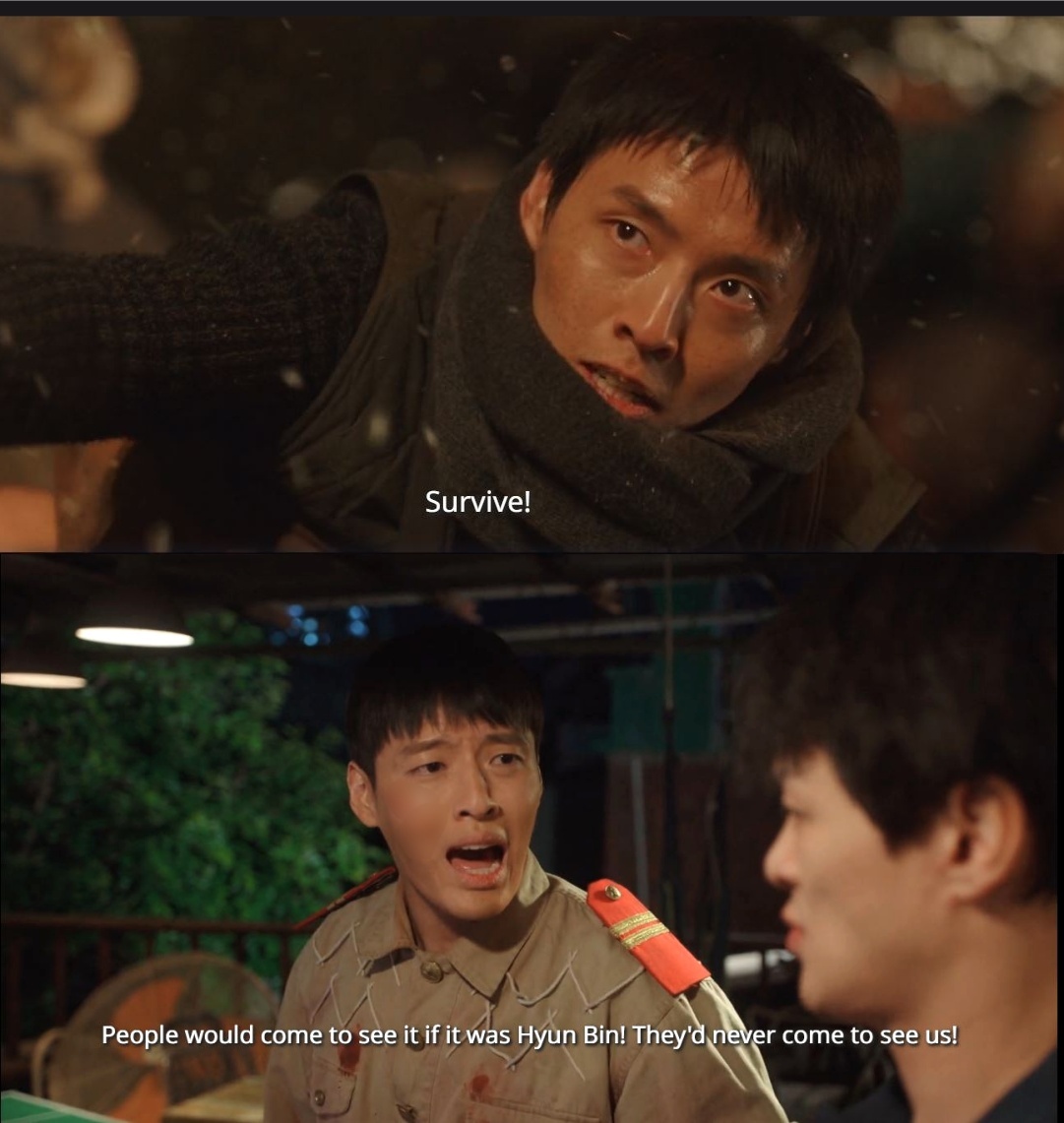 Second:
There is no way the sweet little boy they showed at the family reunion when Grandma was middle aged could have grown up to be a hardened criminal, a drug dealer, even a murderer: an orphanage would have taken the boy and cared for him. Even in North Korea there are orphanages. We aren't shown what happened to him in the interim to make him such a non-smiling, hard-hearted bastard out to destroy Grandma. Plus in a flashback scene we are shown the "real" Moon Seong had a wife who needed a liver transplant. Then we never see this woman again and Moon Seong never returns to North Korea to take care of her and make sure she got her transplant. The woman would have died and Moon Seong would have had yet another death on his hands. Sloppy writing!
Third:
We are suddenly told at the end of the story that Grandma knew all along that Jae Heon was fake, an actor playing a part.
HOGWASH!
Not when he walked up to her on the lawn for the first time and was the spitting image of her late first husband in North Korea! The woman was smart, but not THAT smart! We are given no tip offs that she ever once doubted he was Moon Seong, until that last scene. More implausible sloppy writing!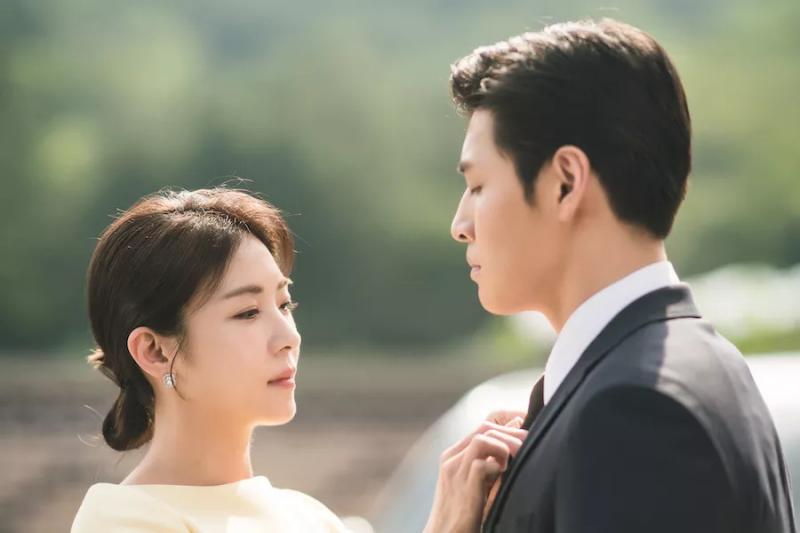 It seemed like everything was put together in this show to guarantee that actor Jae Heon and granddaughter Se Yeon would be a romantic couple at the conclusion of the story, because they were no longer considered related. Ho hum. In real life in many countries cousins marry quite often, so they still could have made Jae Heon the real grandson and had them marry in the end. I confess I didn't need the kind of a soft ending we got here, even though I love both actors, in a drama that could have been even more memorable if a huge revelation about the actor character being the real grandson could have been made in a triumphant, dramatic way. That I would have cheered for
,
big time. Jae Heon was far more a real grandson to dying Grandma than the "real" Moon Seong could ever be. If it's Love that determines a family, and not just a bloodline, then Jae Heon is far more of a true Grandson to Grandma than the non-smiling, revengeful criminal Moon Seong. Lots of people have sad childhoods but they don't turn into vengeful criminals. No excuses for that North Korean loser, Moon Seong.
Now I feel better, getting all that off my chest. LOL
You can watch
Curtain Call
at Viki at
this link
. Enjoy!