The Story:


We meet charming, effervescent media producer Woo Do Hee (Seo Ji Hye) who pretty much lives in a fantasy world of her own creation. Her company, 2NBox, produces popular media that appears on streaming sites online, and so she has quite the imagination, always trying to top herself in her next production. Of course such a company has to have some wacky characters in charge of various production issues, such as older media manager Nam A Young (Ye Ji Won, Page Turner) and chubby secretary Park Jin Kyu (Ko Kyul Pil, Vagabond). They both give us rather steady comedy moments to lighten up the few darker scenes and themes.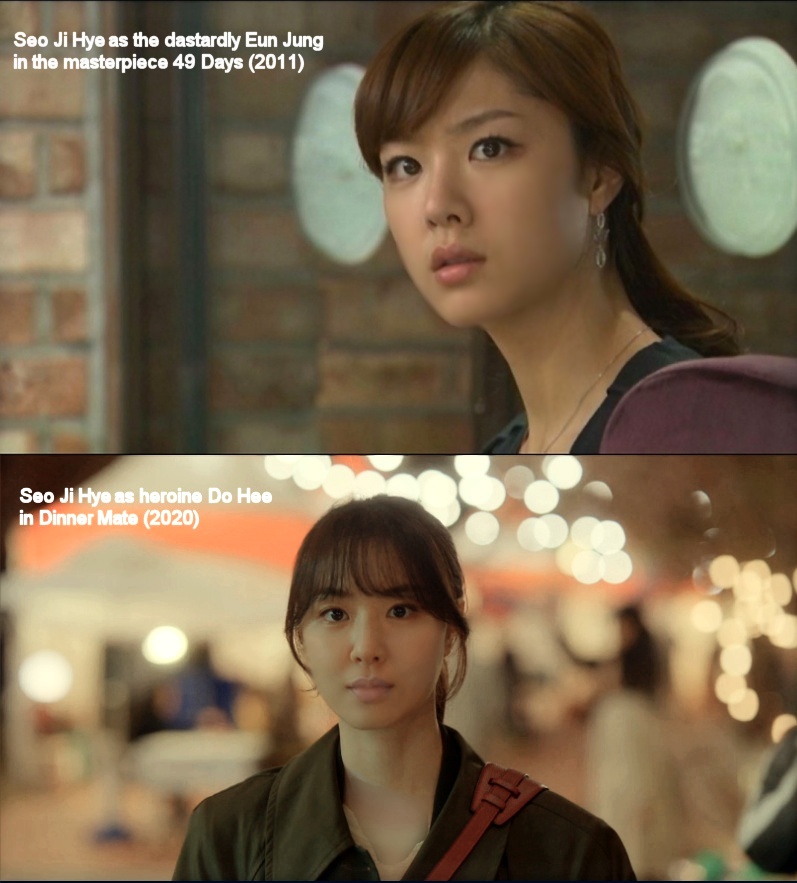 When we first meet her, Do Hee seems engaged to a handsome young man who owns a restaurant on Jeju Island, named Lee Young Dong (Kim Jung Hyun, who played Seo Ji Hye's eventual love interest in Crash Landing On You, and who has also been in great productions such as Bing Goo and Jealousy Incarnate), and she is constantly texting him, sending him videos of herself, in essence making a general pest of herself where he is concerned. Therefore it is no real surprise to the audience when Do Hee heads off to Jeju Island, expecting a proposal out of him, but she is about to undergo a shock: he has been two-timing her with other women, even including the flight attendant who had been so nice to her on the plane trip! A fight takes place in his restaurant, and the "engagement" she had imagined between them is broken off.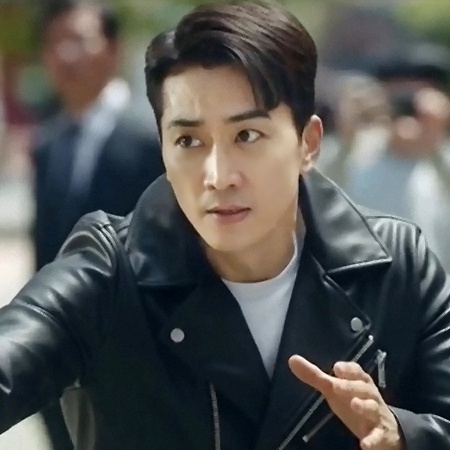 On the flight over to Jeju, Do Hee had sat next to a man in first class named Kim Hae Kyung (Seung Hun Song), who is a successful and compassionate psychiatrist. He doesn't say much to her but privately he thinks she is very silly, constantly sending cell phone videos to her boyfriend. Later he happens to be in the same restaurant when Do Hee breaks it off with Young Dong. He watches in fascination, even though he is supposed to be concentrating on a patient who is sitting across from him at the table.


Later, Hae Kyung sees Do Hee again, standing on rocks above the water, looking like she is about to jump into the ocean and drown herself. He rushes to "save" her, with the result that he is the one hurt physically, not her. She wasn't really planning on a suicide, and the fact that this stranger cared enough to try and "rescue" her does not go unnoticed by her. Afterward, when he recovers, he plans to fly back to Seoul, but can't quite make himself do that, for some unrecognized reason. He elects to stay on Jeju for awhile longer, and fate once again brings him into contact with Do Hee. They slowly get to know one another. They both agree not to reveal each other's names to one another, but just to act as "dinner mates", since both of them love going to restaurants and are fascinated by specialty food dishes.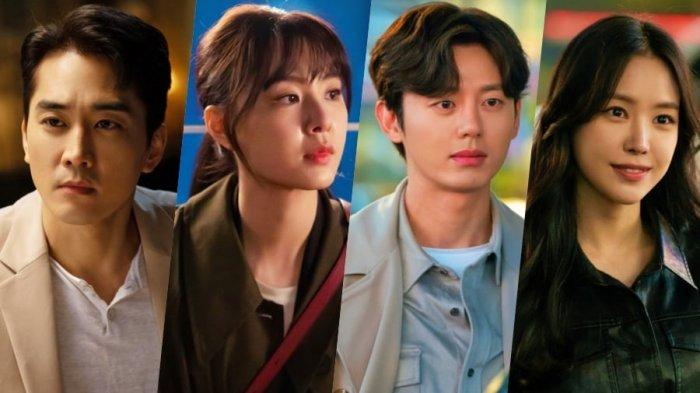 Both Do Hee and Hae Kyung had past love interests that didn't work out in their lives, so they are in no hurry to fail again with a new relationship. A simple friendship begins to grow between them that slowly, no surprise, begins to grow into something deeper emotionally, though neither wants to admit it to themselves, or to others, for quite some time. It almost seems at times they can read each other's minds, and once again I was reminded of Cary Grant and Deborah Kerr in An Affair To Remember, for they often appeared to anticipate what the other person was going to say next.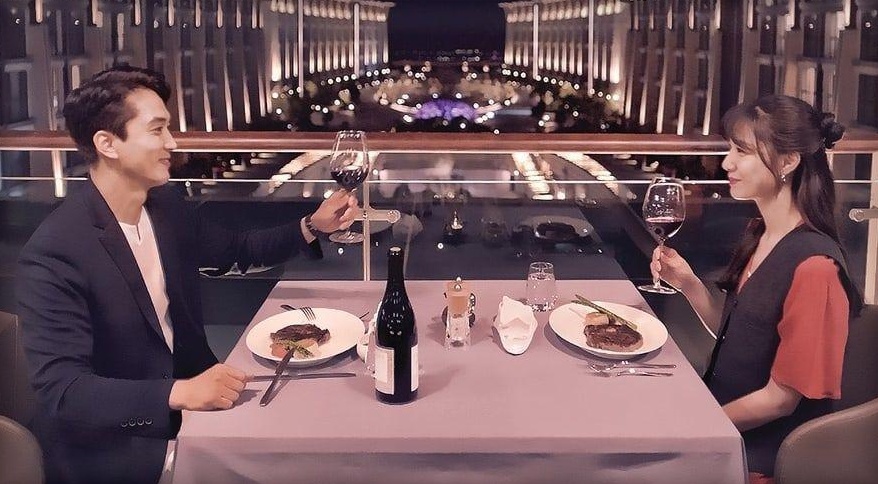 When they both return to Seoul and their respective jobs, Do Hee's older female manager tells Do Hee that she wants her to produce a new show with renowned Psychiatrist Kim Hae Kyung, or she will have to work with her ex-boyfriend instead, to Do Hee a fate worse than death! Do Hee is unaware that Psychiatrist Kim Hae Kyung is the man she sat next to on the flight to Jeju, the man who tried to save her life and got hurt in the process, the man that fate keeps putting in her way and to whom she has become dinner mates with. She balks at first, and then eventually Hae Kyung approaches her and gives her his business card, finally revealing his true identity to her. She agrees to do the media series focusing on him and psychiatry.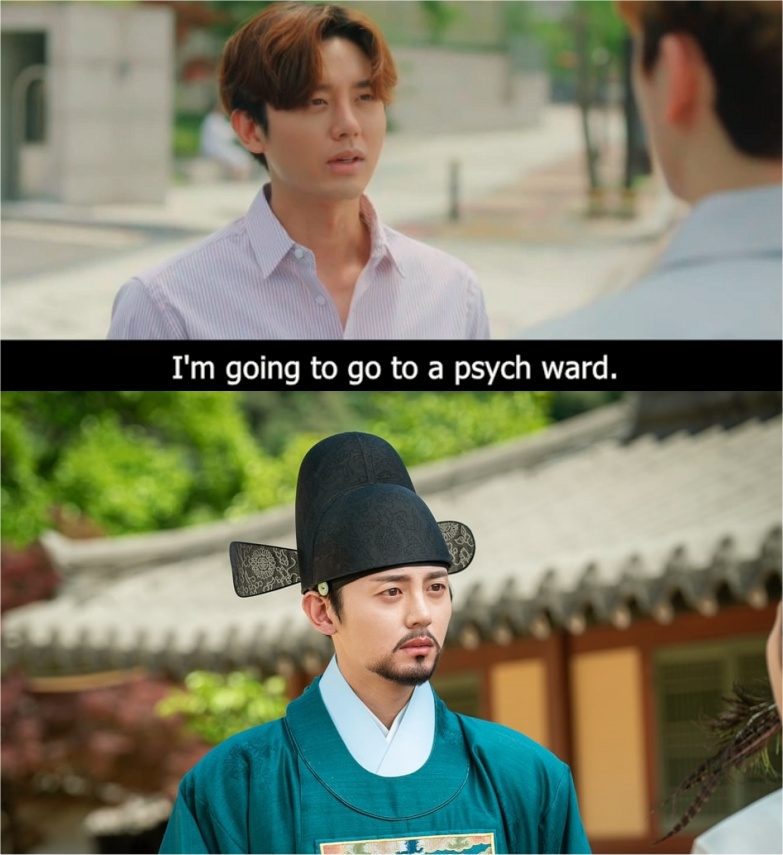 No, Historian Min Woo,
Don't Go To A Psych Ward!!!
Of course it isn't smooth sailing after they learn their names and identities. They are both rather intensely emotional people, they are not perfect, and their family lives growing up didn't exactly lend themselves to peace and contentment. For instance, Hae Kyung's mother Lee Moon Jung (Jeon Guk Hyang) had abandoned him as a child to become a great professional writer, and then she abruptly returns into his life when he's an adult, to try and make amends, but he finds it difficult to forgive her. Then she dies, and he realizes too late that he should have given her the peace of his forgiveness.

20+ Years In Show Business,
And Seung Hun Song Can
STILL Make Me Cry!


Hae Kyung's former love Jin No Eul (Son Na Eun), a model, doesn't quite seem to want to give him up, especially to Do Hee. Then the boyfriend whom Do Hee had dated before Lee Young Dong, named Jung Jae Hyuk (Lee Ji Hoon, another excellent performance), reappears in her life after several years living in Miguk (America), and approaches her again, wanting to re-establish their past romantic relationship. However, she still holds a grudge against him for leaving her abruptly at the time and never giving his reason to her for leaving suddenly for America.


On some level Do Hee does seem to still care for the troubled Jae Hyuk, but her growing feelings for Hae Kyung are a definite impediment. Jae Hyuk had been a mental patient dealing with issues of an abusive father, and his current psychiatrist named Keanu (Park Ho San, who played one of the brothers in
My Mister
) sends him to Hae Kyung for therapy, feeling he would be able to help him more. But Jae Hyuk knows all too well that Do Hee is dating Hae Kyung, and part of him wants to break them up, so he engages in several disturbed acts to increase the chances of that happening. Will he succeed, or will he eventually realize that he can never find happiness in his own life if he is hellbent on destroying others' lives? Will compassionate psychiatrist Hae Kyung be able to effectively help his patient when he knows that same patient is going after the girl he has grown to love too?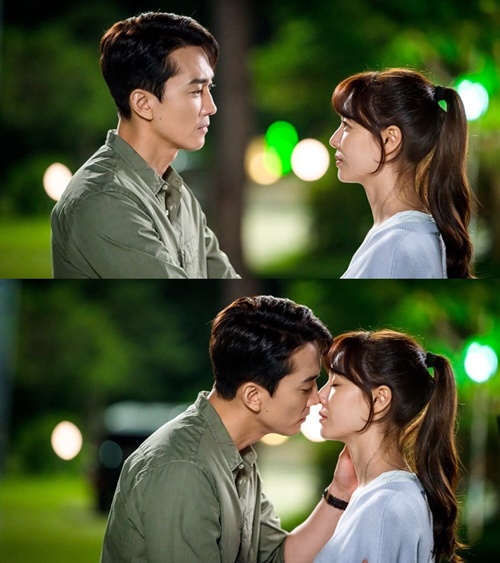 Although Dinner Mate, on the surface, is a lovely light romantic comedy (and I giggled quite a few times at some very amusing scenes), it does have its deeper themes of revenge and unhappiness and loneliness, and how to recover from those lifestyle choices and situations. I'm thankful I didn't have to watch this lovely series on some horrible bootleg site, with all their nasty screen bugs and spyware and malware and Trojans invading computer systems and cell phones, but that a friend gave me cleaner movie files for it. Nice to have it for posterity, since most legal streaming sites didn't carry it, especially not a wise decision after lead actress Seo Ji Hye's worldwide success in Crash Landing On You. However, if you love the actors you really should track it down and watch it. It's a pleasurable escape from today's harsh world for awhile. Romance is King! (at least on screen here). Enjoy!