If you have watched even a small number of Korean dramas by now you will have undoubtedly noticed that a common theme in many of them is the "taming" of one of the main lead characters, either the female lead or the male lead. As their relationship progresses with the member of the opposite sex, and turns from animosity to love, the formerly grouchy or mean or troubled lead character is "tamed" by the deepening of the love relationship with the other lead character, and the story becomes far more intriguing. It's sort of a "Taming Of The Shrew" Shakespearean theme and it's almost always rewarding for the audience, to see a formerly arrogant lead character become a decent, sympathetic human being. This is one reason why it could be problematic for you to check out of a Korean drama too soon if you find yourself annoyed by one of the lead characters right at the beginning. The wise scriptwriter does NOT delay this taming process for too long - the first one or two episodes is more than enough time to begin the softening process; any longer than that then a significant amount of the audience may get frustrated at the main shrewish character, of either sex, and they may stop watching the drama prematurely, which is a loss to everyone: the cast, the writers, the production team, and most importantly, the audience.
Take Care Of The Young Lady
(2009) also formerly known as
My Fair Lady
(I suspect the title was changed due to legal conflicts with the classic Lerner and Loewe musical of the same name) is an example of this type of "Taming Of The Shrew" Korean drama that can risk the audience checking out of the show too early, because the lead female character, Hye-na Kang (popular actress Eun-hye Yoon from
Lie To Me
), is an extremely spoiled, pouty, annoying, disrespectful, selfish, clueless, arrogant young heiress - an Audrey Hepburn or Grace Kelly type superficially in her body and bearing - but inside nowhere near as graceful and elegant as those two ladies were. (Those two icons were mentioned in the first narration lines of this show, so you know immediately where this show is going).
The main shrewish female character may wear the most gorgeous costumes in the world (and certainly actress Eun-hye Yoon got to wear the most stunning gowns in this show, far better dresses than any other actress in any other K-drama), but underneath the surface she is as prickly as thorns! I grew impatient almost immediately with her character because she really had no clue how lucky she was, living in such luxury, yet she was mean to everyone. I wanted to shake her, and keep shaking her, until she shaped up as a human being! However, that being said, you have to be patient with her. She sees better days!

Here are some examples of just a few of the magnificent gowns this actress got to wear for this show!
Hye-na's parents died in a plane crash when she was young, and she lives a life of total luxury and splendor with her rich grandfather (prolific character actor Jung-il Lee), who through his neglect has left her to her wild and crazy antics for far too long, until they finally begin to attract bad media coverage for his vast corporate enterprise, Kang-san Group. Then when he attempts to draw the line it's too little, too late and she pays no attention to his criticisms. He can find no one to tame her; every servant she doesn't like she fires at the drop of a hat. Every rich man he brings to the mansion for her approval as a husband is summarily dismissed or taunted away.
Kang-sang Group mansion where Hye-na lives with her grandfather -
if you lived here wouldn't you be grateful?

Then one day she seems to meet her match in a former gigolo turned born-again Christian, Dong-chan Seo (actor Sang-hyun Yoon from
Secret Garden
,
I Hear Your Voice
and
Can't Lose
), with whom she has an altercation while driving on the road: he is working hard delivering flowers, to pay off his mother's hospital bills, when she bumps into his vehicle with her car. He gets out and demands an apology but she throws money in his face instead, which he promptly picks up and returns to her. "I never apologize!" she yells. Because he dared to criticize her she takes her revenge on him a second time and deliberately rams into his truck again, which results in both of them being taken to the police station.
Grandfather bails her out and tells her she'd better shape up or ship out, but Hye-na STILL won't listen. Grandfather then has the brilliant idea to hold a private meeting with Dong-chan, whom he sees as a person who might finally be able to stand up to her, and the suggestion is raised that Dong-chan could become her personal butler in an attempt to control her bad behavior. Grandpa promises him a lucrative windfall payment so he can settle his debts and Dong-chan accepts, with the stipulation that Hye-na will not be able to fire him.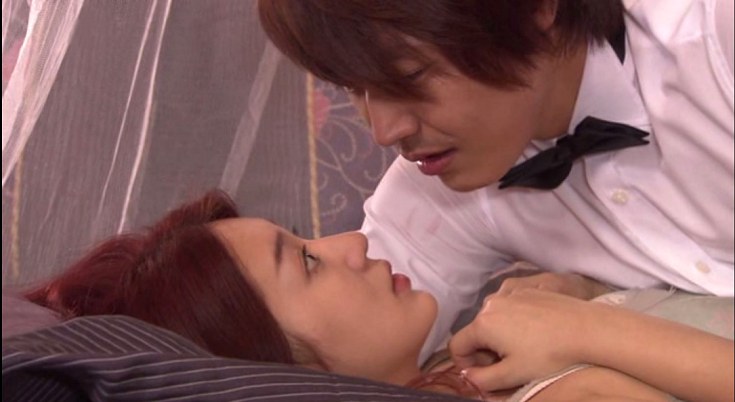 Ooooh, Hye-na is none too pleased with this new controlling force in her life. Dong-chan doesn't back down from her willfulness and even beats her in her martial arts training when they spar together, which infuriates her because she considers herself an expert. Despite her belligerence, Dong-chan takes it all in his stride; he does have a dark side that beckons to him, so he has his own internal conflicts that need "taming" as well. He has more on his mind than just Hye-na: the male servants are jealous of his power and conspire to bring him down, while most of the female servants think he's cute and are on his side. Hye-na tries to make him look bad in her grandfather's eyes, for instance planning a dinner party and putting Dong-chan in charge of all the cooking and giving the rest of the kitchen staff the day off. However, even in this challenge Dong-chan wins the day, with a clever solution all his own, and the guests are impressed with him and his fancy meals. Hye-na is back to square one!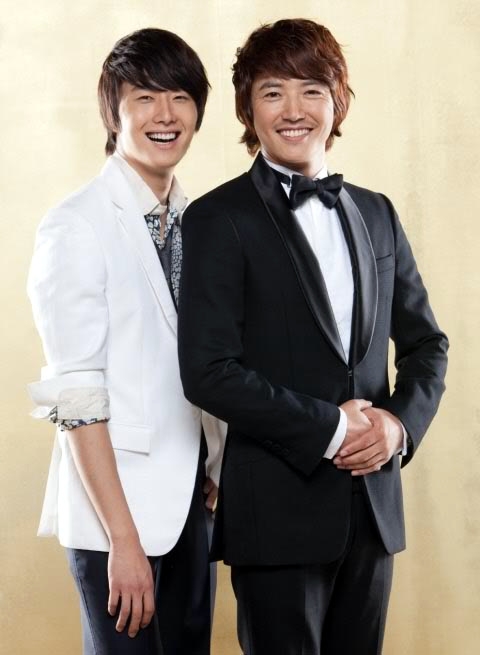 Jung-il Woo and Sang-hyun Yoon spar for Eun-hye Yoon's attention
Then a romantic interest seems to appear on the horizon for Hye-na, one whom she might actually be interested in: a human rights - environmental rights attorney named Tae-yoon Lee (Jung-il Woo from
Flower Boy Ramen Shop
and
49 Days
) who comes from a rich family too, but who works very hard trying to improve the lives of the poor and oppressed. When he learns the Kang-san Group wants to buy up and demolish land and property where historical artifacts are buried he tries to figure out a way to meet Hye-na's rich grandfather to ask him to reconsider, and plans with his partner, Dong-gun Jang (Hyun-kyu Jo) to go to his estate and confront him; however when they get there he is not at home. On the stables near the property a caretaker calls out to him, since he remembers Tae-yoon riding the horses when he was younger, and he offers him a chance to ride one of the horses while he is there. He agrees, gets on the horse and rides out into the fields, only to be seen by Hye-na from a distance. She is startled. Tae-yoon reminds Hye-na very much of a young man she was deeply in love with in her youth, a boy named Joon-soo, and when she sees him she chases after him, with Dong-chan playing catch up in the rear. When she is up close to Tae-yoon she turns away in sadness, thinking they can not be the same person. Tae-yoon goes on his way and Dong-gun experiences his first encounter with Hye-na which is actually compassionate in nature, since she had hurt her hand while riding her horse chasing Tae-yoon. He bandages her hand and she is actually kind to him for the first time. The ice is breaking .... a little bit.
However, grandpa is not giving up on finding a rich husband for Hye-na, and ironically brings Tae-yoon to his granddaughter's attention as one of those marriage prospects, not realizing at the beginning what the real issue is that Tae-yoon is interested in - not the woman, but the land where the national artifacts are buried. So Tae-yoon meets Hye-na a second time and immediately senses who his chief rival will be in gaining Hye-na's trust, her butler Dong-chan. Our love rivalry is set up at this point -- though neither man actually loves her. Yet. Hye-na is intrigued by Tae-yoon but it is always Dong-chan who is ultimately there for her when it counts.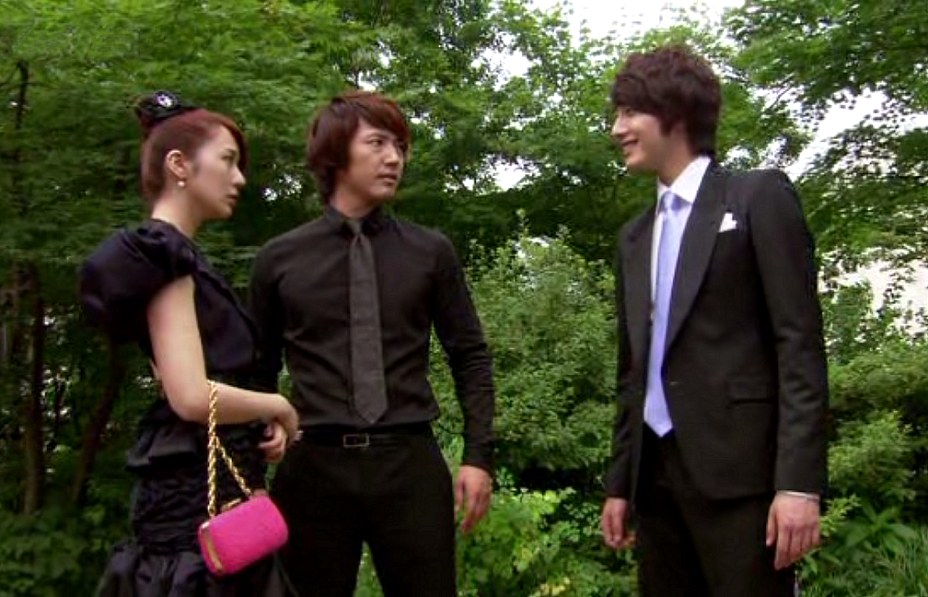 Family intrigues, corporate intrigues, political intrigues, servant intrigues, and a deepening love triangle keeps
Take Care Of The Young Lady
interesting, sassy and bright, surprising and addictive. I must admit, though, that the actor who steals this show is really Sang-hyun Yoon as Dong-chan, who played Oska in
Secret Garden
. This was a tour de force drama for him, and if you are his fan it's a not to be missed K-drama. He will make you laugh, and he will make you cry.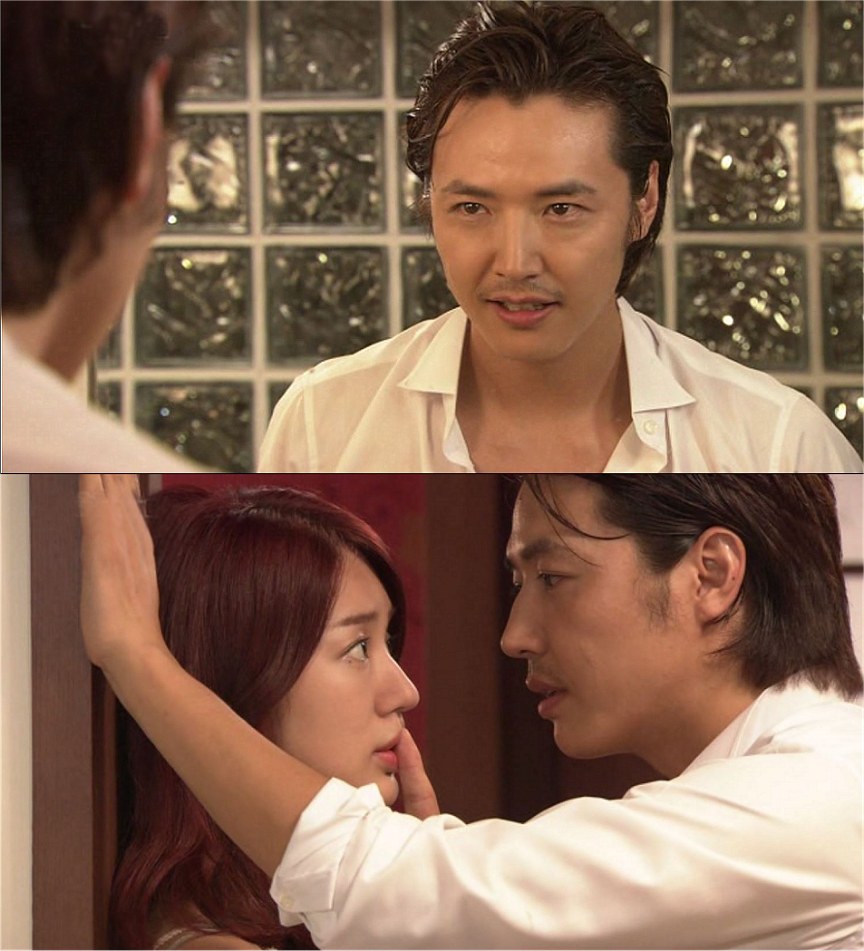 I have to be honest and admit I watched this drama after seeing Jung-il Woo in
49 Days
, but I really became Sang-hyun's fan after watching this show, and then after I was impressed with him here in this show I watched him in
Secret Garden
. That's often the way it is: you watch one K-drama for a certain star and then you start admiring yet another star, so off you go to seek out the rest of his / her work. It seems to be a never ending cycle! Once you've been bitten by the K-drama bug it's impossible to be "cured".
In
Take Care Of The Young Lady
, as it was in Shakespeare's
The Taming Of The Shrew
, it's not just the female character who is tamed, it's the male character as well. Sang-hyun Yoon made a perfect modern day Petruchio and Eun-hye Yoon was the perfect modern day Katharina. They are two people who dislike each other intensely in the beginning but who, after many challenging circumstances, draw closer and closer, until a true love develops between them. It's an old, old story, but it never loses its charms, especially in such capable hands. There's lots of slapstick in the beginning, but then it turns more serious, so be patient. There are many other fun secondary characters as well, but I'll let you discover them all on your own. You will probably see quite a few familiar faces!
You can buy a DVD set off
Amazon
.