However, a new case she works on, an alleged assault case between two women who hate each other, goes awry and the falsely accused woman is irate, and throws a box of tomatoes in her face on the outdoor steps of the public courthouse. It's all recorded by someone with a cell phone and makes the nightly news. She decides she has had enough and gets a plane ticket to Japan. In Woo rushes to the airport to dissuade her. "You're going to put all your co-workers in tight spots again, they'll have to do your workload for you." She is stubborn and says she doesn't care, and In Woo walks off in a huff.
She gets on the plane and her conscience begins pricking her. She sees the terrified face of a little girl named Jimini whose child abuse case she was handling before she ran off, and then the middle aged man who molested her sits up next to her. How can she leave a precious child with no prosecutor to convict the bad guy? She leaves the plane, much to In Woo's relief later, and recommits to her profession. She wins the case in court against the sexual predator, putting the child's fears and her mother's fears to rest. (I wish I knew who this little child actress was, but no one seems to have identified her, not even Wiki
:
she was outstanding!).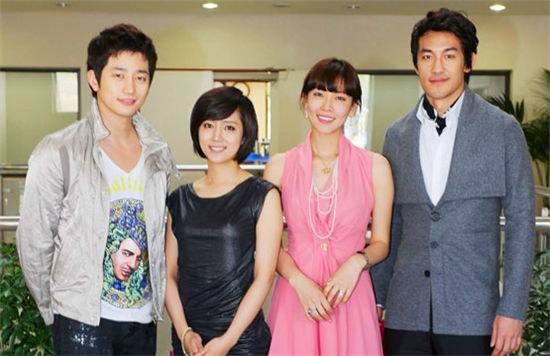 From left to right: Park Shi Hoo, Choi Song Hyun,
Kim So Yeon, and Jung Soo Han
Hye Ri confesses to In Woo that she is in love with her boss, and he pretends to be supportive of her finding ways to get closer to him. He suggests she move closer to where he lives --- not telling her that the place he recommends is right near his own apartment and that they'll be able to see each other if both of them stand on their verandas! She moves in and then discovers In Woo's apartment is close by. However, no matter how hard Hye Ri tries she can't seem to catch Se Joon's attention. This is a man who still talks to the framed picture of his dead wife by his bedside. Se Joon can't get over her, even though it's been three years since she died. He also has to care for his 7 year old daughter and Hye Ri doesn't exactly seem the sacrificial motherly type.
She sends a nice card to Se Joon inviting him on a picnic with her, but his little girl hides the card; Hye Ri waits for hours for him until late at night and then picks up and leaves for home. Meanwhile his daughter feels guilty and shows him the card; he rushes out to see if he can find her, but stops dead in his tracks when he sees Hye Ri standing with In Woo. In Woo notices him and says to Hye Ri, "Let me help you out," and pulls her to him and kisses her, shocking her. Se Joon sees them kissing, gets jealous, turns and walks away, and has to work through his own heightened feelings for Hye Ri: are they love, or just attraction because she reminds him of his dead wife?
It doesn't help Hye Ri any that another female prosecutor at work seems to be in love with Se Joon too, Jung Sun Jin (
Choi Song Hyun). Although Sun Jin dresses conservatively, wears glasses, and doesn't pressure him, Se Joon has bonded with her through friendship and trust, and they seem to be a much better match for each other. Will Se Joon ever figure out that Sun Jin loves him? Se Joon tries out a few dates with Hye Ri, but although they become more friendly it never seems to progress beyond just basic affection. (There is one really cute scene between them, though, where they exercise together in the morning before work, and it's one of the highlights of the drama because it's so sweet and funny).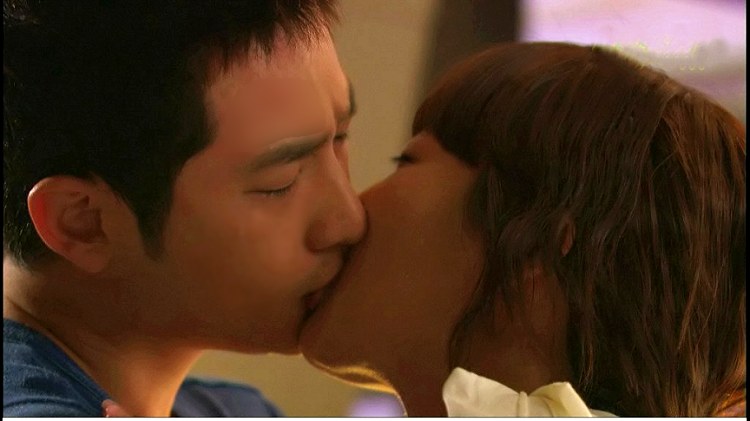 Eventually Hye Ri finally realizes the person she is really in love with is In Woo, and as the sparks fly between them and they eventually kiss passionately, it's In Woo who suddenly seems to draw back from her, as if he is suffering from some form of guilt over pushing their relationship so hard to get her to trust him. What is he hiding? Could it have something to do with his past, or her past? His family background, or her family background? She doesn't understand what is going on with him, but a lady close to him in his law office, whom he seems to confide in more than he confides in Hye Ri, makes Hye Ri suspicious of his real intentions toward her.

She keeps her concerns and troubles to herself for the most part, since when she tries to confront him he becomes silent and withdrawn; meanwhile she is becoming more and more a professional prosecutor and learning what it takes to win various cases and to hold her own in the office with all the other workers. In Woo advises her on all kinds of legal issues so she wins more cases. He himself has cases he needs to work hard on, and a deep dark secret which might cause Hye Ri great distress. When lack of trust between them rears its ugly head, will that negatively affect their relationship, or even destroy it?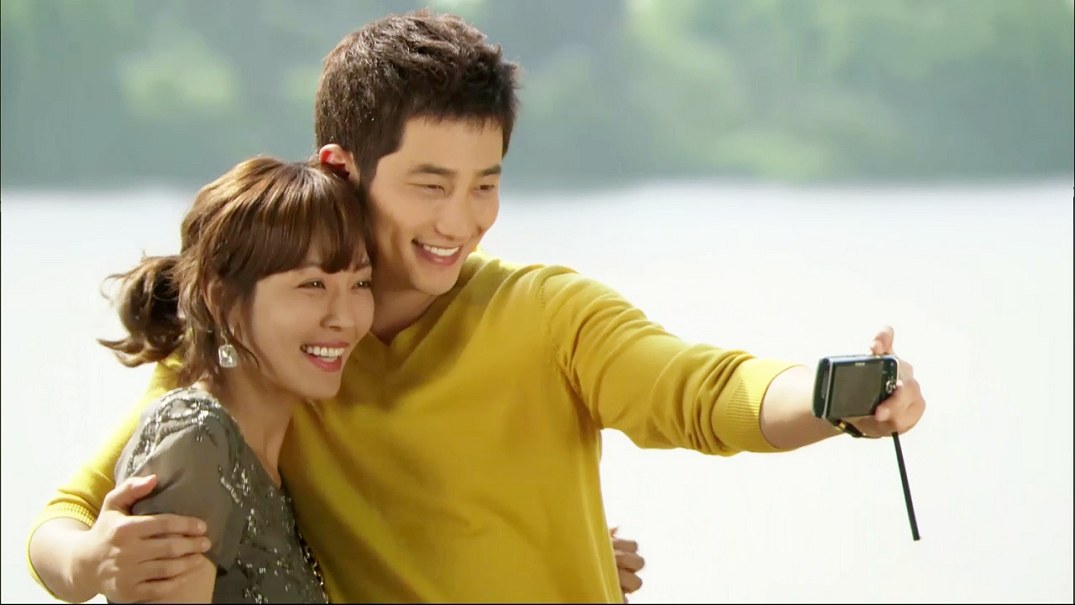 Prosecutor Princess wasn't too original in plot, and there were some standard cliches like the piggy back ride, the wrist grab, the back hug, etc. but overall I liked the chemistry between Kim So Yeon and Park Shi Hoo. When he kissed her I felt he meant it, and when he cared for her as a person and not just as a sexy chick, it warmed my heart. This show will make you feel that true love is really possible, but that two individuals who are very different have to work extra hard to make that relationship flourish. That's true to life, isn't it? Definitely recommended for all you romantics out there! After I Need Romance 3 and IRIS this is my favorite Kim So Yeon drama, and after
Cheongdamdong Alice this is my favorite Park Shi Hoo drama. Don't miss it!