Arang And The Magistrate
(2012) is a complex but stunning Korean historical fantasy drama and mystery story, loosely based on an old folk legend telling the tale of Arang, a beautiful girl betrothed to someone she never met, who died unjustly and whose ghost returns in order to solve the mystery of her death. At first she cannot remember details of her death, so she seeks the aid of the new local magistrate, who is the only person in the village where she lived who can see ghosts. Previous law men had believed she died from an accident and dismissed her case. Now, finally, Arang finds someone who takes her ghost seriously enough to want to help her solve the mystery of why she tragically died so young.
Although murder is a serious crime, strangely enough this version of the story never takes itself too seriously, yet its beautiful cinematography and special effects via CGI are gorgeous, and they make this show an epic masterpiece that is different from the norm. This drama expertly ropes you in to Arang's compelling story, keeping you glued to your television set to find out who killed her, and what she will do about it when the truth is revealed.



Full OST

This drama is no fluff piece, however, despite its many surreal comedy and fantasy scenes (scary journeys to heaven and hell in episode 4 are quite jaw-dropping; I watched those sequences three times in a row because I was so transfixed by them!). Underneath the mystery of Arang's death are layers of cloak and dagger suspense twists which will amaze you as each is uncovered. Bizarre family secrets are revealed, corrupt politicians are revealed, spiritually possessed, occultic people are revealed. The person you think might be the killer in the beginning turns out not to be, but that doesn't mean that person is completely innocent either! Will the real Pontius Pilate stand up?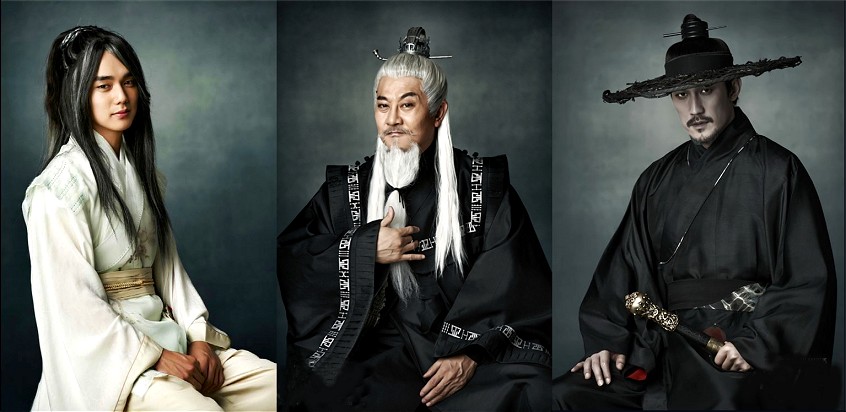 From L to R: Jade Emperor King of Heaven (Seung-ho Yoo), Yama King of Underworld (Joon-gyu Park), and
Mu-young, Grim Reaper (Jung-soo Han): heavenly beings invested in the outcome of Arang's mysterious death case


In addition to Arang's death mystery, we see unrest in the heavens, as two important gods hold a sporting contest on what Arang's ultimate fate might prove to be; the Jade Emperor, King of Heaven (wonderful young actor Seung-ho Yoo, whom I am quite daffy about - can't wait till he gets out of the army - from
Operation Proposal
), who wants Arang to live in heaven always (Jade Emperor definitely has an eye for the pretty ladies!), and Yama, King of the Underworld (veteran actor Joon-gyu Park), who wants to bring her soul to hell (and desperately wants to trade bodies with the handsome Jade Emperor!).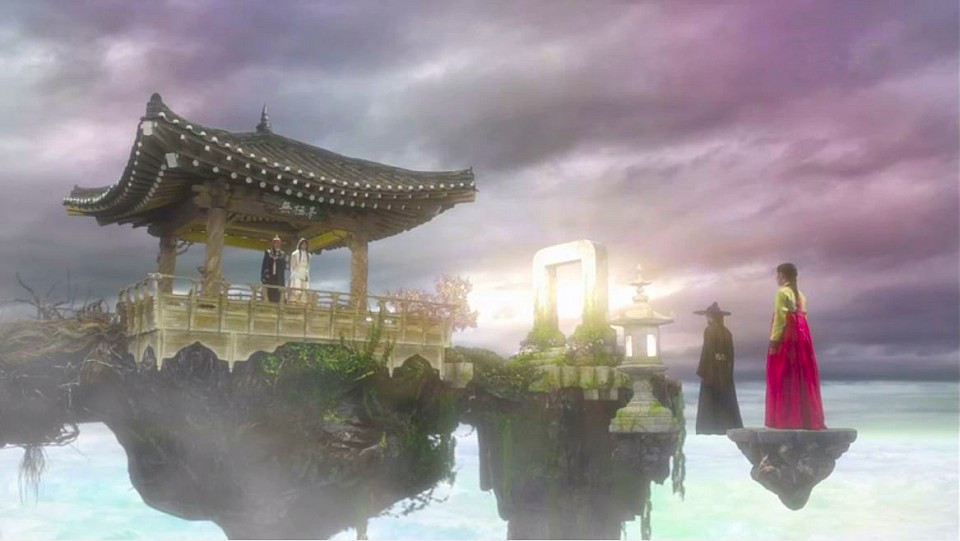 Is this how the real Judgment Day will be?
Standing before God and Satan to decide who gets your soul?

As the story unfolds we revisit the heavens from time to time to see Jade and Yama engaging in tongue-in-cheek banter with one another about Arang's destiny. I really got a kick out of these scenes - the vision of heaven in the show was just gloriously beautiful, but also amusing. A servant who does their bidding is the Grim Reaper named Mu-young (handsome Jung-soo Han) who has his own sad back-story which might even be related to Arang's death. I don't know why, but I felt very sad for this character - his face never smiled, he always looked like he might cry at any moment.
Arang Visits Hell ... and Heaven

Imagine feeling sorry for the Grim Reaper! That's the kind of psychological disturbances you go through while watching this show! At one point in the drama Arang even visits hell to give her a taste of what she might experience in the future if it's Yama who gets to claim her soul.

Yama's minions are not who you want to hang around with in the afterlife!
Sorry, but songwriters who claim it's more "fun" to hang out with the sinners than the saints are WRONG.
All the performances are well-executed in the drama. Min-ah Shin is perfect casting for the lead role of Arang, just as she was for playing the gumiho in
My Girlfriend Is A Nine-Tailed Fox
(2010). There's just something about her tender and sweet fragility, combined with her delicate beauty and humor, that makes you root for her all the way, no matter what character she plays (I particularly loved her as the physically scarred girl in the 2005 film
Sad Movie
, with Su-jeong Im and Woo Sung Jung).
She is joined in this drama by handsome co-lead Jun-ki Lee, who plays the Magistrate, and who had just finished his two year required stint in the Korean military when he took on this drama. He is far more rugged in appearance here than he was in earlier shows and films, pre-military. He also has several black belts in martial arts and did all his own stunt work in the show, which really impressed me ... no stunt doubles for Jun-ki! (I loved him in the 2007 combined Korean-Japanese film production
Virgin Snow
). His popularity is one big reason this Korean drama cost millions of dollars for Japan to purchase for broadcasting rights.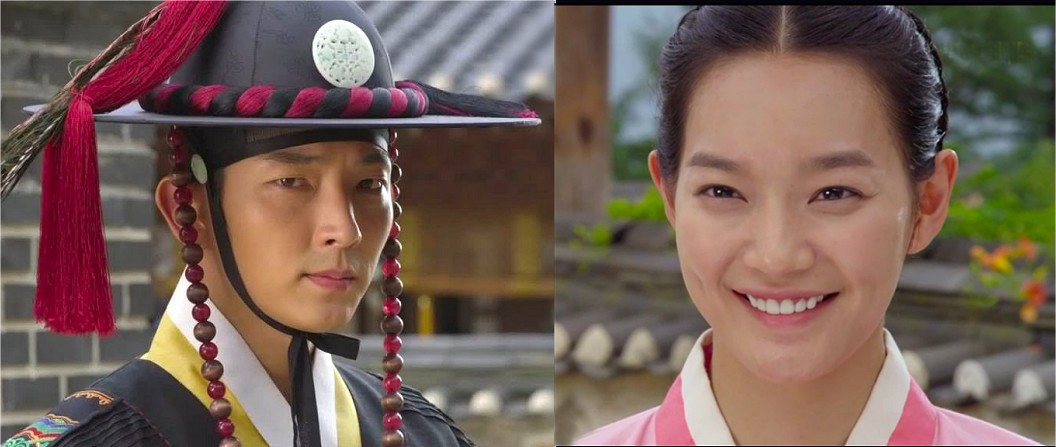 The Story
: A new magistrate is a nobleman named Eun-oh Kim and he arrives to Arang's isolated village with a secret agenda to find his lost mother whom he's been parted with since childhood. He takes the job after hearing a rumor that she might be staying at this village, called Miryang. He has the special ability to hear, see and even lightly touch spirits, but pretends he doesn't at first because he gets annoyed when the spirits come up to him asking for favors. Arang is even more determined to find out who killed her because each of the three previous magistrates had died from shock after she had revealed herself to them.
When he first sees Arang's ghost he tries to pretend he doesn't, which makes for some funny moments as she suspects he can see her so she teases him repeatedly until he gives in and admits she is visible to him. He rescues her from some demons who are chasing her and then realizes that for some mysterious reason she has a decorative comb in her hair which belonged to his own mother, which he had given her as a parting gift years before. So when she asks him for his help in solving the mystery behind her death he agrees to help her because he thinks in doing so he can find his mother as well. The Magistrate exasperately at first, and then affectionately later, nicknames Arang "Amnesia". This is pretty typical of the K-drama formula: two eventual lovers who start out their relationship teasing one another, and it's always delightful to see.
Along the way, the Magistrate finds help and support through two people, his faithful servant Dol-swe (actor Oh-joong Kwon) and the local shaman Bang-wool (actress Bo-ra Hwang from
Love Rain
). Bang-wool cannot see Arang's ghost but she can hear her voice and so she can often assist the Magistrate in helping him to understand Arang (the scene where she makes the Magistrate measure Arang's body for a new suit of ghost clothes is particularly amusing ... and sexy).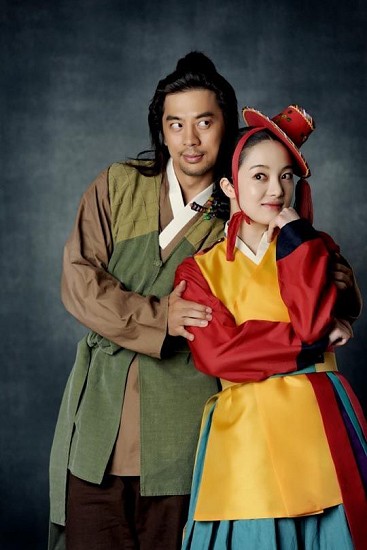 Dol-swe (Oh-joong Kwon) and Bang-wool (Bo-ra Hwang):
Cute Comic Relief

Eventually Arang's dead body is uncovered and everyone is amazed how it didn't decay. The sequences where they find the body and Arang is overcome with grief are some of the most evocative in the drama. These scenes prove to me once again how potent and powerful Korean drama acting is; one doesn't even need to hear their voices to understand what the emotions are of the characters -- their facial expressions and body language are enough to prove how exceptional these actors always are.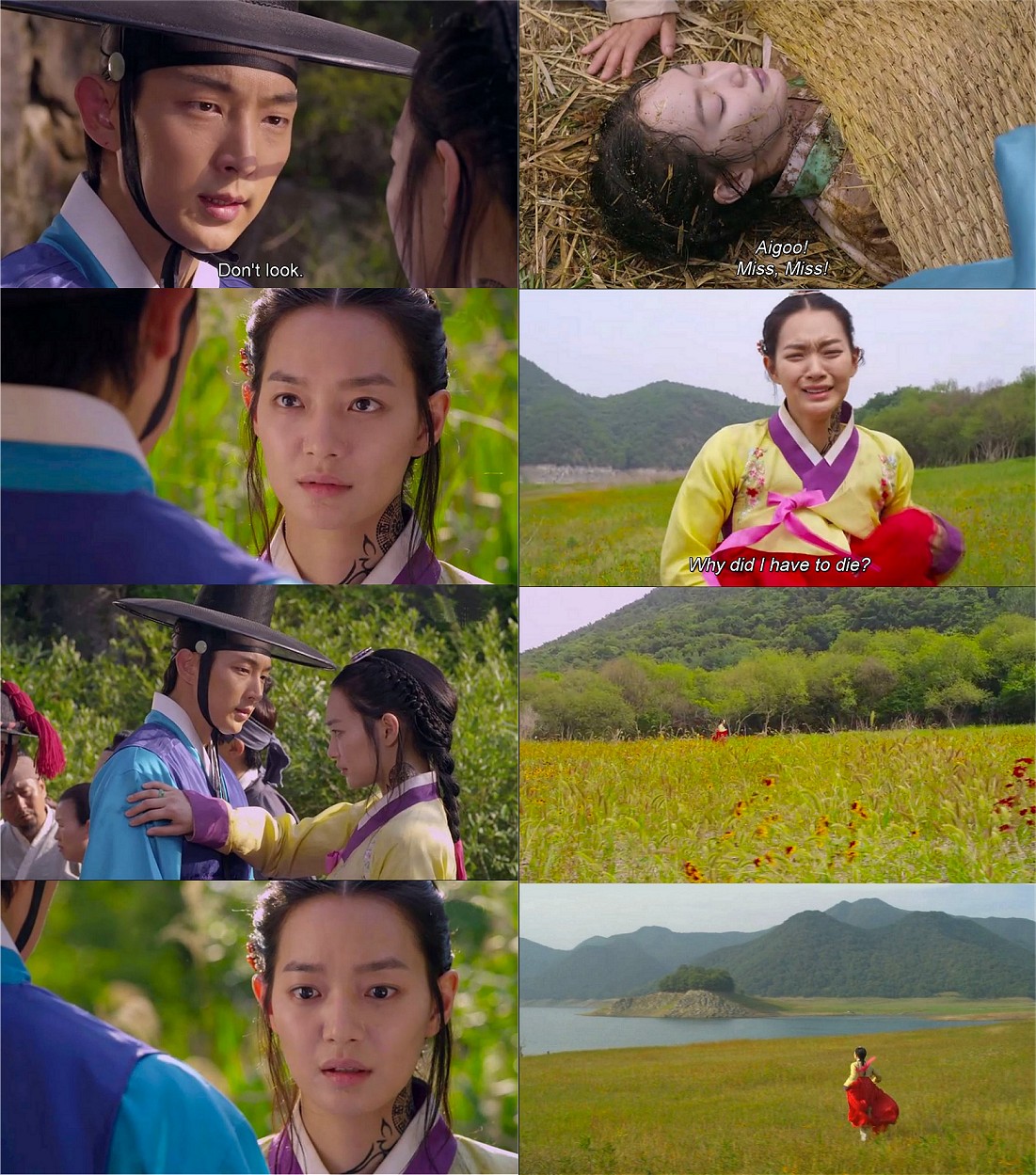 On hand - presumably out of respect - to see Arang's dead body revealed is the quiet and darkly moody young nobleman Joo-wal Choi (Woo-jin Yeon from
When A Man Loves
). It turns out he was the nobleman whom Arang was supposed to marry when she was alive. They had never met, the marriage was parent-arranged years earlier, but as Arang has her memories restored she seems to recall falling in love with Joo-wal from a distance as he read books on the veranda of his estate. Joo-wal is an incredibly lonely person, but there is also a shady side to him, which makes the audience suspect he might have been Arang's killer, though there is no evidence to support the theory. As a ghost Arang develops a girlish crush on him, which doesn't exactly please the Magistrate, whose own heart is turning tender toward Arang, despite his best intentions to the contrary.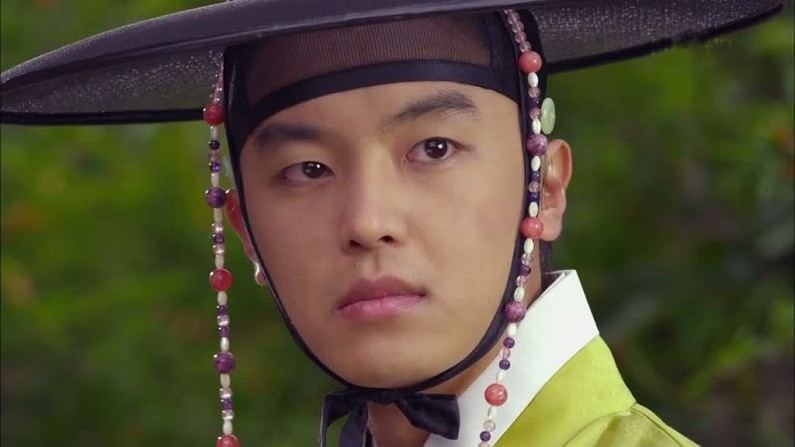 Moody, unhappy nobleman Joo-wal (Woo-jin Yeon) whose family is incredibly loathsome and evil
Through the long process of solving Arang's case, Arang eventually loses her interest in Joo-wal, and falls in love with the Magistrate. But how can you make love to a ghost? Jade Emperor kindly ends up giving her a resurrected body and tells her she has three months to use it to find out how she was killed (the look on the Magistrate's face when he sees her resurrected body walking toward him is
priceless
!).
Arang thinks that with a new body, which everyone can now see, that her murder mystery will now be a piece of cake for her to solve (shades of
49 Days
where the character of Ji-hyun mistakenly thought that gathering 3 tears from 3 people who loved her would be an easy task). At the end of those three months, depending on how she uses this body to accomplish her goal, she will end up in heaven or in hell. However, in some ways, her case becomes harder to solve because now certain people are more interested in hiding facts surrounding her case, and Joo-wal becomes determined to win Arang's affections away from the Magistrate.

Arang and Eun-oh's actions, meanwhile, are being tracked by the Jade Emperor and Yama, who fear that there is far more going on than they themselves realize behind the mystery of Arang and the Magistrate and the village that they live in: there is political corruption and dark family secrets to be revealed. Joo-wal's father Lord Choi (veteran actor of many dramas, Yong-gun Kim) is a corrupt business man who wants the pesky new magistrate out of the way because he is far too well respected in the village. His evil, unloving wife Lady Choi is an occultist who controls him because without her occult intervention a disease he suffers from might return at any time. Both of these people seem to rule the frightened town with a spiritual oppression that affects all the villagers. Will the Magistrate be able to expose their underhanded tactics to control and manipulate (and on occasion, starve) the simple villagers? When the Magistrate eventually finds his mother, Lady Seo (Moon-young Kang), will the Choi "family" have had anything to do with why she disappeared from Eun-oh's life as a boy?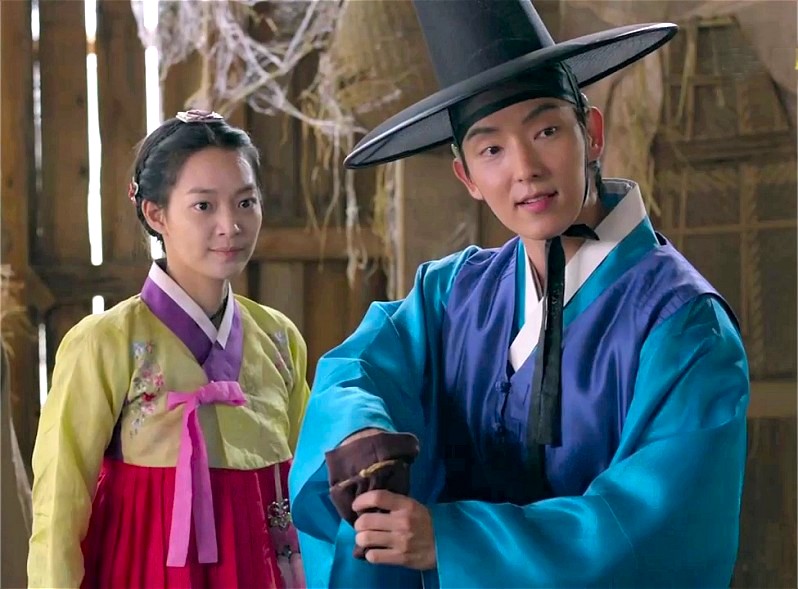 The last few episodes are a whirlwind of surprises and suspense. Can the love between Arang and the Magistrate endure, even if it's beyond time and space? They seem so perfect for one another that even the Jade Emperor's heart is touched. However, in the end, it is Arang's decision that will send her to heaven or to hell. The Magistrate might wish to sacrifice all to save her, but she might end up caring more about him than she does for herself.

Ah, true love! Is it only in fairy tale stories that it exists?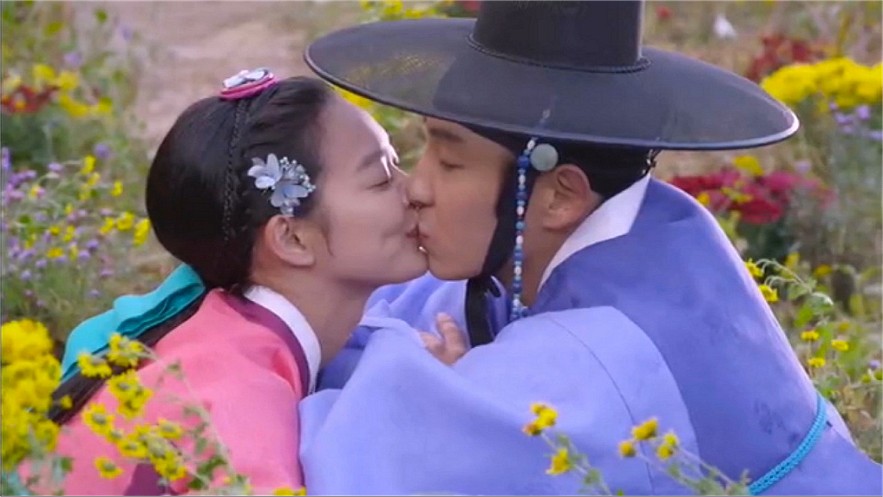 If you love fantasy stories wrapped up with a good crime mystery then
Arang And The Magistrate
is for you! The two leads had nice gentle romantic chemistry together and that's very important to a show which explores ideas of the afterlife, of heaven and hell, like this one does. You will love this one, that's a promise from me to you.
Watch
Arang And The Magistrate
at its best and buy a DVD box set on
Amazon
.