I enjoy playing the piano and I liked the two lead actors (Choi Min Ho, Han Ji Hye) in this KBS Drama Special called
The Pianist
(2010), which the station is streaming internationally on YouTube, so what did I have to lose in watching this simple but rather heart-aching tale about two young people who might be considered losers by many but who have hidden talents and strengths? Nothing. I enjoyed it very much, especially all the lovely classical music (mostly Chopin and Debussy). The only thing I would have changed was the rather abrupt ending. It's obvious what they want you to think will happen but I think the set up for the ending could have been a bit more clearer, more uplifting and positive, and even gently humorous by repeating a similar scene that occurred when they first met each other. That's how I would have written the ending, anyway, but I'm not Korean.
:)
The Story
:
best replica watches
Insa Yoon (Han Ji Hye,
Summer Scent
,
May Queen
) is a substitute elementary school music teacher trying hard to eke out an existence for herself but her life seems to be going nowhere. Her doctor boyfriend (Choi Phillip) is not ready to marry her because his parents don't approve of her due to her poverty and lack of social standing. Her students look down on her because she doesn't play the piano in front of them to prove her own ability to teach, she just tells them what to do in words, and her contract for the following year is unlikely to be renewed. She gets into a fight with her boyfriend because of his reluctance to
Replica Watches
marry her and they break up.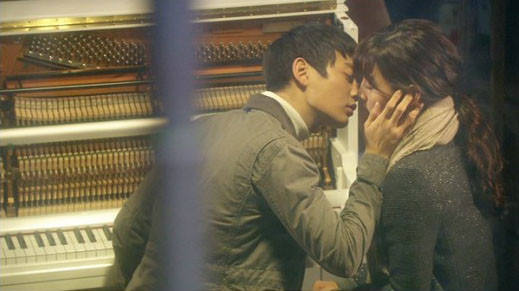 Enter Zero O (yes, that's his name, played well by a young Choi Min Ho from
To The Beautiful You
and
Because It's My First Time
) who is a piano repairman and tuner living with his daft uncle and mentally ill father. He turns out to be extremely talented at music, a self-taught piano player in the classical style, but he doesn't let other people listen to him play the instrument due to his painful shyness.
Insa and Zero discover each other, fall in love, and she tries to persuade him to go to college to major in piano performance, that he will never get ahead financially if he just remains a piano tech and not a performer. Will he listen to her and improve his lot in life, or will his fear of playing for others doom their blossoming romantic relationship?
You can watch the one hour special here on this page. Enjoy.