KDRAMALOVE KOREAN DRAMA REVIEWS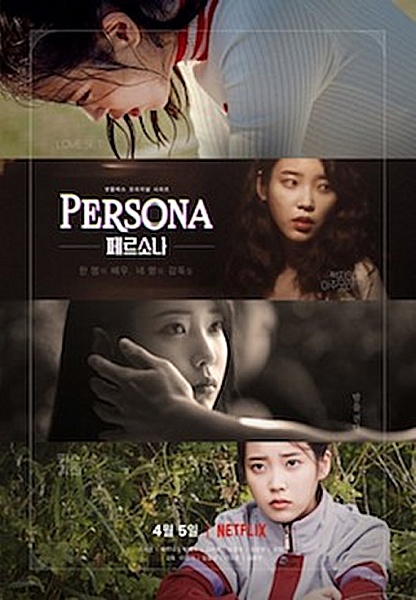 Persona
페르소나
Kirin Productions (2019) 4 Short Episodes
4 Short Melodramas, Grade: B+
Korean Drama Review by Jill, USA
(Some Spoilers)

~~~~~~~~

Four short, very weird stories, less than twenty minutes long each, giving Korean actress-singer IU (Lee Ji Eun) an opportunity to showcase her acting versatility as different characters; there really wasn't anything in Persona (2019) that bowled me over from a story writing perspective, but I was entertained by the uniqueness of each story. You will decide to watch this depending on whether you are a fan of IU or not. After seeing her in the likes of My Mister, Dream High, Producer, Hotel del Luna, and Scarlet Heart: Ryeo, I am most definitely her fan, and dived right in, not knowing what to expect at all. (Just as a side note, her acting-singing friend Sulli was going to appear with her in a segment, but then she suddenly tragically committed suicide and that segment was cancelled).

The Stories:



The first segment called Love Set was a simple story about a tennis match-up between IU and actress Bae Doona (film The Host, Beating Heart, Stranger, etc). with the bone of contention being whether IU's father in the story (Kim Tae Hoon, film Glass Garden, K-Dramas Operation Proposal, Angry Mom, My Love Eun Dong) would be able to marry Bae Doona, his mistress in the story. IU's character doesn't want him to marry this woman because she simply dislikes her -- she's MUCH better at tennis than IU is. She wants this woman out of both their lives. Who will win the tennis match? Will the father marry his mistress?



The second segment was perhaps the most macabre and was called Collector. It told the story of IU's character dating an older man (Park Hae Soo) who is crazy about her and who gets jealous when she makes time for her friends instead of him. Even when they are in a restaurant together she is texting people on her cell phone, or lying and saying she needs the bathroom when she rushes out to kiss a male friend instead. The older man catches her in the lie and to try and force her to make a decision to be with him permanently he blurts out that he loves her. She replies that she really wants to see his heart more clearly before she agrees, with the shocking result that he opens his shirt, places his hand on his chest and takes out his own beating heart and hands it to her. She opens a decorative box she has with her and puts his heart inside it, but as she does so we see that there are OTHER hearts in the box too. She likes to collect literal hearts. O...k.... ;) I was laughing at this segment more than I was taking it seriously.



The third segment was called Kiss Burn and featured IU riding her bicycle into the countryside one afternoon, trying to visit a girlfriend (Shim Dal Gi) whom she suspects has been abused by her over-controlling father (Lee Sung Wook), who is a fire prevention official for his county. When she knocks on the door the father answers and says his daughter is not at home, that she's visiting someone far away. IU is not buying it. She waits till the father leaves for work and then she forcibly enters -- and finds her friend all beat up, her hair viciously cut with shears, and with hickeys on her neck and face! (suggesting the father was sexually abusing her, although the girl insists she got them after making out with a strange boy on the beach). IU tries to get the friend to leave with her but she says no - at first - but then they both decide to take her bicycle to the beach to have some "fun" with boys they might find there. Off they go, but they inadvertently start a massive fire and the girl's house is burned to the ground as the two ride off to the beach together. The fire prevention father is going to return eventually to find his house burned to the ground.



The fourth and last segment called Walking At Night was definitely my favorite: it was filmed in black and white and was gently romantic and pretty, with IU revealed as a ghost of a girl who had just died and who was taking one last nighttime walk with her boyfriend (Jung Joon Won) in their quaint village. But then it's obliquely suggested that he might be a ghost too. Is he? Did they both commit suicide together? Will they both disappear together as ghosts to go to the Netherworld?

If you like short stories that are rather oddball, and you like IU, then definitely put this on your KDrama queue. Enjoy.