Beautiful Days

아름다운 날들
(2001) SBS 24 Episodes
Romantic Melodrama,
Grade: A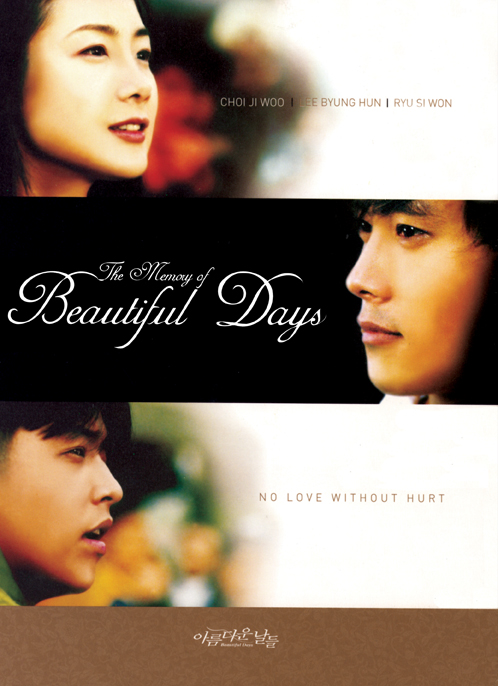 Korean Drama Review by Alison, USA
~~~~~~~~~~~
Choi Ji Woo (Winter Sonata, Suspicious Housekeeper) and Lee Byung-hun (IRIS, All In), two of the most talented and appealing South Korean actors, are the stars of Beautiful Days (2001), a highly entertaining K-drama set against the backdrop of the music industry.

The primary story line revolves around relationships, secrets from the past, and young people trying to make their way in the world, giving this series a simplicity and charm that is just refreshing in this day and age, when entertainment is so often focused on sex and violence.

The focus is on regular human beings and what makes them tick.




FULL OST



Beautiful Days is a fine showcase for Miss Choi, reflecting her ability to project both sweetness and strength.

She may be a gentle soul, but she is not a pushover. And Mr. Lee is very much her match, making a complex, difficult character sympathetic as his determination to resist softening gradually melts away. Because the characters and performances are the main reason to get into the story, I will keep it brief:



The Story: Lee Min-chul (Lee Byung-hun) is the wealthy young heir to his father's music business, Victory Records.

He's highly educated and ambitious, but also closed off emotionally, caring only for his younger sister Min-ji (a debut role for Shin Min-ah, later the star of Sad Movie and K-dramas Arang And The Magistrate and My Girlfriend is a Nine Tailed Fox). Yeon-soo (Choi Ji Woo) is a lovely young woman raised in that old K-drama staple, the orphanage.

She takes on the role of older sister to her fellow orphan, Se-na (Lee Jung-hyun) and the girls are inseparable.

As the years pass, Se-na wants to pursue a better life in Seoul, and Yeon-soo is supposed to join her there later.

But fate thwarts their reunion and Se-na holds a grudge because she mistakenly believes that her friend abandoned her.


Min-chul's stepbrother Sun-jae (Ryu Shi-won, who had previously won Miss Choi's heart in the drama Truth) is a good-hearted fellow who composes music. The two brothers wind up being rivals in both business and love. A true love quartet emerges, as Min-Cul and Yeon-soo fall for each other, and Sun-jae falls for Yeon-soo, and Se-na falls for Sun-jae.

As Se-na tries to launch a musical career, Yeon-soo takes a job at the Victory record store while also moving into Min-Chul's family home to tutor Min-ji.

And did I mention that eventually someone falls prey to a terminal illness?


The best part of this drama by far is watching Min-chul fall in love with Yeon-soo.

She is so kind, so intelligent and warm, that his defenses just can't resist her. She even manages to win over his sister, who doesn't make it easy either. Min-chul and Yeon-soo light up like Christmas trees when they see each other.

Meanwhile, Sun-jae fights for her attention as well, and he is a worthy suitor with his gentleness and kind heart.

The character of Se-na, who demands so much attention, never quite rises above being a spoiled brat, but it is rewarding to see her eventually show some maturity. Her friend Yeon-soo is incredibly loyal,

and never stops trying to restore their friendship. You would want a friend like her in your corner. Naturally, everyone faces challenges, setbacks, and misunderstandings along the way, in classic K-drama fashion.


There is also an interesting subplot involving Min-Chul's father, who has quite a nefarious past, and Sun Jae's mother, his second wife.

The insight into the Korean music industry (at least at that time) is an intriguing background for the story.

It is worth noting too that both Ryu Shi-won and Lee Jung-hyun have real life singing careers. Lee Jung Hyun earlier made a big splash in the acting world too in the 1996 Korean film classic, about the 1980 Gwangju Massacre, A Petal.


Secondary Actresses in Beautiful Days
Shin Min Ah (left) & Lee Jung Hyun (right)

At twenty-four episodes, it is another long commitment of your viewing time, but Beautiful Days rewards you with an addictive story and lovers to root for!